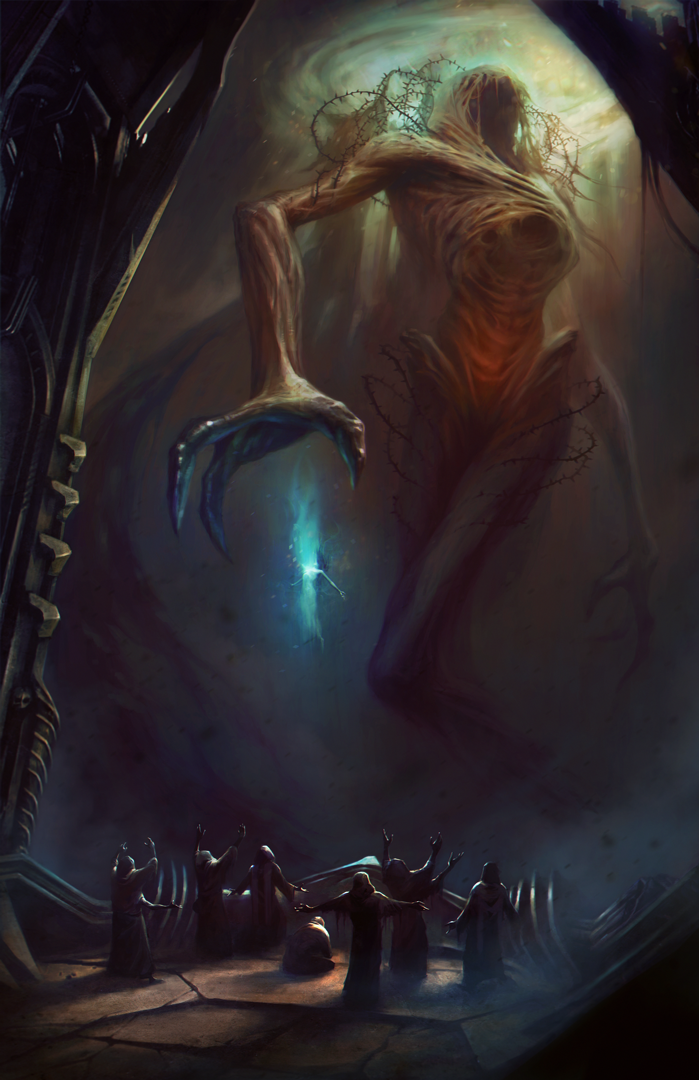 Volkher is the Elder God of the Realm of Black Magic. 
Volkerh, is a mysterious and sinister Elder Being adorned by an animated cape of living flesh pinned by a large ornate harness of thorns. Appearing as a thin, tall, floating, creepily ambiguous figure, his torso and chest are held together by thinly stretched strands of flesh reminiscent of ripped seams. Volkerh's 'face' is entirely obscured by darkness in the depths of his hood. When angered or provoked, his robe & cape transforms into ethereal outstretched wings of dilapidated flesh, cloth, and ash, retracting his hood to reveal that his open hood is actually a mouth-like cavity. He possesses the Rune of Black Magic.
The Realm of Black Magic
An ethereal Dreamland on the edge of chaos, the Realm of Black Magic was once ruled by the Lurching King, until Volkerh obtained the Rune of Black Magic. With the rune in his control, he led a violent coup and drove the old king away. In the battle, the king's source of power, the Crystal Crown, was believed to be lost. Toppled from his head it fell into eternity and the king was driven to hide in the outskirts of the realm at the very edge of Chaos, known as the Rift. Volkerh, hungry for more power now seeks the lost celestial blue Crystal Crown of the Lurching King. While the power of the Rune of Black Magic is immense, the the Realm of Black Magic is the vastest of the realms and Volkerh remains weak without the power of the crown. Without such a source of power, Volkerh relies heavily upon the Convent to maintain control.