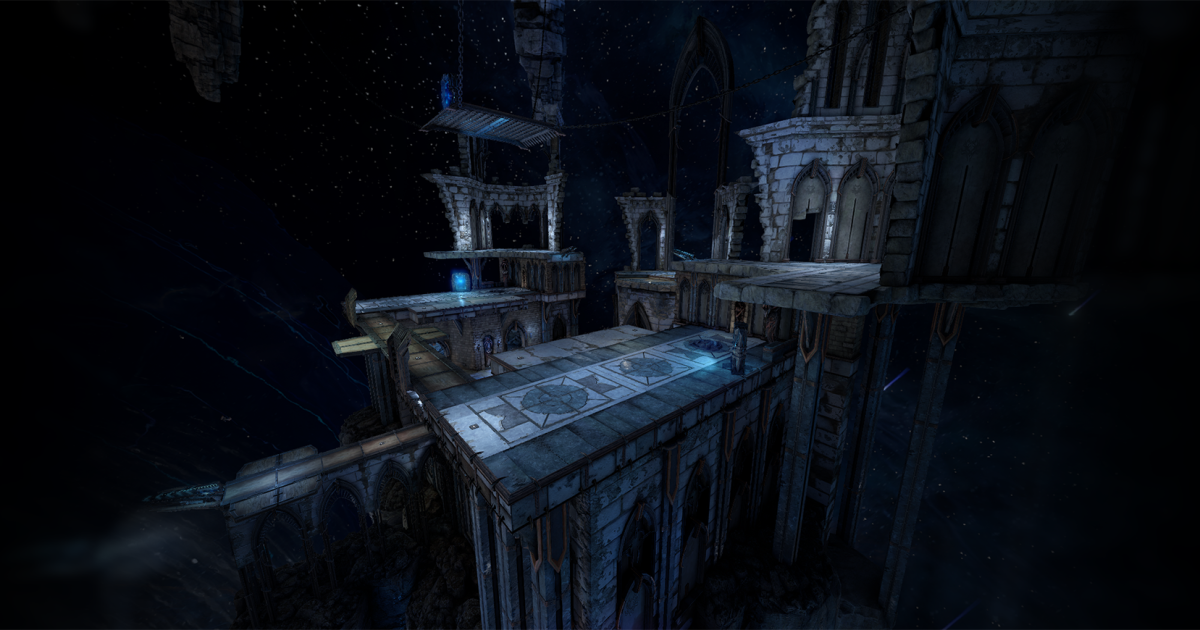 Only the power of the Rune of Black Magic prevents the floating ruins of Volkerh's tabernacle from tumbling into the Blind God's oblivion-maw.
Items #
Quad [DM]
Protection [DM]
Heavy Armor
Mega Health
Armor (x)
Health Bubble (x8)
Hourglass (x9)
Shotgun Ammo (x2)
Nail Gun Ammo (x2)
Rocket Ammo (x2)
Rail Ammo (x2)
Ammo Box (x8) [DM]
Game Modes #
Team Death Match
Capture the Flag
Clan Arena
Deathmatch
Free for All

2v2 TDM
Instagib
Team Instagib
Unholy Trinity
Hot Rockets
Mystery Champions
Areas #
Jump pad to Power-up #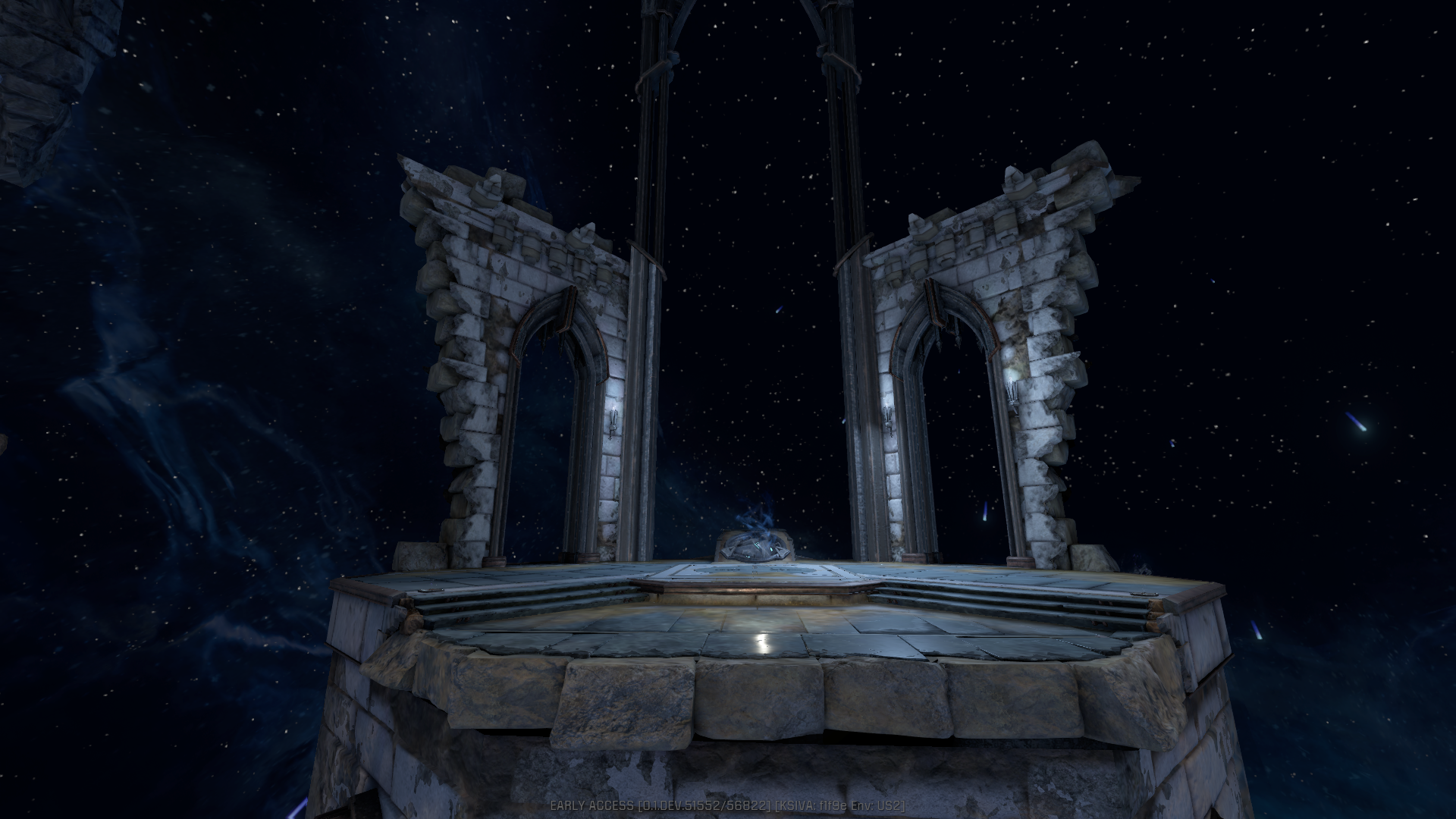 Nestled at the back center of the map is the platform that supports the jump pad to the power-up platform. This is the only way, using the map, to get to the power-up and offers a nice overhead view to the rest of the map for railing.
Power-up Platform #
This platform is suspended above the map on a grate. It is a nice look out to take your rail, but with no cover you are a sitting duck! Take the teleporter for a quick exit to the armor bridge.
Armor bridge #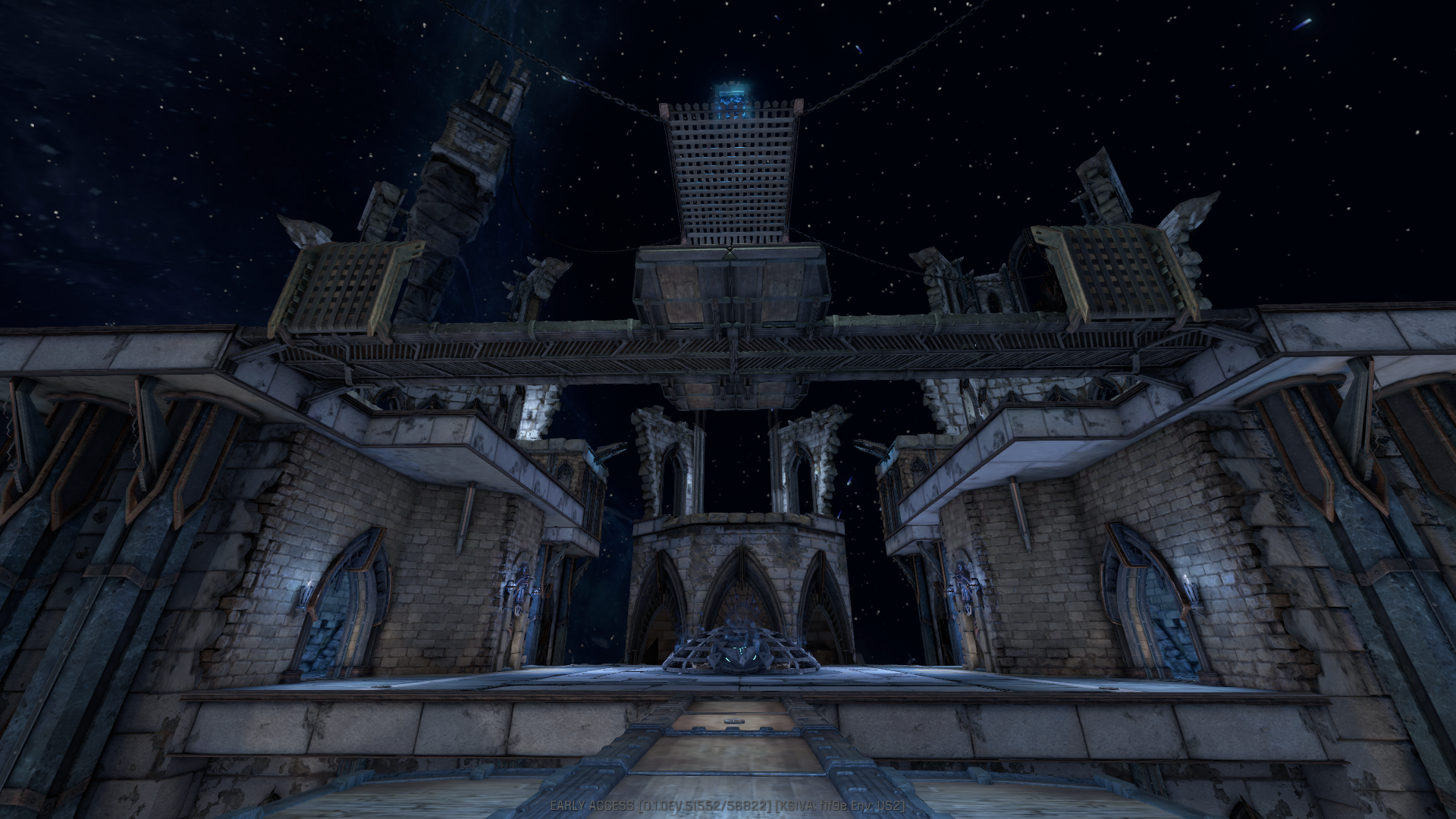 The Armor Bridge connects the two main land areas and offers the best armor on the map.
Base Floor #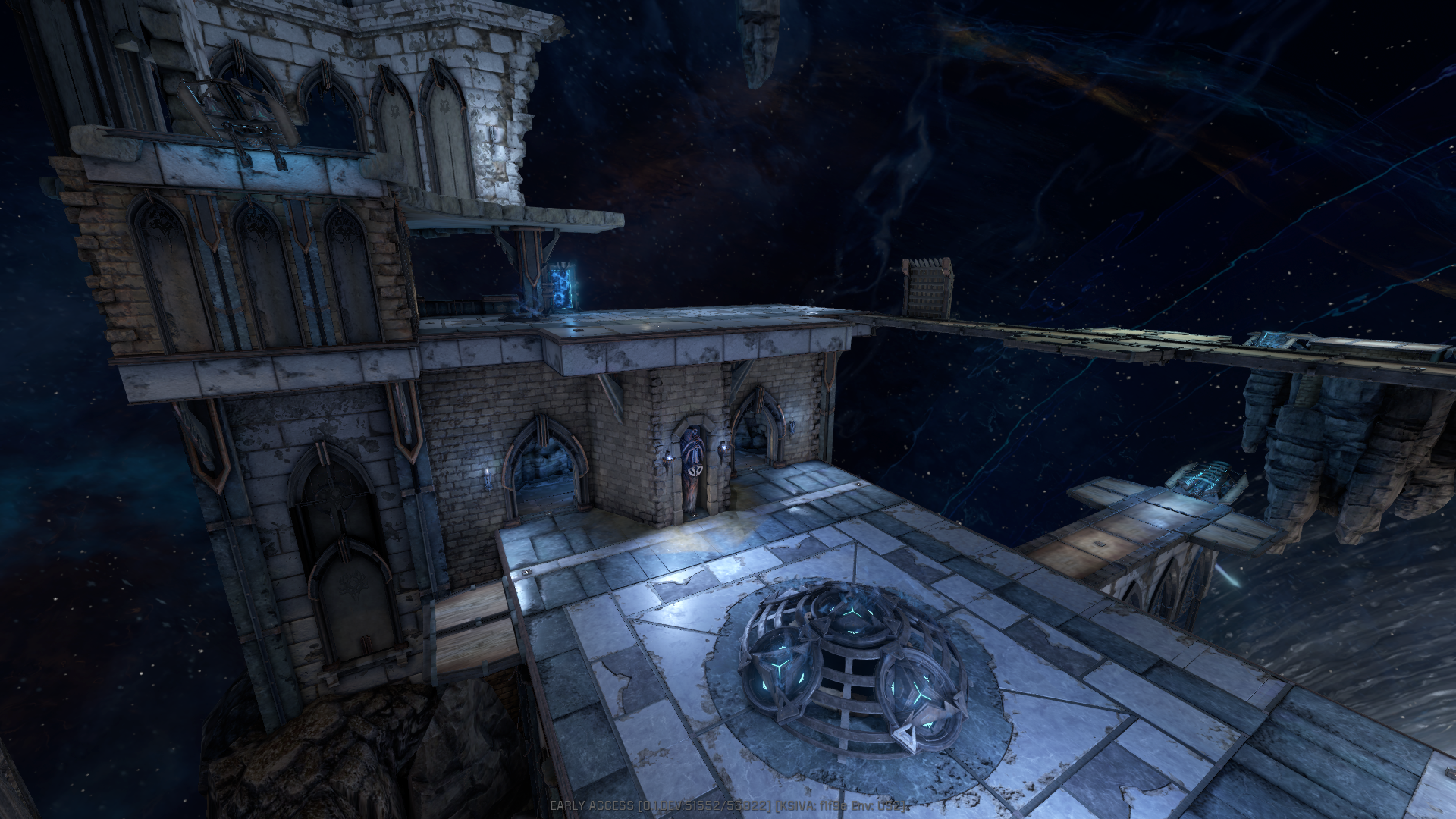 The Base floor offers a multi-directional jump pad to the other areas of the map, access to the mega health, and a jump pad bridge to the rail gun in death match games. It also is home to the only rooms on the map.
Side Rooms #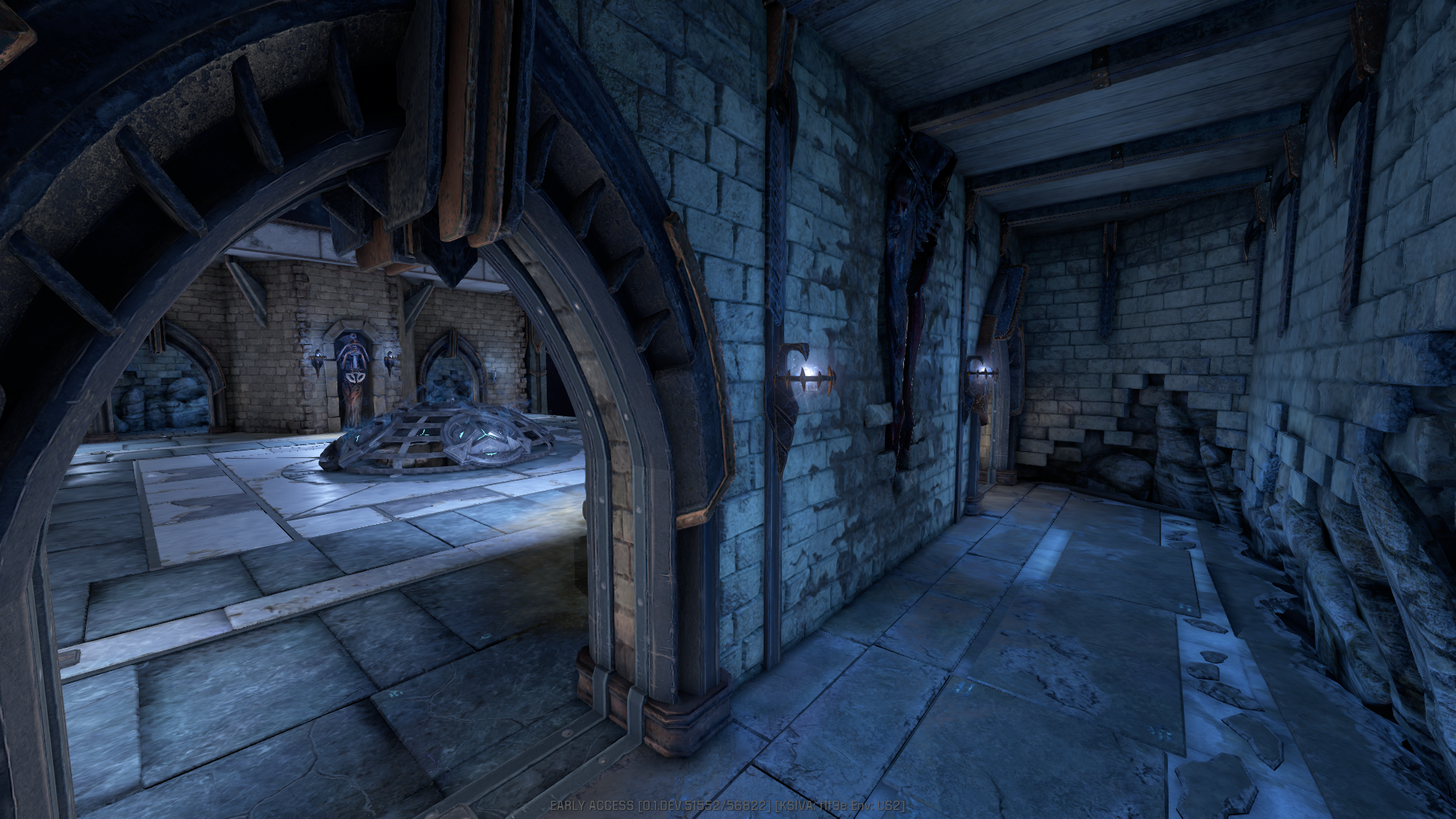 The side rooms are on either side of the base floor and offer a bit of cover in an otherwise open map. Don't hang out here too long, as there aren't many places to go that don't pop you up as an easy target.
Mid Platforms #
The mid-platforms offer a tiny bit of cover, ammo and health. They are the site of many head to head battles. If you can jump pad from one mid platform to the other you are often rewarded with armor shards and health.
Rail Platform #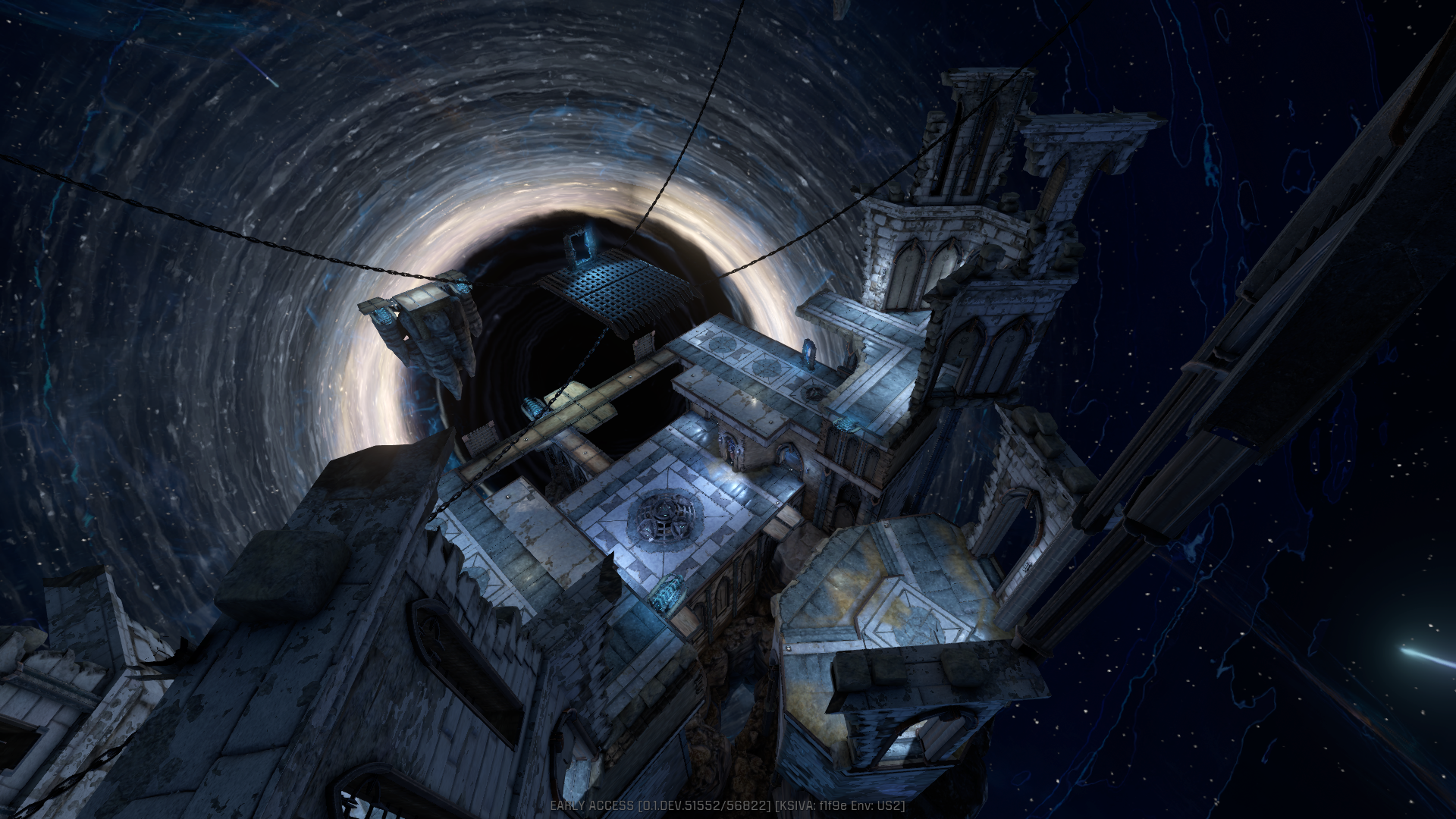 Located across a long jump pad navigable gap, the platform with the rail gun is a risky jump, however it pays off with the high reward weapon that can dominate the very open map.
CTF Mid #
Capture the Flag made changes to the map in changing the rail gun jump pad to a new middle. Other changes include moving the power-up location and some weapon locations.