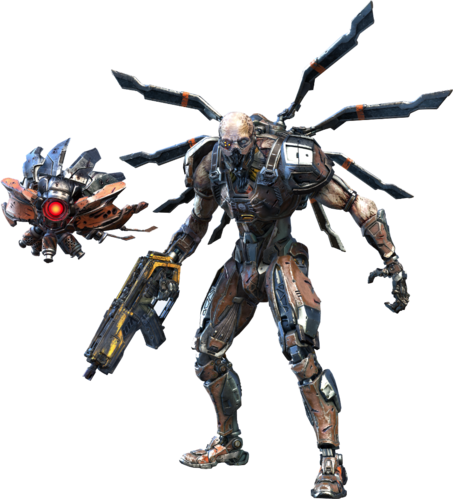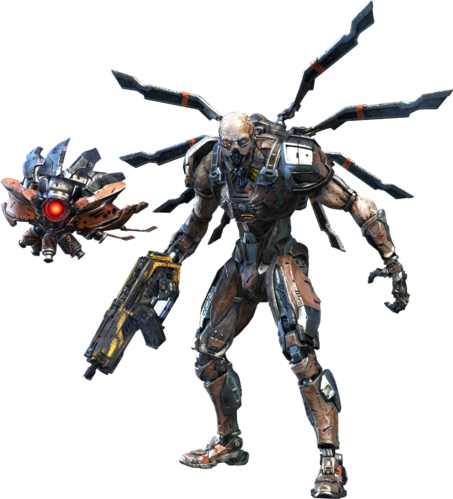 They remember when all Strogg received the same order: to harvest the lone human before he reached the Slipgate. But they failed. All Strogg failed.
At the instant the human destroyed the Slipgate, the infiltrator was just a dozen paces behind, preparing to strike. But then a blast of crimson light engulfed it and all went dark. When it regained function, the infiltrator concluded that it was seeing its surroundings through its malfunctioning drone. But that conclusion was incorrect.
Now there is no order – only foes of the Strogg.
Want More Lore? Read up over HERE.

Drone Strike:
Strogg enters a camouflaged state and deploys his drone. He assumes control of the drone, which can fly around and fire at players. Using ability again causes the drone to launch forward like a rocket and explode.
Active Ability Tips:
Duration: 45 seconds
Cooldown: 45 seconds
Initial Delay Before Allowed to Launch: 0.5 seconds
Drone Health: 90 HP
Peeker Hyperblaster Damage: 15 damage per shot
Drone Rate of Fire: 125 ms
Hyperblaster bolts speed: 800 ups
Peeker normal speed: 400 ups
Kamikaze Peeker speed: 800 ups
Drone Charge Explosion Damage: 75 damage
Drone Strike Tutorial
Peeker Highlight
Drone Strike Tutorial
Use ability once to enter in drone mode. As the drone you can move in any direction with 400 ups speed. Crouch to descend and jump button to upscend. Shoot with 125 DPS hyperblaster or press ability button again to enter in kamikaze mode – no shooting but twice faster flying forward. Hitting enemy or obstacle will make the drone explode and do 75 damage. You can explode the drone manually by pressing active ability third time.
Peeker Highlight

Stroyent Cell:
Enemies killed by any Strogg drops Stroyent capsules that can see and pick up only Strogg. Stroyent gives 20 overheal HP (i.e. heal even if you have more than 100 HP) and reduce Drone Strike cooldown time by 5%.
Strogg suicide also spawn Stroyent.
Stroyent disappears in 15 seconds.

Crouch Slide:
Perform a crouch slide by crouching just as you land on the ground after jumping. Max duration of Strogg's Crouch Slide is 1 second.
Do jump and just before hitting the ground press and hold crouch button. Use directional movement buttons (WASD) and mouse to turn in a desirable direction. Sharper angles gives more speed.