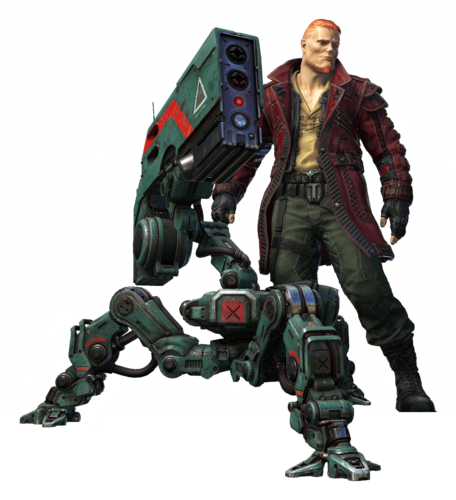 When he married Akiko Tetsuo, executive and heiress of the Tetsuo Manufacturing Corporation, he adopted her prestigious surname. For years he piloted the starship that shuttled her between exoplanetary mining projects. But when the central AI controlling countless mining robots on Tau Ceti F became corrupted and homicidal, he arrived too late to rescue her. After working to evacuate the survivors, he swore to track down the source of the AI's corruption: the same mining bot that killed Akiko. His hunt led him to a newly excavated cavern, where ornate stone carvings surrounded a swirling, squirming void of eldritch energy…
Want More Lore? Read up over HERE.

Sentry Turret:
Places an automated turret that tracks enemies and fires hyperblaster laser bolts.
Active Ability Tips:
Cooldown: 45 seconds
Turret Health: 120 HP
Turret Damage: 15 dmg
Turret Rate of Fire: 200 ms
Turret Cone of Coverage: 360 Degrees (Full Sphere)
Turret deploy time: 2 s
Turret turn-speed: 270 degrees per second
Turret despawns 1 minute after deploy
The Turret cannot be used for body blocking pickups.
Sentry Turret
Turret on Jump Pad
Teleporting Turret
Sentry Turret
Turret takes a few seconds to deploy and another second to start shooting in target. But you can still use it for distraction. 
Also turret is good sentry – it makes a sound when notice  enemies.
You can have ability ready to use even if turret already was deployed but first turret will be destroyed after deploying second one.
Turret on Jump Pad
Teleporting Turret

Shutdown:
Reduce ability cooldown time by 20% when Sentry Turret kills a Clutch.

Salvage:
Reduce ability time cooldown by 5% when collecting Light Armors and 10% when collecting Heavy Armor.
You can hit yourselft with Nailgun to pick up Light Armor and reduce ability cooldown time if your armor equal or a little bit more than 100.