MAROONED GDF #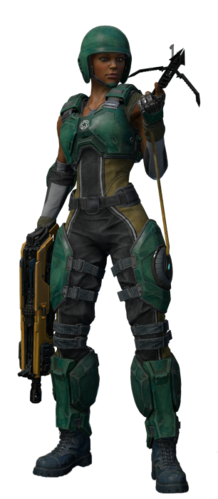 Her GDF Academy recon training was cut short when the Strogg invaded Earth. When the Terran were ready to counterattack the Strogg homeworld years later, Athena was among the first in line. But the Strogg were expecting them. Just after the dropships launched their pods, a powerful EMP disabled all but a few. She assumed her pod would become her coffin. Then, a miracle: ground forces destroyed the Slipgate generator, sending a shockwave of otherworldly energy outward from the surface. It swept across her pod, taking her… somewhere else.
Want More Lore? Read up over HERE.

Grappling Hook:
Athena will launch a grappling hook to the targeted location and immediately pull herself towards it. While in flight, Athena can stop pulling herself and instead swing, allowing her to perform impressive maneuvers.
Active Ability Tips:
There are two modes to the hook: The primary and default mode being the Linear Hook, which will pull yourself to your hooked target. If the ability button is pressed again while in flight, Athena will disconnect from her grapple while maintaining the momentum gained.
While in flight, Athena can switch her hook into the Swing Hook by tapping and holding the ability button, locking the length and instead allowing her to swing from her target.
Hook deal 25 damage if it hits enemy directly and Athena deal additional 25 damage by bumping into enemy. Take in mind enemy can interrupt hook by dealing 50 damage to Athena.
The hook's cooldown work similarly like Keel grenades i.e. they can all be independently used with each hook's cooldown being added to the total ability cooldown
Cooldown: 45 seconds (22.5 sec / hook)
Number of Hooks: 2
Minimum Delay Between Hooks: 800 ms
Grappling Hook Damage: 25 damage
Impact Damage While Swinging: 25 damage
Collision knockback: 50
Weapon Disable Duration: 0.5 seconds
Grapple Throw and Swing Activation Delay: 0.1 seconds
Grapple Sequential Use Delay 0.4 seconds
Grapple Pull Initial Impulse: 400 ups
Grapple Pull Initial Speed: 400 ups
Grapple Swing Velocity Max Speed: 1000 ups
Grapple Hook Length: 4000 u
Damage to Athena for breaking Grapple Hook rope: 100 damage
Linear Hook Tutorial
Ground Hook Example
Hook Swing Tutorial
Hook Swing Example
Advanced Swing Example
Linear Hook Tutorial
Aim point and hit ability button once to start pulling to it. You can aim ledge and ramp jump will help you to get on the platform. Movement (WASD) buttons affect pulling speed – try to "move" in the opposite direction to slow it down or start pulling yourself faster by holding a directional move button that will lead to grap point. Slower pull is good when you to be in air a bit longer.
Hit the ability button a second time to stop pulling. Same will do jump button
Also you need to take in consideration Athena's shouts that can be heard by everyone.
Ground Hook Example
Hook Swing Tutorial
Hook Swing Example
Advanced Swing Example

Ramp Jump also known as Double Jump or Chain Jump. Basically it's the same trick that was in Quake 2 and CPMA but stronger and easier to do. Athena can reach great heights by using the top step or ramp as a launching platform. 
Ramp jump tutorial
More advanced Ramp jump example
Ramp jump tutorial
For ramp jump you need to move into a ramp or stairs and hold the jump button. But if you do jump too close then the jump will be more vertical. If you don't want to trigger the ramp jump switch from holding jump button to tapping it.
More advanced Ramp jump example

Stockpile:
Athena can reduce the cooldown of his ability by collecting any ammo box by 10%.