Sign-up Now for Quake Pro League Season 4's Asia Pacific Global Challengers Qualifier.
Good Morning Quakers. You ever think you have what it takes to compete at the top skill level in Quake Champions? Well now some of you have your opportunity with the Quake Challengers APAC (Asia Pacific) for Season 4 of the Quake Pro League this Saturday May 6th at 2PM Australian Eastern Time. This is 12 AM Midnight East | 6 AM CEST. Registration closes Friday May 5th, so you still have 4 days to sign-up! If you don't end up making this qualifier we still have 3 additional regional Qualifiers for: Europe & Commonwealth of Independent States (This region includes Africa), South America, and North America. All participants must be at least 18 years of age. Lastly Qualifiers is every 3 weeks. So, we will have 2 weeks of the standard Quake Pro league Format, and 1 week of Qualifiers before going back to the 2 week standard.
Important Links Below:
Watch:
The global qualifiers start at 2PM Australian Eastern Time. There is no official stream for Challengers, but you can still catch the action on twitch. Many players are streaming their own games, which you can check out on Twitch's QC Directory https://www.twitch.tv/directory/game/Quake%20Champions. During the tourney, watch for the word "challengers" in their stream title.
Besides the player streams you can catch the action on community casted streams. These streams will follow the bracket, cast the games and show off the upcoming challengers that strive to be included in the professional action of the QPL.
ARENA POOL FOR 2023 SEASON 4:
Last season had Insomnia in the pool, so Molten Falls is the new addition this season.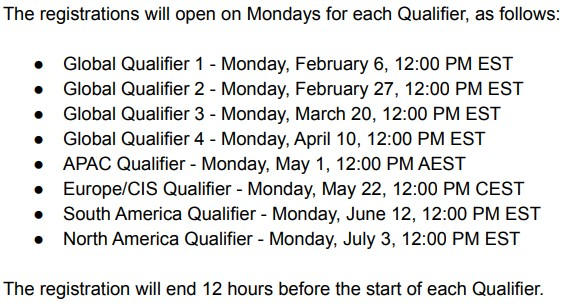 *Just a heads up while this is a regional qualifier Players from countries embargoed by the United States of America Treasury Department can not participate. An unfortunate reality as a result of current events. Countries in the APAC region that are effected: Iran, North Korea, Syria, Sudan are not permitted to enter because of sanction bans. To be clear this has always been a stipulation for Eligibility for all seasons of the Quake Pro League. It just gained attention last year with current events starting shortly after Season 3 started.
Quake World Championships Format:
The Quake Pro League will congregate in a three day Quake World Championship at QuakeCon 2023 August 10 to 14th at the Gaylord Resort and convention center in Grapevine Texas! First day will be made up of 4 groups of 4 players. These groups will be comprised of our 8 Qualifiers and Bottom 8 seeded Quake Pro League players. Top 2 players from each group will qualify to day two where the top 8 seeded Quake Pro league players and the 8 qualified players from Day 1 will make up a sixteen person double elimination bracket. Quake Pro League seeds will be generated based on regular season performance. This bracket will integrate both regions based on their respective seeds as displayed below: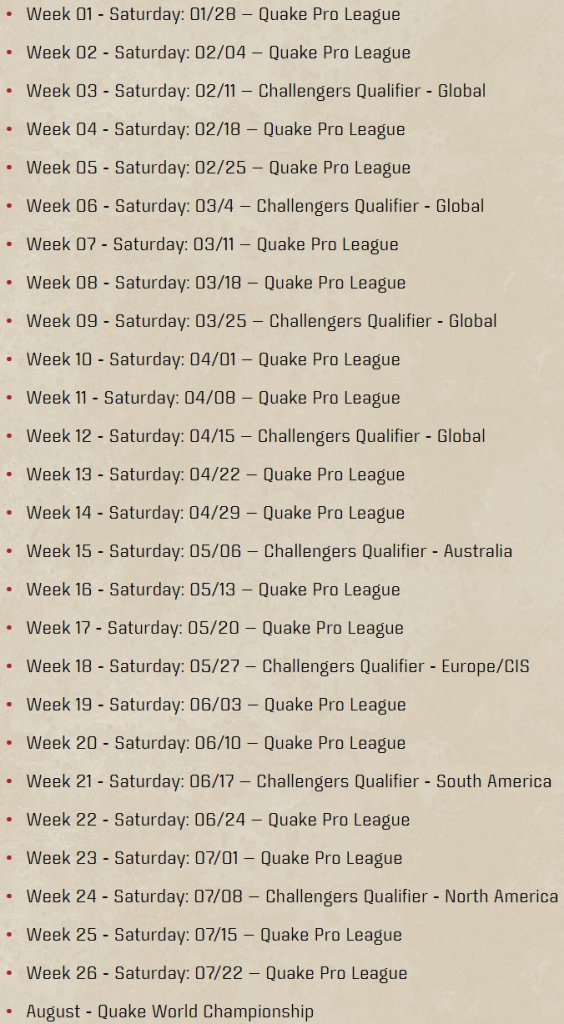 HAPPY FRAGGING FOLKS, AND GOOD LUCK TO ALL THE CONTESTANTS PARTICIPATING!
About The Author