TILT Gaming League: #QuakeChampions. LAN Finals being held in Lodz, Poland this June!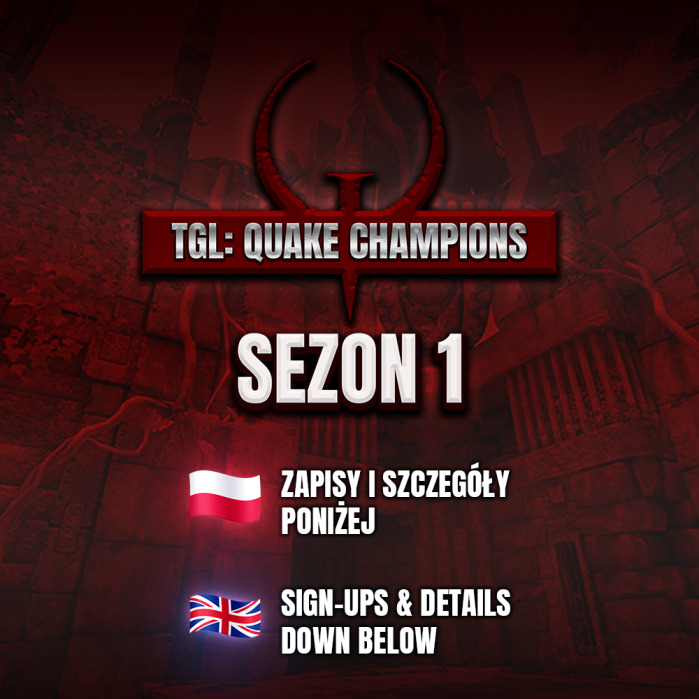 Good morning Quakers! TILT Gaming will be hosting a Polish Quake league starting next month, and will end with a LAN Finals in Lodz, Poland on the 23rd of June 2023. This is currently our 2nd announced LAN for Quake Champions already this year, and its only January! The Elite Division starts on February 18th while the Diamond Division will start the following day on February 19th.
Important Links for League:
Information about tournament from Organizers:
TGL: QC is a continuation of Polish Quake League – Duel League in Quake Champions, that is some slots of Division are taken by players from 2nd season of PQL.
DATE: 18.02.2023, start 18:00 (CET)
STREAM: TBA
DISCORD: https://discord.gg/EDjM9wmnCY
Players from Belarus and Russia are not allowed to participate in competitions organized by TILT gaming.
If you want to participate in tournament, join our Discord (accept rules, choose tournament role then Quake role).
League is divided to 6 different Divisions depends on skill level: Elite, Diamond, Gold, Silver, Bronze and Amateur.
Before TGL:QC starts – most skilled participants will compete in qualification tournaments to the Elite and Diamond Divisions:
After 9 weeks of games players will compete in elimination tournaments to advance to the LAN Finals.
Map pool:
SIGN-UP:
TGL QC is directed to European Quake Champions players excluding Quake Pro League players.
Filling the sign-up is obligatory to participate in TGL: QC (https://forms.gle/A2Meu11TqTGYc9ge7).
Filling the form is not equal to participation in TGL: QC – confirmation of participation will be sent in a private message via DISCORD.
Join the TILT gaming Discord server: https://discord.gg/wwHTfEmWZj
(on the ✅・role channel, select the TGL QUAKE CHAMPIONS role)
Participation in the LAN Finals of the League is obligatory* (03.06.2023 at Lodz, Poland).
*Players who will advance to the Finals – TOP 2/4 depends on Division.
Players from Belarus and Russia are not allowed to participate in competitions organized by TILT gaming due to Bethesda and TILT gaming owners restrictions.
For more information please contact with main administrator:
Discord – SaintNoMore#1892
E-mail – saint@tiltgaming.pl
Division Game Setup
Frag limit: 100
Time: 10
Server: EU Central/East
First phase – BO3, Single Elimination
Second phase (TOP 4) – Double Elimination /BO3 Winner Bracket, BO1 Loser Bracket Seeds will be generated by challonge.com algorithm (higher place = higher seed)
Tournament rules
Ban/pick – higher seed above lower seed (pickban.app rules)
Check-in 30 minutes before event start on Discord #quali
Players are obliged to report match results on Discord – #quali channel in this format:
PLAYER A 2:1 PLAYER B
Tournament ends until winner of Winner Bracket and winner of Loser Bracket are determined.
The organizer reserves the right to remove players using fake accounts from the tournament.
Using cheats, software interfering the game, as well as stream sniping will result in disqualification from the tournament.
In matters not mentioned in the above-mentioned rules, the organizer has the decisive vote.
HAPPY FRAGGING FOLKS, AND GOOD LUCK TO ALL THE CONTESTANTS PARTICPATING
About Author