Sign up now for EndPoint's The Foundry Lan Open Qualifier on October 7th!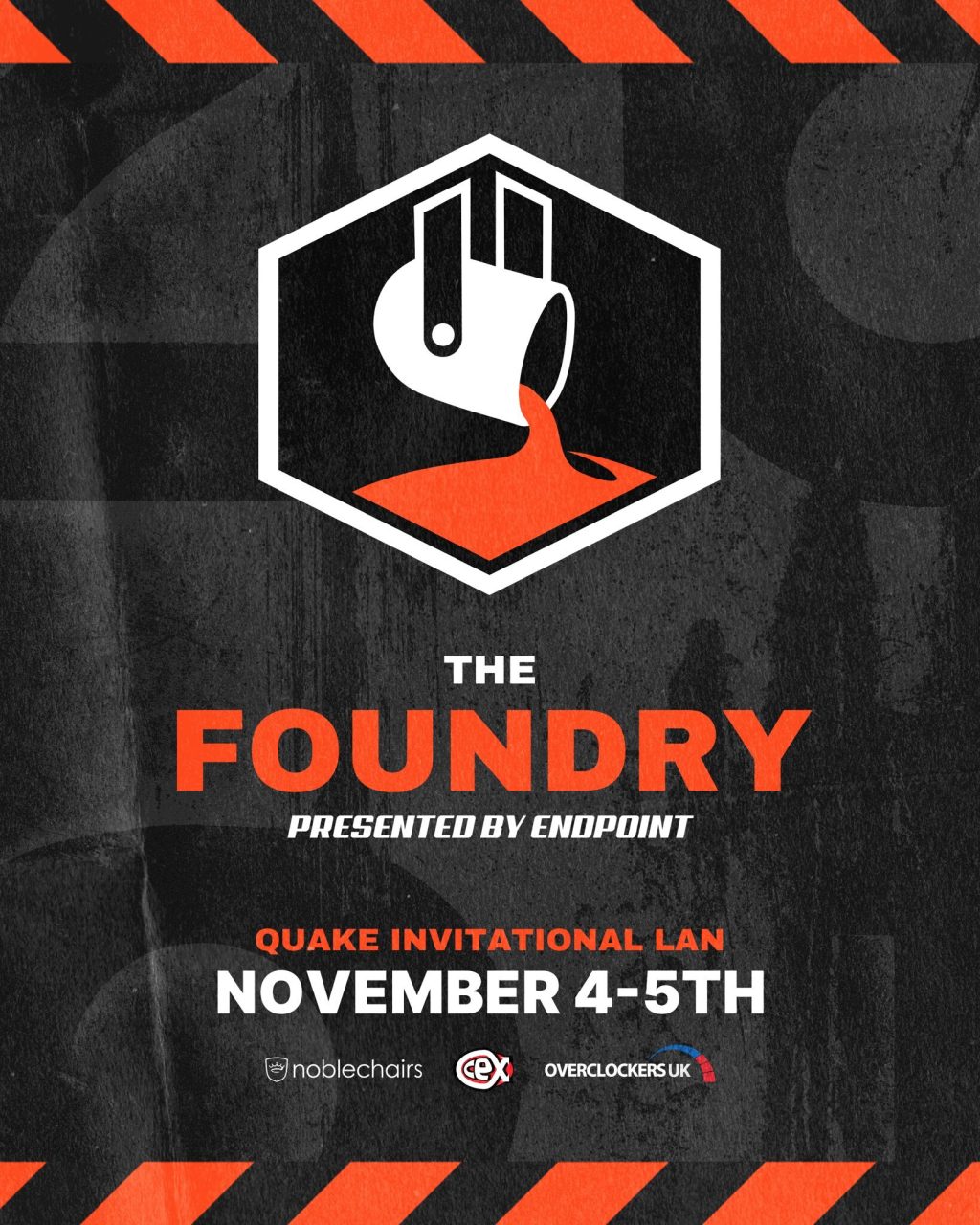 Esports organization Endpoint (home of Av3K) is hosting "The Foundry" LAN November 4th and 5th in Sheffield, United Kingdom. In order to be part of this you must signup for the Qualifier on Saturday October the 7th 1PM BST | 2PM CEST | 10AM EAST. This is a Single Elimination Time Limit Duel qualifier open to anyone in the EU Europe region. up to 250 Euros for Travel cost, Accommodation & Food budget provided, and Noble Chair Doom Edition.
Important Links to follow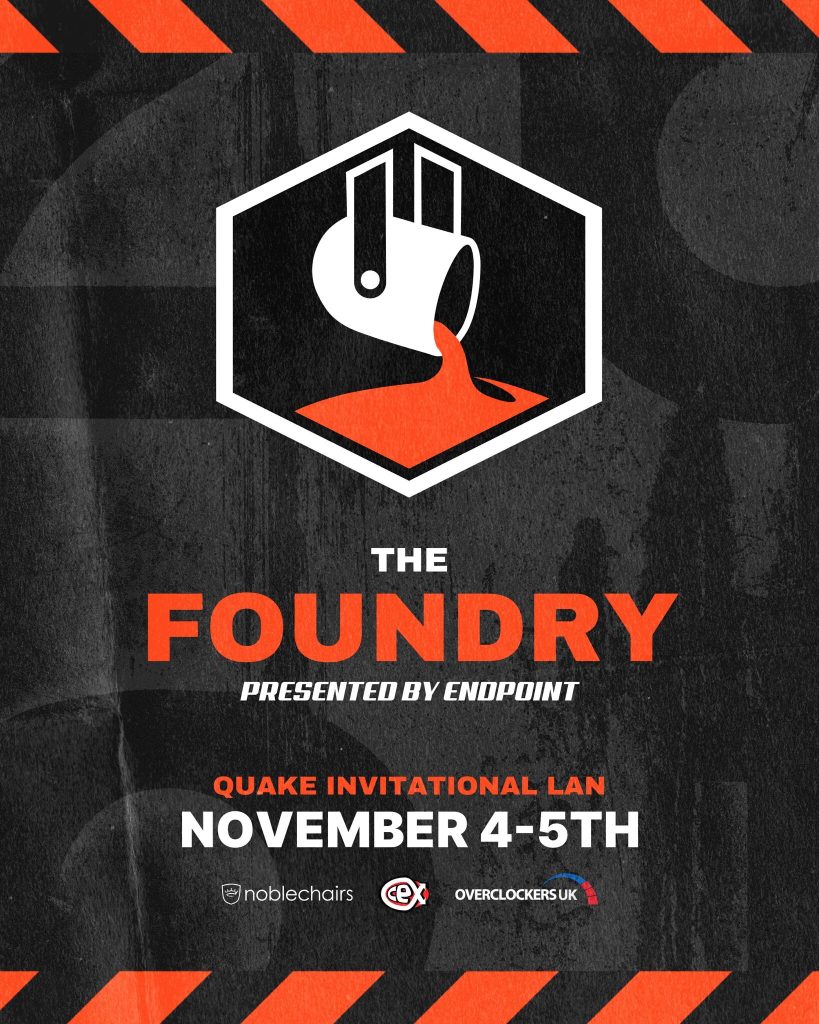 𝗢𝗣𝗘𝗡 𝗤𝗨𝗔𝗟𝗜𝗙𝗜𝗘𝗥
Date: October 7th
Time: 13:00 BST
Tournament Manager: FFACT (Discord)
// 𝙀𝙡𝙞𝙜𝙞𝙗𝙞𝙡𝙞𝙩𝙮:
– All participants must be 18 years or older
– All participants must 𝗵𝗼𝗹𝗱 𝗮 𝘃𝗮𝗹𝗶𝗱 𝗽𝗮𝘀𝘀𝗽𝗼𝗿𝘁 𝗮𝗻𝗱 𝗯𝗲 𝗲𝗹𝗶𝗴𝗶𝗯𝗹𝗲 𝘁𝗼 𝘁𝗿𝗮𝘃𝗲𝗹 𝘁𝗼 𝘁𝗵𝗲 𝗨𝗻𝗶𝘁𝗲𝗱 𝗞𝗶𝗻𝗴𝗱𝗼𝗺 for the 3rd – 6th of November
// 𝙌𝙪𝙖𝙡𝙞𝙛𝙞𝙚𝙧 𝙁𝙤𝙧𝙢𝙖𝙩:
– Single Elimination Bracket
– All matches are Best-of-3
– All rounds will be played as soon as the previous round has finished
// 𝙎𝙚𝙚𝙙𝙞𝙣𝙜
– Top 8 players are seeded
– All other seeds will be randomised
// 𝙈𝙖𝙩𝙘𝙝 𝙎𝙚𝙩𝙩𝙞𝙣𝙜𝙨:
– Mode: Timelimit Duel
– Timelimit: 10 Minutes
– Fraglimit: 100 Frags
– Overtime: Sudden Death
– Champions: 1 Champion Limit
// 𝙈𝙖𝙥𝙨:
– Awoken
– Blood Covenant
– Corrupted Keep
– Deep Embrace
– Ruins of Sarnath
– Vale of Pnath
– Vestibule of Exile
// 𝙈𝙖𝙥 𝘽𝙖𝙣 𝙖𝙣𝙙 𝙋𝙞𝙘𝙠 𝙋𝙧𝙤𝙘𝙚𝙨𝙨:
1. Higher seed is Player 1
2. Player 1 – Ban Map 1
3. Player 2 – Ban Map 2
4. Player 1 – Pick Map 1
5. Player 2 – Pick Map 2
6. Player 1 – Ban Map 3
7. Player 2 – Ban Map 4
8. Pick Map 3 – The Map remaining
// 𝘾𝙝𝙖𝙢𝙥𝙞𝙤𝙣 𝘽𝙖𝙣 𝙖𝙣𝙙 𝙋𝙞𝙘𝙠 𝙋𝙧𝙤𝙘𝙚𝙨𝙨:
9. Player 1 – Ban Champion 1
10. Player 2 – Pick Champion Map 1
11. Player 1 – Pick Champion Map 1
12. Player 2 – Ban Champion 2
13. Player 1 – Pick Champion Map 2
14. Player 2 – Pick Champion Map 2
15. Player 1 – Ban Champion 3
16. Player 2 – Pick Champion Map 3
17. Player 1 – Pick Champion Map 3
// 𝙎𝙚𝙧𝙫𝙚𝙧𝙨:
If both players agree to a server all matches will be played on that server.
If both players disagree to a server all matche will be played if a server has a delta less than 30 MS. If the delta is > than 30 MS, matches would be played on a Home and Away server. Home servers would play the majority of the games (ie. Bo3, 2 of 3 games would be played on Home, where 1 of the 3 would be played Away) "Home" would be decided based of the lowest delta server. For example, if "Player 1" was playing "Player 2" Bo3 and their pings were 100 vs 15 on VA and 75 vs 25 on London. The delta on VA is 85 and the delta on London is 50. Therefore London would be the Home server where 2 of the 3 games are played. Also, if there iis a "Home & Away" game the player will work to make the deltas as close to each other as possible.
In the case where deltas ping are within <=1 ms, the server with the lowest combined ping total will determine the Home Server. For example if Player 1 has 50 ping and Player 2 has 100 on an NA server (50 Delta) while Player 1 has 120 ping and PLayer 2 has 70 ping on EU server (50 Delta), the NA server will be the home server because the combined ping (50 + 100 = 150) is lower than the EU server (70 + 120 = 190).
Player who is Away in this situation always wins the coin toss.
// 𝘿𝙞𝙨𝙘𝙤𝙣𝙣𝙚𝙘𝙩𝙨:
If a player disconnects involuntarily in the middle of a map, play will immediately stop and players will be instructed to return to the lobby. The current score line will be recorded and carried over to the map.
All the communication with the admins regarding matches, disputes or regulations will occur on Discord.
// 𝙈𝙖𝙩𝙘𝙝 𝙋𝙧𝙤𝙘𝙚𝙨𝙨:
The matches are set to start as follows:
– 13:00 BST / 14:00 CEST
The first round results must be submitted by:
– 13:55 BST / 14:55 CEST
In the case no result is submitted – for round one – by the times provided above, both players will be disqualified.
All reports must have screenshots with the final score of each map.
The reports not having the screenshot proof will not be taken into consideration, also any resulting dispute must have a screenshot with the results attached.
1. In order for participants to register for The Foundry – Open Qualifier, they need to create an account at https://www.toornament.com/en_GB/
2. After creating an account, participants must register for The Foundry – Open Qualifier at https://play.toornament.com/en_GB/tournaments/7110559134511071232/
3. Participants have to check-in in order to be seeded into the bracket, the check-in will open 2 hours before the tournament starts and will end 30 minutes before the tournament starts.
4. Please make sure you enter the correct information when prompted, your Quake ID must be valid in order for opponents to be able to invite you in the lobby. Players are encouraged to do the pick and bans process using the lobby option.
5. After the picks and bans are done, procedd to create the lobby and invite the oppoonent.
6. After the map both players must take screenshots of the final score (any report that has no attached screenshots will not be taken into consideration).
7. After the match has ended, the winner must use the "Report" button and attach screenshots with score of each map.
8. After this, check your next match and repeat the process.
// 𝙄𝙢𝙥𝙤𝙧𝙩𝙖𝙣𝙩 𝙏𝙞𝙢𝙚𝙨:
To avoid delays and ensure the Open Qualifier runs in a timely fashion, Players are expected to complete their matches for each round by a specific time. times for each round are as follows:
Round 1 – 13:55 BST / 14:55 CEST
Round 2 – 14:55 BST / 15:55 CEST
Round 3 – 15:55 BST / 16:55 CEST
Round 4 – 16:55 BST / 17:55 CEST
Round 5 – 17:55 BST / 18:55 CEST
// 𝙍𝙚𝙥𝙤𝙧𝙩𝙨, 𝘿𝙞𝙨𝙥𝙪𝙩𝙚𝙨 𝙖𝙣𝙙 𝙋𝙞𝙘𝙠 & 𝘽𝙖𝙣𝙨:
The pick and bans process must not take more than 10 minutes
If a player is not in the lobby at the time set, or he can;t be reached for picks and bans process for 10 minutes, they will be disqualified from the tournament.
If any issues that can delay the game occur, the player must contact the admin teams at once via Discord.
For any disputes or regulations issues, the players must contact the admin team via Discord at once. Any disputes or issues signaled more than 10 minutes after the match has ended will not be taken into consideration.
Happy Fragging Folks, and Good Luck to all Participating!
About The Author