Season-20 is LIVE! Patch Notes + Week 1 Challenges +Picmip is here + New EU South Milan Server Live!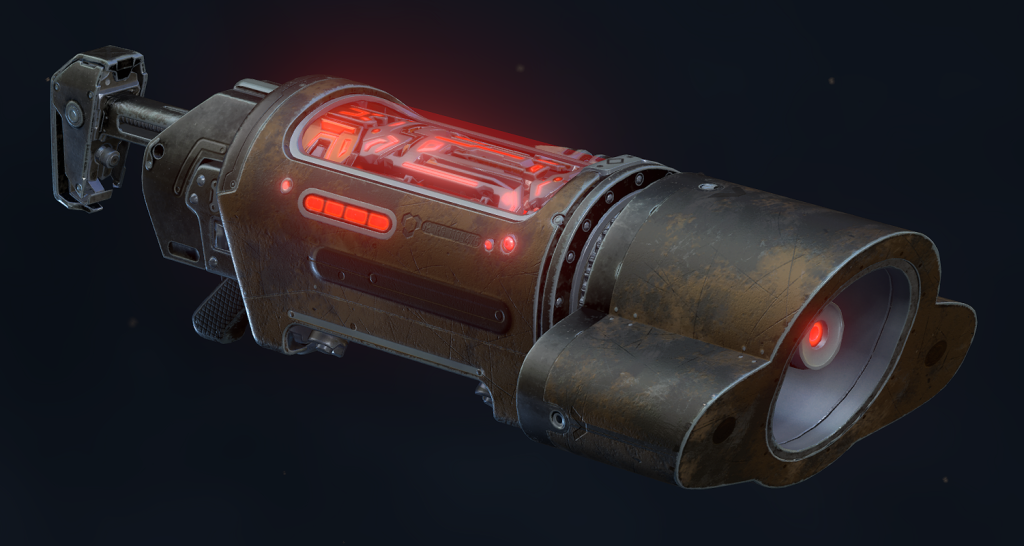 Good Afternoon Quakers! Season 20 our Autumn update has just released. Perhaps the biggest addition is the new Picmip video setting. This is in the new Advanced Video Settings tab added last Season. Picmip allows you to "smooth" the textures and their colors out. Currently you can have Picmip off (how we have been playing), Clean which still retains much of the color palette, and map details from off, and lastly smooth which to me makes the game look a tad bit like Diabotical, or Quake Live on certain settings. In any case everyone is going to have a difference in opinion here. I prefer the Clean variant. If you choose Clean, or Smooth you should notice a significant increase in your performance. Everyone's system is different. Always set your settings to what gives you the most consistent gameplay.
A new Server is up as well this being EU South Milan Italy server. Sacrifice Tourney mode is back on the Live build. New Arena Kings map has been added named "Trench" which is a portion of the map "Thunderstruck" from Quake Live. Finally many Autumn themed cosmetics have been added to the store.
If you are not already familiar with Quake Champions. We typically receive 4-ish Seasons a year that also comes with a BattlePass. Meaning we typically have 4: 10 to 12 week long BattlePasses a year. Week 1 is primarily made up of completing basic challenges such as completing matches, playing specific game modes, or using Champion abilities a certain number of times. Note the right side of the BP does not open up until you buy the BP for 1000 Platinum (premium in-game currency).

New Content:
🌟 Fall Podium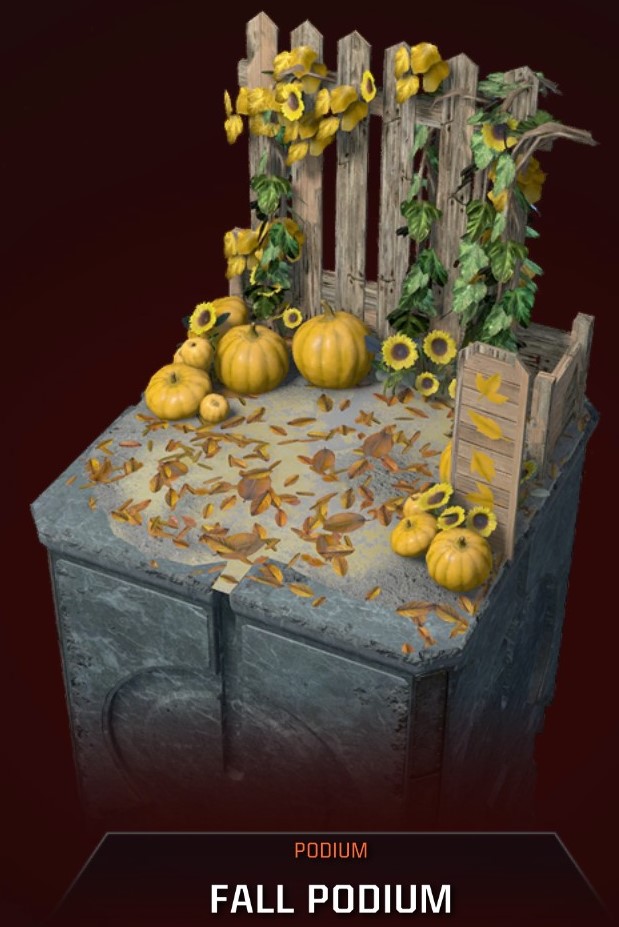 🌟 ORGAN GRINDER Gauntlet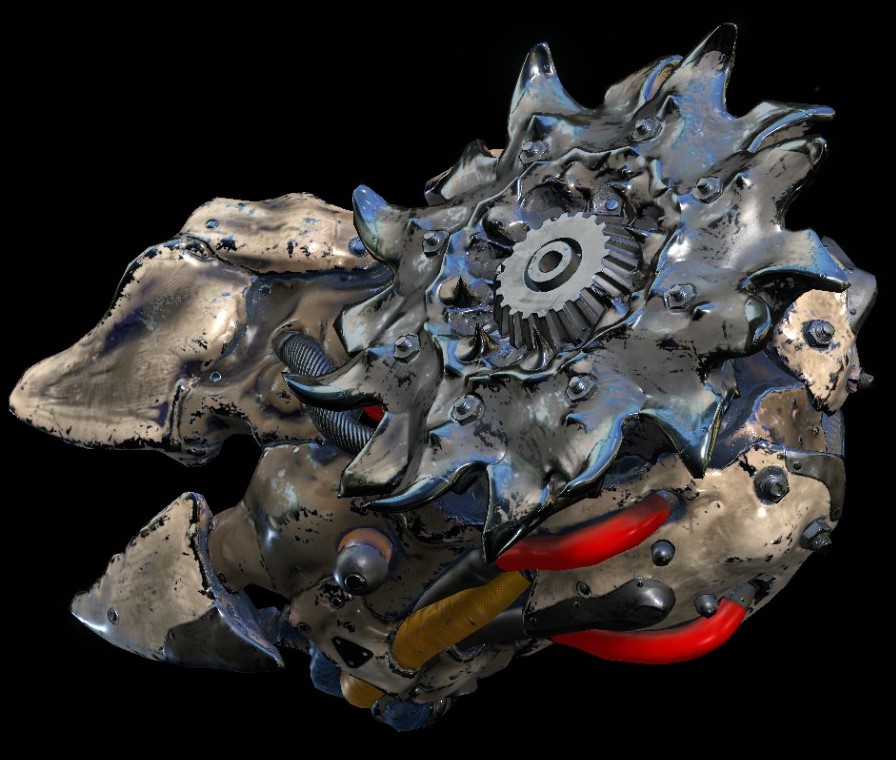 🌟 SCORPION Super Nailgun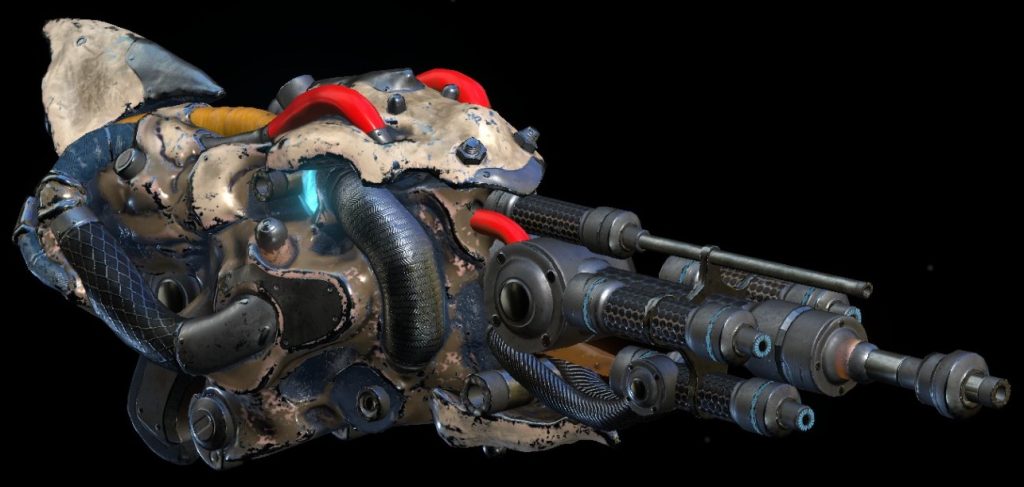 🌟 EELSBANE Lightning Gun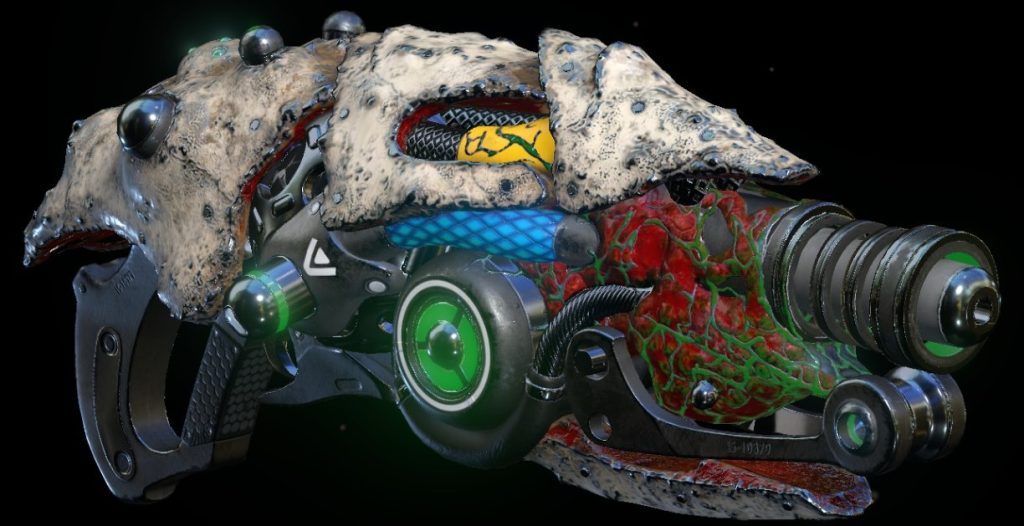 🌟 MALEDICTION Quake 2 Railgun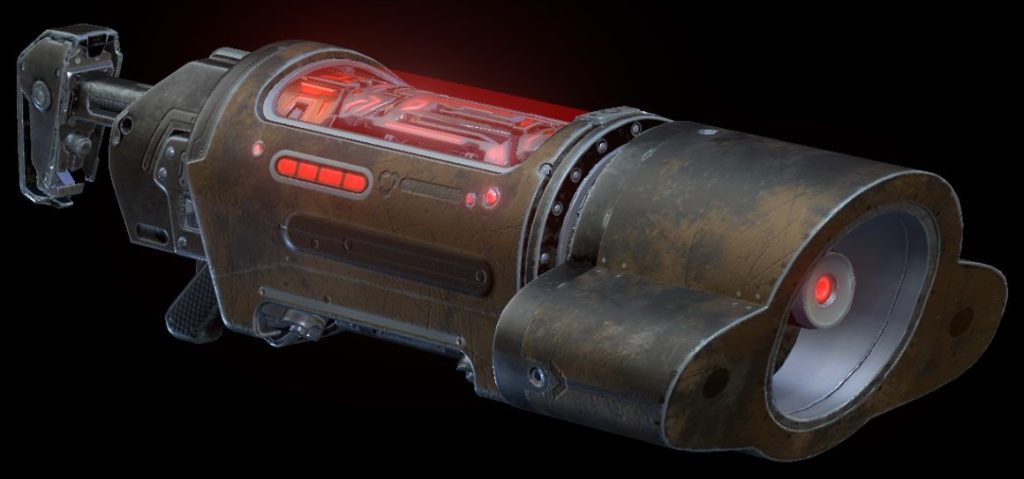 🌟 Visor JACK-O-LANTERN Vanity
🌟 Death Knight CHEF KNIGHT Vanity
🌟 Clutch SUPREME INTELLIGENCE Vanity
🌟 TRENCH Arena King's Map
New Settings:
Selective Picmip Advanced Video Settings

Game Changes:
Champions now have unique VO when killing opponents via a Ring-Out
We now sort all unlocked Profile Icons, Nameplates, and Podiums to display grouped together, before listing the unavailable locked customizations
Re-Added Duel Rounds, Sacrifice Tourney, Mystery Champions variants, and AAArena to Custom Game
Sorted TDM back to the top of the Custom Game game mode list
Increased Instagib Fraglimit from 50 to 100
Battle Pass – Hide the podium from view in the background
Game Fixes:
Fixed Duel Rounds & Sacrifice Tourney modes
Fixed Galena's Totems not clearing dot debuffs when overmax health
Display Arena King Rating in Match Lobbies (instead of their Duel SR)
Fixed timestamps in Chat
Fixed SUMMER BLAST water tank visibility in Ghostwalk
Increased the size of the Datacenter UI to support a larger number of datacenters before needing to scroll
QCON SNG – Fixed projectile synchronization time
Fixed a large number of animation issues for 14 weapons
Fixed invalid items that were dropping in lootboxes, causing an empty slot to be awarded
Fixed a number of fx issues for the lootbox opening sequences
Fixed the rarity levels for the TRESPASSER, TERMINATOR, PAINKILLER, N22, EL DIABLO, and BOOMSTICK Shotgun Shaders
Fixed char id for Athena No FX wings (was set to Keel), causing an issue during lootbox openings
Constructor SNG – Fixed idle animation state after shooting
Fixed a crash in the footstep code crash caused by bots
Fixed the ETQW, Q2, Q3, and Q4 railgun hums to match the volume of default rg hum
Increased the size of nails for QCON Nailgun
Fixed BJ Profile VO actor
Added an icon for Arena King Challenges
Removed 48 unused vanities to prevent their texture data load
Fixed some the rarity level and bundle descriptions for some weapons bundles in the store
Service Updates
Anti-cheat Updates
Upgraded server hardware and new hosting for:

APAC, South (Sydney)
APAC, North (Seoul)
APAC, Central (Singapore)
EU, Central (Frankfurt)
EU, West (London)
EU, South (Milan) – NEW DATACENTER
NA, East (Virginia)
NA, West (California)
SA, East (São Paulo)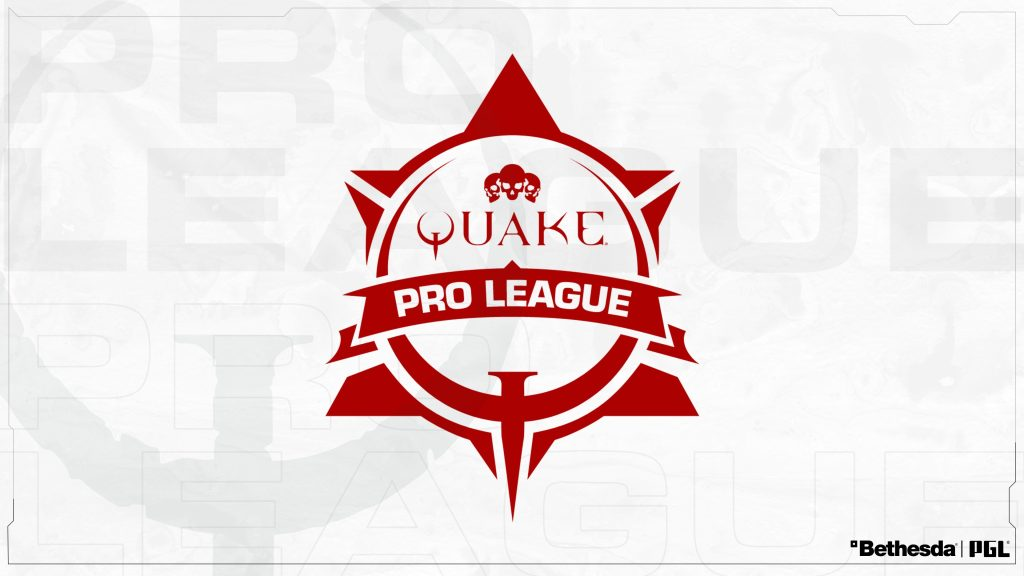 Our Professional esports League the Quake Pro League is made possible as a joint partnership between Professional Gamers' League (PGL), Bethesda | ZeniMax, and id Software. Currently Season 4 of the Quake Pro League (QPL) just wrapped up During QuakeCon 2023 that took place in Grapevine Texas this year (See y'all again Next Year). We are now eagerly waiting for the announcement of Season 5 of the QPL. Season 5 has not officially been confirmed | announced by PGL, or Bethesda | ZeniMax yet. We do not expect a public announcement about QPL Season 5 until January, or February of 2024. Until then we have the KeenCon LAN November 10th-12th & Endpoint's LAN still TBD.
The Quake, and really all of the Arena Shooter (Now Boomer Shooters?) communities have been extremely active Lately. Lots of community tournaments are open to all players in most regions, and some have weekly iterations as well. We have had several LAN (in person for Quake) events with more planned to happen throughout the year. Exciting times to be a Quaker indeed. make sure to follow our socials for more tournaments outside of the Quake Pro League.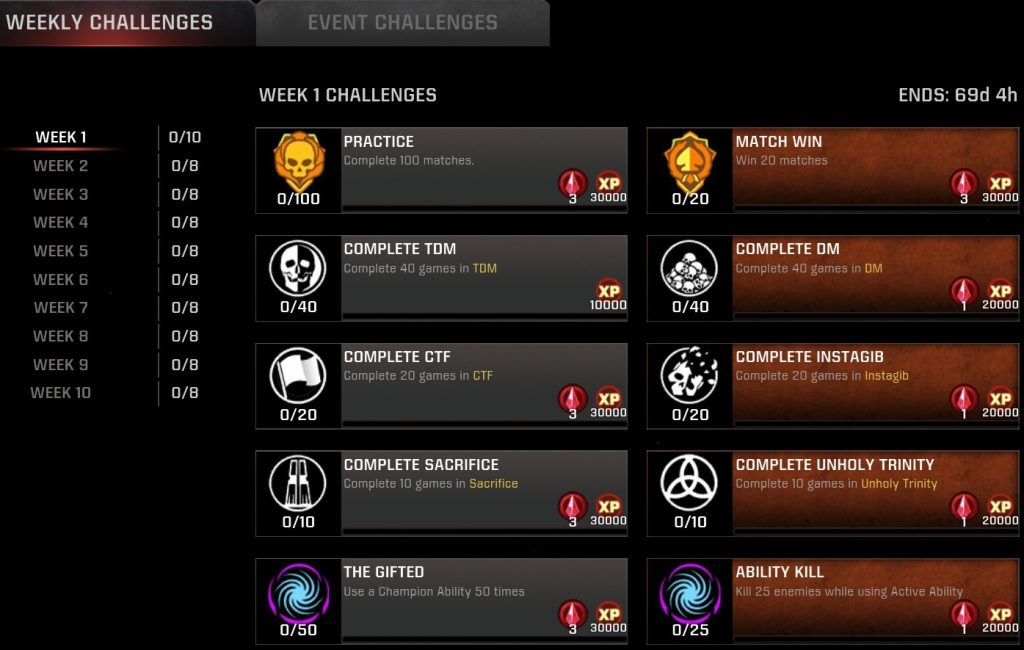 Don't forget to Q for TDM, CTF, Sacrifice, DM, Instagib, and Unholy Trinity this week, as everyone benefits from playing those game modes!
A new set of challenges opens up every Wednesday at 8:00 PM EAST | 2:00 AM CEST. The challenges are broken up in 2 parts. First their week, and then their side left side | right side. The left side consists of the free challenges you can obtain without buying the Battlepass. The right side is accessible after buying the Battlepass. The right side tends to be slightly harder, but gives additional XP as well as shards. Bot Games work as well for these challenges. 69 DAYS REMAIN FOR SEASON 20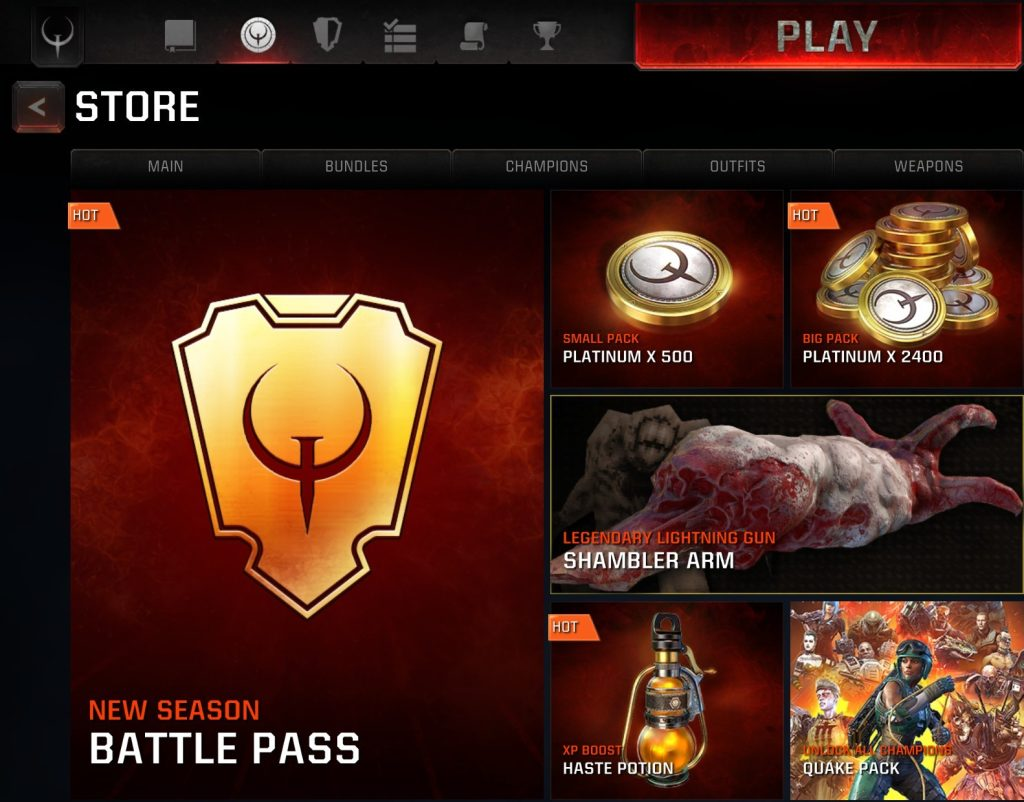 You can buy the BattlePass for 1000 platinum. Platinum is the Premium in-game currency in Quake Champions. You can Purchase Platinum in game any time you would like. Quake Champions has also been released on the Microsoft Store. You can Purchase Platinum in the Microsoft Store out of game as well.

The Battlepass itself is separated in 2 rows. The top row is the free version. You can acquire all the items here just by playing the game to level up your Battlepass. The bottom row is unlocked only with the purchase of the Battlepass. This is retroactive. So, if you are at level 50 and decide at that point you want to buy the Battlepass. Everything below level 49 will be added to your account. Keep an eye out for level 35 as this level gives you an automatically applied haste salve which gives you Triple XP for 7 whole days.
Once you have purchased the BP click the shield at the top of the screen, and hit the activate button that will be below the season 20 Name Plate.

One haste salve is provided to you during the BattlePass at level 35. 76 Shards can be acquired this season, and 60 platinum during this season's BattlePass. Lots of Autumn themed goodies this season too. Note if you already own an item it instantly converts it to shards. Level 101 onwards changed starting in season 14. There is technically a 2nd half to the Battlepass levels maxing out at level 200. Level 101 to 200 has rewards as well. Every 5 levels starting at 105 you will receive 1 shard. While every 10 levels starting at level 110 you will receive 1 shard, and 1 Reliquary. The only exceptions being 190 where you receive 3 shards, and 200 which you will receive 5 shards. I have not verified if this is still the setup for Season 20…Gotta push those levels up first.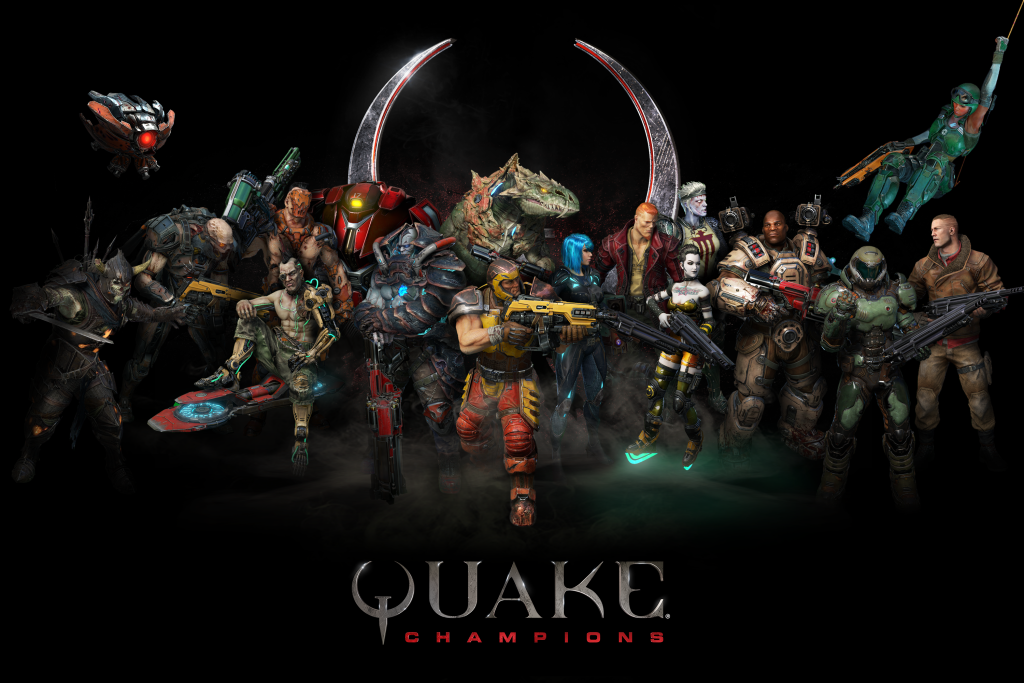 Quake Champions is now part of the extended Microsoft | Xbox family, and Xbox has given Quake Champions lots of love, and attention since Quake joined. Quake Champions is now on the Microsoft Store, and was also added to the PC version of Xbox Game Pass. The Ultimate Edition of the PC Xbox Game Pass Subscription service will give you the Champions pack for free upon login.
Official Quake discord here: discord.gg/Quake
all bugs need to be posted in the "#bug-reports" channel under the "QC FEEDBACK" header in the official discord. Video clips, or screenshots of your issue are very useful for the developers.
HAPPY FRAGGING FOLKS, AND WE SHALL SEE EACHOTHER IN THE ARENAS!
About The Author