#QuakeProLeague 2023 Season 4 announced in #QuakeChampions! Starting this Saturday JAN 28th at 10AM EAST | 4 PM CET. Details inside!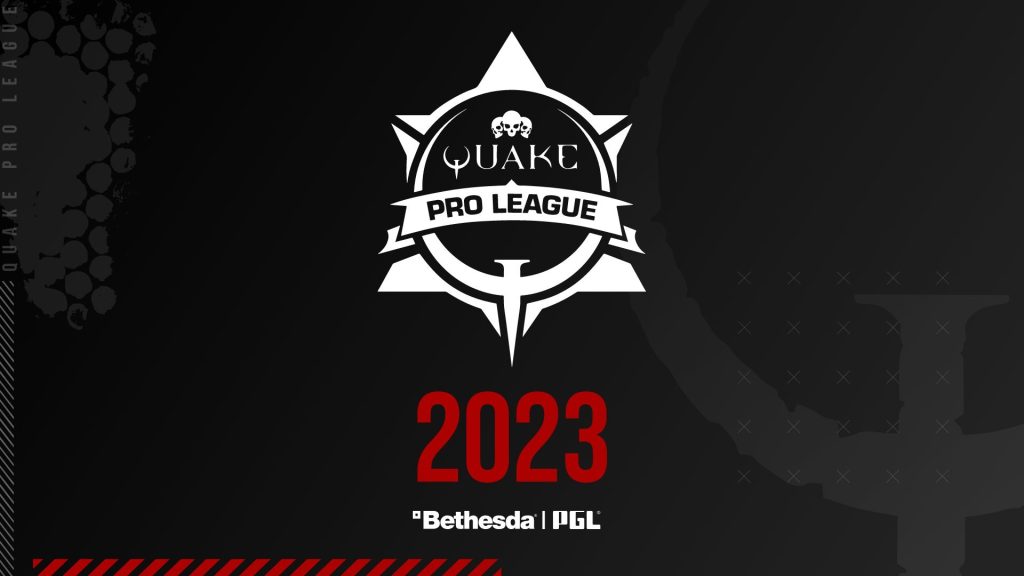 Good Evening Quakers we have a spectacular year to look forward to! Quake Pro League 2023 Season 4 has just been announced. It will be starting this Saturday January, 28th at 10 AM EAST | 4 PM CET. The Quake Pro League is in partnership with Professional Gamers League (PGL) helping with Broadcasting, and Bethesda Softworks the Publisher of Quake Champions. The current league is made up of 16 invited participants with 8 more spots to be filled out with the Challengers league starting in next month in February, and wrapping up in July. There will be 26 thrilling weeks leading us to the Quake World Championship this August at QuakeCon 2023!
The 16 invited guests will battle it out over a 18 week cross-regional round robin format being broadcasted live from PGL Studios. additionally dozens will sign-up for the 8 week long Challengers league to see if they have what it takes to join the rest at QuakeCon 2023 this August.
IMPORTANT LINKS TO FOLLOW FOR THE SEASON!
WHEN:
Every Saturday starting this Saturday at 10 AM EAST 4PM CEST..
Note the format has 2 weeks of Quake Pro League season with every third week being for a specific challengers region. so Weeks 1, and 2 will be for the Quake Pro League while Week 3 will be the first Challengers Qualifier. Check the snippet of the calendar below.
WHERE TO WATCH:
16 INVITED PARTICIPANTS: NAME | twitter Handle, Country, Team Name.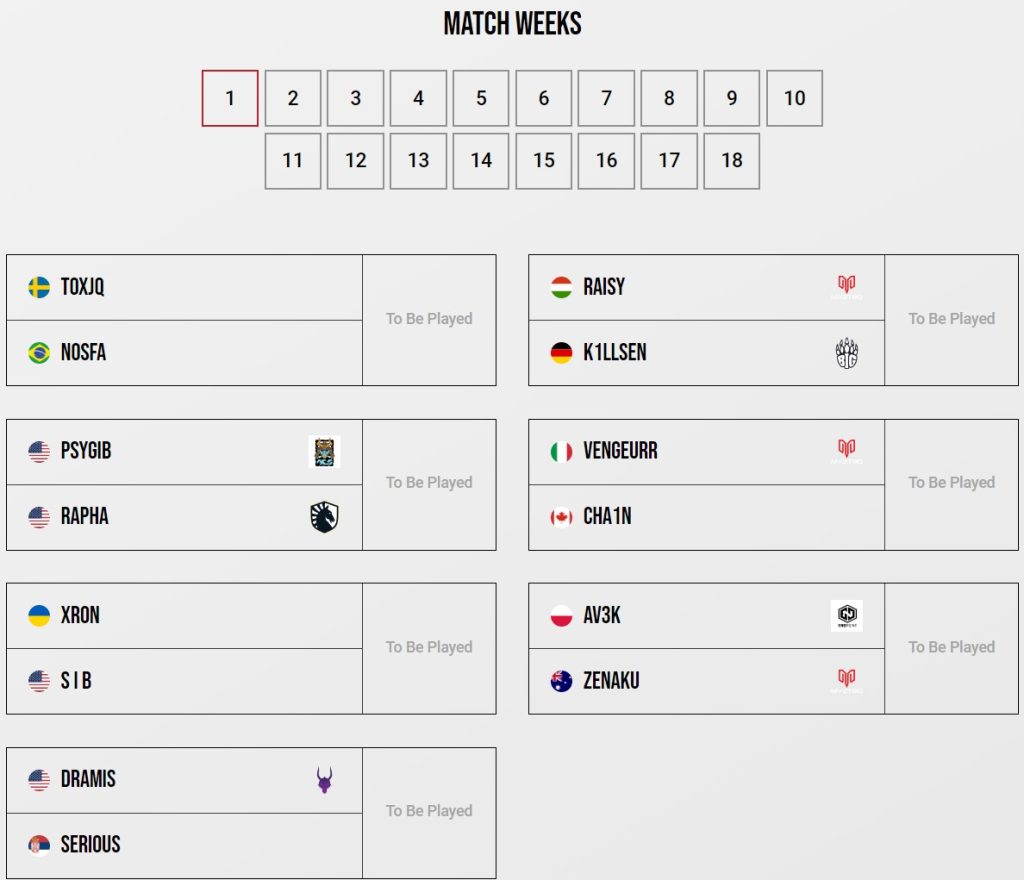 ARENA POOL FOR 2023 SEASON 4:
Last season had Insomnia in the pool, so Molten Falls is the new addition this season.
Earnings Breakdown:
Regular Season Matches:
$150 Map Win
$50 Map Loss
Quake World Championship – $150,000:
17th – 24th – $2,250
13th – 16th – $4,000
9th – 12th – $5,500
7th – 8th – $7,250
5th – 6th – $8,500
4th – $10,000
3rd – $12,500
2nd – $15,000
1st – $25,000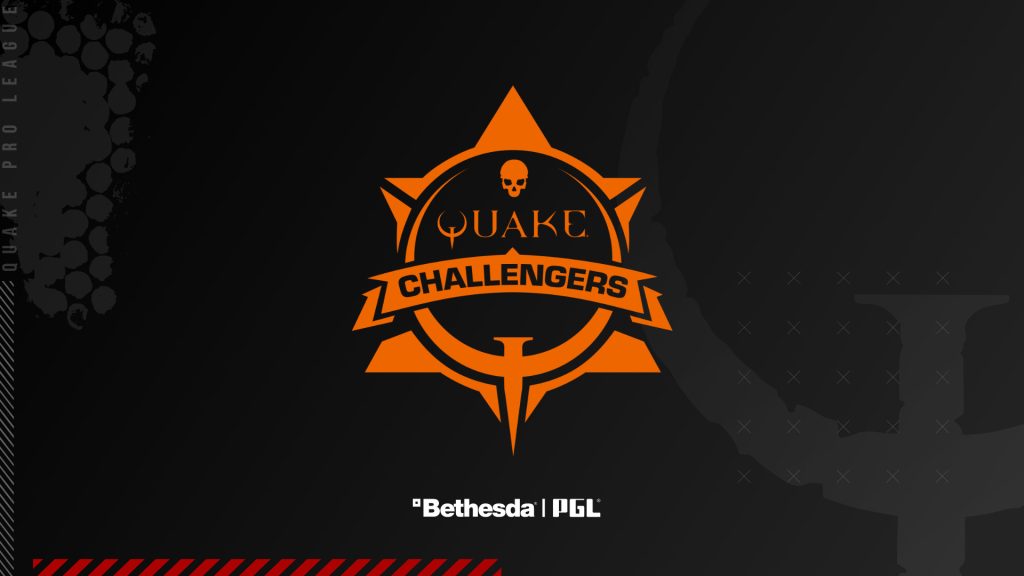 In addition to the main season there will be a challengers division that anyone can join. This will be 8 weeks spread out from February to July. There will be 4 weeks dedicated to Global Qualifiers as well as a regional qualifier for: Asia-Pacific, Europe/CIS (includes Africa), South America, and North America. 8 participants from the Challengers will meet up with the 16 invited participants at the Quake World Championship later this year in August to determine Season 4's winner.
If you are interested in participating in the Challengers qualifiers read the RULESET first. As it will explain everything you need to know. Registration starts on February 6th for Quake Challengers Global Qualifier 1.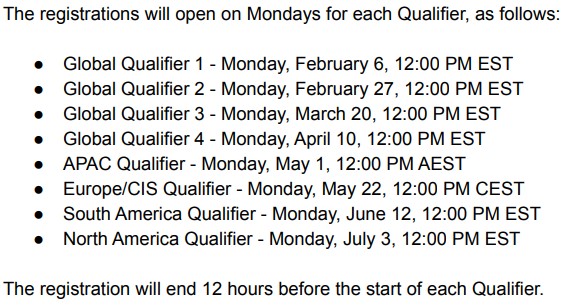 Qualifiers are Open to participants who are 18 years old, and from all regions and countries except those countries that are embargoed by the United States of America Treasury Department these being: Russia, Belarus, Iran, North Korea, Syria, Sudan, Cuba, and Venezuela. To be clear this has always been a stipulation for Eligibility for all seasons of the Quake Pro League. It just gained attention last year with current events starting shortly after Season 3 started.
Microsoft made a statement last March explaining why they follow these sort of requests from their government. In this statement Microsoft has made it clear they will be suspending all sales in Russia and now Belarus as well. Since Bethesda Softworks is a subsidiary of Microsoft this has trickled down to Quake Champions. The gist of the situation is Bethesda Softworks cannot in good faith allow people to participate in the Quake Pro League or Challengers if they can not guarantee their payment to them legally.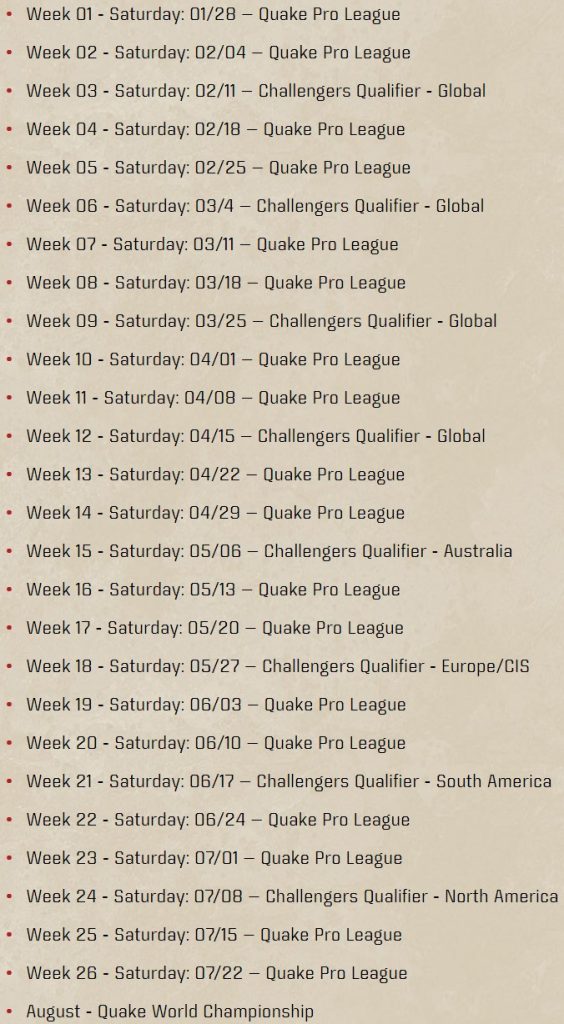 Quake World Championships Format:
The Quake Pro League will congregate in a three day Quake World Championship. First day will be made up of 4 groups of 4 players. These groups will be comprised of our 8 Qualifiers and Bottom 8 seeded Quake Pro League players. Top 2 players from each group will qualify to day two where the top 8 seeded Quake Pro league players and the 8 qualified players from Day 1 will make up a sixteen person double elimination bracket. Quake Pro League seeds will be generated based on regular season performance. This bracket will integrate both regions based on their respective seeds as displayed below: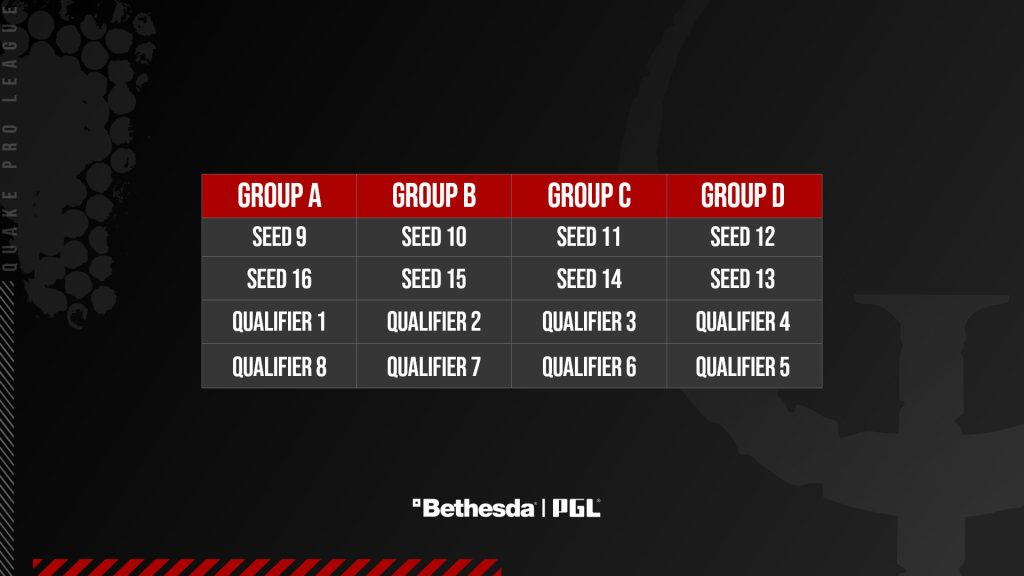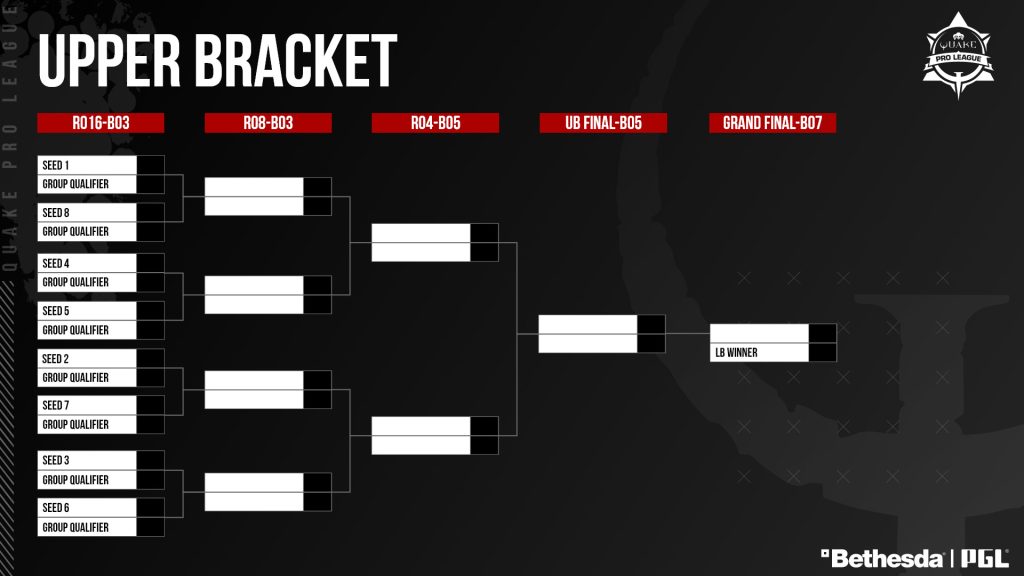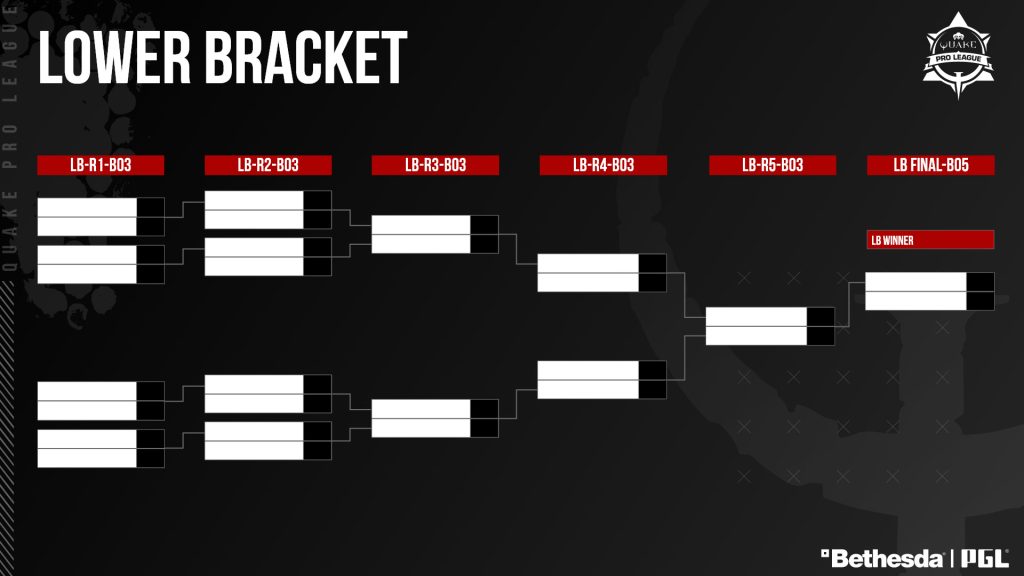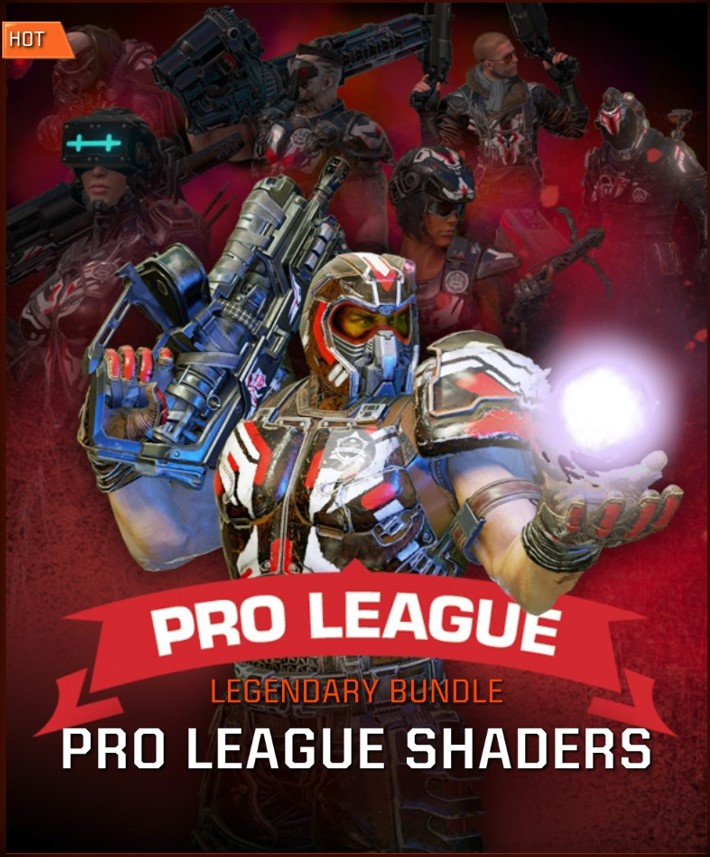 Lastly, If you have not already you can purchase the Quake Pro League themed shader pack for 1500 platinum in the in game store. Currently found in the outfits tab. Proceeds for the shader pack go back into the Quake Pro League e-Sports program. This shader pack comes with one skin variation for each of the 16 default Champion skins, and 1 for each skin variation of the 11 default weapon skins.
HAPPY FRAGGING FOLKS, AND GOOD LUCK TO ALL THE CONTESTANTS PARTICIPATING!
About Author