UK Quake World Championship Watch Party & FFA Tournament! Saturday August 12th at New Meta Gaming Arena, London England.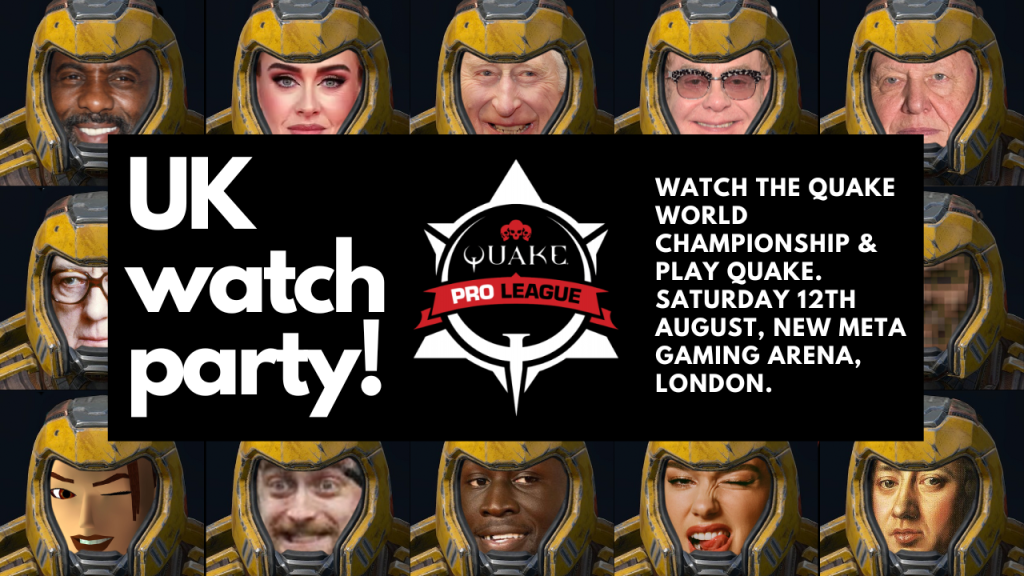 Good Afternoon Quakers. Derelict85 & Gaz/phex0r will be throwing a UK watch party, and Quake Champions Free For All Tournament. This event will take place Saturday August 12th at the New Meta Gaming Arena in London, England.
Important Links to Follow:
Organizer Information:
ANNOUNCING THE QUAKE WORLD CHAMPIONSHIP UK
WATCH PARTY

An opportunity for Quake fans to watch the QWC finals, compete for prize
money and hang out – in person!

About the event:
The Quake World Championship UK Watch Party is an in-person gathering of Quake and
esports fans at New Meta Gaming Arena in London to watch the Bethesda/PGL cast of the
QWC finals. There will be at least one Quake Champions tournament with a cash prize. The
UK watch party is a rare opportunity to play Quake face-to-face with old friends and new,
and watch the QWC show.

The watch party will take place on Saturday 12th August, the final day of the QWC finals.
The venue opens from 12pm BST and will have the Bethesda/PGL stream on in the watch
area all day. The venue is just off Upper Street in Islington – very easy to get to from Central
London. It is free to attend. Food, drink and hire of PCs can be purchased from the venue.

About the tournament:
There will be a Quake Champions FFA tournament with a minimum prize pool of £100 split
between the top three places. If there is enough interest we will run additional games and
tournaments throughout the day (we ask people to tell us what they want to play when they
register). We hope to increase the prize pool with community support.

We have opted for an FFA tournament because it creates a unique opportunity for new and
non-elite players to compete in a Quake tournament with a cash prize in person – usually the
preserve of pro and elite players. And we love FFA!

About the venue:
New Meta Gaming Arena is a gaming cafe/esport arena in London, which aims to provide
gamers with somewhere to meet up, play and host tournaments, bootcamp and meet
like-minded people. It is a two-floor venue with 44 gaming PCs, a streaming booth, a console
booth, a watch party area, and food and drink available for purchase. PCs can be hired for
use, allowing gamers to play anything in their Steam library. For more on hire cost, PC
specifications, address and the venue, visit their website: https://playnewmeta.gg/

About the organizers:
Joe/derelict85 and Gaz/phex0r started playing Quake in the 90s and have followed the
franchise ever since, albeit with some pretty big gaps. They have memories of playing
Quake on LAN round friends' houses and going to big events like SavLAN. They are
interested in creating opportunities that encourage new and non-elite players to compete,
running unique tournaments, and putting on events so people can play Quake in person.

Joe/derelict85: "We couldn't get to Texas this year and have been desperate to go to an
event. So we thought we'd put on the UK watch party, run some games and have our own
little slice of QuakeCon here at home."

Gaz/phex0r: "I remember the days of competing in the Barrysworld FFA league when I first
started out. I want to recreate some of that magic for new players. And New Meta is a great
venue for people to play together."

Call to action:
People who want to attend should register for the event here:
https://forms.gle/vdQFSs5E1mdmxHSX8

If you have more questions, get in touch with via email (quake.ascension@gmail.com) or
Twitter: https://twitter.com/derelict85
HAPPY FRAGGING FOLKS, AND GOOD LUCK TO ALL THE CONTESTANTS PARTICPATING!
About Author