Season 18 Week 03 Challenges Live in #QuakeChampions!
Good Afternoon Quakers! We have our 3rd week of Challenges released for Season 18.
Season 18 came with many additions to Quake Champions. You can read our article with the Patch Notes here.
If you are not already familiar with Quake Champions. We typically receive 4-ish Seasons a year that also comes with a BattlePass. Meaning we typically have 4: 10 to 12 week long BattlePasses a year. Week 1 is primarily made up of completing basic challenges such as completing matches, playing specific game modes, or using your champion's abilities a certain number of times. Note the right side of the BP does not open up until you buy the BP for 1000 Platinum (premium in-game currency).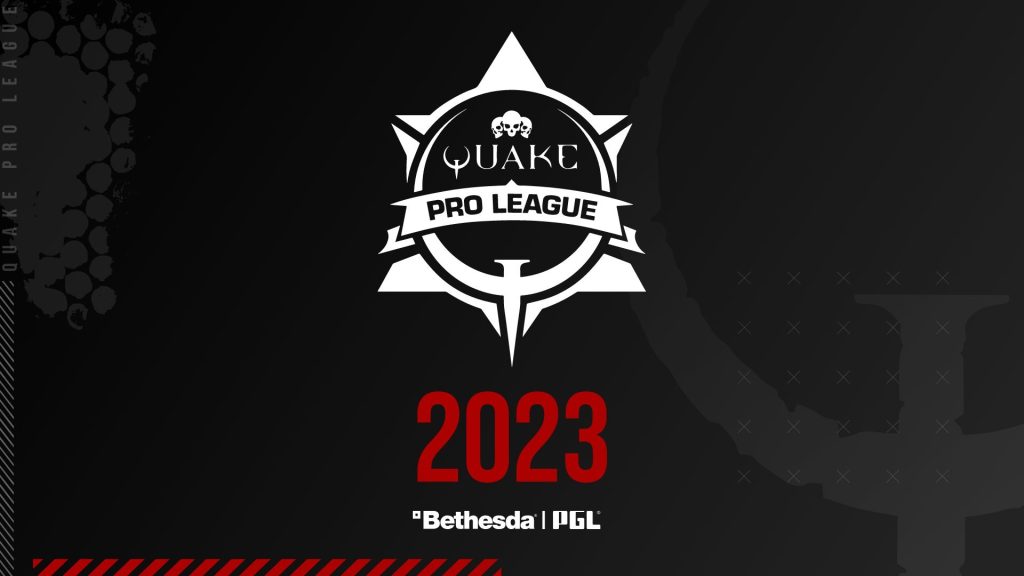 Our Professional e-Sports League the Quake Pro League is made possible as a joint partnership between Professional Gamers' League (PGL), Bethesda | ZeniMax, and id Software. Currently Season 4 of the Quake Pro League (QPL) is under way. with Week 6 happening this Saturday!
ARENA POOL FOR 2023 SEASON 4:
The Quake, and really the entire Arena Shooter communities have been extremely active Lately. Lots of community tournaments are open to all players in most regions, and some have weekly iterations as well. We had several LAN events in 2022 with 1 already confirmed for this year in June! Exciting times to be a Quaker no doubt. make sure to follow our socials for more tournaments outside of the Quake Pro League.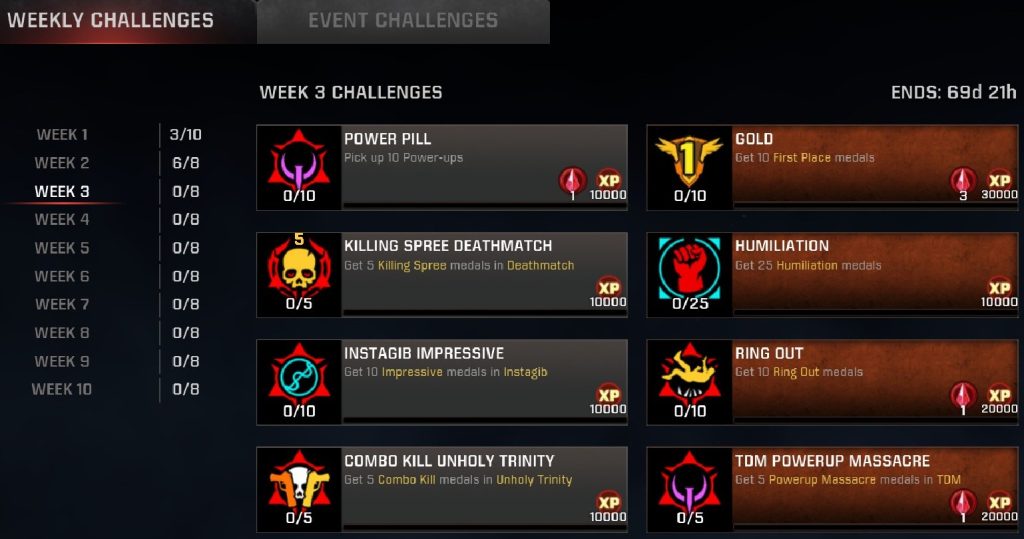 Don't forget to Q for Deathmatch, Instagib, and Unholy Trinity, as everyone benefits from playing these game modes for this week's challenges.
A new set of challenges opens up every Wednesday at 8:00 PM EAST | 2:00 AM CEST. The challenges are broken up in 2 parts. First their week, and then their side left side | right side. The left side consists of the free challenges you can obtain without buying the Battlepass. The right side is accessible after buying the Battlepass. The right side tends to be slightly harder, but gives additional XP as well as shards. Bot Games work as well for these challenges. 69 DAYS REMAIN FOR SEASON 18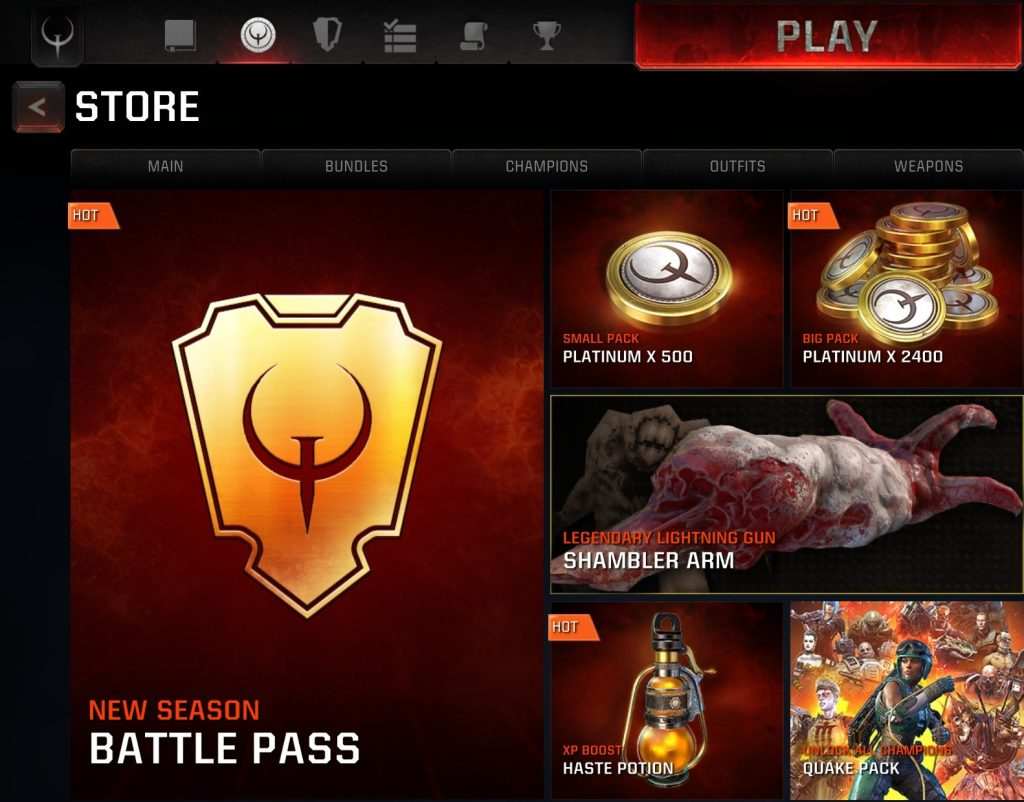 You can buy the BattlePass for 1000 platinum. Platinum is the Premium in-game currency in Quake Champions. You can Purchase Platinum in game any time you would like. Quake Champions has also been released on the Microsoft Store. You can Purchase Platinum in the Microsoft Store out of game as well.

The Battlepass itself is separated in 2 rows. The top row is the free version. You can acquire all the items here just by playing the game to level up your Battlepass. The bottom row is unlocked only with the purchase of the Battlepass. This is retroactive. So, if you are at level 50 and decide at that point you want to buy the Battlepass. Everything below level 49 will be added to your account. Keep an eye out for levels 30 & 65 as these levels give you an automatically applied haste salve which gives you Triple XP for 7 whole days.
Once you have purchased the BP click the shield at the top of the screen, and hit the activate button that will be below the season 18 Name Plate.

Two haste salves are provided to you during the BattlePass at level 30 & 65. 93 Shards can be acquired this season, and 50 platinum during this season's BattlePass. Lots of Easter themed goodies this season. Note if you already own an item it instantly converts it to shards. Level 101 onwards changed starting in season 14. There is technically a 2nd half to the Battlepass levels maxing out at level 200. Level 101 to 200 has rewards as well. Every 5 levels starting at 105 you will receive 1 shard. While every 10 levels starting at level 110 you will receive 1 shard, and 1 Reliquary. The only exceptions being 190 where you receive 3 shards, and 200 which you will receive 5 shards. I have not verified if this is still the setup for Season 18…Gotta push those levels up first.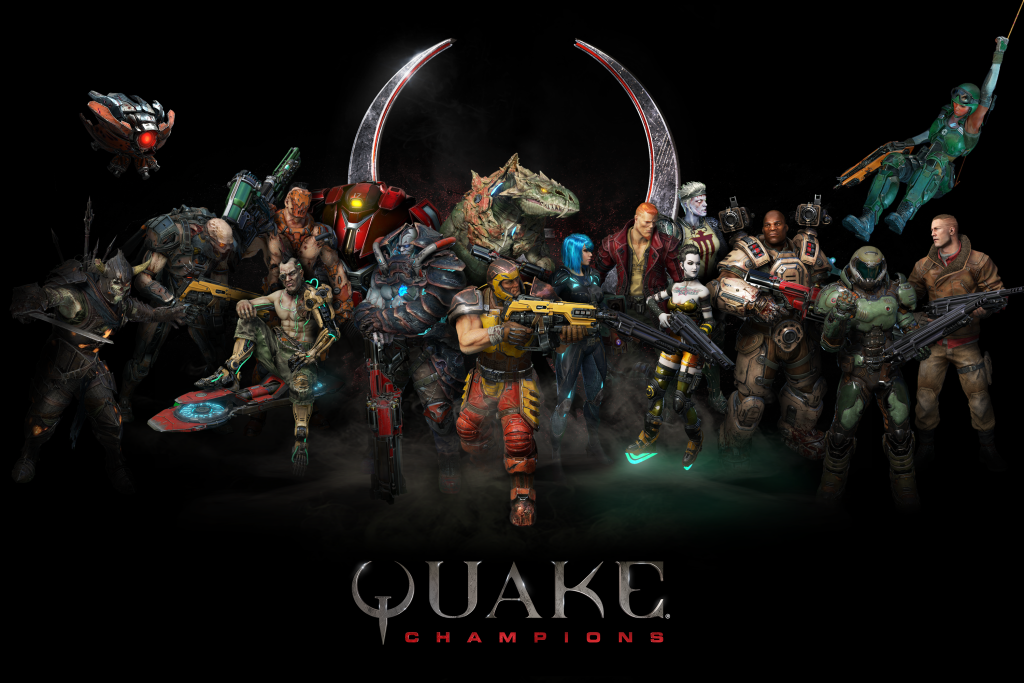 Quake Champions is now part of the extended Microsoft | Xbox family, and Xbox has given Quake Champions lots of love, and attention since Quake joined. Quake Champions is now on the Microsoft Store, and was also added to the PC version of Xbox Game Pass. The Ultimate Edition of the PC Xbox Game Pass Subscription service will give you the Champions pack for free upon login.
Official Quake discord here: discord.gg/Quake
all bugs need to be posted in the "#bug-reports" channel under the "QC FEEDBACK" header in the official discord. Video clips, or screenshots of your issue are very useful for the developers.
HAPPY FRAGGING FOLKS, AND WE SHALL SEE EACHOTHER IN THE ARENAS!
About The Author