GerQC Saturday Night Games-7 1v1 Duel Cup for #QuakeChampions. February 25th 5PM CET 11AM EAST. Sign-up now!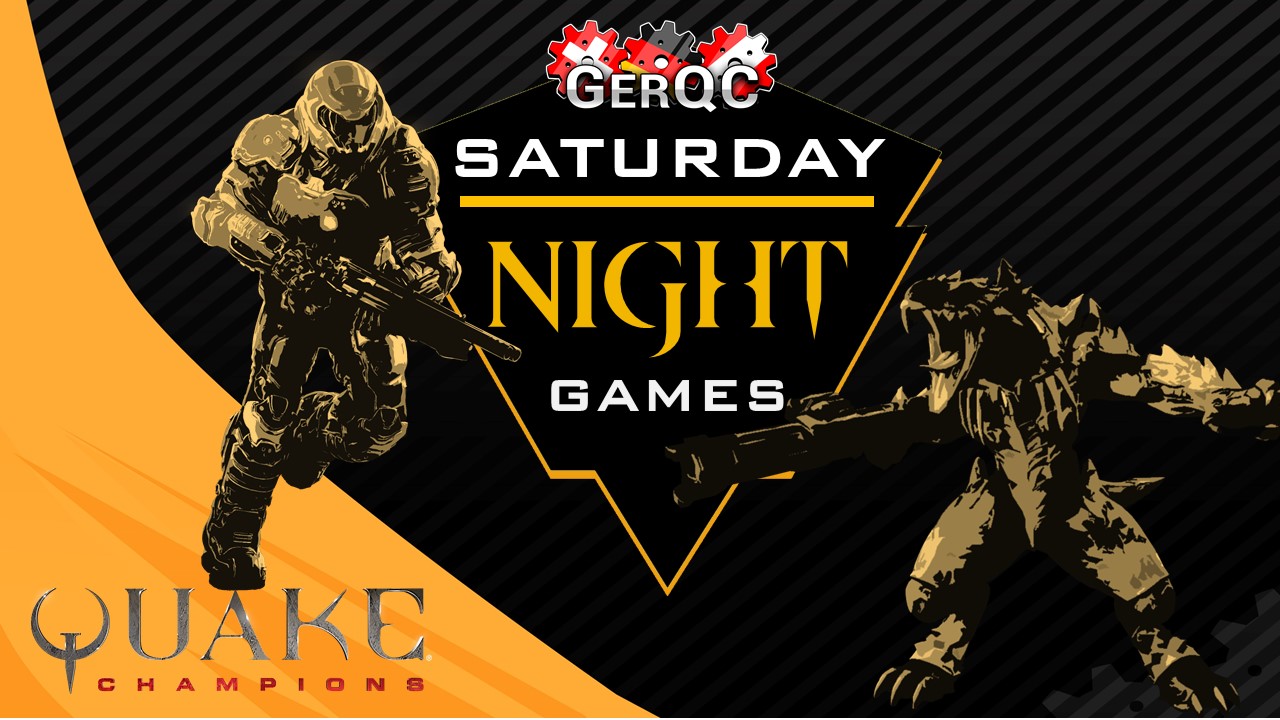 Good morning Quakers. The German Quake Community (GerQC) will be hosting their 7th Saturday Night Games 1v1 Duel Cup this Saturday February 25th, at 11 AM EAST | 5 PM CET.
IMPORTANT LINKS TO FOLLOW
Registration is through GerQC's Discord by leaving your in game name in the "#cup-signup" channel. Just a heads up once you click to enter the discord you must be approved first, so make sure you Queue that up early.
ORGANIZER INFORMATION
One-day 1vs1 Duel Cup in the style of our Duel Season
on February 25th, 2023 between 5:00 p.m. and 10:00 p.m. (CET)
Registration Process:
Registrations are made via the GerQC Discord.
Leave your ingame name in the "#cup-signup".
(sign up INGAMENAME)
Division Breakdown:
The players are divided into groups according to their ELO.
Each account should show a total of 100 duels.
This is a necessity so that we can put together fair groups.
Game Mode & Match Rules:
Frag Limit: –
Time Limit: 10:00
Each participant plays in a Bo1 against each other from his group.
For this you use Qrinder and set the mode to "Quake Champions – Timelimit Duel (Estoty Cup – Best of 1)", but we want to play the current QPL maps, which means:
Points system: won match = 1 point
Server: EU Central, unless both players agree to play on another server.
ARENA POOL FOR 2023:
Tournament Breakdown & Player Rules:
At the end of the "group phase" the player in first place will play against the player in 2nd place in the finals.
In the event of a tie between several players, the frag difference decides.
The group winner gets a map credited. This is determined in the Bo5 pick and ban process on Qrindr "Quake Champions – Timelimit Duel (QPL S3:S1 – Best of 5)".
(current QPL maps, Insomnia = The Molten Falls)
It is the map that is picked last there.
All finals will be streamed and played back-to-back.
(There could be short waiting times)
If a player is no longer available during the tournament or loses the desire to continue playing,
this player will be disqualified and all his previous matches will be deleted.
Toxic behavior (insults, suiciding etc.) might lead to disqualification.
Disconnecting during a match is considered as a loss.
Problems with the internet connection must be communicated during
the first 10 seconds and the map can be restarted once because of that.
The winner posts the result in the channel #ergebnisse-results and the organizers will transfer the result to toornament.com.
Please give the exact result, every Frag counts! (example: Player-A 13:9 Player-B)
Streaming: Streaming is allowed if both players agree (the players should also be informed about the delay). The finals are all streamed and cast by GerQC, some group games as well.
Happy Fragging Folks, and Good Luck to all the Players Participating in this Tournament.
About Author