Season 16 Week 5 Challenges Live in #QuakeChampions!
Good Morning Quakers! Week 5 Challenges our live for Season-16. Season-16 our Autumn update released just a few weeks ago, and it is filled with all sorts of goodies for us to collect, and find throughout this BattlePass (BP) season. The Joker Grenade Launcher from Quake 2 as a Tri-bolt skin has been added. Ranger received 2 very unique shaders: Pure Gold & Pure Silver shaders. Many other changes came with Season-16. You can read our article with patch notes! 7-day Haste Potion, and Rename token are 50% right now. 55 DAYS REMAIN FOR SEASON 16!
Official QUAKE twitter: twitter.com/quake Quake Series | Quake Pro League News
If you are not already familiar with Quake Champions. We typically receive 4-ish Seasons a year that also comes with a BattlePass. Meaning we typically have 4: 10 to 12 week long BattlePasses a year. Week 1 is primarily made up of completing basic challenges such as completing matches, playing specific game modes, or using your champion's abilities a certain number of times. Note the right side of the BP does not open up until you buy the BP for 1000 Platinum (our premium in-game currency).
You may also be interested in the most recent Public Test Server PTS updates. Our newest arena Crucible has been added to the PTS for testing in blockout form. If you want to know more about the PTS you can read our ARTICLE on it. No article (I know I said that last week sorry) is up yet on our end for the most recent set of PTS updates. Link to first update.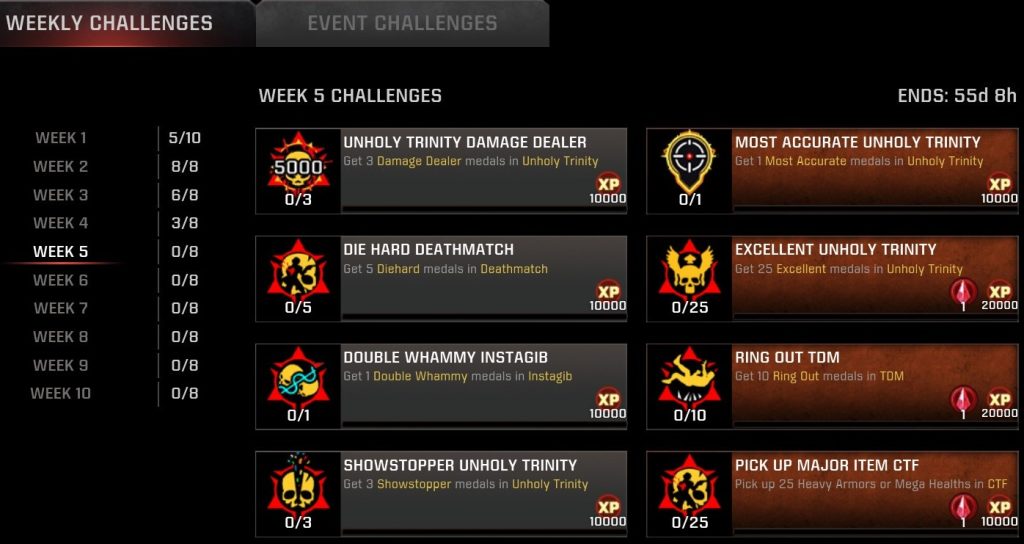 A new set of challenges opens up every Wednesday at 8:00 PM EAST | 2:00 AM CEST. The challenges are broken up in 2 parts. First their week, and then their side left side | right side. The left side consists of the free challenges you can obtain without buying the Battlepass. The right side is accessible after buying the Battlepass. The right side tends to be slightly harder, but gives additional XP as well as shards. Bot Games work as well for these challenges.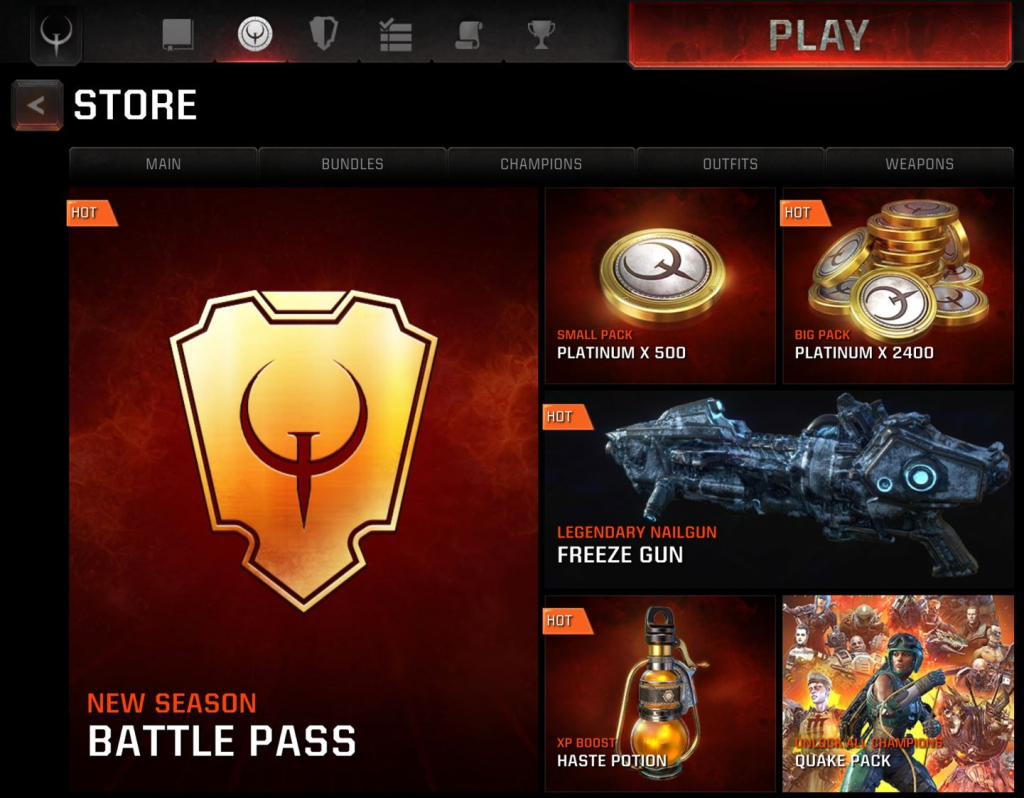 You can buy the BattlePass for 1000 platinum. Platinum is the Premium in-game currency in Quake Champions. You can Purchase Platinum in game any time you would like. Quake Champions has also been released on the Microsoft Store. You can Purchase Platinum in the Microsoft Store out of game as well.

The Battlepass itself is separated in 2 rows. The top row is the free version. You can acquire all the items here just by playing the game to level up your Battlepass. The bottom row is unlocked only with the purchase of the Battlepass. This is retroactive. So, if you are at level 50 and decide at that point you want to buy the Battlepass. Everything below level 49 will be added to your account. Keep an eye out for level 2, and 35 as these levels give you an automatically applied haste salve which gives you Triple XP for 7 whole days.
Once you have purchased the BP click the shield at the top of the screen, and hit the activate button that will be below the season 16 Name Plate.

Our Professional e-Sports League the Quake Pro League is made possible as a joint partnership between Professional Gamers' League (PGL), Bethesda | ZeniMax, and id Software. Currently Season 3 of the Quake Pro League (QPL) just wrapped up During QuakeCon 2022 taking place instead at PGL's Headquarters in Bucharest Romania. We are now eagerly waiting for the announcement of Season 4 of the QPL. Season 4 has not officially been confirmed by PGL, or Bethesda | ZeniMax yet. But, SyncError has stated he hopes to have a new Duel map up before the next season. That's some pretty solid confirmation for me.
Quake Champions is now part of the extended Microsoft | Xbox family, and Xbox has given Quake Champions lots of love, and attention over the past few months. Quake Champions is now on the Microsoft Store, and was also added to PC Xbox Game Pass, so no console version. The Ultimate Edition of the PC Xbox Game Pass Subscription service will give you the Champions pack upon login.
Official Quake discord here: discord.gg/Quake
all bugs need to be posted in the "#bug-reports" channel under the "QC FEEDBACK" header in the official discord. Video clips, or screenshots of your issue are very useful for the developers.
HAPPY FRAGGING FOLKS, AND WE SHALL SEE EACHOTHER IN THE ARENA
About The Author