Season 13 Week 11 Challenges Live in #QuakeChampions. Mid-Winter Update TMRW!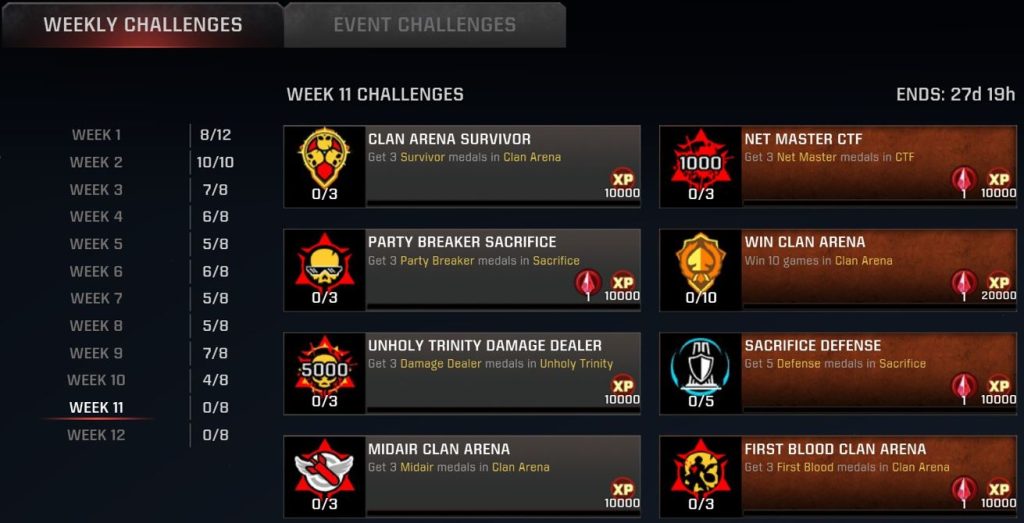 * Real quick an Update for Quake Champions will go out tomorrow morning at 10 AM EAST | 1400 PM CET. Servers will be down for this maintenance, so don't be worried if you can't log in for a little while.
Hello, and good evening Quakers! Season 13 is now in full swing at this point, and Week 11 of our weekly challenges are live. Several PTS updates have rolled out during this season, and it looks like some of those are being packaged for the LIVE server. In any case whenever that new update rolls to the main server the 25TH Anniversary Banners are going to be removed (so, take your screenshots now), Bots are getting smarter, and Perhaps the biggest change is the NailGun rework.
In case you missed it the Quake Pro League (Season3) is back. Don't forget the Festivities for the Quake Pro League our SATURDAYS AT 10 AM EAST 1400 PM CET.
twitch Quake (English) twitch.tv/quake
If you are not already familiar Quake Champions has 4 Seasons a year that also correspond with the Battlepass. Meaning we have 4 10 to 12 week long Battlepasses a year. Note the right side of the BP does not open up until you buy the BP. 27 DAYS REMAIN FOR SEASON 13.
Bethesda Blog with Season 13 Patch Notes: quake.bethesda.net/en/news/3dRqyUll7wVetJ8ua2cPA8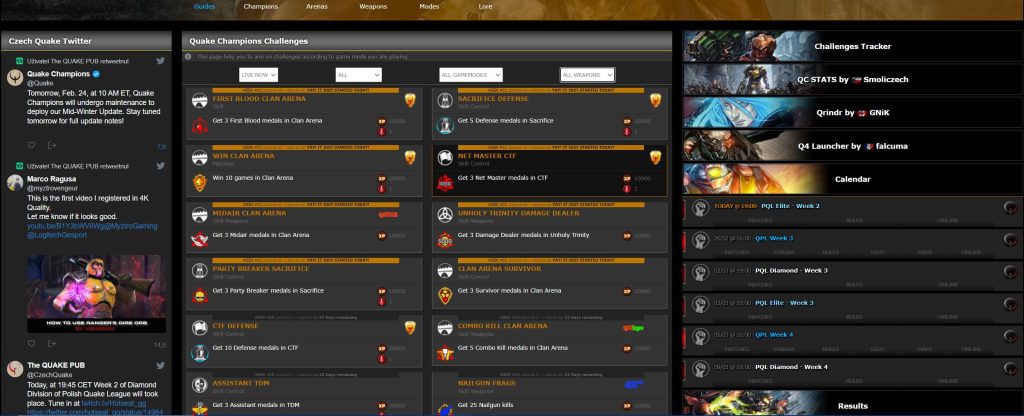 The Czech Quake Community has made us a BattlePass Challenges Tracker over on their website: www.quake.pub Also check out their Tournament Calendar on the Right of their page, Live twitter feed on left, and newly added interviews in the center. The Quake Pub also shows Streamers for our community, and a Tournament Calendar that is kept current.
The Tracker works for mobile devices, and can be filtered with these 4 categories, or a combination; Live | Awaiting Challenges, Free BP | Paid BP, Game-Modes, or finally Weapon used. In order to track your own challenges you will need to make an account with the website at the top right corner of their website. Once your account is verified you just have to click on the challenges you have completed.
This is a wonderful tool as we progress further through the weeks it will become harder to keep track of each individual challenge. If you have 2 monitors you may just be able to pop your browser up their to see your challenges, or being mobile friendly you may just be able to view it on your phone. In any case I'll leave links to the Czech Quake Community's socials below. Be sure to thank them for all their hard work.
Czech Quake Socials: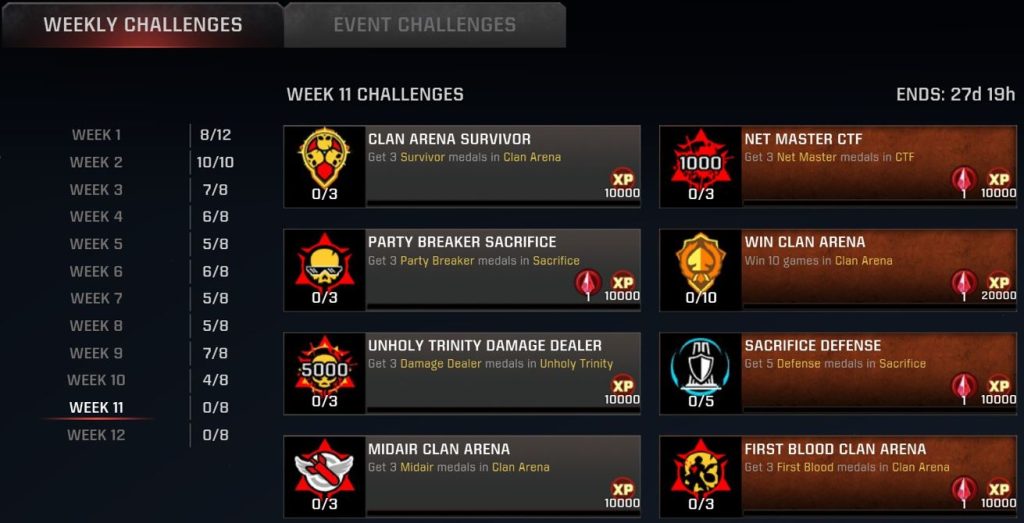 A new set of challenges opens up every Wednesday at 8:00 PM EAST | 2:00 AM CEST. The challenges are broken up in 2 parts. First their week, and then their side left side | right side. The left side consists of the free challenges you can obtain without buying the Battlepass. The right side is accessible after buying the Battlepass. The right side tends to be slightly harder, but gives additional XP as well as shards.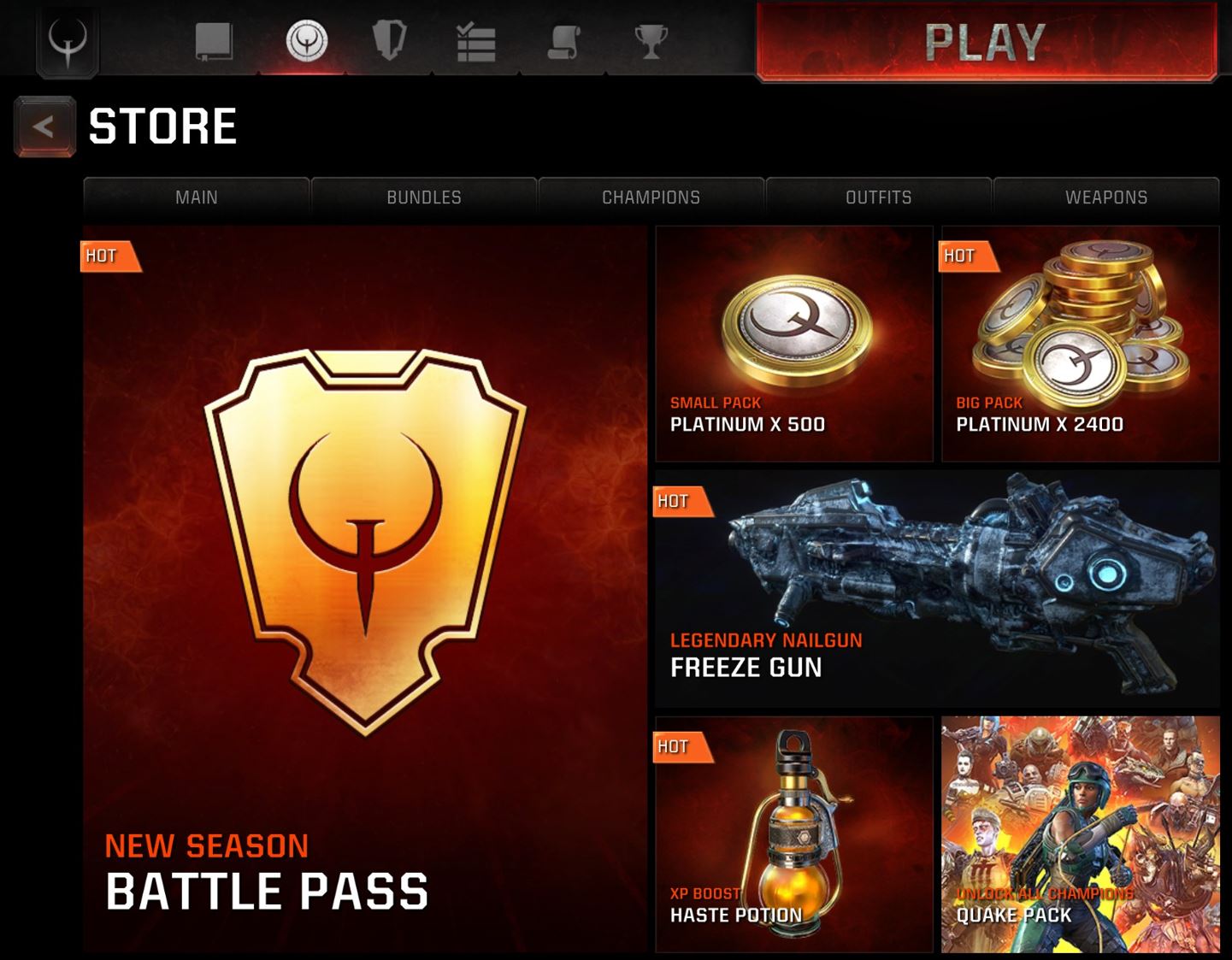 You can buy the Battlepass for 1000 platinum. Platinum is the Premium currency in Quake Champions. If you are using steam I recommended buying from Bethesda directly at this link: bethesda.net/en/store/product/QUWV01PCBG01BASE
Valve takes 30% of all purchases from steam. The money you buy with platinum goes back to the Quake development project. Just make sure you are logged into your associated Bethesda account, and it should be in their by the time you log into the game. If you are using the Bethesda launcher then just purchase it in game as you normally would.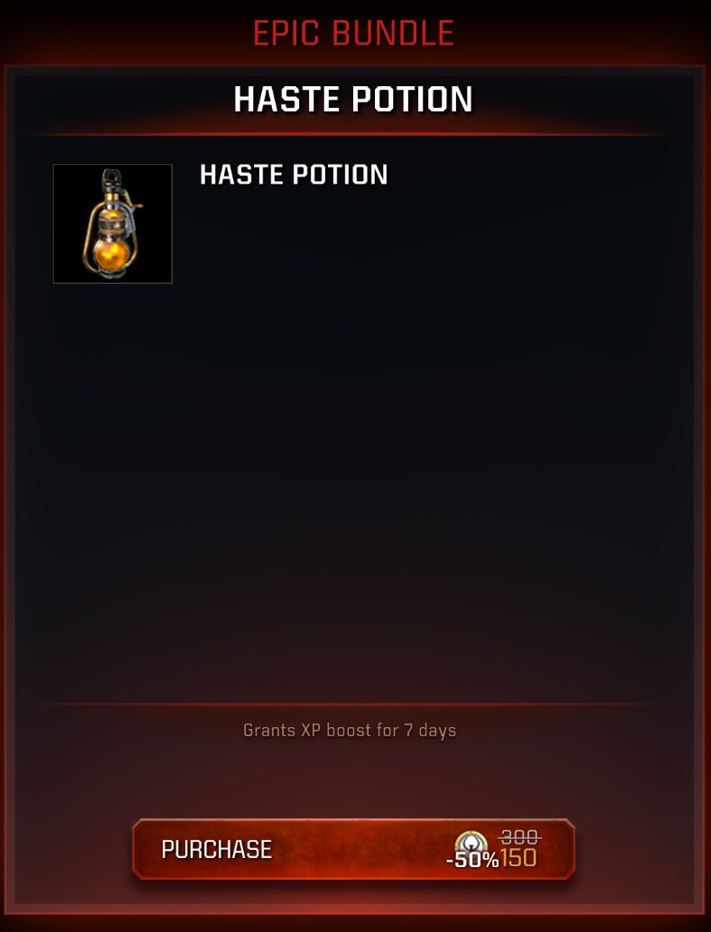 Haste Potions are still 50% off (150 Platinum) in the in game store. Haste Potions Triple all XP Earned for 7 Days. If you usually struggle to make it to level 100 each season picking one, or two up now may not be a bad idea. Note an automatic Haste Potion is rewarded to the player at level 30 of the BP. Haste Potion do Stack meaning you can have multiple weeks of XP boosts stacked at a time.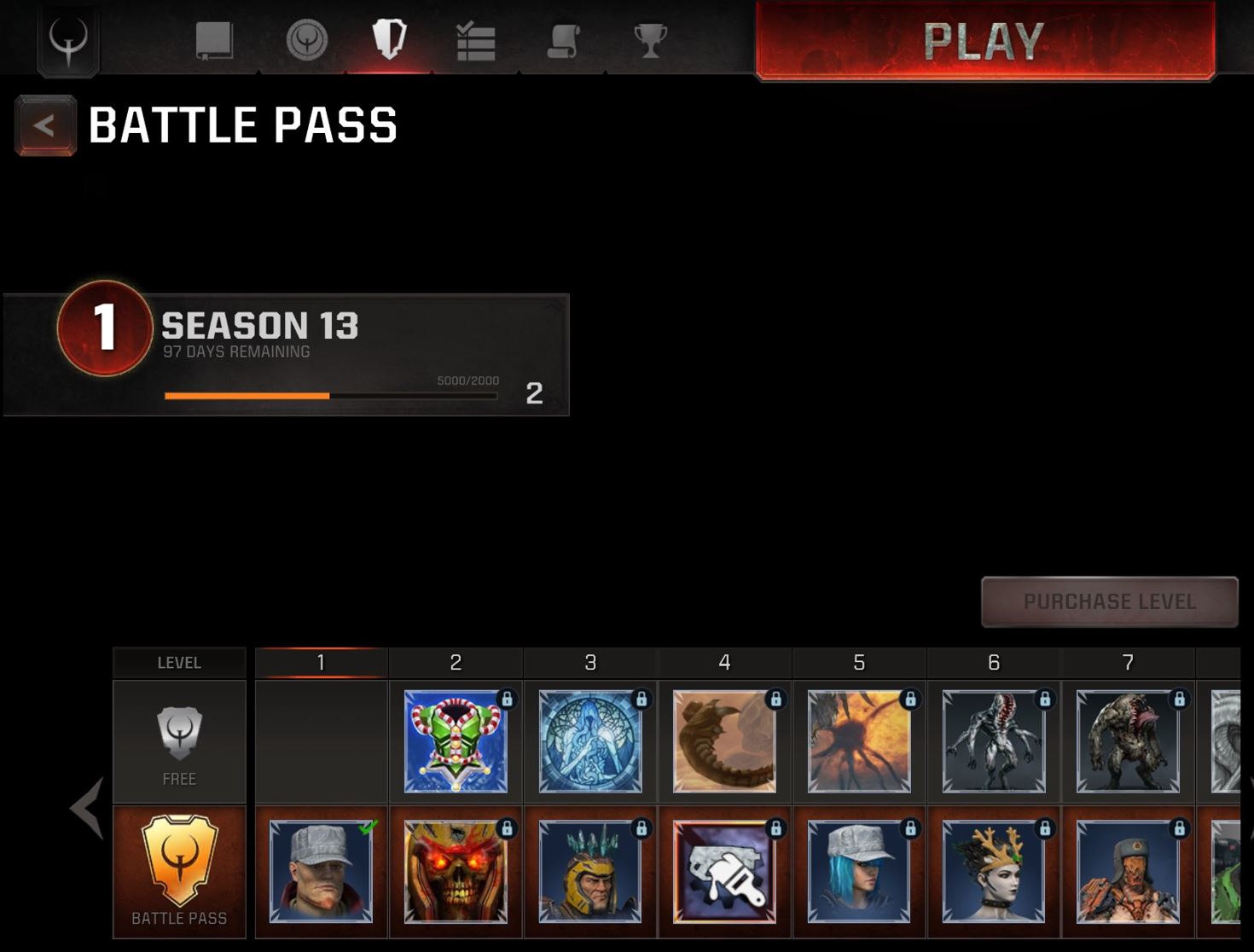 The Battlepass itself is separated in 2 rows. The top row is the free version. You can acquire all the items here just by playing the game to level up your Battlepass. The bottom row is unlocked only with the purchase of the Battlepass. This is retroactive. So, if you are at level 50 and decide at that point you want to buy the Battlepass. Everything below level 49 will be added to your account. Keep an eye out for level 30 as that level gives you an automatically applied haste salve which gives you Triple XP for 7 whole days.
Once you have purchased the BP click the shield at the top of the screen, and hit the activate button that will be below the season 13 Name Plate.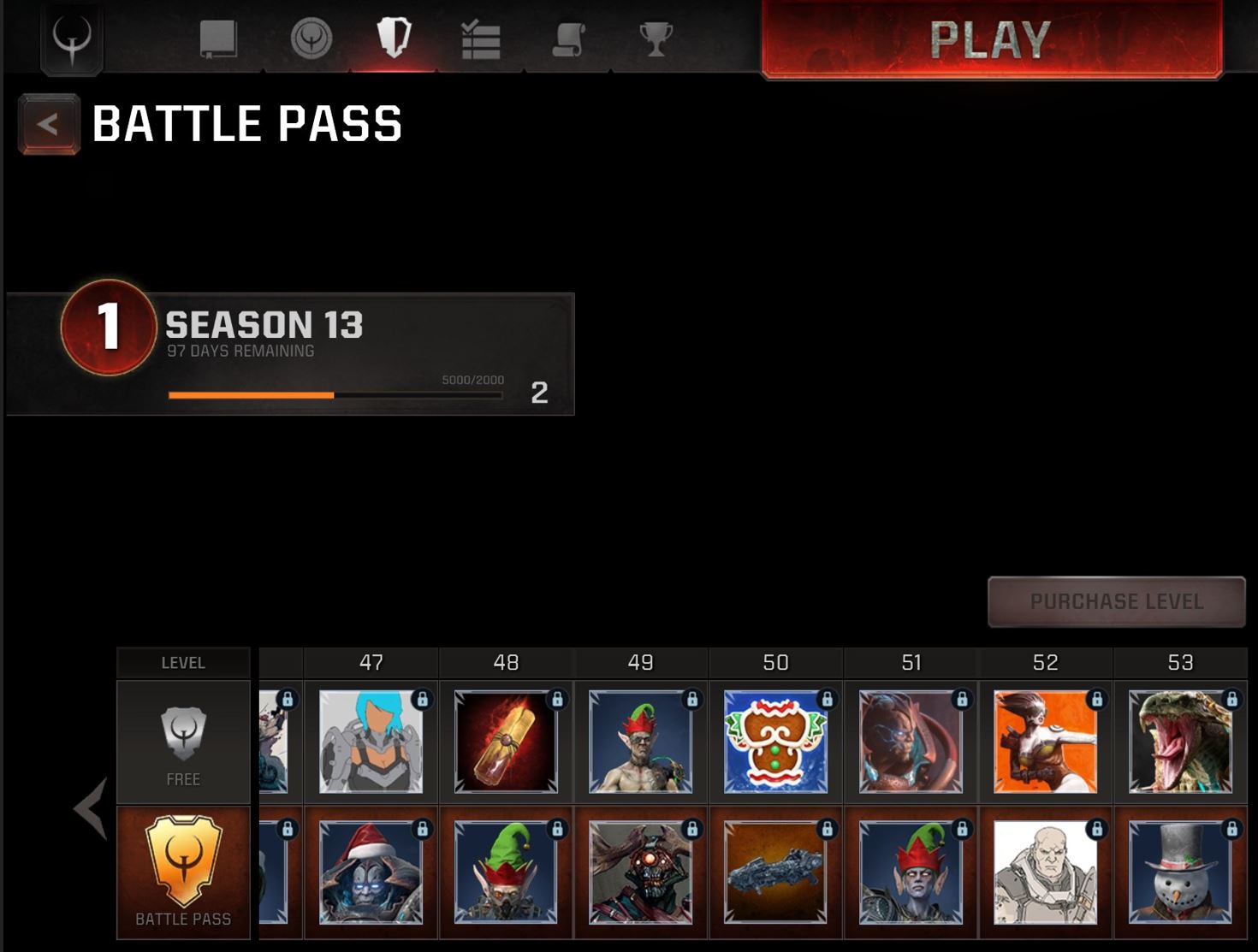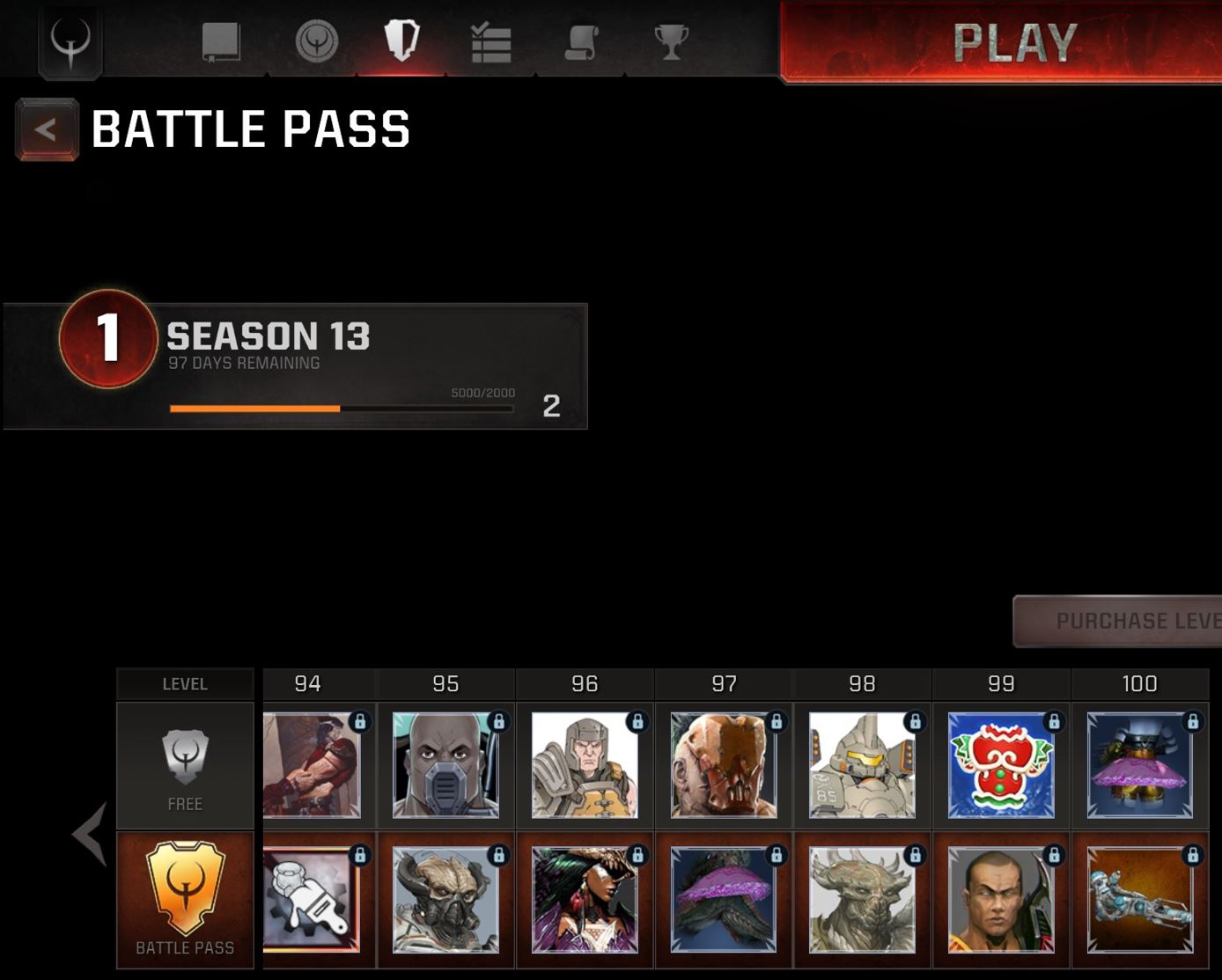 There are actually rewards after BattlePass Level 100. From 101 onward rewards repeat as 1 shard per level with a Reliquary Being rewarded every 10th Level until Level 200. (I only just now confirmed this again for this season. Takes time to get to 100.)
02-24-2022 MID WINTER UPDATE AT 10 AM EAST | 1400 PM CET
New
🔹 New Audio Hit Beep Options: ( OFF | DAMAGE DEALT | ADDITIVE )
Map Updates
🔹 Deep Embrace – fixed the collision issue near lower LA
🔹 Deep Embrace – added ability collision in the vista outside the power-up window
🔹 Exile – fixed the collision at HMG Teleporter
🔹 Insomnia – New Duel item layout:
Railgun moved to Power-up Dungeon
Shotgun moved to Railgun Ledge
Dungeon Cooldowns moved up above where they are in TDM/FFA
🔹 Insomnia – fixed duel spawns (3 working sets and removed spawn at tb/la)
🔹 Insomnia – updated spawns, added two new spawns (one at MH TP entrance, one at TB)
🔹 Insomnia – Fixed collision issue at Heavy Armor window above the jumppad (dire orb could go out of the map)
🔹 Insomnia – Fixed a visibility popping issue at lower archway near SNG
🔹 Disabled anniversary banners in all maps
Champion Updates
🔹 Clutch air-dodge cooldown added
🔹 Clutch – Starting AP 75->100
🔹 Scalebearer – Added a 0-320 ups damage range for Bullrush so that below 320 ups hits deal 25 dmg instead of 0 dmg. (This is only during bullrush, still no passive damage below 400 ups.) This change is made as a quality of life opposed to a buff. It just doesn't feel good when you trigger a Bullrush, hit an opponent, and 0 damage is dealt.
🔹 Scalebearer Forward Acceleration 0.75 to 0.5
🔹 Scalebearer – Bullrush Acceleration 170 to 150, Interruption Speed 240ups to 200ups
Weapon Updates
🔹 Shotguns – added a center pellet to both SGs (increasing both max damages by 5, to 85 & 125 max dmg)
🔹 Nailguns – Nails now do 10 & 15 damage instead of 12 & 20, which is 100 & 150 dps instead of 120 & 200 dps — BUT they are much easier to hit now. Nails are now 10u wide instead of 6.4u wide.
Sound Updates
🔹 Reduced elevated pitch range from [-6 steps to +8 steps] to [-4 steps to +4 steps]
🔹 Reduced elevation distance volume reduction from -5db to -3db at the max attenuation
🔹 First Person Sounds
Fixed landing & fall sound volumes & mix.
Death event now stops Pain, Falling, Jump and ability VOs that were in progress.
A new Pain VO event now stops the Low Health VO that was in progress.
🔹 Third Person Sounds
Death events now stop Ability VO in progress.
Fixed Slash third-person crouchslide sounds after death (for real now?)
🔹 Increased the volume of the Strogg >25 hp pain sounds
🔹 Prevent change weapon sound events from playing for dead players
🔹 Increased Diablo SSG shot sounds by +2db
🔹 Increased global max sound events value
🔹 Athena Ability VO – Reduced the first-person VO occurrence from 90% of the time to only 50% of the time.
🔹 Athena Ability VO – Reduced the volume by -2db.
🔹 Athena Ability VO – Reduced the chance of the "Woohoo" VO from 10% to 5%.
🔹 Added four new Strogg VO lines (1 frag, 1 assist, 1 respawn, 1 low health)
🔹 Fixed Localized VO for Athena and Strogg medals: Air Assualt, bombardment, Floor Is Lava, Psi Radar, Rope Trick, Smelter, Swinger, and Trident.
🔹 Fixed Tribolt max instances
Misc Fixes & Changes
🔹 Allow new unidentified hardware detections to be set to ultra/high instead of med/low
🔹 CTF – once again schedule end-of-game after the final capture, but now with a 1 second delay, instead of none or 3.
🔹 UI – Decreased the length of the Ranking Up & Down animations
🔹 Fixed Galena pink armor shader
🔹 Fixed Anarki Pink shader
🔹 Texture quality fixed for all Lore Vanity items (Scroll 10)
🔹 Typo fix in weapon switch / railgun hint
🔹 Tips – Added a game tip about pain sounds.
Bot Updates
🔹 Nerfed bots Nailgun skills
🔹 Ability Usage Improvements
Service Updates
🔹 Anti-cheat updates
HAPPY FRAGGING FOLKS, AND WE SHALL SEE EACHOTHER IN THE ARENAS.
About Author