Season-11 Week-12 Challenges Live for #QuakeChampions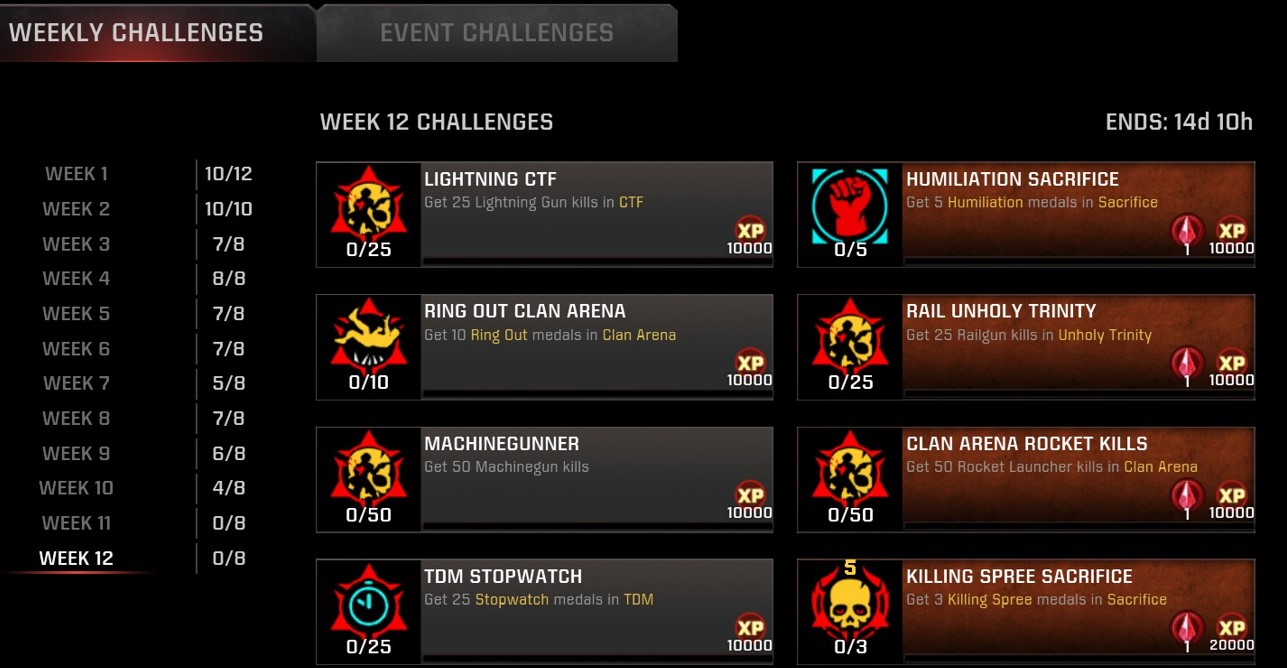 A new day, and a new week of challenges for us to accomplish. If you are not already familiar Quake Champions has 4 Seasons a year that also correspond with the Battlepass. Meaning we have 4 12 week long Battlepasses a year. We are currently at week 12. 14 DAYS REAMIN for SEASON 11. This is the last week of new challenges, but you will have an additional week to complete week 12 | the rest of this Season's suite of challenges. Currently we do not have an official release date for our next season (Season 12). We could see an extension like some past seasons, but I would try and plan for everything to be over in the 14 days we have remaining.
With that in mind if you are still behind on your levels this would be a good time to get a Haste Potion for 300 Platinum in the in game store. Haste Potions Last for 7 whole days, so you need to plan at least 7 days before this season ends if you want it to benefit you for the remainder of this season.
A new set of challenges opens up every Wednesday at 8:00 PM EAST | 2:00 AM CEST. The challenges are broken up in 2 parts. First their week, and then their side left side | right side. The left side consists of the free challenges you can obtain without buying the Battlepass. The right side is accessible after buying the Battlepass. The right side tends to be slightly harder, but gives additional XP as well as shards. Shards can be converted 200 shards = 100 Platinum. You can convert these from the in-game store's bundle tab at the bottom.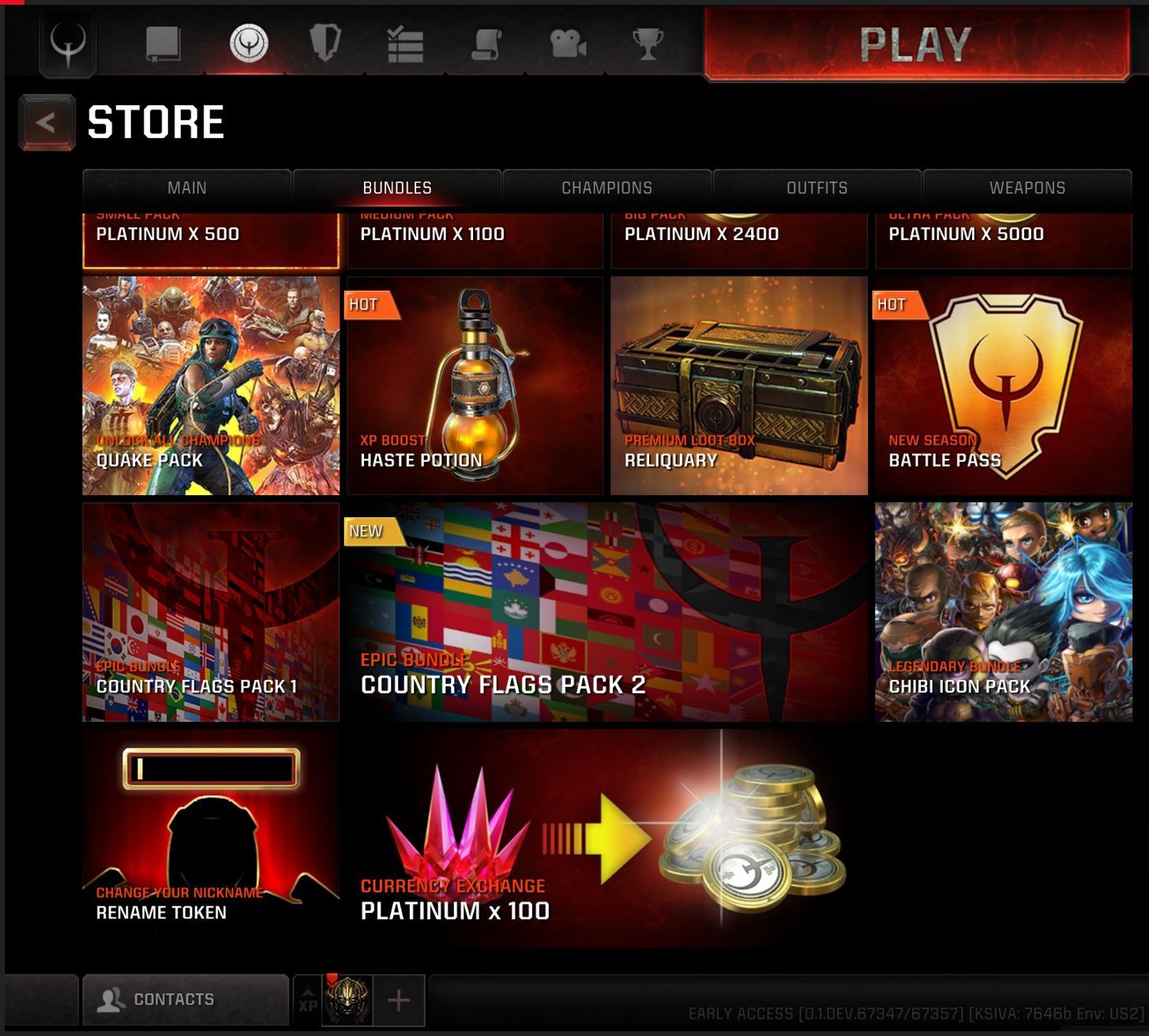 While we are talking about the in-game store this is where you can Buy the Battlepass for 1000 platinum. Platinum is the Premium currency in Quake Champions. If you are using steam I recommended buying from Bethesda directly at this link: bethesda.net/en/store/product/QUWV01PCBG01BASE
Valve takes 30% of all purchases from steam. The money you buy with platinum goes back to the Quake development project. Just make sure you are logged into your associated Bethesda account, and it should be in their by the time you log into the game. If you are using the Bethesda launcher then just purchase it in game as you normally would.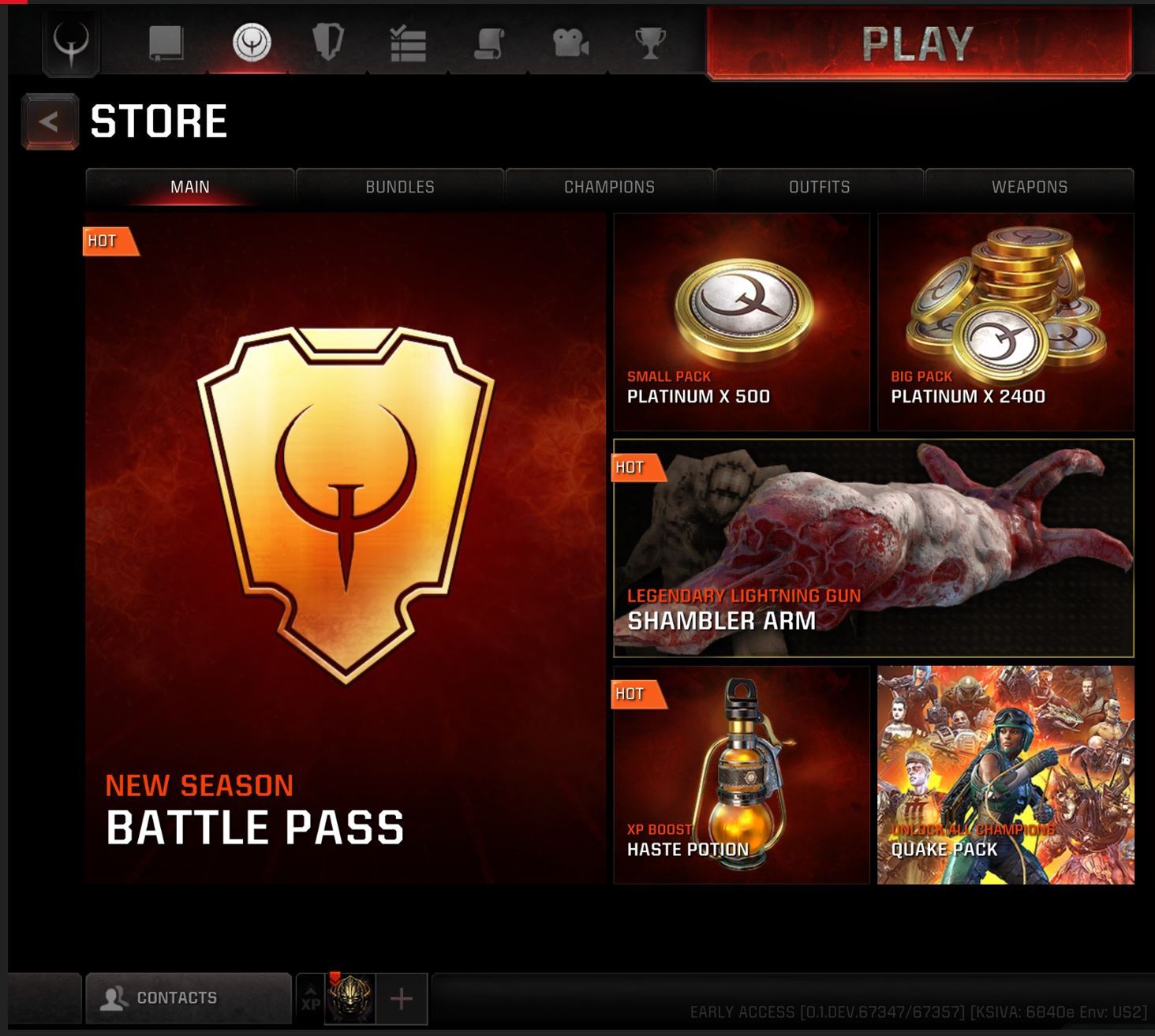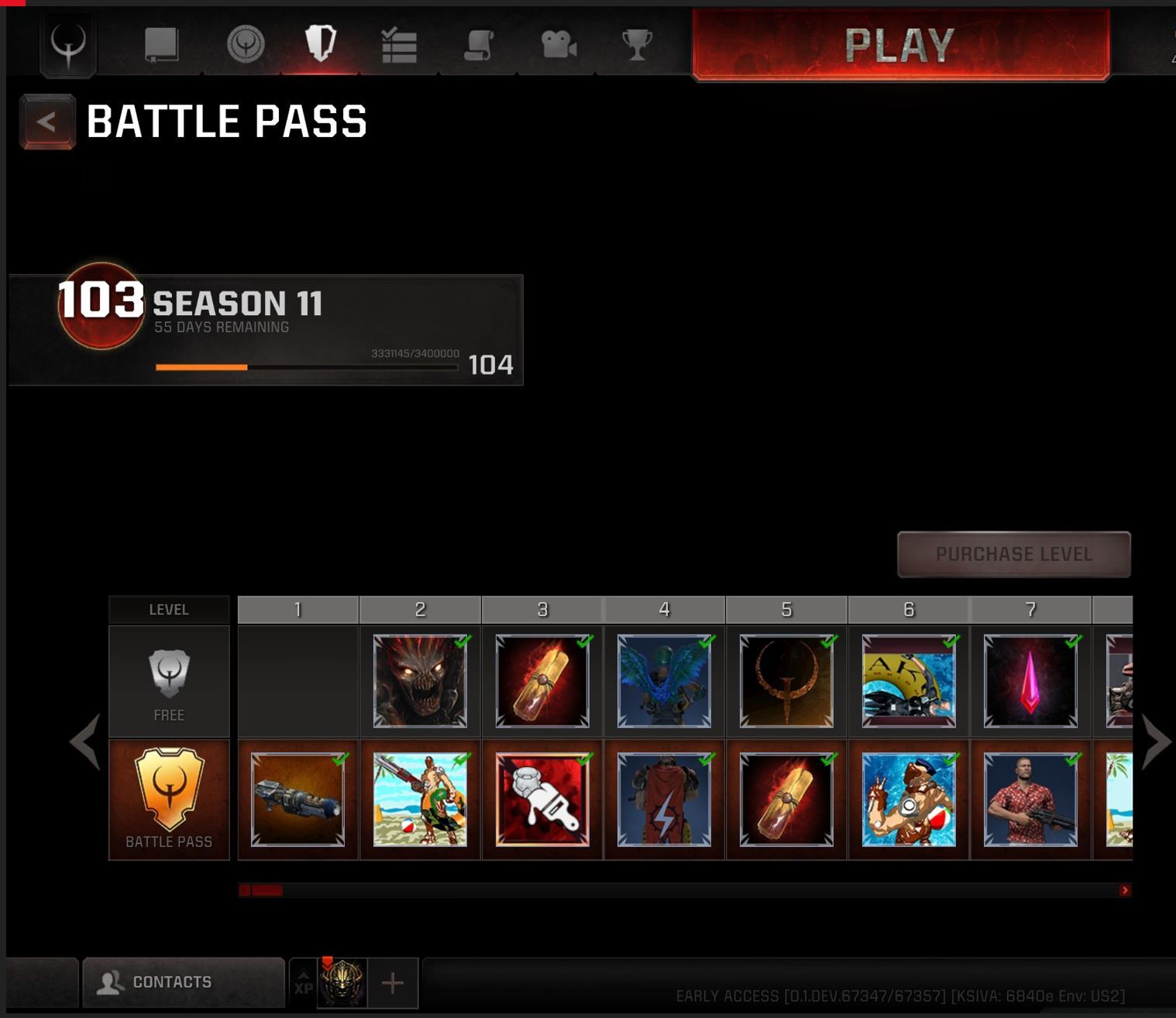 The Battlepass itself which is separated in 2 rows. The top row is the free version. You can acquire all the items here just by playing the game to level up your Battlepass. The bottom row is unlocked only with the purchase of the Battlepass. This is retroactive by the way. So, if you are at level 50 and decide at that point you want to buy the Battlepass. Everything below level 49 will be added to your account. Keep an eye out for level 39 as that level gives you an automatically applied haste salve which gives you Double XP for 7 whole days. Don't forget to convert your shards if you are short a few platinum.

There are actually rewards after BattlePass Level 100. From 101 onward rewards repeat as 1 shard per level with a Reliquary Being rewarded every 10th Level until Level 200.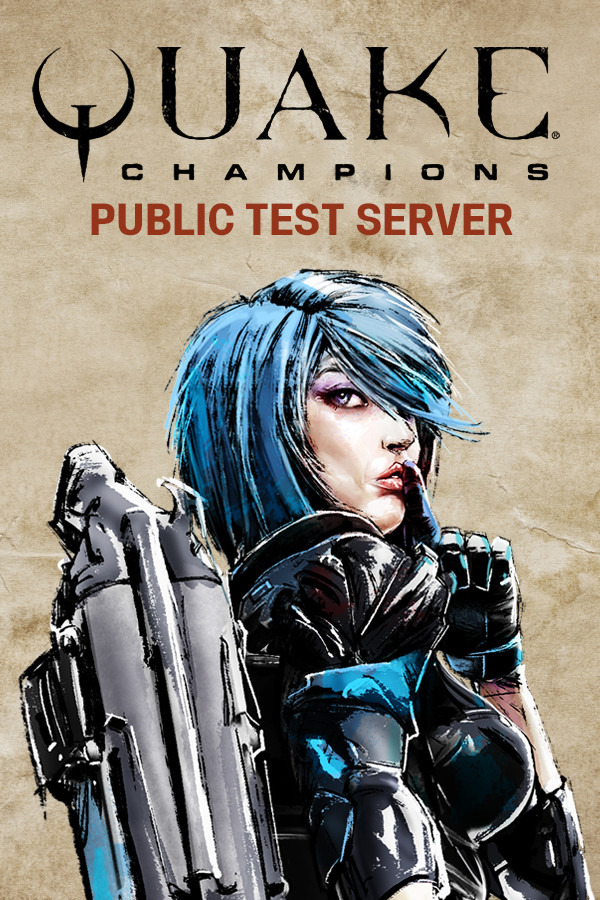 The PTS is a Public Test Server that many games come with. It is completely optional to be part of the PTS, and does require an additional download to take part of. The purpose of the PTS for us is it allows us to preview upcoming skins, arenas, and gameplay changes in general before they are added to the main game. It also doubles as bug testing. In fact all bugs, or issues in the PTS should be put in the official discord here: discord.gg/Ay6kZxjm In the "public-test-server" channel. If you can you should try and find a buddy to test with. Two heads are better than one. You can find people to party with in the "party-finder" channel of the official discord. LINKED ABOVE.
If you want to access, or rather download the PTS you can do this on both Steam, and the Bethesda Launcher quite easily. Just to note though like other PTS downloads you are usually downloading the entire game plus some. The PTS download for Quake Champions is currently just over 30 Gigabytes. Keep that in mind if you want to partake. Things that you accomplish in the PTS version DO NOT transfer over to the main game. That said you can also demo stuff in the PTS that you may not own yet in the main game.
In steam all you have to do is type in any way of "QUAKE" in your games search bar, and it will pop up as "Quake Champions PTS". It is consider its own "game" so to speak on steam. Just download it as you would any other game.
For the Bethesda Launcher the Quickest way to access it is as followed. Make sure you have the "GAMES" tab selected, and on "My Library" in the drop down menu.
From here just scroll down until you hit your "QUAKE" section, and download "Quake Champions PTS".
Have fun with the PTS, and Happy FRAGGING Folks!
HOW TO PLAY QUAKE:
QUAKE CHAMPIONS FREE 2 PLAY
CLASSIC 1996|RE-RELEASE $9.99
DISCORD COMMUNITIES:
Find New People to Party up With (It Helps Our Q Times)
Official Quake Discord discord.gg/Ay6kZxjm Find Players in "party-finder" channel | ALL BUGS SHOULD BE REPORTED TO THE QC FEEDBACK – BUG REPORTS CHANNEL.
Church of Quake discord.gg/gPdkkFza MAKERS OF WIKIS|NEWS|GUIDES|LORE
Official Bethesda/Zenimax Discord discord.gg/bethesda Replacing Beth.net Forums
Websites|twitters|sub
Steamdb.info For
COMMUNITY PODCASTS:
About Author