#QuakeChampions Community Tournament Round UP XX!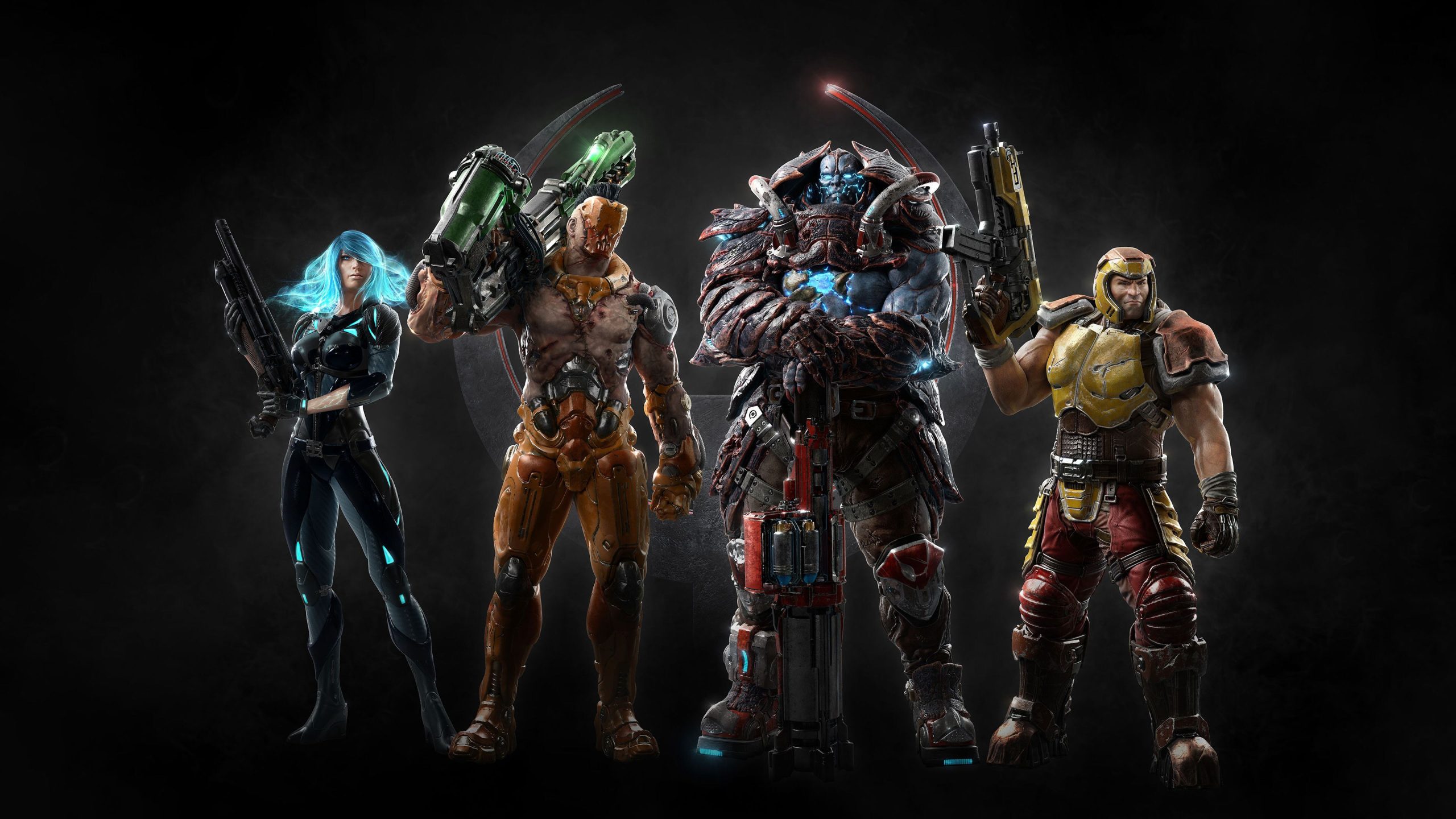 * We can only keep up with so much. If there is a tournament that you think we have missed or incorrect information in this post please let us know by DM, or in the comments.
Hello Quakers with this on going post series we will be rounding up additional tournaments going on in our community over the next few months. If you have not already heard Quake Pro League (QPL) Season 3 has been announced to start next year, so 2022. We have no additional information besides that at this point in time.
The Pros, Organizations, and Community at large are still here while we wait for QPL Season 3. We currently have a number of events in the near future to look forward to, and several on going tournaments. Certainly we have no shortage of tournaments to keep us busy in the mean time.
Myztro Gaming's IRONFIST 2021 was last week. This was a big event in our scene, so I won't be spoiling anything this week. The Tournament was a pure joy to watch, and I'll leave plenty of links for the VODS below. On top of this Myztro seem to be indicating that this was not a one off event, and plans for an IRONFIST2.022 may already be underway.
MyztroGaming Twitch: twitch.tv/myztrogaming Streaming
logitech G twitter: twitter.com/LogitechG?s=20 logitech's gaming centric twitter account
Players in IronFist 2021:
Qualifier Winners:
IRONFIST VODS:
TastySpleen had Organ Grinder's 8th edition on November 20th. Organ Grinder is an on going monthly-ish tournament series for Arena Shooters. No information has posted about their 9th edition yet. I'll leave a link to their socials in case it posts before the next round up.
Organ Grinder 8 VOD: twitch.tv/videos/1211170852 Over 6 Hours of Mayhem!
Organ Harvester 7 VOD: twitch.tv/videos/1205721202 Breakdown of Organ Grinder 8
This 8th edition featured games for:
Doom 2
Quake World
Quake 2
Quale Live
Quake Champions
Diabotical
Quake 4
Reflex Arena
Promode Arena
TASTYSPLEEN SOCIALS:
Dash Bracket Lan was held from November 19th to the 21st. The event was for both Quake Champions, and Diabotical. Dash Bracket Lan was held in Fairfax Virginia, and seems to have been our first real in person QC tournament since before our "current" situation. Beating Myzotro's IRONFIST by just a few days really. Hopefully we see more events from DASH in the new year.
DASH BRACKET LAN QC DUEL VOD: twitch.tv/videos/1211211577?filter=archives&sort=time
SOCIALS TO FOLLOW FOR DASH
DragonBorn e-Sports is putting together a World Cup for the Quake Champions community on December 11th, and 12th. The event will kick off on December 11th, 2021 at 9:00 AM EAST | 3:00 PM CET. Broadcasting to be done by ShaftasticTV. Socials, Bracket, and Rules & REQs below.
Tournament Page DBE World Cup: challonge.com/DBEWCQualifier Live bracket, Qualifier sign-ups, Schedule.
DRAGONBORN E-SPORT'S SOCIALS:
ShaftasticTV Socials:
LIVE AT THE TIME OF POSTING ELITE PLAYOFFS: twitch.tv/hotseat_gg
The first season of the POLISH QUAKE LEAGUE started on September the 14TH. NOTE This league seems to only be open to people in POLAND. All us outside of Poland can certainly still watch, and help the Quake community as a whole grow. We are lucky to have such a strong gaming community in QUAKE to pull these sort of things together. Make sure to give the Polish Quake League, the players, and HotSeat studio your love for making this all possible.
Polish Quake League's – first season of Timelimit Duel league in Quake Champions organized by HotSeat Studio. Addressed to the Polish gaming community playing Quake Champions.
PQL is divided into three Divisions due to the level of each player's skill: Elite, Gold and Silver and it has a promotion | relegation system.
Competitors will compete for prizes. With the total prize pool being 650$.
In the highest Division we will see known players like Wiktor "phaze" Skwarczynski or Daniel "Pikawa" Pikalski.
HOTSEAST'S SOCIALS:
WHEN THIS EVENT TAKES PLACE
EVERY Tuesday – 5:40 PM – 10:30 PM (CEST) | 11:40 AM – 4:30 PM (EAST)
EVERY Wednesday and Thursday – 8:00 PM – 10:30 PM (CEST) | 2:00PM – 4:30 PM (EAST)
Full Division Reviews Below:
KuachiCups Socials:
ShaftasticTV Socials:
GetCracked! Tournaments organization will be organizing a Quake Champions Draft Cup around the Sacrifice Game Mode. This means it will be 4 V 4 Cup. This Event will be taking place TOMORROW DECEMBER 4TH, 2021. sign-ups open until December 3RD. All regions welcome, Looks to be hosted on NA servers by default, but rules state exceptions can be made if agreed upon by both teams.
Tournament links:
Sign ups open until 12/3
• All regions welcome – NA servers are default and exceptions must be agreed upon by both teams.
• Captains – Depending on the number of volunteers and respective skill/experience level, additional potential captains may be determined and contacted by admins for balancing purposes.
Captains will pick their teammates via a draft, either snake style or repeated order, with the goal being relative parity (TBD).
Format:
⦁ Double elimination
⦁ Upper bracket/Lower bracket: Bo3 throughout
⦁ Grand Final: Bo3, with reset to a 2nd Bo3 if LB team wins first set
⦁ Pick/Ban process for maps based off seed, with the lower seed banning a map first (ban/ban/pick/pick/last map is the tie break).
Low seed ban
High seed ban
Low seed pick
High seed pick
Remaining map is map 3 (tiebreak) if needed
Map Pool:
⦁ Blood Covenant
⦁ Ruins of Sarnath
⦁ Burial Chamber
⦁ Lockbox
⦁ Tempest Shrine
Get Cracked organization had their first Quake Champions Duel Tournament on the 7TH of October Check out the VODS, and their socials for that below.
The Sweaty 2V2 CUP #5 GLOBALLL has ended, but we should see another tournament at some point in the near future. VOD for last cup, and socials to follow in the meantime below.
SOCIALS FOR THIS EVENT:
Note a new week has not been posted if they do post I will edit the article. Until then follow the organizer page, as well as the discord below as they post their.
If you are looking for a weekly event then Thursday Night Thrashers is probably for you. Follow the links below for rules, announcements, and their discord for contemporary updates each week.
SOCIALS TO FOLLOW:
Estoty Duel League (Season 1, Tournament 5) will be starting DECEMBER 4th at 9:55 AM EAST | 15:55 PM CET
TOURNAMENT PAGE: play.toornament.com/en_US/tournaments/5199575781420916736/
Description:
November 20, at 16:00 CET, Non-PRO
Guaranteed prize pool – 100$
Anyone can donate & increase prize pool
Sponsor:
Tournament organizer:
Game Mode:
Duel Timelimit
Double elimination
Tournament maps:
Awoken
Corrupted Keep
Deep Embrace
Exile
Ruins of Sarnath
The Molten Falls
Vale of Pnath
Prize fund:
1st place – 40%
2nd place – 25%
3rd place – 15%
4th place – 10%
5-6th place – 5%
20 ноября, 18:00 МСК, Non-PRO игроки
Гарантированный призовой фонд – 100$
Любой может задонатить и увеличить призовой фонд
Спонсор турнира:
Организатор турнира:
Игровой режим:
Duel Timelimit
Double elimination
Карты турнира:
Awoken
Corrupted Keep
Deep Embrace
Exile
Ruins of Sarnath
The Molten Falls
Vale of Pnath
Estoty will be starting its own Duel League. Estoty Duel League Season 1 Tournament 1 will start Saturday October 30TH, 17:00 PM CEST | 11:00 AM EAST. The Estoty group has been putting together Quake Champions competitions for over a year now truly showing their dedication to the scene. Playlist for that day's event below.
Registration is open until October 30TH at 16:55 PM CEST | 10:55 AM EAST. Non-pros can join. Just make sure you read the qualifications | rules before signing up.
Friday December 3rd 11:00AM EAST 7:00PM MSK QUAKE COMMUNITY TOURNAMENTS will be hosting another Duel Tournament.
TOURNAMENT PAGE: challonge.com/qct_v
EVENT SOCIALS:
The 5th of November was the Quake Community Tournaments Pro tournament. Catch the twitch playlist below.
GerQC Duel Season V Finals will be tomorrow Saturday the 4th to Sunday the 5th. Starting at 7:00 AM EAST | 13:00 PM CET.
TOURNAMENT PAGE: play.toornament.com/en_US/tournaments/4843322807444873216/
The group stage ends tonight, then the finalists for our weekend will be determined. As usual, we will present you the finals with a German cast. We are happy that ShaftasticTV will also stream the finals, there you can watch the whole spectacle in English. This is our planned program for the two days again, there have been slight changes for the last time.
(all times are CET)
Saturday – Game for the 3rd place:
1:00 p.m. – welcome
1:15 p.m. – League 1
2:30 p.m. – ELITE-League
3:45 p.m. – League 2
5:00 p.m. – League 3
6:15 p.m. – League 4
7:30 p.m. – end
Sunday – Final:
1:00 p.m. – welcome
1:15 p.m. – League 4
2:30 p.m. – ELITE-League
3:45 p.m. – League 2
5:00 p.m. – League 3
6:15 p.m. – League 1
7:30 p.m. – end
Heute Nacht endet die Gruppenphase, dann stehen die Finalisten für unser Wochenende fest. Wir werden euch wie gewohnt die Finals mit deutschem Cast präsentieren. Wir freuen uns darüber, dass ShaftasticTV die Finals ebenfalls streamen wird, dort könnt ihr euch das ganze Spektakel auch in englisch angucken. Hier ist nochmal der Tagesablauf beider Tage, es gibt leichte Änderungen zum letzten mal.
Samstag – Spiel um Platz 3:
13:00 Uhr – Begrüßung
13:15 Uhr – Liga 1
14:30 Uhr – ELITE-Liga
15:45 Uhr – Liga 2
17:00 Uhr – Liga 3
18:15 Uhr – Liga 4
19:30 Uhr – Ende
Sonntag – Finale:
13:00 Uhr – Begrüßung
13:15 Uhr – Liga 4
14:30 Uhr – ELITE-Liga
15:45 Uhr – Liga 2
17:00 Uhr – Liga 3
18:15 Uhr – Liga 1
19:30 Uhr – Ende
Europe based league with 74 players spread over leagues
There's no official weekly streams, but ShaftasticTV provides as many pop-up streams as they are able to. All previous streamed games can be found here: youtube.com/playlist?list=PLPCIXIRTnh0gkN7Ee21r3rGv_jSvetKja.
ShaftasticTV records 99% of their streamed content in native 4k video. So the matches on YouTube have pristine video quality, I recommend you watch them on your biggest screen
ShaftasticTV Socials:
Pengartist's Friday FragFest #102 December 3rd 2021, 14:00 PM EAST | 20:00 PM CET
FRAGFEST #102 TOURNAMENT PAGE: challonge.com/fragfest102
Socials to Follow:
HAPPY FRAGGING FOLKS, AND GOOD LUCK TO ALL THE CONTESTANTS PARTICIPATING!
Latest PTS Notes
0.1.DEV.76394/77068
Coming 2021-12-03
Sound Updates:
🔧🔧🔧 Fixed a bunch of sounds cutting out due to max instances and stealing
🗒️ Fixes sounds cutting out during/after Dual Wield
🗒️ Fixes a lot of cases for weapon shots cutting out
🗒️ Fixes a lot of cases of missing enemy sounds (steps, jumps, lands, etc)
Ice Beam Updates:
⭐ Added steam fx to ice beam first person
🔧 Set a max range for the LG decals, so that the ice beam cannot leave ice further than the gun can hit.
⚙️ Tweaked alpha fade out of ice beam impacts
Champion Updates

Champions – Unified standing and crouching view heights into three groups of small (0.55m/0.275m), medium (0.6m/0.3m), tall (0.65m/0.35m), as their previous values only slightly differed.
Old values:
🗒️ Anarki – 0.9/0.5 -> Tall
🗒️ Athena – 0.52/0.24 -> Small
🗒️ Nyx – 0.55/0.24 -> Small
🗒️ Slash – 0.6/0.35 -> Medium
🗒️ B.J. Blazkowicz – 0.56/0.22 -> Medium
🗒️ Death Knight – 0.52/0.26 -> Medium
🗒️ Doom Slayer – 0.6/0.36 -> Medium
🗒️ Eisen – 0.58/0.22 -> Medium
🗒️ Galena – 0.6/0.32 -> Medium
🗒️ Ranger – 0.58/0.22 -> Medium
🗒️ Strogg – 0.56/0.26 -> Medium
🗒️ Visor – 0.6/0.3, unchanged Medium
🗒️ Clutch – 0.56/0.4 -> Tall
🗒️ Keel – 0.58/0.22 -> Tall
🗒️ Scalebeaerer – 0.64/0.32 -> Tall
🗒️ Sorlag – 0.58/0.38 -> Tall
UI Updates
🔧 Fixed typo in QuakeCon 2021 Gauntlet description
HOW TO PLAY QUAKE:
QUAKE CHAMPIONS FREE 2 PLAY
CLASSIC 1996 | RE-RELEASE $9.99 | FREE UPGRADE IF YOU ALREADY OWN
HOW TO WATCH the QUAKE PRO LEAGUE e-sport:
DISCORD COMMUNITIES:
Find New People to Party up With (It Helps Our Q Times)
Official Quake Discord discord.gg/Quake Find Players in "party-finder" channel|ALL BUGS SHOULD BE REPORTED TO THE QC FEEDBACK – BUG REPORTS CHANNEL.
Church of Quake discord.gg/qTVK684stc MAKERS OF WIKIS|NEWS|GUIDES|LORE
Official Bethesda/Zenimax Discord discord.gg/bethesda Replacing Beth.net Forums
WEBSITES | TWITTERS | FORUMS
Steamdb.info For
ON-GOING COMMUNITY PODCASTS:
Quake Champions BattlePass WEEKLY |DAILY CHALLENGES:
Weeklies for BattlePass change at 8:00 PM EAST Wednesdays|2:00 AM CEST Thursdays.
Dailies change at 10:00 PM EAST | 4:00 AM CEST.
About Author