#QuakeChampions Community Tournament Round UP IX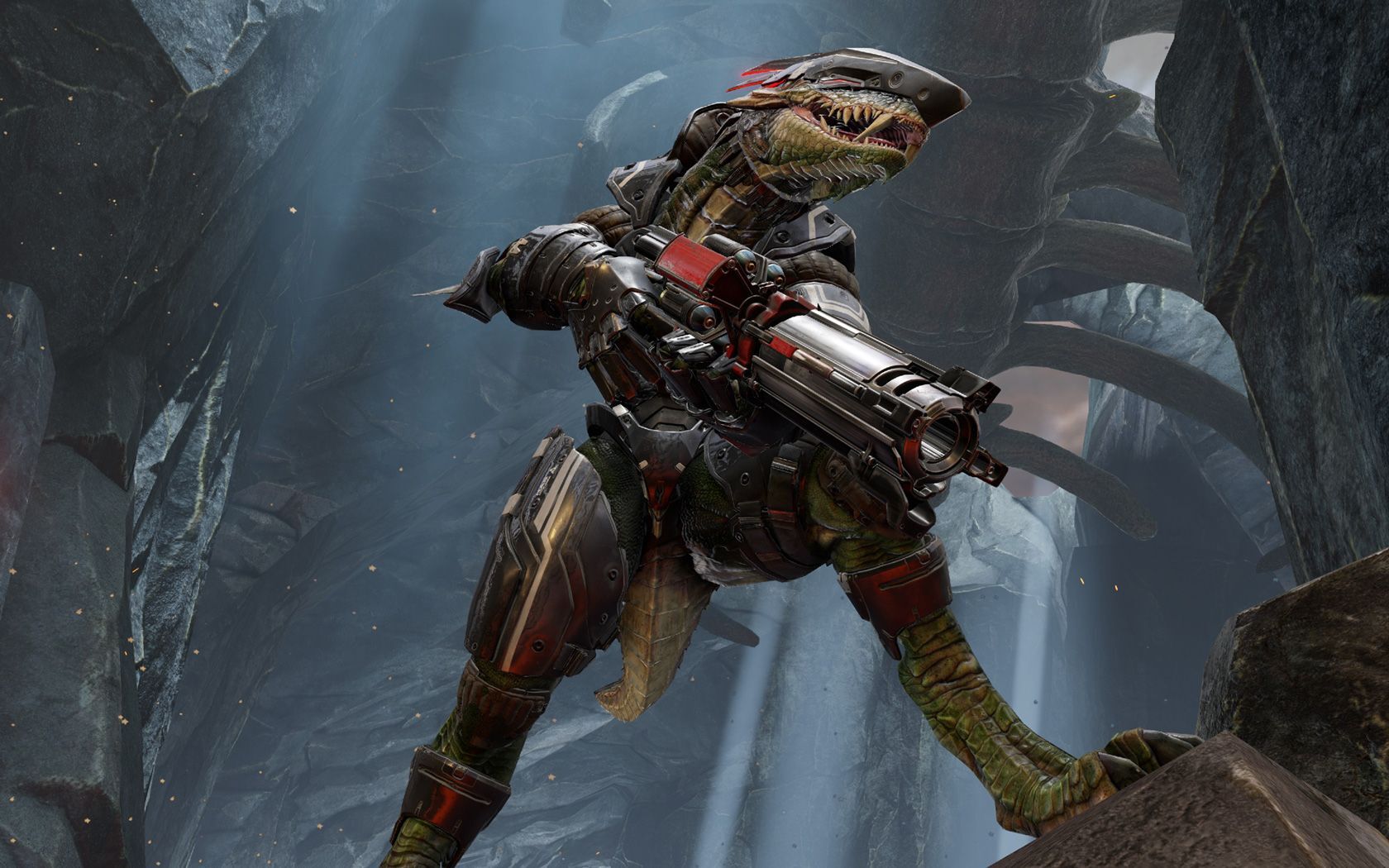 * We can only keep up with so much. If there is a tournament that you think we have missed or incorrect information in this post please let us know by DM, or in the comments.
Hello Quakers with this on going post series we will be rounding up additional tournaments going on in our community over the next few months. If you have not already heard Quake Pro League (QPL) Season 3 has been announced to start next year, so 2022. We have no additional information besides that at this point in time.
The Pros, Organizations, and Community at large are still here while we wait for QPL Season 3. We currently have a number of events in the near future to look forward to, and several on going tournaments. Certainly we have no shortage of tournaments to keep us busy in the mean time.
Myztro Gaming's IRONFIST will be Next week November the 25TH to the 28TH . IronFist is an Invitational event taking place in London England at the Red-bull Gaming Sphere. IronFist will be sponsored by Logitech G. IronFist will feature 16 of Quake Champions best PROS facing off this Autumn. The 14 invited contestants have been announced being: VENGEUR, AV3KK, RAPHA, MAXTER, GARPY, CNZ, DRXMIS, RAISY, BASE, HELL, NOSFA, XRON, ZENAKU, AND SERIOUS. Serious has stepped down due to medical reasons. We wish him a speedy recovery. Xron's Visa was not approved, and thus can not participate in the event. We are sorry to here this news. Due to this the 3 qualifiers below will fill out the rest of the 16 participants. Check out the Myztro Gaming's twitter below for more details on this event. Follow Myztro Gaming's | Logitech G's twitter below.
MyztroGaming Twitch: twitch.tv/myztrogaming Streaming
logitech G twitter: twitter.com/LogitechG?s=20 logitech's gaming centric twitter account
Players Participating in IronFist 2021:
Qualifier Winners:
Talent Line-Up for IronFist 2021:
The 8TH edition of Organ Grinder put on by TastySpleen will be this Saturday, November 20TH at 3:00 PM EAST | 9:00 PM CEST. You can signup for the 8TH edition on TastySpleen's website below.
ORGAN HARVESTER 7 VOD: twitch.tv/videos/1205721202 Breakdown of Organ Grinder 8
This 8th edition will feature games for:
Doom 2
Quake World
Quake 2
Quale Live
Quake Champions
Diabotical
Quake 4
Reflex Arena
Promode Arena
TastySpleen had Organ Grinder's 7TH edition just a few weeks ago. Organ Grinder is an on going monthly tournament series for Arena Shooters. The 7TH edition featured: Quake Champions, Doom, Quake, Quake World, Quake Live, Doom Bringer, and Action Quake 2. What games will be featured can change edition to edition.
7TH EDITION VOD: twitch.tv/videos/1185012335
TASTYSPLEEN SOCIALS:
*Note
the event is called "Dash Bracket Lan".
The Event is still a LAN for Diabotical.
The venue pings 4 to US EAST Servers in QC.
This Weekend starting November the 19TH to the 21ST DASH will be hosting a LAN event in Fairfax Virginia. It is an in person event for Quake Champions, and a LAN for Diabotical. This event will be featuring 5 tournaments: 3 tournaments for Quake Champions, as well as 2 for Diabotical. We will be focusing on the 3 Quake Champions featured events. Though I'm sure they would love to have you for the Diabotical events as well.
This event will take place at "The Cave Fairfax" which is located here: 10621 Braddock Rd, Fairfax, VA 22032, USA
Event Schedule:
Friday: Doors open 12:00 PM-2:00 AM
Rules
50 frag limit, 15 minutes
Drafting Bo3, finals is Bo3 with bracket reset
Higher seed Bans Map, Lower seed Bans Map, Higher seed Picks Map, Lower seed Picks Map, Higher seed Bans Map, Lower seed Bans Map, Higher seed Bans Champ, Lower seed Bans Champ
Map Pool:
Awoken
Blood Covenant
Blood Run
Corrupted Keep
Exile
Ruins of Sarnath
The Molten Falls
Champion Selections
Players may play whatever combination of champs they like, as long as they are not the same champ as their partner nor a banned champ.
Saturday: Doors Open 12:00 PM-2:00 AM
QC Duel @ 3:00PM
DBT Duel @ 7:00PM
Rules
Map Picking
use qrindr bo3. the entire event, winners and losers bracket, is best of three excluding top 4: Winners Finals, Losers Finals, Losers Semifinals, Grand Finals. Event will be seeded beforehand.
Map Pool
Awoken
Corrupted Keep
Deep Embrace
Exile, Molten Falls
Ruins of Sarnath
Vale of Pnath
Sunday: Doors Open 12:00 PM-2:00 AM
Sacrifice @ 3:00PM
Wipeout @ 7:00PM
Rules
Map Picking
Bo3. the entire event, winners and losers bracket, is best of three excluding Grand Finals, which is Bo5.
Higher Seed Bans, Lower Seed Bans, Higher Seed Picks, Lower Seed Picks, Higher Seed Bans, Lower Seed Picks
Maps:
DM6
Sarnath
Burial Chamber
Tempest Shrine
Lockbox
SOCIALS TO FOLLOW FOR THE EVENT
Registration
You can register online and pay via stripe, or pay in person. You can register in person, but it is not recommended. The Cave Fairfax takes payment with cash, credit, or mobile pay.
Registration for all events closes on November the 19TH, 2021 11:59 AM EAST
Questions?
Ask nyxia-#6666 on discord, on twitter @nyxiadash, or on the dash bracket's discord server @ discord.gg/VAMfrVc
DragonBorn will be putting together a World Cup in December 2021. More news about that below. @vaxee_corp Will be sponsoring this event as well. ShaftTasticTV will doing the English Stream.
ShaftasticTV Socials:
The DragonBorn Duel invitational finals were Sunday October the 24TH. Congrats to MyztroRaisy for winning the event. I'll leave a link to the VOD, and Playlist for that event below.
FULL TWITCH VOD: twitch.tv/videos/1185748685
YOUTUBE PLAYLIST: youtube.com/watch?v=KSwbSlvRSj8&list=PLGF6IrLHaON1DPyXONgciMY-JDo7l6hxk
DRAGONBORN E-SPORT'S SOCIALS:
The first season of the POLISH QUAKE LEAGUE started on September the 14TH. NOTE This league seems to only be open to people in POLAND. All us outside of Poland can certainly still watch, and help the Quake community as a whole grow. We are lucky to have such a strong gaming community in QUAKE to pull these sort of things together. Make sure to give the Polish Quake League, the players, and HotSeat studio your love for making this all possible.
Polish Quake League's – first season of Timelimit Duel league in Quake Champions organized by HotSeat Studio. Addressed to the Polish gaming community playing Quake Champions.
PQL is divided into three Divisions due to the level of each player's skill: Elite, Gold and Silver and it has a promotion | relegation system.
Competitors will compete for prizes. With the total prize pool being 650$.
In the highest Division we will see known players like Wiktor "phaze" Skwarczynski or Daniel "Pikawa" Pikalski.
HOTSEAST'S SOCIALS:
WHEN THIS EVENT TAKES PLACE
EVERY Tuesday – 5:40 PM – 10:30 PM (CEST) | 11:40 AM – 4:30 PM (EAST)
EVERY Wednesday and Thursday – 8:00 PM – 10:30 PM (CEST) | 2:00PM – 4:30 PM (EAST)
Full Division Reviews Below:
Kuachi Cups just had their Division 1 Finals for ASPAC LEAGUE. ShaftasticTV did the casting check out the 6 part playlist below.
KuachiCups Socials:
ShaftasticTV Socials:
GetCracked! Tournaments organization will be organizing a Quake Champions Draft Cup around the Sacrifice Game Mode. This means it will be 4 V 4 Cup. This Event will be taking place on DECEMBER 4TH, 2021. sign-ups open until December 3RD. All regions welcome, Looks to be hosted on NA servers by default, but rules state exceptions can be made if agreed upon by both teams.
Tournament links:
Sign ups open until 12/3
• All regions welcome – NA servers are default and exceptions must be agreed upon by both teams.
• Captains – Depending on the number of volunteers and respective skill/experience level, additional potential captains may be determined and contacted by admins for balancing purposes.
Captains will pick their teammates via a draft, either snake style or repeated order, with the goal being relative parity (TBD).
Format:
⦁ Double elimination
⦁ Upper bracket/Lower bracket: Bo3 throughout
⦁ Grand Final: Bo3, with reset to a 2nd Bo3 if LB team wins first set
⦁ Pick/Ban process for maps based off seed, with the lower seed banning a map first (ban/ban/pick/pick/last map is the tie break).
Low seed ban
High seed ban
Low seed pick
High seed pick
Remaining map is map 3 (tiebreak) if needed
Map Pool:
⦁ Blood Covenant
⦁ Ruins of Sarnath
⦁ Burial Chamber
⦁ Lockbox
⦁ Tempest Shrine
Get Cracked organization had their first Quake Champions Duel Tournament on the 7TH of October Check out the VODS, and their socials for that below.
The Sweaty 2V2 CUP #5 GLOBALLL has ended, but we should see another tournament at some point in the near future. VOD for last cup, and socials to follow in the meantime below.
SOCIALS FOR THIS EVENT:
Note a new week has not been posted if they do post I will edit the article. Until then follow the organizer page, as well as the discord below as they post their.
If you are looking for a weekly event then Thursday Night Thrashers is probably for you. Follow the links below for rules, announcements, and their discord for contemporary updates each week.
SOCIALS TO FOLLOW:
Estoty will be starting its own Duel League. Estoty Duel League Season 1 Tournament 1 will start Saturday October 30TH, 17:00 PM CEST | 11:00 AM EAST. The Estoty group has been putting together Quake Champions competitions for over a year now truly showing their dedication to the scene. Playlist for that day's event below.
Registration is open until October 30TH at 16:55 PM CEST | 10:55 AM EAST. Non-pros can join. Just make sure you read the qualifications | rules before signing up.
Friday December 3rd 11:00AM EAST 7:00PM MSK QUAKE COMMUNITY TOURNAMENTS will be hosting another Duel Tournament.
EVENT SOCIALS:
The 5th of November was the Quake Community Tournaments Pro tournament. Catch the twitch playlist below.
ShaftTasticTV VOD Here: twitch.tv/collections/FdAn1hsQtRbz4w
Europe based league with 74 players spread over leagues
There's no official weekly streams, but ShaftasticTV provides as many pop-up streams as they are able to. All previous streamed games can be found here: youtube.com/playlist?list=PLPCIXIRTnh0gkN7Ee21r3rGv_jSvetKja.
ShaftasticTV records 99% of their streamed content in native 4k video. So the matches on YouTube have pristine video quality, I recommend you watch them on your biggest screen
ShaftasticTV Socials:
Pengartist's Friday FragFest #101 November 19th 2021, 2:00PM EAST 8:00PM CET 
FRAGFEST 101 TOURNAMENT PAGE: challonge.com/fragfest101
Pengartist Hosted FragFest #100 this Friday November 12th 2021, 20:00 CET | 14:00 EAST. Pengartist has shown true dedication to the community. Make sure to show your support for the event. Details below.
FRAGFEST #100 VOD: twitch.tv/videos/1203515167?filter=archives&sort=time
Socials to Follow:
HAPPY FRAGGING FOLKS, AND GOOD LUCK TO ALL THE CONTESTANTS PARTICIPATING!
Latest PTS Notes
0.1.DEV.75470/75971
2021-11-18
Audio Settings
🌟 Added Ambient Volume slider
🌟 Added Announcer Volume slider
♻️ Removed Voice Slider
Insomnia
⭐ Added loading image
⭐ Added Clan Arena support
🔧 Fixed some flickering lights
🔧 Misc collision fixes & improvements throughout
⚙️ Moved some spawns to remove or reduce long-distance LoS kills
⚙️ Updated collison on the dropdown debris (nailjump hint: fire the first nail in the ground, the rest into the slope)
⚙️ Slightly moved Railgun position to improve flow
Known Issue:
🐛 Auto-login has been unreliable since the initial 0.1.DEV.74277/74769 build. Please login manually or relaunch the application multiple times until auto-login is successful.
HOW TO PLAY QUAKE:
QUAKE CHAMPIONS FREE 2 PLAY
CLASSIC 1996 | RE-RELEASE $9.99 | FREE UPGRADE IF YOU ALREADY OWN
DISCORD COMMUNITIES:
Find New People to Party up With (It Helps Our Q Times)
Official Quake Discord discord.gg/Quake Find Players in "party-finder" channel|ALL BUGS SHOULD BE REPORTED TO THE QC FEEDBACK – BUG REPORTS CHANNEL.
Church of Quake discord.gg/qTVK684stc MAKERS OF WIKIS|NEWS|GUIDES|LORE
Official Bethesda/Zenimax Discord discord.gg/bethesda Replacing Beth.net Forums
WEBSITES | TWITTERS | FORUMS
Steamdb.info For
ON-GOING COMMUNITY PODCASTS:
Quake Champions BattlePass WEEKLY |DAILY CHALLENGES:
Weeklies for BattlePass change at 8:00 PM EAST Wednesdays|2:00 AM CEST Thursdays.
Dailies change at 10:00 PM EAST | 4:00 AM CEST.
About Author