Quake Collection Bundle is 73% off during the Steam Summer Sale! Doom & Wolfenstein series also on Sale.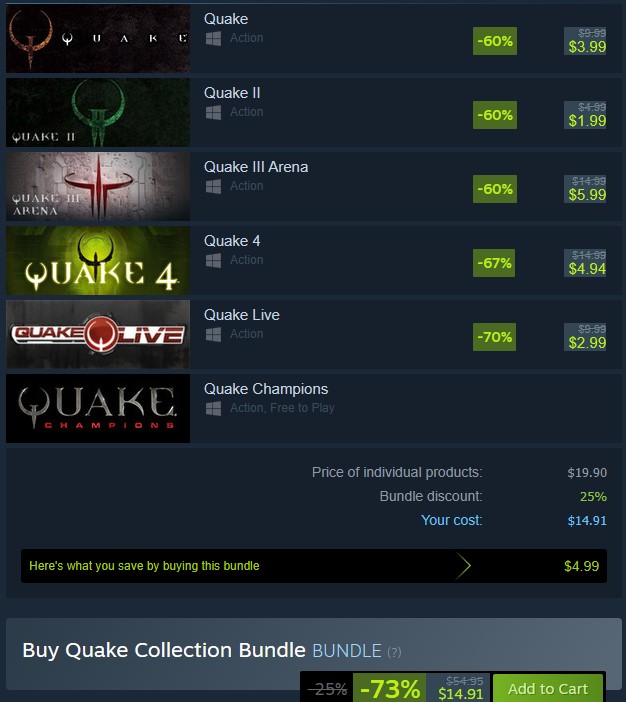 Good Afternoon Quakers! The QUAKE COLLECTION BUNDLE on Steam is 73% during the Steam Summer Sale ending July 13th. Also on Sale are other id Software game Franchises: Doom & Wolfenstein. I'll leave links below to all of those Steam Bundle Pages. Your price & discount can be different depending on your region.
A few things to note about Sales on Steam these days. Steam no longer has flash sales, or daily sales during their bigger sale events like the current Summer Sale, the Autumn Sale, or Winter Sale. Instead the %-Percentage you see is what the game will be sold at for the entirety of the sale. Bundles & Collections can have a larger discount though, so if you own games in the bundle already still check out the price of the game bundle. You may still be able to pick up the games you need for cheaper through the Bundle, or Collection rather than buying each game individually. It's also highly probable that all these games go back on sale with a QuakeCon sale in August, but that has not been confirmed yet.

STEAM STORE PAGES TO GO TO
HAPPY FRAGGING FOLKS & WE SHALL SEE EACHOTHER IN THE ARENAS!
About Author