Trophy Hunters limited time Event is live now in #QuakeChampions 5 DAYS REMAIN!
Good morning Quakers, and Happy New Year! The Trophy Hunters limited time event is live right now. In this event you will have to earn the "GOD" medal for any weapon a certain number of times. Once finished you will be rewarded with a gold skin, and 25,000 XP points for that challenge. The only exception is the Shotgun, Machinegun, and Nailgun which give you the gold shader for both starting, and pick up version. Happy Fragging folks, and good luck collecting your shiny new skins this weekend!
Some tips if you want to collect all of them:
Impulse 9 Game mode spawns you with all weapons.
Unholy Trinity Game mode spawns you with the Quake classic: Rocket Launcher, Rail Gun, and Lighting Gun.
InstaGib Game mode is great for both Rail Gun, and instant kill gauntlets if you can close the gap.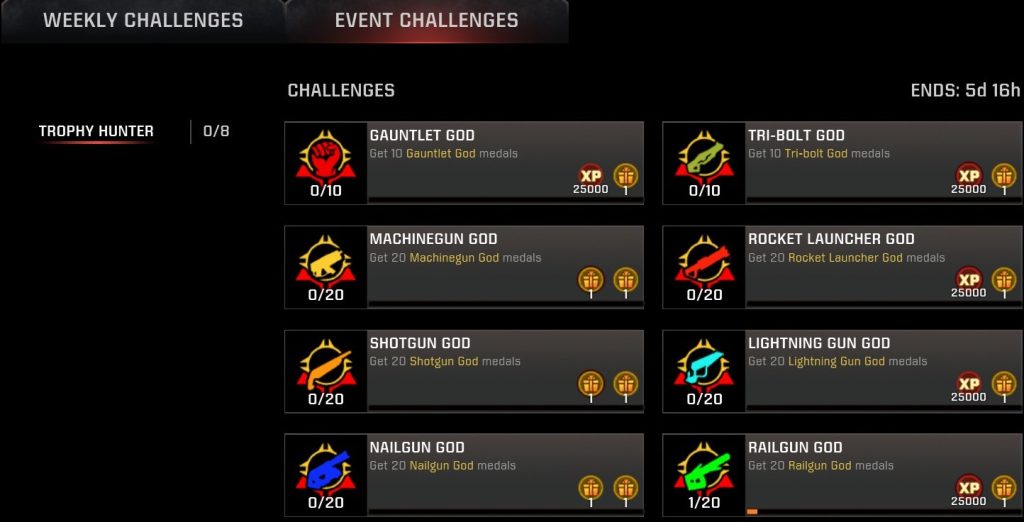 About The Author