Thursday Night Thrashers XIX for #QuakeChampions
Welcome to Thursday Night Thrashers
                   SEPTEMBER 30TH, 7:30pm – (19:30) CEST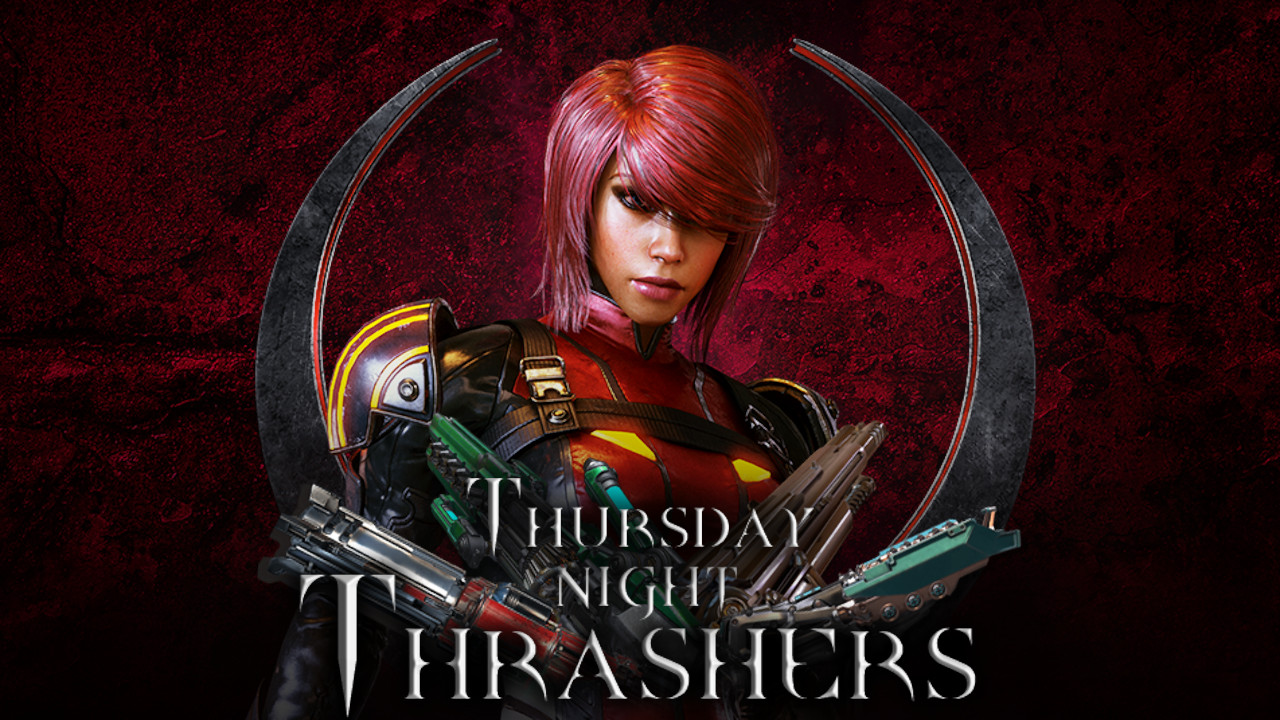 Rules:
Group Stagesets must be played on a server with the lowest ping difference between players.
Final Stage sets will alternate server picks.
Any un-sportsman-like behaviour should be reported to an admin through the TNT Discord Server. (Link above)
One warning will be given. Any further misconduct will result in a disqualification and permanent ban.
A tolerance of 10 minutes is given to all players before match starts.
If a player doesn't show up after 10 minutes, their match will be recorded as a loss.

As per tradition, both semi-final games will be streamed and casted, and should not be played concurrently. Unless told otherwise, please be patient and wait for your semi-finals set.
Format:
Gamemode: Time limit duel
Time limit: 10 minutes.
Score limit: 100
Group Stage:
Round Robin. Bo1. 4 Player per group.
Server must be lowest ping difference between both players.
The reported score is the in-game score.
Tiebreakers decided by Frag Difference.
TOP 2 players per group make it over to the Final Stage.
Final Stage:
Single Elimination.
Bo3 Rounds and Semi-Final.
Bo5 Grand Final.
Pick and ban format is 'Timelimit Duel – QPL S2:S2 – Best Of 3'. (qrindr.com)
Grand Final pick and ban format is 'Timelimit Duel – QPL S2:S2 – Best Of 5'. (qrindr.com)
The reported score is the number of Map wins.
Final maps default to Bo1 server rules.
GOOD LUCK TO ALL THE CONTESTANTS, AND HAPPY FRAGGING FOLKS!
HOW TO PLAY QUAKE:
QUAKE CHAMPIONS FREE 2 PLAY
CLASSIC 1996|RE-RELEASE $9.99
HOW TO WATCH the QUAKE PRO LEAGUE e-sport:
DISCORD COMMUNITIES:
Find New People to Party up With (It Helps Our Q Times)
Official Quake Discord discord.gg/rkuq3AeeHs Find Players in "party-finder" channel|ALL BUGS SHOULD BE REPORTED TO THE QC FEEDBACK – BUG REPORTS CHANNEL.
Church of Quake discord.gg/qTVK684stc MAKERS OF WIKIS|NEWS|GUIDES|LORE
Official Bethesda/Zenimax Discord discord.gg/bethesda Replacing Beth.net Forums
Websites|twitters|sub
Steamdb.info For
COMMUNITY PODCASTS:
Quake Champions BattlePass WEEKLY |DAILY CHALLENGES:
Weeklies for BattlePass change at 8:00 PM EST Wednesdays|2:00 AM CEST Thursdays.
Dailies change at 10:00 PM EST | 4:00 AM CEST.
About The Author