Season 15 Week 8 Challenges Live in #QuakeChampions. #QuakeProLeague Finals 1 week away along with #Quakecon 2022!
Good afternoon Quakers! Week 8 Challenges from BattlePass 15 are live. Season 15 started a couple weeks ago, and brought with it 3 New weapon skins added from the classic video game Enemy Territory: Quake Wars (2007). In addition this patch includes our yearly QuakeCon skin this year's pick is the Super ShotGun (To come next week with a QuakeCon event). Tower of Koth map variants for Sacrifice, and Capture the Flag have been added as game mode options. Many other changes are here for Season 15. You can read our ARTICLE about Season 15's content patch for more details. MID SUMMER PATCH. We also received a patch August 9th 2022. I'll leave those notes below. 34 DAYS REMAIN FOR SEASON 15. 1 WEEK TILL QUAKECON 2022 | QUAKE PRO LEAGUE SEASON 3 WORLD CHAMPIONSHIP!
LIVE Update
1.15.RETAIL.96585/96604
2022-08-09
Map Updates:
🔹 Awoken – Fixed an issue that prevented dropping turrets on the LightingGun jumppad
🔹 Blood Covenant – Fixed statue texture quality
🔹 Blood Run – Fixed turret from auto destroying on the baseboards around the power-up platform
🔹 Corrupted Keep – Added anti-totem/turret domain up top to remove one exploitable position in the NailGun room
🔹 Deep Embrace – Fixed LODs of the murder hole mesh causing weapon collision
🔹 Lockbox – Fixed issues with the map loading scenes
🔹 Tower of Koth – Fixed blue acid foam
Game Updates:
🔹 Fix for Hidden Body camera shake issue
🔹 Removed extraneous QuakeChampions RailGun reload sound when using the Quake3 RailGun, because its shot firing sound has a reload sfx built in.
🔹 Some more texture optimization for low & med
Service Updates:
🔹 Anti-cheat compatibility updates
If you are not already familiar Quake Champions has 4-ish Seasons a year that also correspond with our BattlePass Seasons. Meaning we have 4: 10 to 12 week long BattlePasses a year. Week 1 is primarily made up of completing basic tasks such as completing matches, playing specific game modes, or using your champion abelites. Note the right side of the BP does not open up until you buy the BP for 1000 Platinum.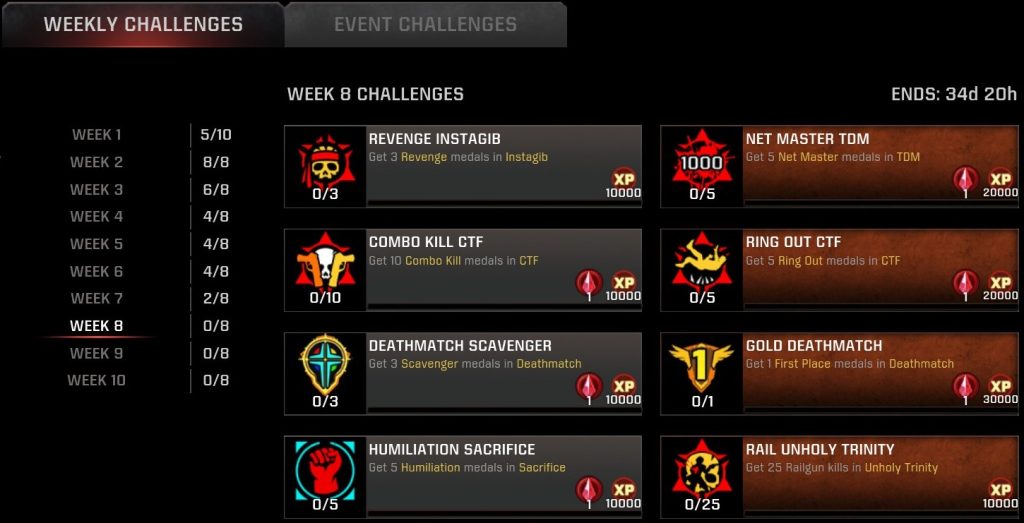 A new set of challenges opens up every Wednesday at 8:00 PM EAST | 2:00 AM CEST. The challenges are broken up in 2 parts. First their week, and then their side left side | right side. The left side consists of the free challenges you can obtain without buying the Battlepass. The right side is accessible after buying the Battlepass. The right side tends to be slightly harder, but gives additional XP as well as shards.
We are currently at the end of 2022 competitive season for the Quake Pro League (QPL). The Quake Pro League World Championship will be August 18th-20th in Bucharest, Romania! This season will consist of 24 total players: 13 invited from the Quake Pro League, and 11 competitors who conquered their Qualifiers. Make sure to catch the events live at the Quake twitch account | YouTube sometimes 4K. Also catch live stats, and rankings on PGL's (Pro Gamers League) website for Quake here. As the league is partnered with PGL, and Bethesda | ZeniMax. QPL Season 3 YouTube VODS.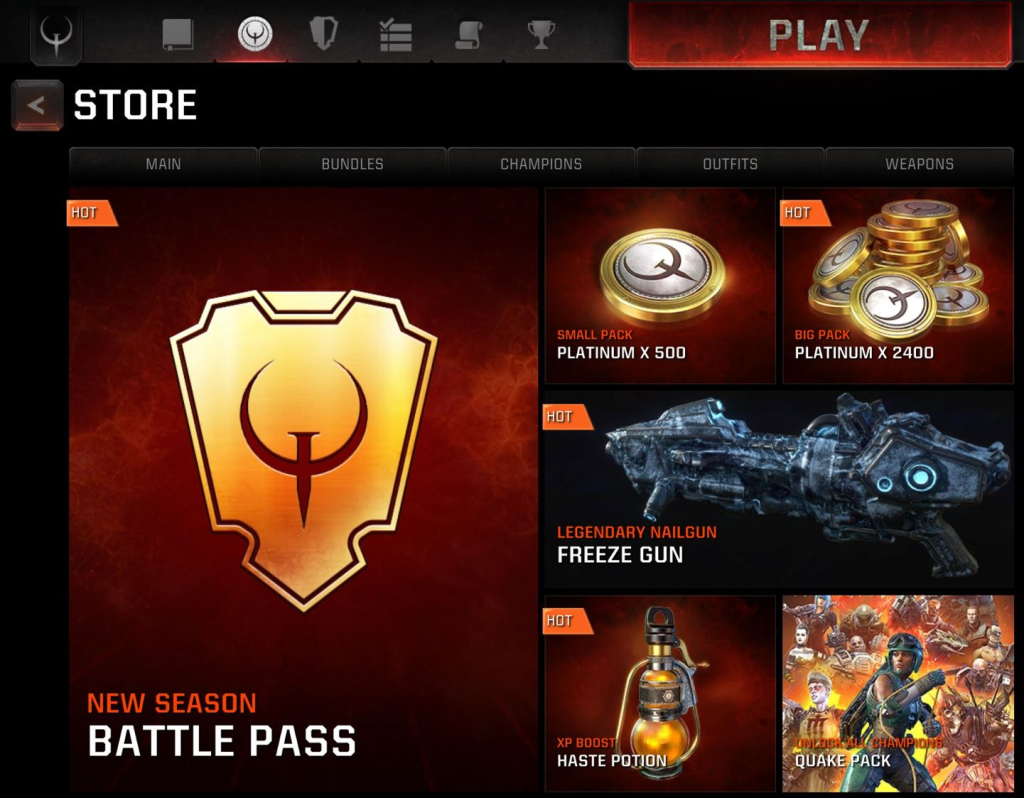 You can buy the BattlePass for 1000 platinum. Platinum is the Premium currency in Quake Champions. If you are using steam I recommended buying from Bethesda directly at this link: Platinum Editions!
Valve takes 30% of all purchases from steam. The money you buy with platinum goes back to the Quake development project. Just make sure you are logged into your associated Bethesda account, and it should be in their by the time you log into the game. If you are using the Bethesda launcher then just purchase it in game as you normally would, but you will be on steam soon just a heads up. (Microsoft Store integration soon).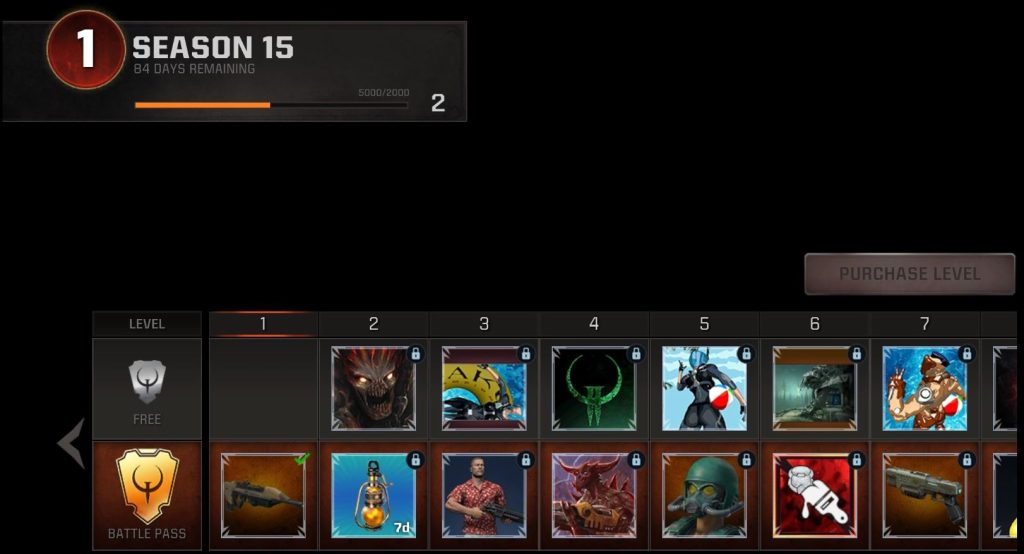 The Battlepass itself is separated in 2 rows. The top row is the free version. You can acquire all the items here just by playing the game to level up your Battlepass. The bottom row is unlocked only with the purchase of the Battlepass. This is retroactive. So, if you are at level 50 and decide at that point you want to buy the Battlepass. Everything below level 49 will be added to your account. Keep an eye out for level 2, and 36 as these levels give you an automatically applied haste salve which gives you Triple XP for 7 whole days.
Once you have purchased the BP click the shield at the top of the screen, and hit the activate button that will be below the season 15 Name Plate.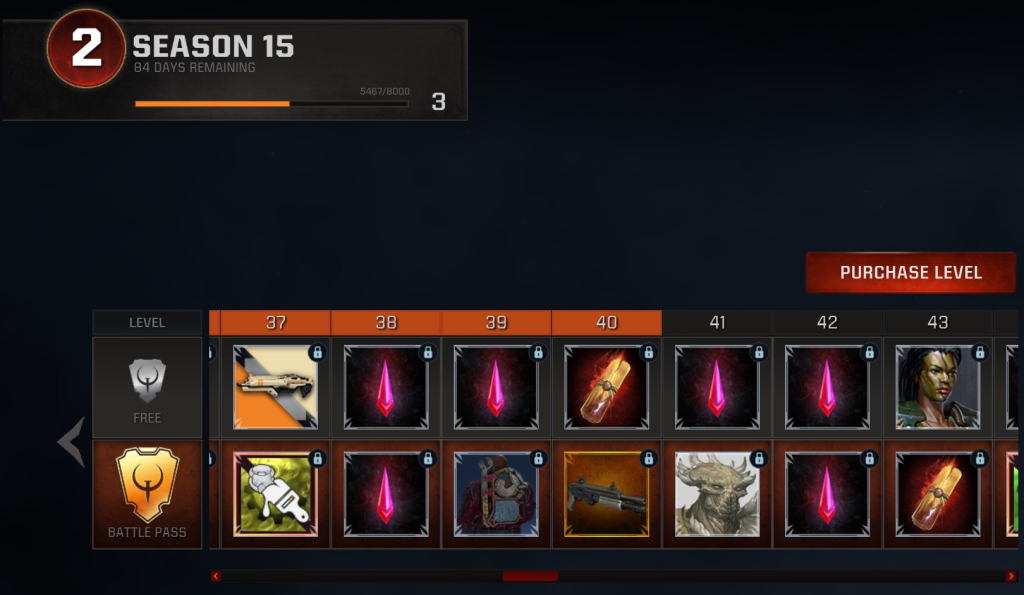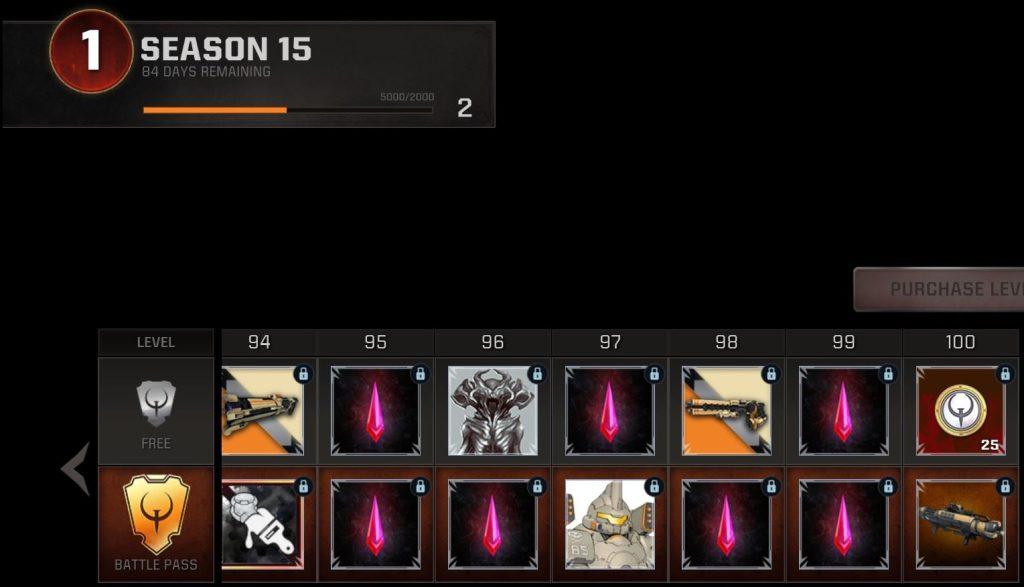 Just a heads up you are getting an instant 7 day Haste Potion at level 2 with the paid version of the BattlePass. You also get another at level 35. You can earn 155 Platinum from the BattlePass this season. There is technically a 2nd half to the Battlepass levels maxing at level 200. Level 101 to 200 has rewards as well. Every 5 levels starting at 105 you will receive 1 shard. While every 10 levels starting at level 110 you will receive 1 shard, and 1 Reliquary. The only exceptions being 190 where you receive 3 shards, and 200 which you will receive 5 shards.

Lots of PTS Updates have pointed to Quake Champions being added to the Microsoft Store. Quake Champions along with many other Classic Id Software Bethesda Published games are currently part of a Xbox Insiders Program. At the end of this program those games could be expected to be added to Xbox Game pass PC | Xbox Game Pass Ultimate PC subscriptions. Ultimate PC owners will be gifted the Champions pack upon login.
all bugs need to be posted in the "bug-reports" channel under the "QC FEEDBACK" header in the official discord. link to that channel here: discord.gg/uy3VBbd83f Clips, or screenshots of your issue are very useful for the developers.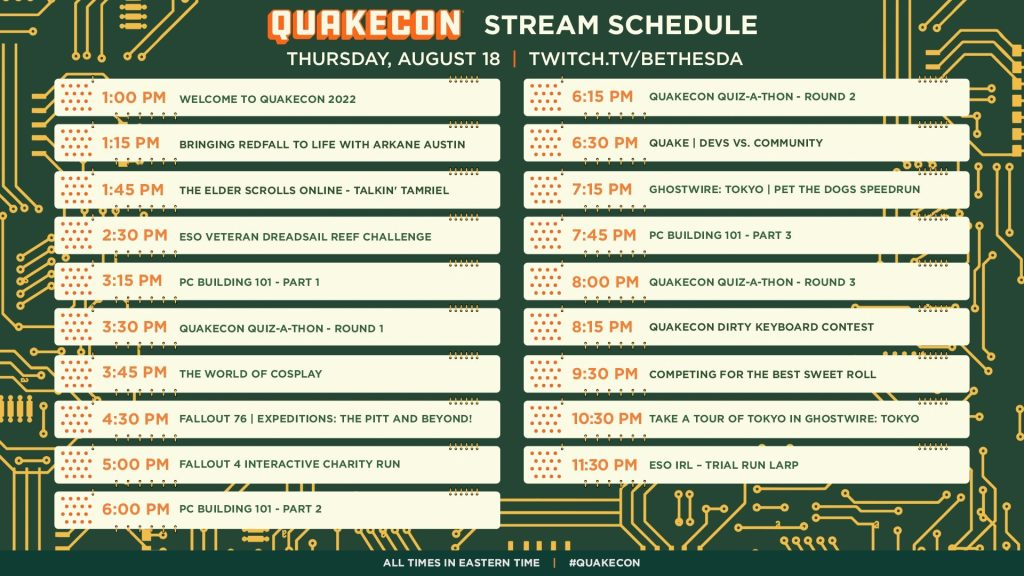 Additionally QuakeCon 2022 has been announced to take place August 18th to 20th. Bethesda Blog for QuakeCon 2022. Full QuakeCon 2022 Schedule! Keep an eye on the QuakeCon twitter, and QuakeCon website for more steady information.
Lastly Season 3 Quake World Championship will \be taking place at the same time as QuakeCon 2022, so August 18th to 20th, but across the pond in Bucharest, Romania. It will be a Local Area Network (LAN) event for Quake Champions taking place at Pro Gamer League's (PGL) office in Bucharest. You can read the full details on Bethesda's blog about the event.
HAPPY FRAGGING FOLKS, AND WE SHALL SEE EACHOTHER IN THE ARENAS.
About The Author