Rocket Jump Zone 2v2 TDM Cup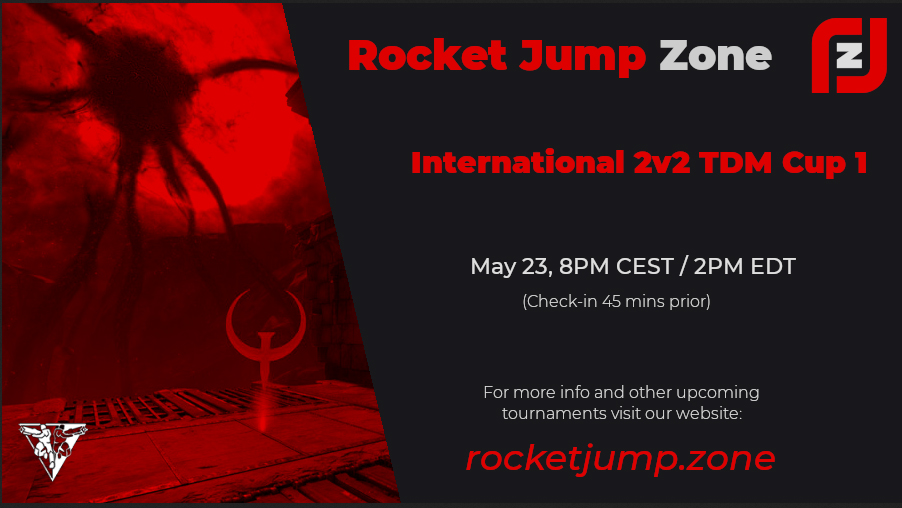 Rocket Jump Zone is hosting an International 2v2 TDM cup on May 23, 8PM CEST / 2PM EDT (check-in 45 mins prior).
They will have 2 brackets one for North America and the other for Europe.
Winner of each bracket advances into the grand finals.
With prizing donations being accepted through out the tournament the distribution is as follows:
1st place:
60% of the prize pool
gold trophy to your profile
2nd place:
20% of the prize pool
silver trophy to your profile
3rd place:
20% of the prize pool
Rocket Jump Zone <3
Donate to the prize pool here: https://rocketjump.zone/donate (streamlabs)
Want to join in the fray? All skill levels welcome. Sign up over on the Toornament page: https://www.toornament.com/en_US/tournaments/3575892157740064768/information
Tune in to watch the games:
Stream (ENG) – https://www.twitch.tv/rocketjumpzone
Admin: Ch4mp, Caster: HaloLagann
RulesFAQ:
– Can we have 2 same champs per team? -> No!
– Can we change a champ during the game? -> Yes
– Champ bans? -> Nope
– Map bans? -> maps are pre-determined, see the bracket (Bo1)
– So, ehm.. server choice for grand finale (NA vs EU) -> cointoss, 1 game EU server, 1 game NA server…

Best of 3: Ban (H), Ban (L), Pick (H), Pick (L), Ban (H), Ban (L), Tiebreaker

GAME RULES
Mode: 2v2 TDM Ranked
Time limit: 15 minutes
Frag limit: 50

MAPPOOL
Awoken, Blood Covenant, Blood Run, Corrupted Keep, Tempest Shrine,
The Molten Falls, Vale of Pnath
About The Author