#QuakeProLeague Season 2 World Championship Day 3 FINALS
Day 3 of the Quake Pro League will be starting at 8:00AM EAST | 2:00PM CEST live at QUAKECON'S 25TH ANNIVARSARY . Yesterday was an insane day for the Quake Pro League. Rapha proved to be a mere mortal dropping to the lower bracket after losing to Av3K. Day 2 was packed with thrilling series, so be sure to check out the twitch vods below if you missed them. Brackets are below as well if you are looking to see where your favorite Pro currently stands.
Will Rapha continue his dominance in the World Championship becoming our first QUAD FATHER, or will AV2K, VENGEURR, CYPHER, RAISY, OR K1LLSEN finally take the glory away from him. GRAND FINALS will start at at 6:45PM EAST | 10:45PM CEST.
Day 3 of The Quake Pro League World Championship will start at 8am EAST | 2pm CEST today August, 21st 2021. You can catch the streams at the links below. Being the Main stream, B stream, and NEW 4k on YouTube.
Main Stream: http://twitch.tv/quake
B Stream: http://twitch.tv/quake2
NEW 4k Stream: http://youtube.com/quake
DAY 2 VODS
DAY 2 MAIN STREAM TWITCH VOD: https://www.twitch.tv/videos/1123974063
DAY 2 B STREAM TWITCH VOD: https://www.twitch.tv/videos/1124030350 PART 1
DAY 2 B STREAM TWITCH VOD: https://www.twitch.tv/videos/1124093884 PART 2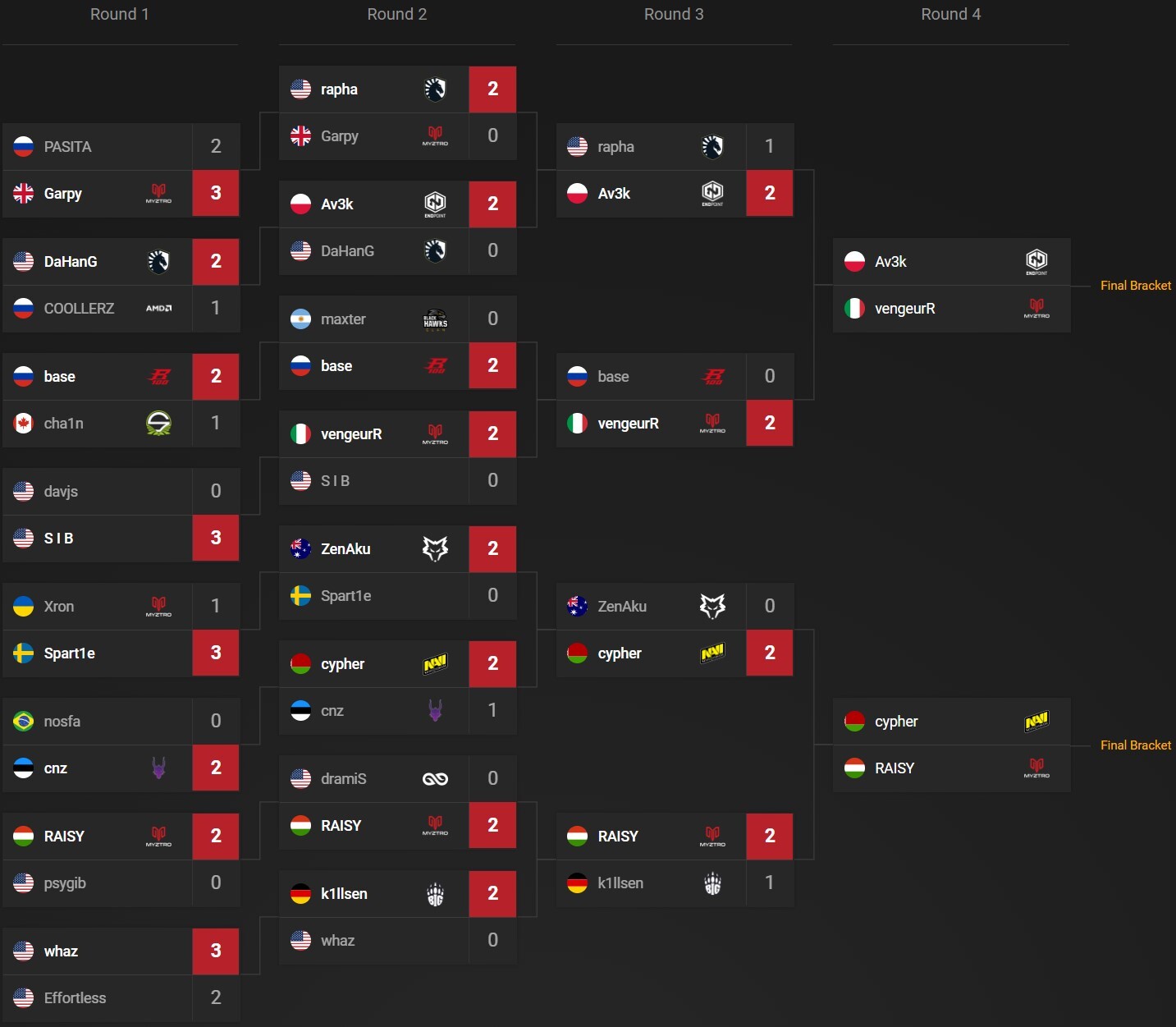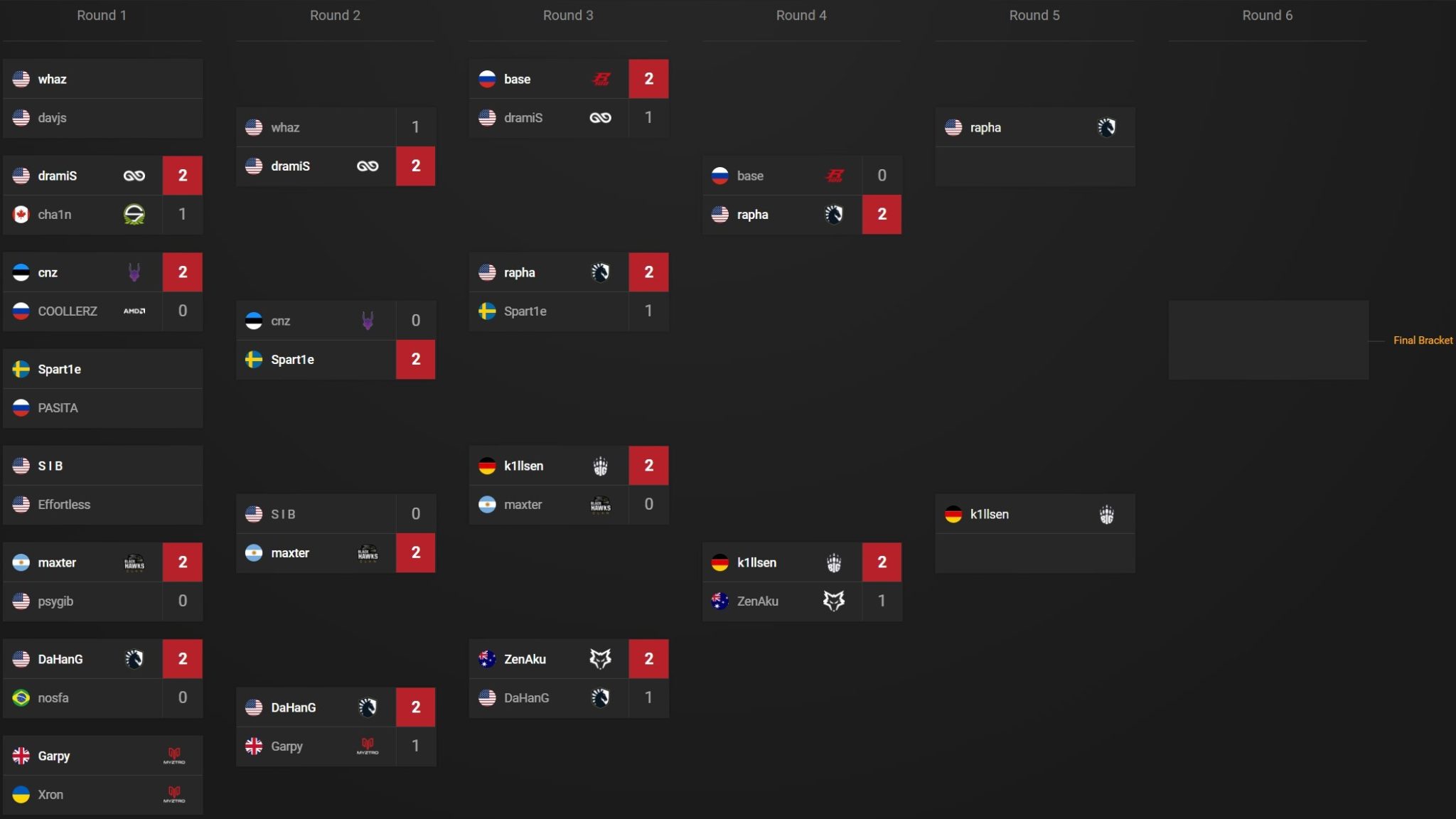 The Quake Pro League is just one of the many things being shown at QuakeCon's 25th Anniversary. Check out the full schedule below to see what other Bethesda/Zenimax Panels, premiers, and previews will be featured from your favorite games.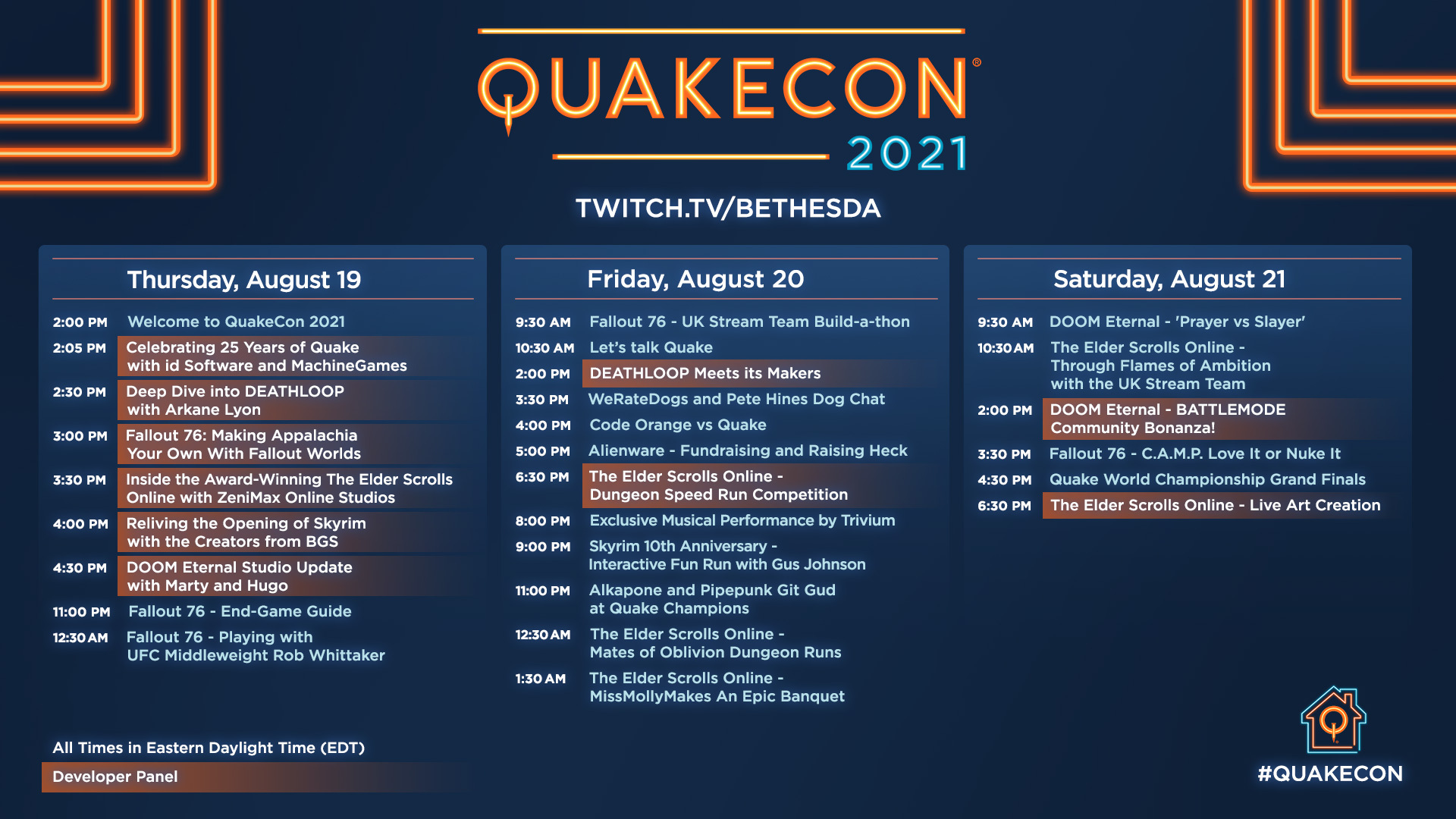 Don't forget about the QuakeCon Community stream.
The community events kick off today at 10:00AM EAST | 4:00PM CEST. NOTE ALL TIEMS ON GRAPHIC ARE IN EAST.  Make sure to join us at 10:00AM East | 4:00PM CEST for WAKE & QUAKE. Today's featured Quake game is "QUAKE LIVE" You can join in on all the fun at the official QuakeCon discord here: https://discord.gg/quakecon
You can watch all the community QuakeCon activities on twitch here: https://www.twitch.tv/quakeconcommunity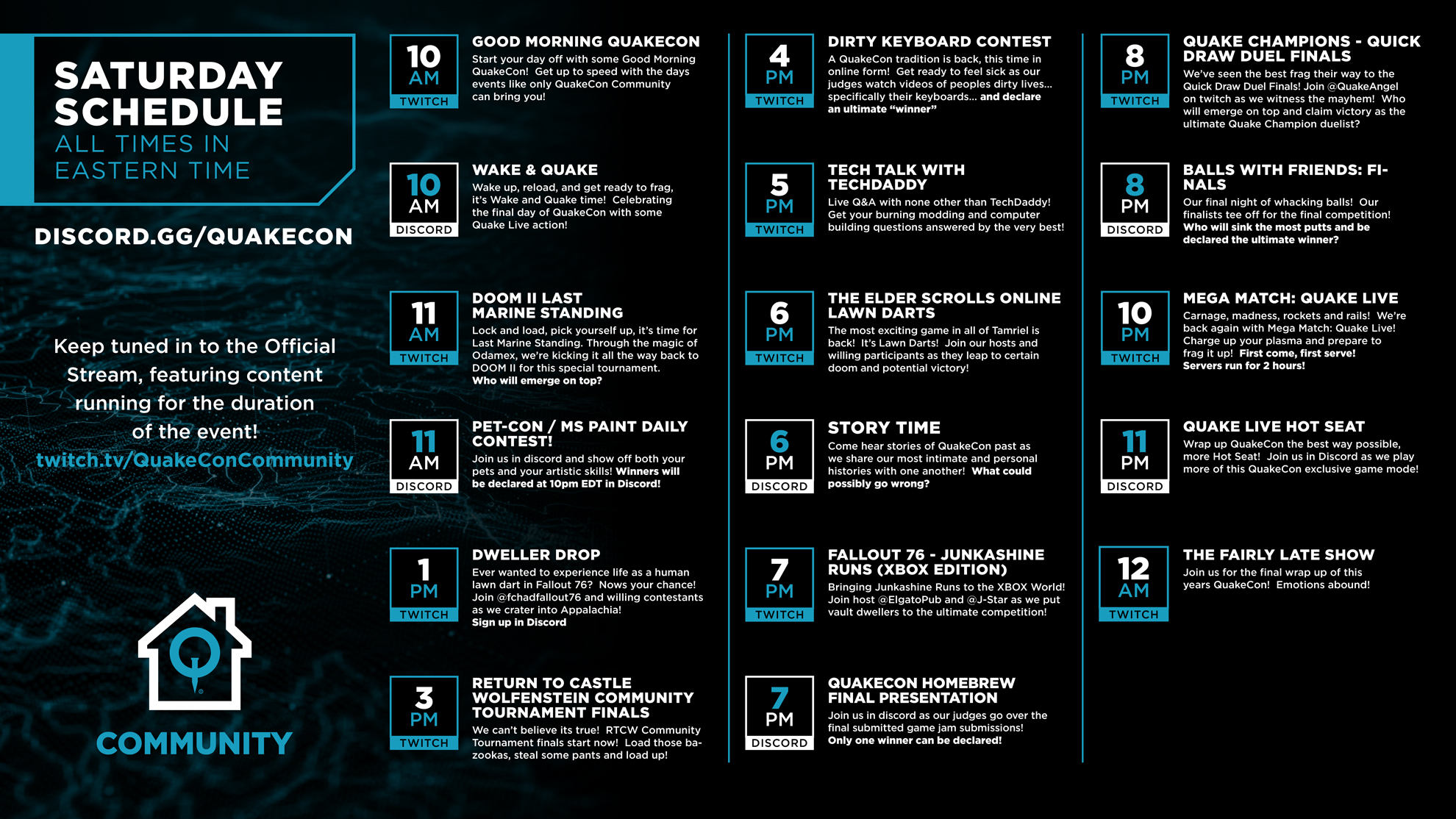 Lastly at 8:00PM EAST | 2:00AM CEST the Quake Champions – Quick Draw Duel Finals start.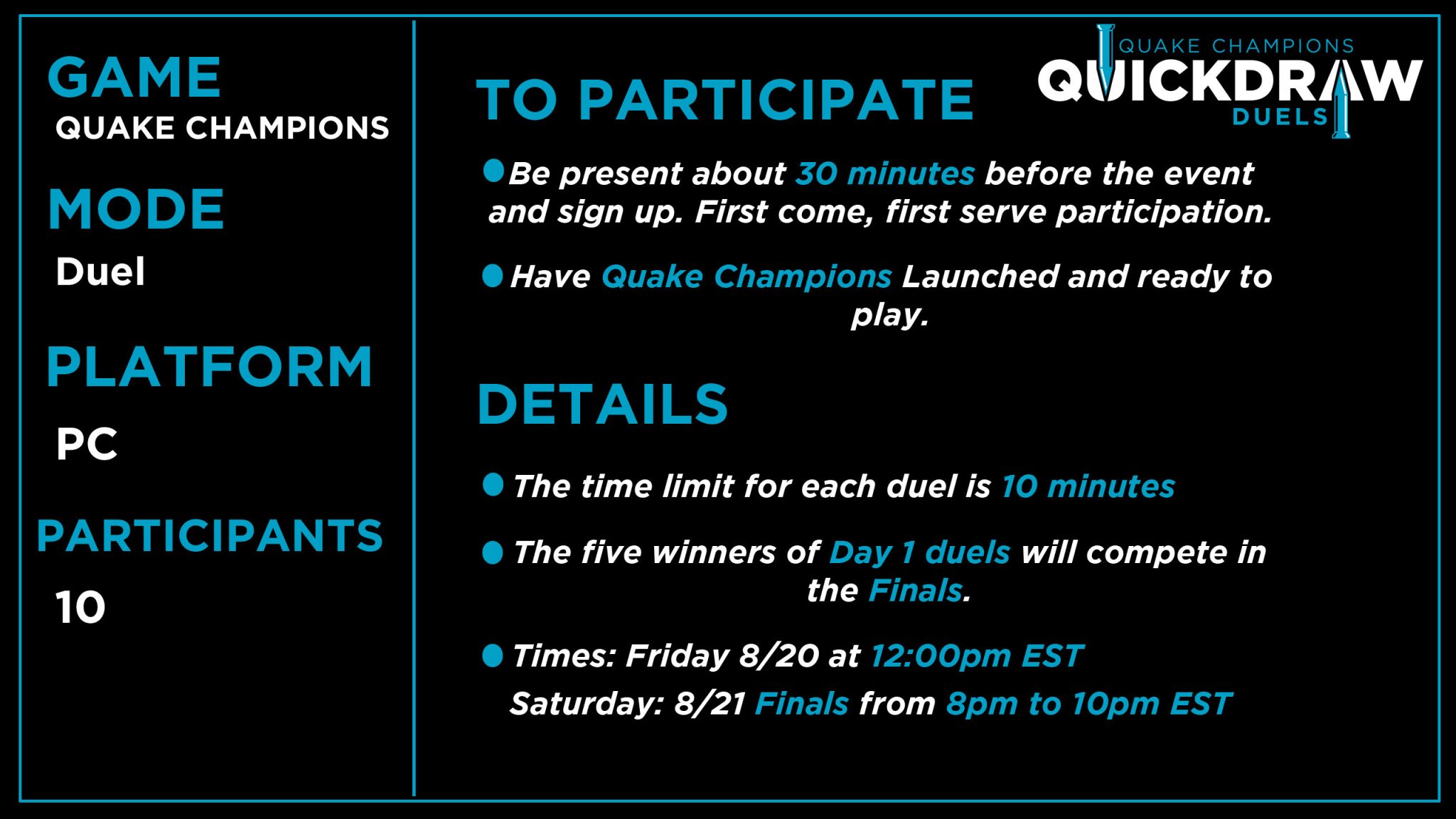 HOW TO WATCH
Twitch Quake (English) https://www.twitch.tv/quake MAIN STREAM
Twitch Quake_2 (English) https://www.twitch.tv/quake2 B STREAM
YouTube Quake (English) https://www.youtube.com/channel/UCOMk1WI8dxaCFpJptF6K8_A
Twitch XBOX (English) https://www.twitch.tv/xbox
Twitch Bethesda (English) https://www.twitch.tv/bethesda
Twitch (Russian) https://www.twitch.tv/quakemc_ru
YouTube Bethesda Softworks https://www.youtube.com/user/BethesdaSoftworks
Official Quake Twitter https://twitter.com/Quake
Official Bethesda Twitter https://twitter.com/bethesda\
DISCORD COMMUNITIES
Official Quake Discord https://discord.gg/Ay6kZxjm
Official QuakeCon Discord https://discord.gg/RwFHB3Ja
Official Bethesda/Zenimax Discord https://discord.gg/bethesda
Church of Quake Discord https://discord.gg/EzHYeSFu
QUAKECON RESOURCES
Twitch QuakeCon (English) https://www.twitch.tv/quakecon
Twitch quakecon2 (English) https://www.twitch.tv/quakecon2
Official QuakeCon Twitter https://twitter.com/QuakeCon
QuakeCon Community Twitch: https://www.twitch.tv/quakeconcommunity
OTHER RESOURCES
Official id Software Twitter https://twitter.com/idSoftware SACRED GODS
Official QPL website https://quake.pglesports.com/ Quake Champions e-sports
CHURCH OF QUAKE WEBSITE: https://churchofquake.com/ QUAKE CHAMPIONS WIKI|NEWS|GUIDES
Official SyncError twitter: https://twitter.com/SyncError lead Quake Designer
About The Author