QuakeCon 2023 is Less than 3 Weeks Away!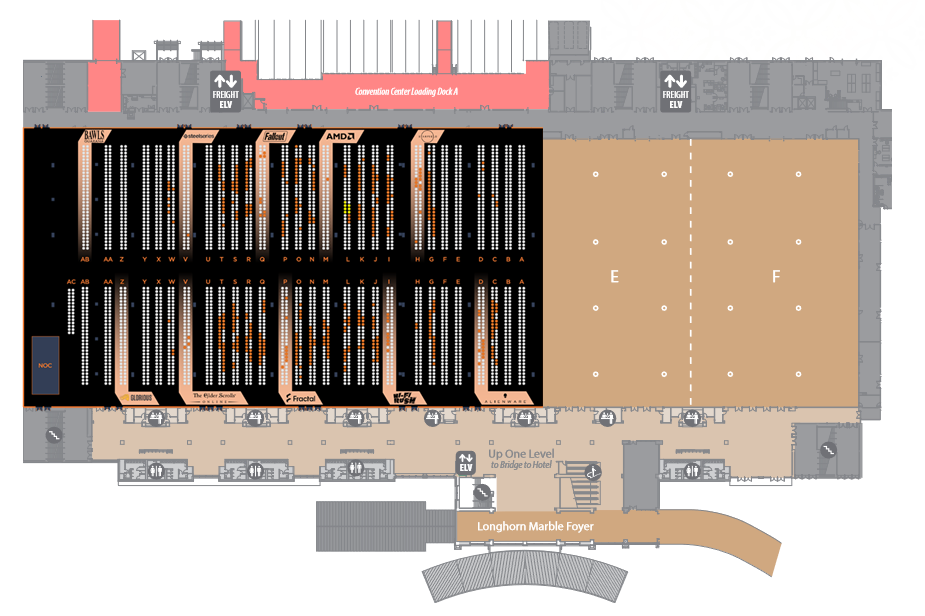 Good morning Quakers. QuakeCon 2023 is 16 days away! Bethesda has sent emails with updated information about the festivities to expect at QuakeCon. The BYOC officially opens on Thursday, August 10th, at 8:00am Local time which is Central. Central is 1 hour behind EAST, and 7 hours behind CEST. Each guest with a standard ticket is being given 2 plugs only with no extra power strips allowed. Each table is 72″ inches wide, and 30″ Inches wide. Meaning each guest gets 36″. Do try and be courteous to your neighbors, and stay within these parameters. Note the seating chart below to determine the length of the ethernet cable you need for your seat. No free cables at the Con, so please make a list, and check it twice.
The Welcome Stream is in Hall E, So the next hall over from the BYOC halls that will be broadcasted live Thursday August 10th at 12pm Central | 1PM EAST | 7PM CEST. This is the most likely time any announcements would happen this year, so be ready for the Welcome Stream! lastly concerning us Quakers there will be a Quake Champions Sacrifice Tournament. More details to come later.
Lastly, There will be an Esports Final Party's the evening of Saturday August the 12th coinciding with the Quake Pro League Finals. Special Guests, and Giveaways will be happening. Currently the suspected Special Guests could be John Carmack, and Fatal1ty as they have showed much interest in this years QuakeCon. Will just have to see who shows up!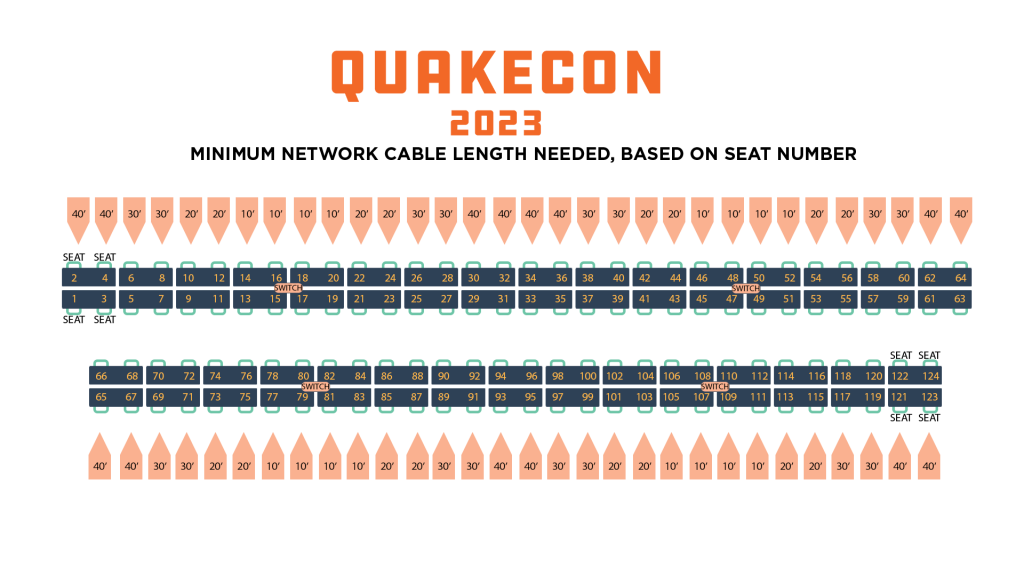 Important Links for QuakeCon 2023:
There are lots of new, and returning events to enjoy at QuakeCon 2023:
Community Events:  
Want to take a little break from your PC? We've got a host of community engagements running throughout the weekend! 
New! Join us in the Console Plug and Play Lounge sponsored by Viewsonic and Lovesac, located near the NOCin the BYOC. Monitors will be available for anyone to use with their consoles or portable gaming devices. 
Free2PlayArcade: 
If you're in the mood for some arcade games, you're in luck! We're proud to announce that TexasShotTakers will be joining QuakeCon this year and are bringing some of the top arcade games available with them. Just head upstairs to Texas Ballroom on Thursday, August 10 for the Free2Play Arcade space.
Tabletop is back!: 
We're also proud to announce the return of Tabletop Hall and the Lending Library. Every tabletop game you can imagine will be onsite for attendees to try out. Tables, dice and friends will be included. Games will be provided by Meeples Solutions and DFW Gaming Village will be there to host and help provide assistance to all tabletop gamers.
Miniature Painting: 
Been curious about painting miniatures? Wondering how to get into the fantastic hobby and skillset of taking a drab gray piece of plastic and brushing life directly onto it? Come up to Tabletop Hall for open opportunities to paint and learn from experienced painters!
BYOC Tournaments, Master Pancake & More: 
As is tradition, we'll be hosting tournaments all weekend. Watch or take part in the Free-For-All Quake Challenge, the DOOM (2016) Free-For-All, Quake Champions Sacrifice, and more!
We'll be kicking off the entire 'Con with our welcome stream on Thursday, August 10 at 12pm. Check out the main stage in Longhorn E to watch live.
Master Pancake will be joining us once again Friday, August 11 at 10:30pm in Longhorn E for a classic gamer throwback from the 90s!
It wouldn't be QuakeCon without our eSports Finals and Finals Party! Join us to watch the final round of the Quake Pro League on Saturday night and stick around after for a fun night of surprise guests, giveaways and more! 
Parking & Equipment Drop-off:
The exclusive QuakeCon self-parking rate at the Gaylord Texan Resort & Convention Center is $8/day. Just show your badge to the attendee upon exit to guarantee your discount. Parking will be limited at the hotel, so we highly encourage rideshare.
If the on-site parking garages are full, overflow parking for QuakeCon attendees can be found in Lot R. A shuttle service between Lot R and the Gaylord Texan Resort & Convention Center will be available around the clock to get you safely to and from the hall.
Equipment Drop-Off: will be located at the Convention Center Drive. Drop off is limited to 5 minutes per car. Please do not leave your vehicle unattended or it will be towed. 
Safe Travels Folks, and See Y'all at QuakeCon!
About Author