#QuakeChampions Community Event Round Up
Hello Quakers today we will be going over additional tournaments we have going on in our community over the next few months. If you have not already heard Quake Pro League Season 3 has been announced to start next year, so 2022. We have no additional information besides that at this point in time. When more information becomes available to us in the future we will report on it.
The Pros, Organizations, and Community at large are still here while we wait for QPL Season 3. We currently have a number of events in the near future to look forward to, so make sure to check them out below.
Let's also not forget that Tomorrow the 7th of September the Public Test Server (PTS) will open. This should include the new arena "INSOMNIA" still in block-out form (meaning no textures just geometry) as well as some stuff from our next upcoming season (SEASON 12). Sync has stated that because of the current holiday today the PTS will not be up until Tomorrow evening. Since id Software is in central time zone we could assume it means NA's evening. Details on how to download the PTS, and participate below.
And, of course Happy Labor Day to all those in the States. Make sure to rest those wrists for the PTS tomorrow. 🙂
Perhaps the biggest tournament we have to look forward to would by Myztro Gaming's IRONFIST. IronFist will be an Invitational event taking place in London England starting November the 25TH to the 28TH. IronFist will feature 16 of Quake Champions best PROS facing off this winter. More information for this thrilling event will come in the near future. We will be sure to report on it when more information is posted. In the mean time you may want to follow Myztro Gaming's twitter account below.
TastySpleen's Organ Grinder 6th Edition will be on the 11Th of this month, and this 6TH edition will feature Quake Champions. Don't forget to donate as all donations go back to the Tournament.
TASTYSPEEN WEBSITE organgrinder.tastyspleen.net/ FAQ FOR RULES
TASTYSPLEEN DISCORD discord.gg/SzVBBWGX NEWS | UPDAETES FOR EVENTS
TASTYSPLEEN TWITCH – WATCH THE EVENTS HERE twitch.tv/TastySpleenTV
TASTYSPLEEN YOUTUBE youtube.com/user/TastyCast CATCH VODS | COMMUNITY VIDEOS BY TASTYSPLEEN
Also on the 11TH of this month is Sweaty's 2V2 CUP #4. All donations go back to the Prize Pool.
EVENT WEBSITE: play.toornament.com/en_US/tournaments/4916623037371473920/
WATCH THE MATCHES HERE: twitch.tv/psygib
SIGN-UP HERE: play.toornament.com/en_US/tournaments/4916623037371473920/registration/
NA 2V2 COMMUNTIY DISCORD: discord.gg/YUJmhVsqe2
TIMEZONE: America/New York (UTC-04:00)
Sign-ups End:
9/11/2021 4:30 PM EDT
Check-in Starts:
9/11/2021 3:30 PM EDT
Check-in Ends:
9/11/2021 4:30PM EDT
Tournament Starts:
9/11/2021 5:00 PM EDT
If you are looking for a weekly event then Thursday Night Thrashers is probably for you. Follow the links below for rules, future announcements, and their discord for live updates.
Welcome to Thursday Night Thrashers
                  September 9, 7:30pm – (19:30) CEST
I'll leave a link here for the next event happening this Thursday the 9TH here: challonge.com/Thrashers16
And a link to the Organizer's page, so you can follow future events here: challonge.com/communities/Thrashers
ESTOTY just recently celebrated One Year of Quake Champion tournaments. We are very lucky to have such a dedicated group of people making this happen. make sure to show them some of love as donations go a long way for communities like these.
Anyone can INCREASE PRIZE pool, CLAIM CODE & COMPLETE tasks: matcherino.com/t/estoty43
Contact each other and gather in the lobby in game chat or at toornament.com or bit.ly/KaVlaSs-Channel
Here is a link to ESTOTY's next Event a Duel tournament on the 10TH of this month below: play.toornament.com/en_US/tournaments/4956640388587782144/
Registration Link Here: play.toornament.com/en_US/tournaments/4956640388587782144/registration/
Lastly, but certainly not least we have Pengartist's FragFest which typically has weekly showing on Friday at 8PM CEST.
All games can be watched on Pengartist's twitch page here: www.twitch.tv/pengartist
Follow Future | on going events here: challonge.com/communities/fragfesters
PUBLIC TEST SERVER INFORMATION
The PTS is a Public Test Server that many games come with. It is completely optional to be part of the PTS, and does require an additional download to take part of. The purpose of the PTS for us is it allows us to preview upcoming skins, maps, and changes in general before they are added to the main game. It also doubles as bug testing. In fact all bugs, or issues in the PTS should be put in the official discord here: discord.gg/Ay6kZxjm In the "public-test-server" channel. If you can you should try and find a buddy to test with. Two heads are better than one. You can find people to party with in the "party-finder" channel of the official discord. LINKED ABOVE.
If you want to access, or rather download the PTS you can do this on both Steam, and the Bethesda Launcher quite easily. Just to note though like other PTS downloads you are usually downloading the entire game plus some. The PTS download for Quake Champions is currently just over 30 Gigabytes. Keep that in mind if you want partake. Things that you accomplish in the PTS version DO NOT transfer over to the main game.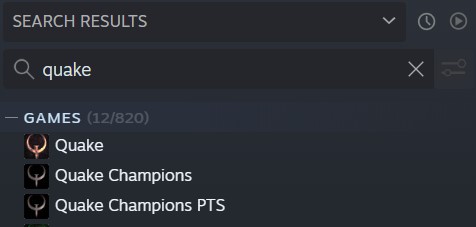 In steam all you have to do is type in any way of "QUAKE" in your games search bar, and it will pop up as "Quake Champions PTS". It is consider its own "game" so to speak on steam. Just download it as you would any other game.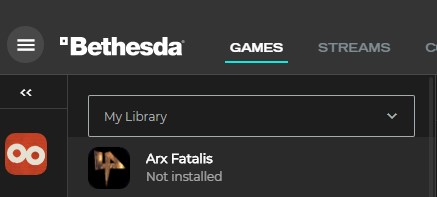 For the Bethesda Launcher the Quickest way to access it is as followed. Make sure you have the "GAMES" tab selected, and on "My Library" in the drop down menu.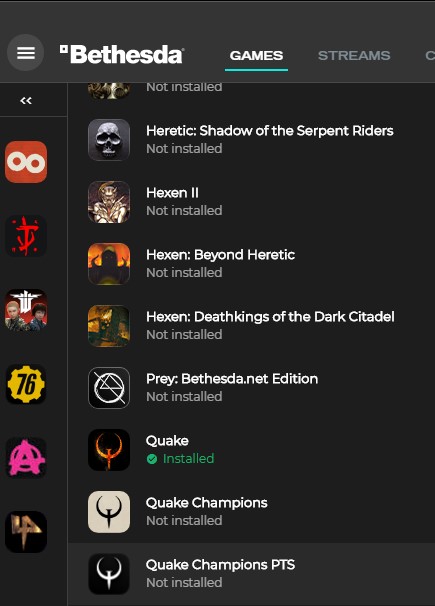 From here just scroll down until you hit your "QUAKE" section, and download "Quake Champions PTS".
HAPPY FRAGGING FOLKS, AND GOOD LUCK TO ALL THE CONTESTANTS IN ALL THESE WONDERFUL TOURNAMENTS FOR US!
HOW TO PLAY QUAKE:
QUAKE CHAMPIONS FREE 2 PLAY
BETHESDA DOWNLOAD PAGE: quake.bethesda.net/en/playnow
STEAM STORE PAGE: store.steampowered.com/app/611500/Quake_Champions/
BETHESDA STORE FOR PLATINUM: bethesda.net/en/store/product/QUWV01PCBG01BASE
QC COMPATIBILITY TEST: churchofquake.com/trouble-shooting-crash-to-desktop-issues/ IF YOU ARE HAVING TECH ISSUES WITH QC LOOK OVER THIS LINK.
HOW TO WATCH the QUAKE PRO LEAGUE e-sport:
twitch Quake (English) twitch.tv/quake MAIN STREAM
twitch Quake_2 (English) twitch.tv/quake2 B STREAM
twitch Quake (Russian) twitch.tv/quakemc_ru
YouTube Quake (English) youtube.com/channel/UCOMk1WI8dxaCFpJptF6K8_A  STAGE 3 | FINALS ARE U
High Quality VODS get Posted to YouTube for the Quake Pro League e-sports Eventually.
DISCORD COMMUNITIES:
Find New People to Party up With (It Helps Our Q Times)
Official Quake Discord discord.gg/Ay6kZxjm Find Players in "party-finder" channel | ALL BUGS SHOULD BE REPORTED TO THE QC FEEDBACK – BUG REPORTS CHANNEL.
Church of Quake discord.gg/gPdkkFza MAKERS OF WIKIS|NEWS|GUIDES|LORE
Websites|twitters|sub
Quake Champions Website quake.bethesda.net/en/ Updates | Announcements
Quake Pro League Website quake.pglesports.com/ Partnered with PGL e-sports ORG
CHURCH OF QUAKE WEBSITE: churchofquake.com/ MAKERS OF WIKI|NEWS|GUIDES|LORE
r/QuakeChampions reddit.com/r/QuakeChampions/ We are Friendly
Official Quake twitter twitter.com/Quake Latest Quake Series News|e-sport Announcements
Church of Quake twitter twitter.com/church_of_quake Articles Auto twitted Here
Official id Software twitter twitter.com/idSoftware SACRED GODS
SyncError twitter twitter.com/SyncError Lead Quake Designer at id Software.
About The Author