Estoty PRO Duel #44, 1 year of tournaments celebration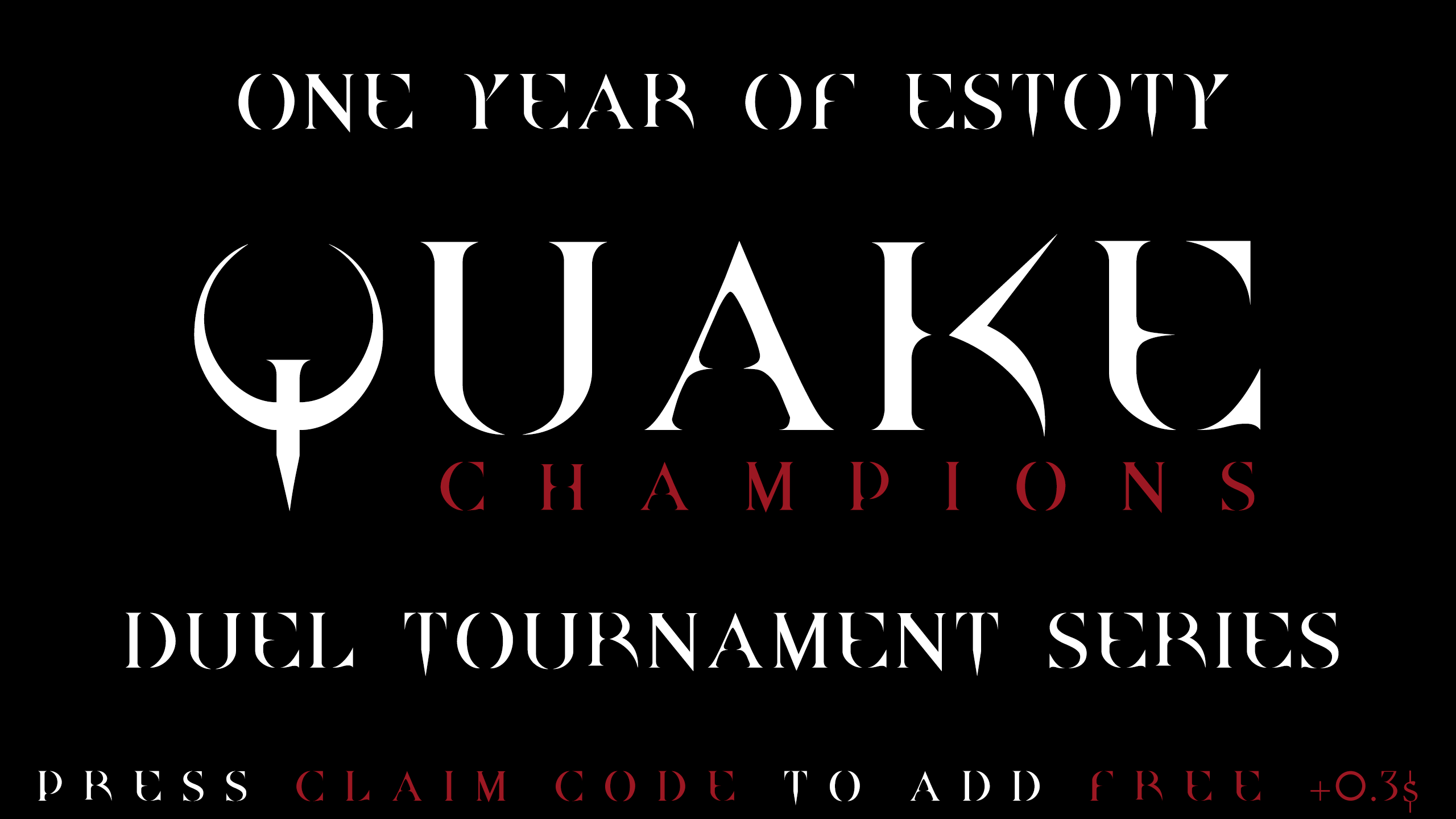 Estoty.com is celebration the Quake Champions tournaments that they have been organizing and sponsoring for the past year. To celebrate this occasion there will be a PRO tournament next Saturday!
Welcome to the Duel tournament!
September 4, at 16:00 CEST
https://play.toornament.com/en_US/tournaments/4937113874654773248/
Guaranteed prize pool – 500$
Anyone can donate & increase prize pool
Tournament sponsor:
Estotygames
Tournament orginizer:
I0nth#8138(discord)
Game Mode:
Duel Timelimit
Double elimination
Tournament maps:
Awoken
Corrupted Keep
Deep Embrace
Exile
Ruins of Sarnath
The Molten Falls
Vale of Pnath
Prize:
1st place – 30%
2nd place – 18%
3rd place – 12%
4th place – 8%
5-6th place – 4%
7-8th place – 3%
9-12th place – 2%
admin – 10%
Anyone INCREASE PRIZE pool, ENTER PROMOCODE & COMPLETE tasks:
https://matcherino.com/t/estoty44
Press CLAIM CODE to add FREE 0.3$
•••Win bracket•••
Best of 3 (BO3)
•••FINAL•••
Best of 5 (BO5)
+map to the winner of the WB
•••Loser bracket•••
Best of 1 (BO1)
Best of 3 (BO3) = final
ALL players are participating.
At the request official of streamers – invite them to the lobby.
All participants and streamers of the tournament can restream each other
Insulting & unsportsmanship conduct = technical defeat and ban.
Twitch.com rules extend to the tournament. It is prohibited on Twitch = prohibited in the tournament.
Contact each other and gather in the lobby at toornament.com or http://bit.ly/KaVlaSs-Channel
If players cannot agree on what server to play, then choose as follows:
Servers are selected according to the principle of home-away-home.
Each player chooses from geographic considerations (for example, players from America do not play ASPAC servers).
Player 1 selects the EU Central server and has ping 30 on it, Player 2 Ping 120 on EU Central, Player 2 selects the Na East server and has Ping 20, the Player1 has a ping 100 on Na East.
120-30=90 (Eu Cental) и 100-20=80 (Na East)
The minimum delta will be the Na East server and will be home. Accordingly, players play servers in this order: Na East – Eu Central – Na East
The Away server player automatically gets First Seed at bans/peaks in Qrindr.
Players from South America and Europe play one server with a minimum delta Na East or Na West. First Seed in Qrindr choose Random
If players play one server all maps, then the first seed choose the Random.
Mark the final result of the match on the website. If you made a mistake while adding the result – contact the tournament admins by writing to PM or in the #general-chat discord channel to correct the result on the website.
If during a game a player leaves the server and more minutes of the match time have passed, the match is replayed, the remaining time and the score is saved.
If the player doesn't appear for the game or cann't solve technical problems within 10 minutes – minus the map (you choose the skipped map in the qrindr last and don't play.). Doesn't appear in the next 10 minutes – technical defeat.
Stream, record games, take screenshots – this will help in resolving controversial situations.
Prize payments are made using https://matcherino.com/.. Create an account and enter the corresponding tournament.
All champions are required to participate in the tournament and should be played at least 100 duels in ranked.
Want to stream a tournament? – write to the admin, he will coordinate and explain further actions 🙂
About Author