Quake Champions PTS Update for 04-24-2023 is Live. Feedback needed on Nvidia Reflex Reintroduction.
Good morning Quakers. An update for the Public Test Server has just gone out with a few Optimization & Bug Fixes. New content has technically been added, but is currently locked, and will mostly likely show up in a later PTS update when the developers are ready to show this content. Go check out the Podiums in the mean time! Feedback in requested on AMD, and NVidia Graphics cards for the reintroduction of Nvidia Reflex with is meant to lower player latency in completive games. Please read below on how to give feedback.
Nvidia Reflex Page for more Information

1.19.RETAIL.117336/117344
2023-04-24
New Content:
🌛 Added new content (weapons, podiums), but they are currently hidden and/or locked.
Game Updates:
🔹 Engine optimizations, possible improvements for CPU bound users
🔹 Reintegrated Nvidia Reflex
✍️ Need feedback from AMD users to verify that there is no perceivable difference between OFF, Enabled, Enabled+Boost.
✍️ Need feedback from Nvidia users as to whether it seems to be working
🔹 Reduced ranked mode XP
🔹 Sort champions on CTF endgame podium by Score instead of XP
🔹 Fixed totem health (issue which required Peeker to need more shots than necessary to destroy the totem)
🔹 Fixed Loveless LG texture quality
🔹 Updated Loveless LG beam fx
🔹 Fixed main menu/customization/profile podium rotation (we haven't yet had a podium where this issue was noticeable, but this had to be fixed for the new seasonal podiums)
🔹 Increased the splash damage trace reversal from 10u to 16u
🔹 Reduced TDM 2v2 minimum respawn time from 3 to 2 seconds
🔹 Reduced TDM 2v2 maximum respawn time from 10 to 5 seconds
Service Updates:
🔹 Anti-cheat updates
🔹 Fixed GHub compatibility
🔹 Fixed gamepad compatibility
The PTS is a Public Test Server that many games come with. It is completely optional to be part of the PTS, and does require an additional download to take part of. The purpose of the PTS for us as Quake players is it allows us to preview upcoming skins, arenas, and gameplay changes in general before they are added to the Live Game servers. It also doubles as bug testing. In fact all bugs, or issues in the PTS should be put in the official discord in the "public-test-server" channel. If you can you should try and find a buddy to test with. Two heads are better than one. You can find people to party with in the "party-finder" channel.
If you want to access, or rather download the PTS you can do this on the Steam client quite easily. Just to note though like other PTS downloads you are usually downloading the entire game plus the new additions, or changes. The PTS download for Quake Champions is currently just over 30 Gigabytes. Keep that in mind if you want to participate. Things that you accomplish in the PTS version DO NOT transfer over to the main game. That said you can also demo stuff in the PTS that you may not own yet in the main game.
Lastly, the PTS is not a representation of what will hit the Live servers at any time. As the values can be changed | reverted, or removed at any point during the PTS update period.
*When first launching the PTS your game may "compile" for a few minutes. Do not worry as this is completely normal.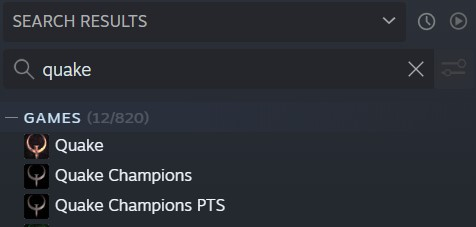 In Steam just type "quake" in any way in your library search tab, and "Quake Champions PTS" will appear in the games folder below the search bar.
HAPPY FRAGGING FOLKS, AND WE SHALL SEE EACHOTHER IN THE ARENAS.
About The Author