ARMS RACE SPECIAL EVENT LIVE IN #QUAKECHAMPIONS + PTS NEWS
ARMS RACE is now available in QUICK PLAY. All you have to do is check it with the white box to add it to your Q. If you are not familiar with ARMS RACE it is very simple to understand. You are progressing through each weapon to get your final winning frag with the Gauntlet to win. This game mode ends at 36 frags. ARMS RACE is a great way to get exposure to guns you may not be comfortable with yet. Plus there is no self damage, so you can even try to practice jumps with the TRI-BOLT, & NAIL GUN. Practice really does make perfect in Quake. This event is time sensitive, and will end in 8 DAYS.
Get frags to earn the next weapon in the sequence:
Rocket Launcher – 8 frags
Lightning Gun – 7 frags
Railgun – 6 frags
Heavy Machine Gun – 5 frags
Super Shotgun – 4 frags
Super Nailgun – 3 frags
Tribolt – 2 frags
Gauntlet – 1 frag
First to complete the sequence and earn 36 frags wins.
No Abiltiies
No Self-Damage
No Weapon Pickups
No Power-ups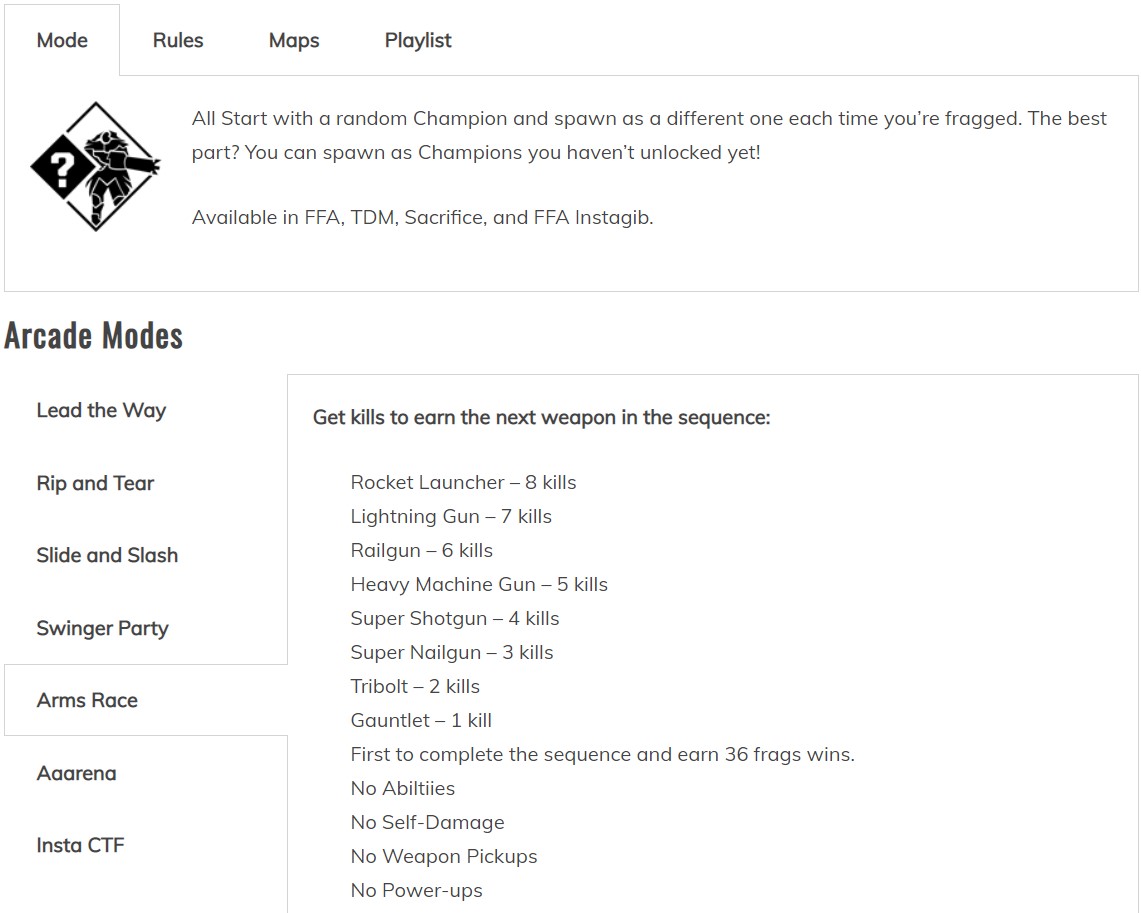 ARMS RACE is also coming with its own SPECIAL EVENT CHALLENGES. All must be completed in ARMS RACE. These 3 are PRACTICE– complete 10 matches = 10 Platinum 10,000 XP, FRAGS – get 100 frags = 10 platinum 10,000 XP, HUMILATION – get 5 humiliation medals 25 Platinum, 25,000 XP.
In addition to this in one week's time the PTS should be open. The PTS is a Public Test Server that many games come with. It is completely optional to be part of the PTS, and does require and additional download to take part of. The purpose of the PTS for us is it allows us to preview upcoming skins, maps, and changes in general before they are added to the main game. It also doubles as bug testing. In fact all bugs, or issues in the PTS should be put in the official discord here: discord.gg/Ay6kZxjm In the "public-test-server" channel. If you can you should try and find a buddy to test with. Two heads are better than one. You can find people to party with in the "party-finder" channel of the official discord. LINKED ABOVE.
If you want to access, or rather download the PTS you can do this on both Steam, and the Bethesda Launcher quite easily. Just to note though like other PTS downloads you are usually downloading the entire game plus some. The PTS download for Quake Champions is currently just over 30 Gigabytes. Keep that in mind if you want partake. Things that you accomplish in the PTS version DO NOT transfer over to the main game.
In steam all you have to do is type in any way of "QUAKE" in your games search bar, and it will pop up as "Quake Champions PTS". It is consider its own "game" so to speak on steam. Just download it as you would any other game.
For the Bethesda Launcher the Quickest way to access it is as followed. Make sure you have the "GAMES" tab selected, and on "My Library" in the drop down menu.
From here just scroll down until you hit your "QUAKE" section, and download "Quake Champions PTS".
Happy fragging!
HOW TO PLAY Quake:
QUAKE CHAMPIONS FREE 2 PLAY
BETHESDA DOWNLOAD PAGE: quake.bethesda.net/en/playnow
STEAM STORE PAGE: store.steampowered.com/app/611500/Quake_Champions/
BETHESDA STORE FOR PLATINUM: bethesda.net/en/store/product/QUWV01PCBG01BASE
CLASSIC 1996|RE-RELEASE $9.99
BETHESDA PAGE: bethesda.net/en/store/product/QU1CSTPCBG01
STEAM PAGE: store.steampowered.com/app/2310/QUAKE/
QC COMPATIBILITY TEST: churchofquake.com/trouble-shooting-crash-to-desktop-issues/ IF YOU ARE HAVING TECH ISSUES WITH QC LOOK OVER THIS LINK.
HOW TO WATCH The QUAKE PRO LEAGUE e-sport:
twitch Quake (English) twitch.tv/quake MAIN STREAM
twitch Quake_2 (English) twitch.tv/quake2 B STREAM
twitch Quake (Russian) twitch.tv/quakemc_ru
YouTube Quake (English) youtube.com/channel/UCOMk1WI8dxaCFpJptF6K8_A
High Quality VODS get Posted to YouTube for the Quake Pro League e-sports Eventually.
twitch XBOX (English) twitch.tv/xbox Microsoft Gaming Centric
twitch Bethesda (English) twitch.tv/bethesda Bethesda/Zenimax Centric
YouTube Bethesda Softworksyoutube.com/user/BethesdaSoftworks Bethesda/Zenimax Centric
DISCORD COMMUNITIES:
Find New People to Party up With (It Helps Our Q Times)
Official Quake Discord discord.gg/Ay6kZxjm Find Players in "party-finder" channel | ALL BUGS SHOULD BE REPORTED TO THE QC FEEDBACK – BUG REPORTS CHANNEL.
Church of Quake /EzHYeSFu MAKERS OF WIKIS|NEWS|GUIDES|LORE
Official Bethesda/Zenimax Discord discord.gg/bethesda Replacing Beth.net Forums
Websites|twitters|sub
Quake Champions Website quake.bethesda.net/en/
1996 Quake|re-release Website bethesda.net/en/store/product/QU1CSTPCBG01
Quake Pro League Website quake.pglesports.com/ Partnered with PGL e-sports ORG
CHURCH OF QUAKE WEBSITE: churchofquake.com/ MAKERS OF WIKI|NEWS|GUIDES|LORE
r/QuakeChampions reddit.com/r/QuakeChampions/ We are Friendly
Official Quake twitter twitter.com/Quake Latest Quake Series News|e-sport Announcements
Church of Quake twitter twitter.com/church_of_quake Articles Auto twitted Here
Official id Software twitter twitter.com/idSoftware SACRED GODS
SyncError twitter twitter.com/SyncError Lead Quake Designer at id Software.
Official Bethesda twitter twitter.com/bethesda\ All Things Bethesda/Zenimax
QuakeFans Website quakefans.net/ Quake|Arena|Indie FPS
Rocket Jump Ninja www.rocketjumpninja.com/ Mouse Reviews
QUAKECON RESOURCES:
Official QuakeCon twitter twitter.com/QuakeCon
Official QuakeCon Discord discord.gg/RwFHB3Ja BYOC at HOME
QuakeCon Community twitch twitch.tv/quakeconcommunity
Steamdb.info For
QUAKE CHAMPIONS steamdb.info/app/611500/ STATS FOR THE GAME
ORIGINAL 1996 QUAKE | RE-RELEASE steamdb.info/app/2310/graphs/ STATS FOR THE GAME
COMMUNITY PODCASTS:
QuakeCast quakecast.podbean.com/ Classic Quake & Quake Champions Themed PODCAST
In the Keep inthekeep.com/ Arena FPS | Immersive SIMs | Retro Shooter Centric PODCAST.
Doom is Dead? doomfederation.com/podcasts/ Partnership between Doom Federation, and In the Keep.
QuakeFans Radio quakefans.net/category/podcasts/qf-radio/ Live Radio/Podcast by QuakeFans.
About The Author