Road to Squegg 2v2 Tournament Today for #QuakeChampions. Registration closes at 2 PM East!
Good morning Quakers! the Squegg organization is putting together Squeggcon 2 this summer (July 8th-10th), and the organization is having a small online mini event in preparation of that CON. The event actually includes Diabotical events as well, but we only focus on Quake Champion here. Make sure to follow the links if you want to participate in all the festivities for this wonderful event.
Quake Champions 2v2 Registration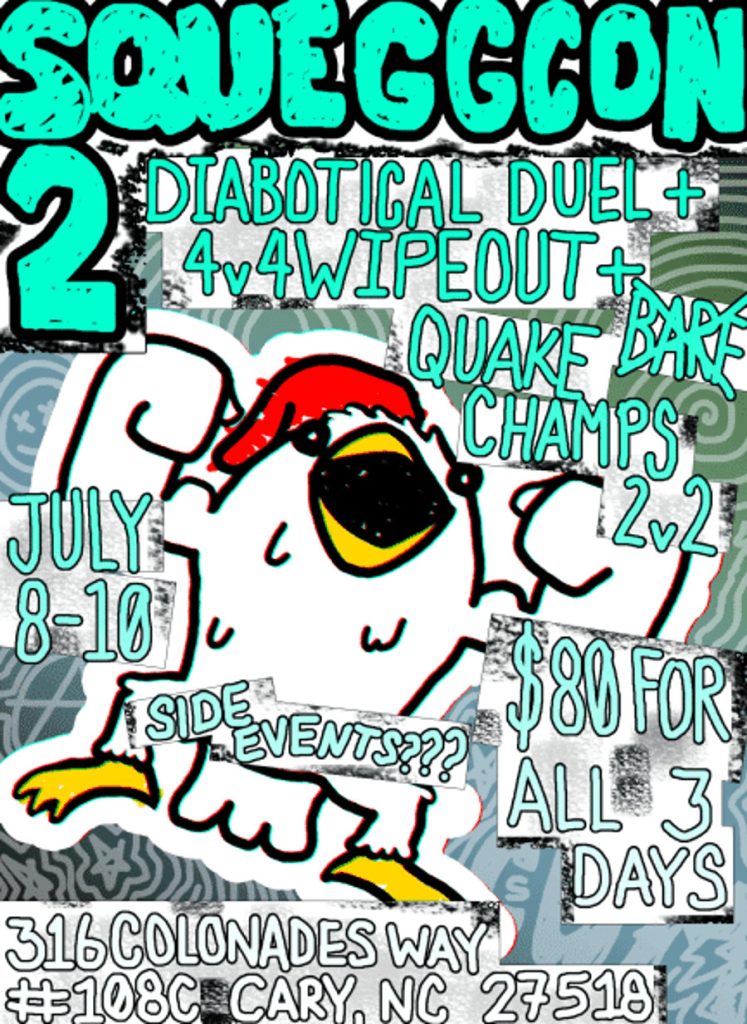 Full Event Schedule:
June 5th 7:30PM EST – Quake Champions 2v2 Bracket
June 12th 7:30PM EST – Diabotical Wipeout Draft Bracket
June 19th 7:30PM EST – Diabotical Duel Bracket
Format:
Each event will feature their own unique map pools that will be displayed at the actual LAN. Each event will be double elimination where in which the team from the winners side bracket will only need to win 1 set of games while the loser bracket team will need to win 2 sets (Ie. Bracket reset). All games in bracket will be a bo3 until grand finals in which case grand finals will be a bo5. Specific rulesets will be copied from previous tournament organizers and can be found below:
Quake Champions 2v2:
We will be using the TastySpleen 2v2 Cup ruleset modifying the time to be 10 minutes per game instead of 20 minutes. Bracket will also be bo3 throughout. Server settings:
10 minute timelimit
50 fraglimit
NA Servers
MAPS:
-Molten Falls
-Deep Embrace
-Blood Run
-Vale of P'Nath
-Awoken
Use qrinder to setup matches.
HAPPY FRAGGING, AND GOOD LUCK TO ALL THE CONTESTANTS PARTICPATING!
About The Author