KUACHICON 2022, LAN event for Quake Champions in Melbourne AUS – Registration open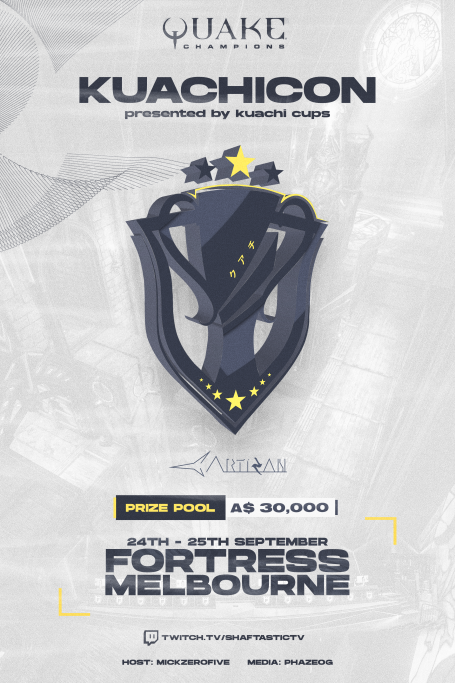 FORTRESS MELBOURNE
September 24th / 25th
Format: Day 1 Groups | Day 2 Double Elimination brackets
Prize pool: 30K AUD total / physical prizes (Duel 1st prize: $7,500)
Quake is having quite the worldwide adventure this year! Between the Dashbracket LAN in the USA and the PGL pro LAN happening in Bucharest; the folks over at kuachicups will be hosting a Quake Champions LAN event over in Melbourne Australia!
The event will include a multi divisional Quake Champions Duel and 2v2 LIVE tournament. It will be Two whole days full of competition, open to all Quake Champions fans to attend as either players or spectators. International pro level players, such as CYPHER, will also be attending so the competition will be both exceptional and fun!
Attendance is limited to 48 slots, but spectators are permitted with no entry fee. Registrations will close 2 weeks prior to the event unless the event becomes fully booked beforehand.
Schedule
The event is currently planning for 3 divisions of 16 players each (subject to change according to number of entrants). Division 1 will have 8 invited players, and will run a Qualifiers for the remaining 8 spots.
The prize pool is $30,000 AUD total! All Division 1 players have a guaranteed payout. Division 2 and 3 will receive physical prizes.
Day 1
10:45am – Players to arrive at for a debrief
12pm – Games will be begin!
– Division 1/2/3: Group stage
Day 2
11am – Players to arrive
12pm – Let the games begin!
– Division 1/2/3: Double elimination play off brackets, Division 1 will be split into top 8 and bottom 8 finals brackets.
Watch
The event will be streamed by ShaftasticTV (http://twitch.tv/shaftasticTV), so if you can't make it you can still tune in at home!
Guidelines
Fortress Melbourne is a communal venue, but the event will it's own private section. You are allowed to bring your own peripherals (mouse, keyboard, headset), but no third party software will be permitted (ie. mouse acceleration programs). Quake Champions will be readily installed on the PCs, so please remember to have your game / video settings handy, and your Steam login/password.
As a forewarning this event will take place on the same weekend as the AFL Grand Final, so please book flights and accommodation early to avoid price hikes.




About Author