#QuakeProLeague Season 3 Announced
What a great week it has been for us in the Quake Sphere. Sync teased our next new map "INSOMNIA" on discord, TastySpleen's Organ Grinder 6th edition will feature Quake Champions, and lastly but certainly not least we have Season 3 for the Quake Pro League announced. I am sure we are all happy to finally get confirmation about the next season. It seems that there will/could be some changes to the league. Nothing has been officially announced besides QPL starting next year (2022). With the season being pushed to start next year we could see some changes with that push. However it is we will be reporting on it.
Season 2 concluded at QuakeCon just a little over a week ago. Where Myztro's Vengeurr took the big WIN. Becoming our new Quake Pro League World Champion. Congrats to Vengeurr for his fantastic performance this year. He truly deserves it. But, we should be thankful for the whole League. This Season was a thrill to watch. It seemed like all the pros were at the top of their game giving us the best 3 days of finals yet. VODS for the Championship will be below in case you missed the games.
CHAMPIONSHIP VODS
DAY 1 VODS:
DAY 1 MAIN STREAM TWITCH VOD: www.twitch.tv/videos/1122956944'
DAY 1 B STREAM TWITCH VOD: www.twitch.tv/videos/1123190625
DAY 2 VODS
DAY 2 MAIN STREAM TWITCH VOD: www.twitch.tv/videos/1123974063
DAY 2 B STREAM TWITCH VOD: www.twitch.tv/videos/1124030350 PART 1
DAY 2 B STREAM TWITCH VOD: www.twitch.tv/videos/1124093884 PART 2
LAST DAY FINALS: www.twitch.tv/videos/1125009794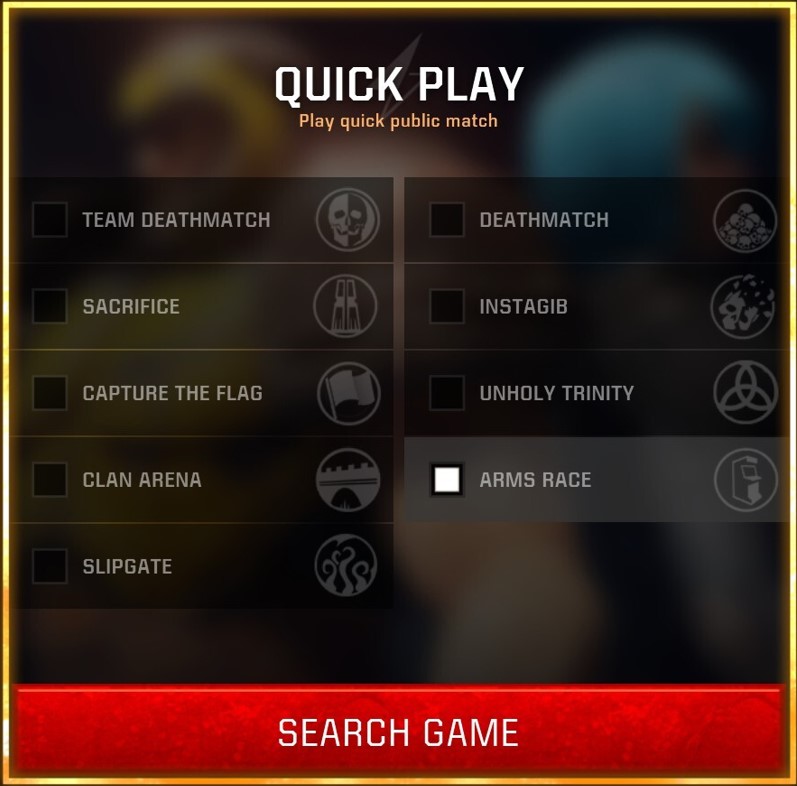 ARMS RACE has been added to QUICK PLAY. ARMS RACE has also brought with it 3 Special Event challenges for us to complete. This Special Event will only remain for 7 DAYS.
Get frags to earn the next weapon in the sequence:
Rocket Launcher – 8 frags
Lightning Gun – 7 frags
Railgun – 6 frags
Heavy Machine Gun – 5 frags
Super Shotgun – 4 frags
Super Nailgun – 3 frags
Tribolt – 2 frags
Gauntlet – 1 frag
First to complete the sequence and earn 36 frags wins.
No Abiltiies
No Self-Damage
No Weapon Pickups
No Power-ups

All challenges must be completed in ARMS RACE. These 3 are PRACTICE– complete 10 matches = 10 Platinum 10,000 XP, FRAGS – get 100 frags = 10 platinum 10,000 XP, HUMILATION – get 5 humiliation medals 25 Platinum, 25,000 XP.
What a great week it is turning out to be for us in the Quake world. A new season to our e-sports league announced, a new map coming to the PTS in just a few days time, and Other tournaments putting Quake Champions on their roster. The future looks bright for us folks.
HAPPY FRAGGING!
HOW TO PLAY Quake:
QUAKE CHAMPIONS FREE 2 PLAY
BETHESDA DOWNLOAD PAGE: quake.bethesda.net/en/playnow
STEAM STORE PAGE: store.steampowered.com/app/611500/Quake_Champions/
BETHESDA STORE FOR PLATINUM: bethesda.net/en/store/product/QUWV01PCBG01BASE
CLASSIC 1996|RE-RELEASE $9.99
BETHESDA PAGE: bethesda.net/en/store/product/QU1CSTPCBG01
STEAM PAGE: store.steampowered.com/app/2310/QUAKE/
QC COMPATIBILITY TEST: churchofquake.com/trouble-shooting-crash-to-desktop-issues/ IF YOU ARE HAVING TECH ISSUES WITH QC LOOK OVER THIS LINK.
HOW TO WATCH The QUAKE PRO LEAGUE e-sport:
twitch Quake (English) twitch.tv/quake MAIN STREAM
twitch Quake_2 (English) twitch.tv/quake2 B STREAM
twitch Quake (Russian) twitch.tv/quakemc_ru
YouTube Quake (English) youtube.com/channel/UCOMk1WI8dxaCFpJptF6K8_A
High Quality VODS get Posted to YouTube for the Quake Pro League e-sports Eventually.
twitch XBOX (English) twitch.tv/xbox Microsoft Gaming Centric
twitch Bethesda (English) twitch.tv/bethesda Bethesda/Zenimax Centric
YouTube Bethesda Softworksyoutube.com/user/BethesdaSoftworks Bethesda/Zenimax Centric
DISCORD COMMUNITIES:
Find New People to Party up With (It Helps Our Q Times)
Official Quake Discord discord.gg/Ay6kZxjm Find Players in "party-finder" channel | ALL BUGS SHOULD BE REPORTED TO THE QC FEEDBACK – BUG REPORTS CHANNEL.
Church of Quake /EzHYeSFu MAKERS OF WIKIS|NEWS|GUIDES|LORE
Official Bethesda/Zenimax Discord discord.gg/bethesda Replacing Beth.net Forums
Tastyspleen discord: discord.gg/SzVBBWGX LATEST NEWS FOR ORGAN GRINDER EVENTS
Websites|twitters|sub
Quake Champions Website quake.bethesda.net/en/
1996 Quake|re-release Website bethesda.net/en/store/product/QU1CSTPCBG01
Quake Pro League Website quake.pglesports.com/ Partnered with PGL e-sports ORG
CHURCH OF QUAKE WEBSITE: churchofquake.com/ MAKERS OF WIKI|NEWS|GUIDES|LORE
r/QuakeChampions reddit.com/r/QuakeChampions/ We are Friendly
Official Quake twitter twitter.com/Quake Latest Quake Series News|e-sport Announcements
Church of Quake twitter twitter.com/church_of_quake Articles Auto twitted Here
Official id Software twitter twitter.com/idSoftware SACRED GODS
SyncError twitter twitter.com/SyncError Lead Quake Designer at id Software.
Official Bethesda twitter twitter.com/bethesda\ All Things Bethesda/Zenimax
TastySpleen twitter twitter.com/tastyspleentv LATEST NEWS FOR ORGAN GRINDER EVENTS
QuakeFans Website quakefans.net/ Quake|Arena|Indie FPS
Rocket Jump Ninja www.rocketjumpninja.com/ Mouse Reviews
QUAKECON RESOURCES:
Official QuakeCon twitter twitter.com/QuakeCon
Official QuakeCon Discord discord.gg/RwFHB3Ja BYOC at HOME
QuakeCon Community twitch twitch.tv/quakeconcommunity
Steamdb.info For
QUAKE CHAMPIONS steamdb.info/app/611500/ STATS FOR THE GAME
ORIGINAL 1996 QUAKE | RE-RELEASE steamdb.info/app/2310/graphs/ STATS FOR THE GAME
COMMUNITY PODCASTS:
QuakeCast quakecast.podbean.com/ Classic Quake & Quake Champions Themed PODCAST
In the Keep inthekeep.com/ Arena FPS | Immersive SIMs | Retro Shooter Centric PODCAST
Doom is Dead? doomfederation.com/podcasts/ Partnership between Doom Federation, and In the Keep.
QuakeFans Radio quakefans.net/category/podcasts/qf-radio/ Live Radio/Podcast by QuakeFans.
About The Author