New to Quake Champions? Here are our top 10 tips to help you get fragging!
As the number of players is rising this week, we also are noticing that many of the players are new to the game, which we are ecstatic about. So what is Quake Champions?
Quake Champions is a fast-paced arena shooter where you can connect and compete with players from around the world. The game is easy to pick up and allows players to continue to master simple skills. Pick a Champion and enter the arena, where a variety of game modes await. The objective is simple: kill, or frag, enemy players and score points by completing objectives.
Not too different from many shooter games, but Quake has its own little flares and is often found to be a much higher skilled fps than most. So as a welcome to the community, I wanted to write up a top 10 list that can help you new players get into the game and have fun while doing it.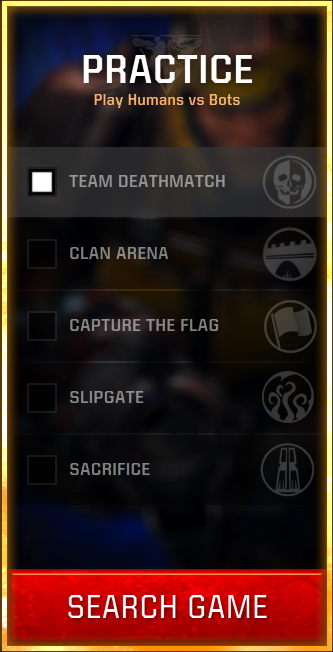 I know you are gung ho to get into a match with all the celebrity encouragement, but take some time between events and learn the feel of the game. 
The Practice mode offers you a way to play the game without the pressure of performing in a live environment by pitting you against the ai bots. Explore the map, find the item spawns, and strategize how you can play the map to your style.


You can even do this with friends! Add your friends to your party and then spin the Practice arena up. 
Take your time to explore a bit, find the weapons, and get a feel of the map and where things are. Practice aiming and weapon usage on the bots. 
This is a First Person ARENA Shooter. The arenas are an important part of the gameplay. Explore them and learn how to move around on them. There are 19 arenas, 20 if you count Longest Yard's CTF map. It is okay if you don't know them all at once! Just pick a couple at a time to explore and get to know. 
The best way to explore an arena with no other players or bots is to start up a Custom Game. 
Objectives to learn a map are locations of weapons, powerups, team objectives (flag/obelisk), health bubbles, armor, ammo boxes, and time shards. 
Also just running around the map to get the layout and feel of how to get from point A to B. Getting comfortable in the environment without the chaos of battle around you.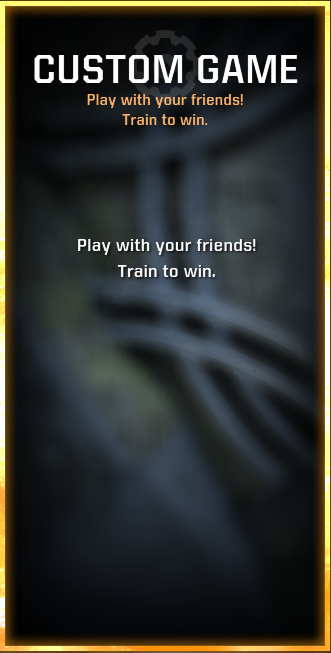 3. Team Death Match is the most newbie-friendly Mode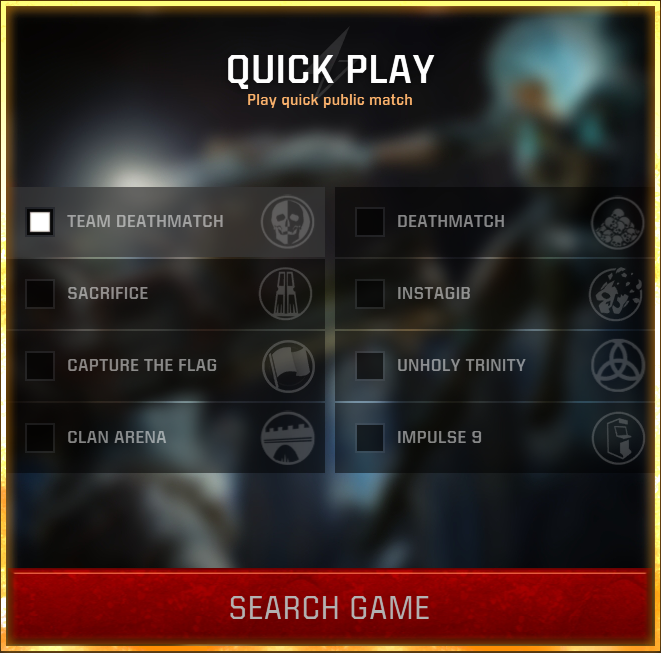 There are 8 modes in Quick Play, but Team Death Match is the most new-player-friendly mode, while still getting a chance to learn the full game. 
This is a team-based mode that puts you instantly in a 50% chance of being on the winning team. Since it is team-based you have fewer enemies shooting at you and a team to back you up. It has an easy objective of simply fragging the other team more than they frag your team. It still has item spawns, so you get that full flavor of the game with the opportunity for epic power-up runs. 
That said if you are looking for more instant gratification with less chance to be on top but you feel like you are doing more fragging, check out Instagib.
4. These Champions can help you move
Beyond the standard movement conventions lie advanced forms of movement that take the game to the next level. Unlike some games that require button combos to execute special moves, Quake's advanced movements are often based on subtle and natural extensions of the existing moving systems, which are often difficult but rewarding to master. 
To help you move around the arenas, without mastering movement, these champions have passive abilities that can give you that extra bit of boost so you can keep up.
Doom: Second jump at any moment when you are in the air. Double Jump allows jumping over big gaps even without Strafe Jumping.
Nyx: Hold Forward and jump and she goes faster. No need to learn strafe jumping, she has it built in, sort of.
Scalebearer: Hold forward and choo choo your way through the map. Scalebearer offers a passive of damaging players that you run into or land on.
Sorlag: Hold Forward and jump and she goes faster, and will turn in the direction that you look.
5. Abilities are like weapons
New to Quake Champions are the champion abilities. While they seem like a lot at first, the best way to think of them is like specialized weapons. Each character has their weapon and you learn to use it as such.
Pick a champion that has a weapon you can learn to utilize with your play style.
6. Use Doom if you don't want to use abilities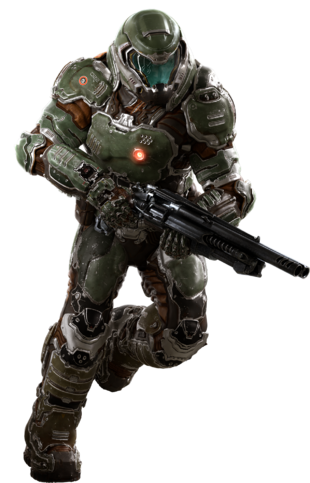 If you keep forgetting to use your abilities, then I suggest playing Doom Slayer. His greatest strength is his passive Double Jump, rather than his active ability.
His passives: 
| | |
| --- | --- |
| Double Jump | Pressing jump in midair gives Doom another brief upward thrust |
| | |
| --- | --- |
| | Unlike the other champions, Doom has no voice lines |
And if you do use his Active Ability
Doom gains increased speed and switches to his fists to punch enemies
Not much to learn, just punch other players at close range or use it for the speed boost to get away.
It's important for you to begin gathering Weapons, Health, and Armor when you spawn into a match, so you can improve your tactical position and give yourself a greater advantage in combat. Players who start fighting before properly gearing up will often find themselves outmatched in combat.
When you spawn into the arena, you start with only one starting weapon – your choice of a Machinegun, Shotgun, or Nailgun. You'll need to collect more powerful weapons, armor, and health scattered throughout the arena. These will give you a better chance of fragging enemies and staying alive. When you are fragged you lose your gear, but will quickly respawn in the arena with full health.
8. Don't Rambo, learn when to engage
Always remember to gear up after spawning, and to restock after each fight: Spawn, Gear up, Fight, then Restock.
While Quake Champions is primarily a game about fragging your opponent, there are several key components that are often overlooked. Just as important as earning frags are picking up Health and Armor items before fighting, positioning yourself to gain the upper hand in combat, and timing item pick-ups. Controlling the map's resources is essential to outmaneuvering and defeating your opponent.
9. Take your victory in the small wins
Revel in those small victories. Quake is hard. You may not win at first, and that's okay. If you care about winning you can get there eventually with time. For now, don't get caught up on your kill/death ratio. Take your wins where they come, like that amazing rail shot you flicked, or the trick jump you finally landed. Celebrate small self-improvements and fun moments.
We have a small but active community. If you are into the competition side of things there are so many community ran events each week. We have communities based on geographical location and on game mode play, find your people, and enjoy the game your way. We even have a professional scene with amazing high-level play to spend your Saturdays watching. 
We welcome you to our community with open arms, so stick around and happy fragging!
About The Author