Most watched videos on ShaftasticTV in 2022 – part 1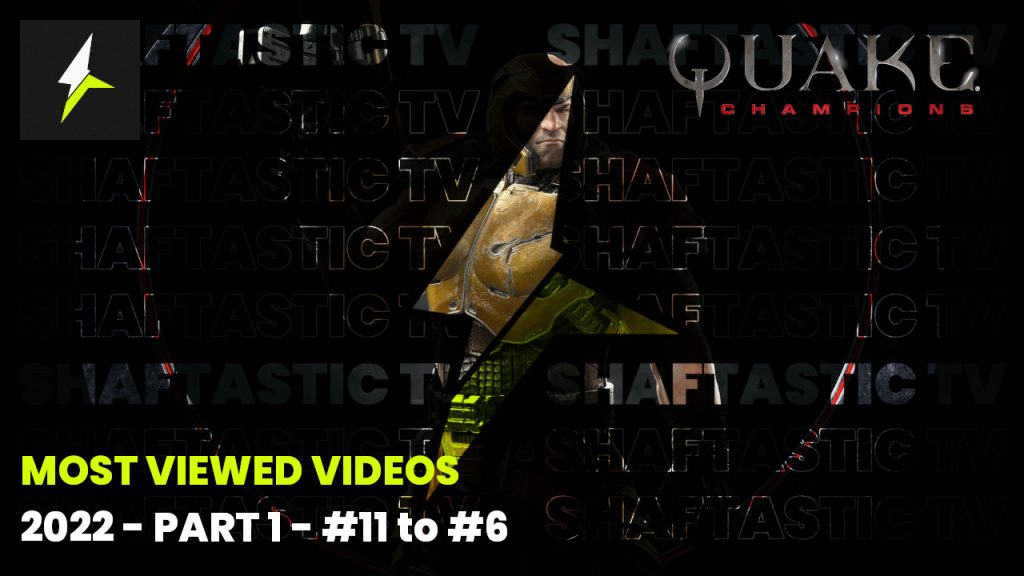 A top 11 for your enjoyment! In this post #11 to #6. Later this week part 2 will be posted with #5 to #1.
You can find part two over at https://churchofquake.com/most-watched-videos-on-shaftastictv-in-2022-part-2/
#11 – Estoty Duel 2022.21 – Grand Final – cYpheR v/s cha1n
Cha1n playing on EU servers for Estory Duel #21. He has to deal with some cypher magic in the Grand Final!
#10 – Estoty Duel 2022.20 – Grand Final – myztro RAISY v/s maxter
So what is so special about this game that it reached the top 10 of this year? Well this Grand Final from Estoty Duel is special because…..
Maxter, the Argentinian PRO player is playing with ping 40 in an EU based tournament. Maxter moved to Denmark in December last year. I guess this gained allot of interest for this particular video.
#9 – 2v2 EQCT #2 – Grand Final – Chainpha v/s Myztro RAVE
Rapha and Cha1n teaming up as Chainpha and going the distance to play on EU servers during this 2v2 tournament. They meet myztro RAVE (Raisy and Vengeur) in the Grand Final. This is the highest level of 2v2 Quake Champions action. For ShaftasticTV we had the pleasure of having AcheronBiker on as caster.
8 – [RE-UPLOAD] KUACHICON – 2022 – LB Final – myztro RAISY v/s dandaking
With the combined viewing time from the original upload, this one would still end up on spot 8. What is not special about this match? It has been produced live on LAN in Melbourne Australia. It has soothing analytical casting voice of cha1n. It has the enthusiastic and genuinely hyped casting voice of Haymo, the greatest Aussie tournament admin there is. He's witnessing and epic battle between raisy and dandaking.
Stick around after the end of the match for some bonus footage of the venue.
7 – KUACHICON – 2022 – UB Final – rapha v/s myztro RAISY
Of course, I expected nothing less from the KUACHICON videos to attract viewers. I think this is mostly in the top 10 because it's rapha v/s raisy on an actual proper lan. Organized by the Aussie community. For me personalty, this one is worth the watch because of the commentary by Camma. He brings allot of energy and insight to this match together with Mickzerofive.
6 – RESP PRO #2 – Grand Final – myztro RAISY v/s BIG.K1llsen
When K1llsen joins a community tournament, he goes BIG! 😉
This is a showdown v/s Raisy in a Best of 7 Grand Final.
Part two with #5 to #1 will be posted later this week….
You can find part two over at https://churchofquake.com/most-watched-videos-on-shaftastictv-in-2022-part-2/