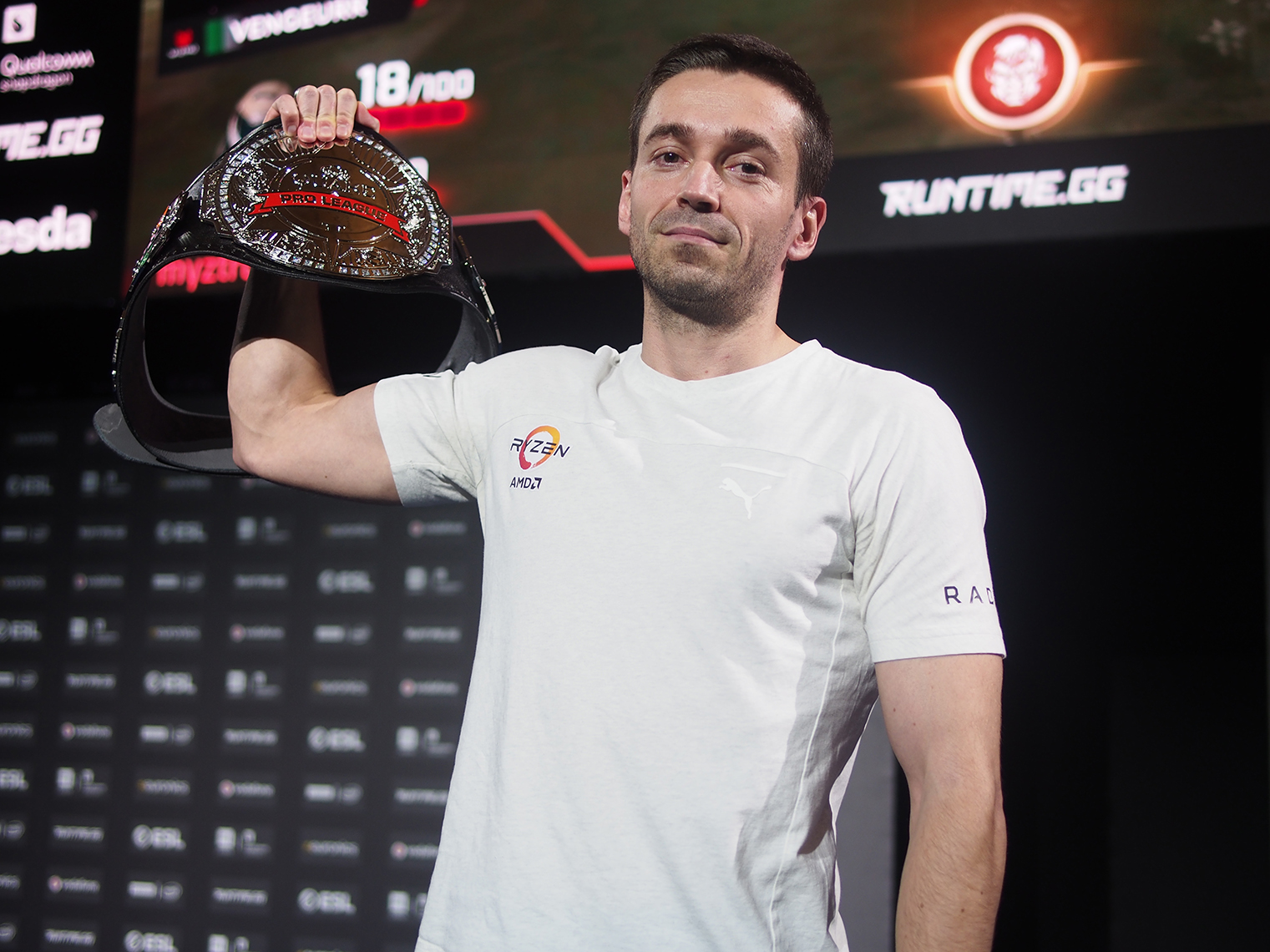 The final day of the Quake Pro League Stage 1 Finals has concluded, and a new name has been etched into the belt.
The day began with the Round of 12, where Xron, cYpheR, DaHanG, Av3k, nosfa, psygib, vengeurR, and base fought it out to face off versus rapha, RAISY, Cooller, and k1llsen who sat waiting in the Quarter Finals.
Challenger cYpheR continued to march his way through the brackets, coming out on top in a hard fought 3-1 match vs rapha. RAISY firmly held his ground 3-0 against DaHanG to ensure his spot in the semi-finals, where he shuttered cYpheR's hopes of another championship in a dominating 3-0 sweep. psygib came out strong versus Cooller, taking the first map, but Cooller quickly stopped him short of a victory (3-1) allowing him to move on to the semis. vengeurR had a challenging first map vs base, but ultimately won 2-1 before falling 3-2 to k1llsen — one map short of toppling the current belt-holder. These quarterfinal victories gave us a Cooller/k1llsen rematch, but to k1llsen's chagrin, his QPL Kick-off performance was turned upside down as Cooller earned a clean 3-0 victory over his QuakeCon rival and Cooller moved on to meet RAISY in the finals.
Heading into the Grand Finals, casters gave split predictions of a 3-1 victory in favor of either contender, but in an impressive show of force Cooller shutout RAISY 3-0, picking up his first Duel championship victory since Quake Live's 2011 Intel Extreme Masters Season V – European Championship. This weekend's victory in Lucca marks 16 years between Cooller's first championship (QLAN 2003) and the latest notch in his belt.
Check out the Liquipedia for full match details, provided by mojo! And enjoy the Day 2 gallery thanks to Hawr1x of quake.cz:
[envira-gallery id='1933′]
About Author