Church of Quake Presents: Global Pick Up Games! Sunday September 24th. Sermon starts at 1PM EAST | 7PM CEST…You'll Have to SACRIFICE Everything for a good Pew Pew.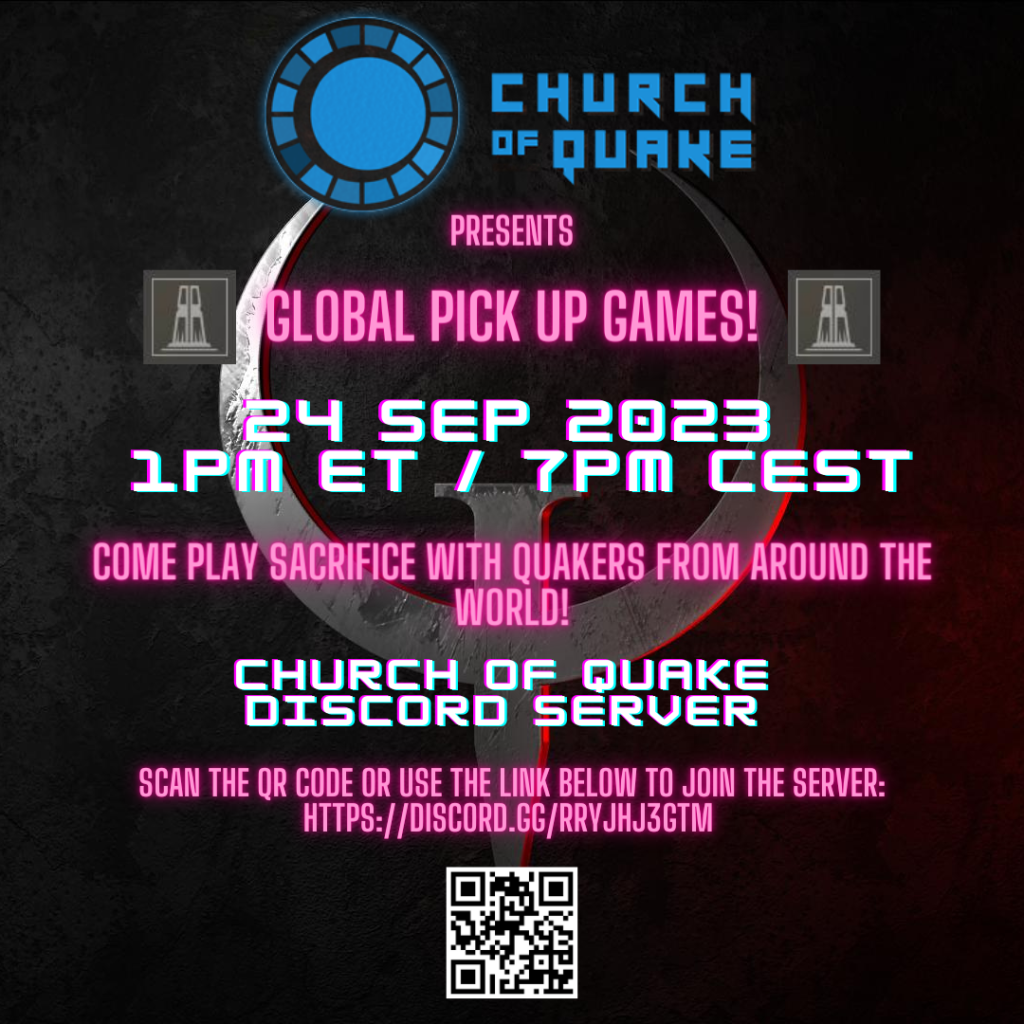 Good Afternoon Quakers! We here at the Church of Quake would like to invite you to be a part of our Global Pick Up Games! Event that we will be hosting on our discord server every 4th Sunday of each month. The first will be next month on September the 24th at 1PM EAST | 7PM CEST. While this is the advertised time we understand that being a global event can be complicated for everyone's schedule, so we are encouraging people to show up earlier, or later. This way people from other Time zones can also enjoy the games. We are promoting this as a Sacrifice game mode meet up, but if people want to play CTF, Instagib, CA, or whatever that is also fine. We have a working pubobot on the Church of Quake discord that many of you way already be familiar with. We have set up our pubobot to feature some of the most popular game modes. You can stop by now if you want to practice. CashedCheck has even provided a video on how to add up in the pickup-rules text channel.
Important Links to follow: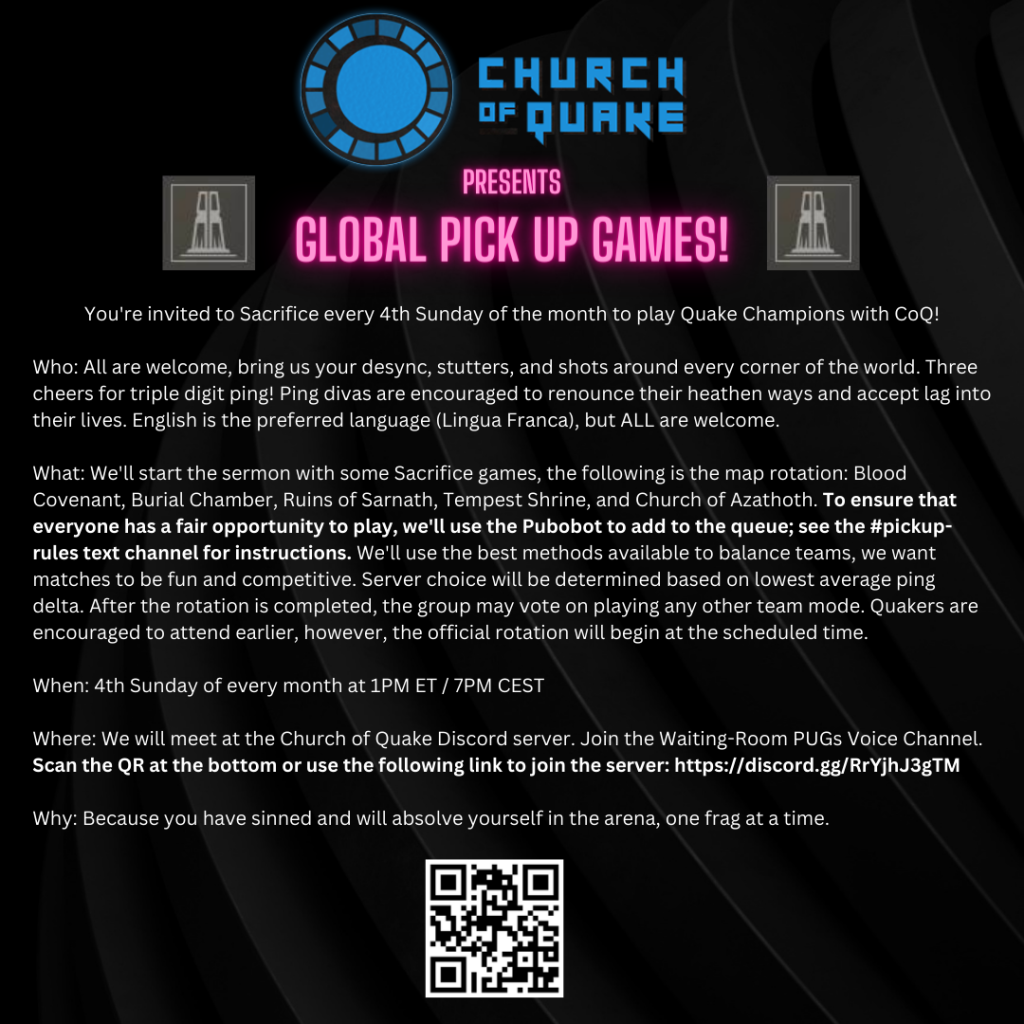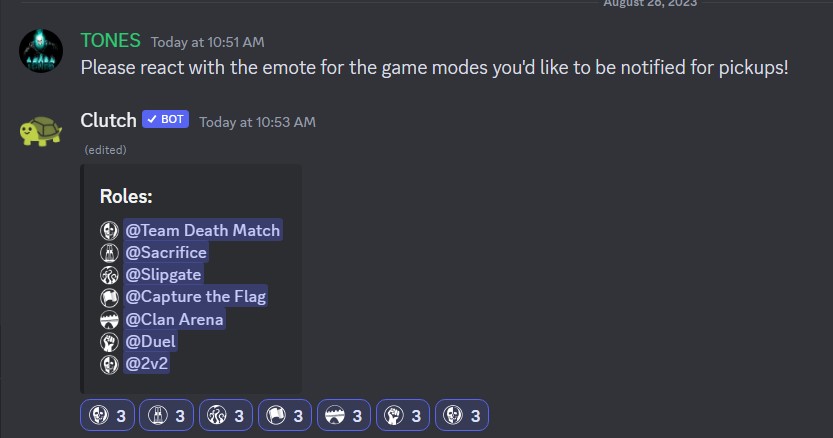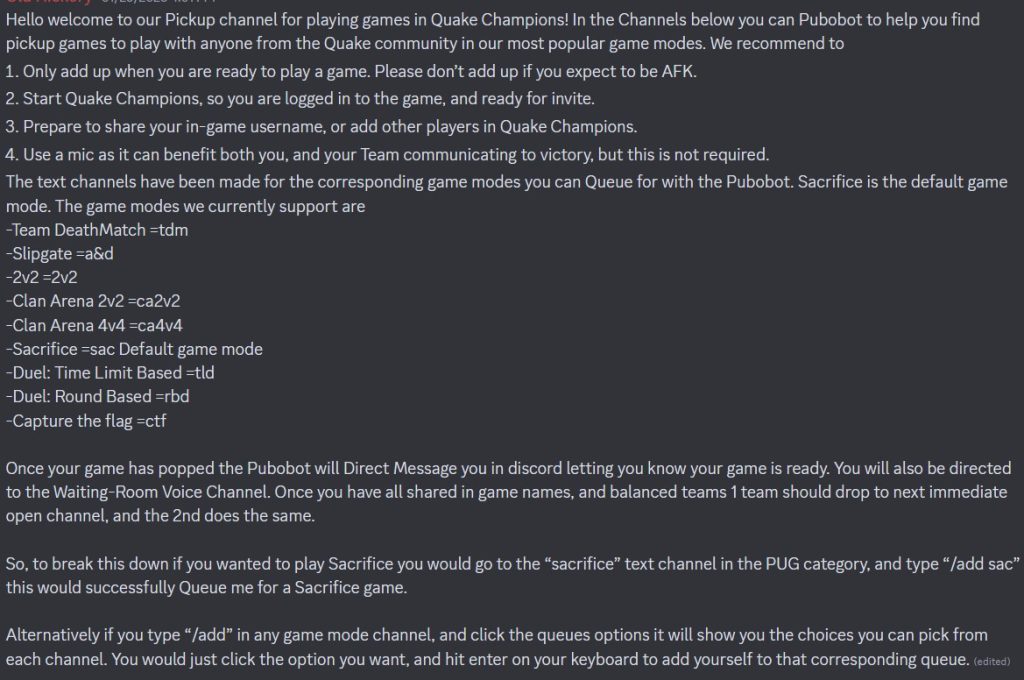 Russian Translation (By Dreikblack):
Вы приглашены в Обелиск (Sacrifice) каждое четвертое воскресенье месяца, чтобы играть в Quake Champions с CoQ!
Кто: Все желающие со всего мира с рассинхроном и выстрелами из-за угла. Трижды ура трехзначному пингу! Дивы пинга призываются принять лаги в свою жизнь.
Что: Мы начнем служение с игр в Sacrifice. Ротация карт: Blood Covenant, Burial Chamber, Ruins of Sarnath, Tempest Shrine и Church of Azathoth. Чтобы все могли поиграть мы будем использовать Pubobot для добавления в очередь. Инструкции можно найти в текстовом канале #pickup-rules. Мы будем использовать лучшие доступные методы для балансировки команд так, чтобы каждая игра была интересной и соревновательной. Выбор сервера будет определяться наименьшим средним пингом. После завершения ротации группа может проголосовать о том, чтобы сыграть в любой другой командный режим. Призываем приходить заранее, однако официально игры начинаются в назначенное время.
Когда: Каждое четвертое воскресенье месяца в 20:00 по Московскому времени.
Где: Мы встретимся на Discord сервере Church of Quake. Присоединяйтесь к голосовому каналу Waiting-Room. Отсканируйте QR-код внизу или используйте следующую ссылку для присоединения к серверу: https://discord.gg/RrYjhJ3gTM
Почему: Потому что вы согрешили и будете очищать себя на арене, по одному фрагу за раз.
Spanish Translation (By MarDCaos):
Church of Quake
Presenta ¡Juegos de recogida GLOBAL!
¡Estás invitado a Sacrifice cada 4º domingo del mes para jugar a Quake Champions con CoQ!
Quién: Todos son bienvenidos, tráenos tu desincronización, lag y disparos por todos los rincones del mundo.
¡Tres hurras para el ping de tres dígitos! Se alienta a las divas del ping a renunciar a sus formas paganas y aceptar el lag en sus vidas.
Qué: Comenzaremos el sermón con algunos juegos de sacrificio, la siguiente es la rotación del mapa:
Blood Covenant, Burial Chamber, Ruins of Sarnath, Tempest Shrine, and Church of Azathoth.
Para asegurarnos de que todos tengan una oportunidad justa de jugar, usaremos el Pubobot para agregar a la cola, consulta el canal de texto #pickup-rules para obtener instrucciones. Utilizaremos los mejores métodos disponibles para equilibrar los equipos de la manera más justa posible para que cada juego sea divertido y competitivo.
La elección del servidor se determinará en función del delta de ping promedio más bajo. Después de completar la rotación, el grupo puede votar sobre jugar cualquier otro modo de equipo. Se alienta a los Quakeros a asistir antes, sin embargo, la rotación oficial comenzará a la hora programada.
Cuándo: 4º domingo de cada mes a la 1PM ET / 7PM CEST
Dónde: Nos reuniremos en el servidor de la Church of Quake en Discord. Únete al canal de voz de Waiting-Room PUGs. Escanea el QR en la parte inferior o usa el siguiente enlace para unirte al servidor: https://discord.gg/RrYjhJ3gTM
Por qué: Porque has pecado y te absolverás en la arena, un frag a la vez.
Polish Translation (By SaintNoMore):
Church of Quake
Prezentuje: GLOBALNE gry pick-up!
Zapraszamy w każdą czwartą niedzielę miesiąca na wspólne granie w tryb Sacrifice z Church of Quake!
Kto: Wszyscy są mile widziani, przynieście nam swoje desynci, stuttery i strzały z każdego zakątka świata (i piksela). Wielkie wiwaty za trzycyfrowy ping! Pingowe divy zachęcamy do porzucenia swoich pogańskich nawyków i przyjęcia lagów do swojego życia.
Co: Rozpoczniemy kazanie od kilku gier Sacrifice, rotacja map jest następująca: Blood Covenant, Burial Chamber, Ruins of Sarnath, Tempest Shrine i Church of Azathoth. Aby upewnić się, że każdy ma równe szanse na grę, użyjemy Pubobota do dodania do kolejki – instrukcje znajdują się na kanale tekstowym #pickup-rules. Użyjemy najlepszych dostępnych metod, aby zbalansować drużyny tak sprawiedliwie, jak to możliwe, aby każda gra była zabawna i konkurencyjna. Wybór serwera zostanie określony na podstawie najniższej średniej delty pingu. Po zakończeniu rotacji grupa może zagłosować na grę w dowolnym innym trybie drużynowym. Zachęcamy do wcześniejszego zapisywania się, jednak oficjalna rotacja rozpocznie się o zaplanowanej godzinie.
Kiedy: 4-ta niedziela każdego miesiąca o 13:00 ET / 19:00 CEST
Gdzie: Będziemy spotykać się na serwerze Church of Quake Discord. Dołącz do kanału głosowego Waiting-Room PUGs. Zeskanuj QR na dole lub użyj poniższego linku, aby dołączyć do serwera: https://discord.gg/RrYjhJ3gTM
Dlaczego: Ponieważ zgrzeszyłeś i rozgrzeszysz się na arenie, po jednym fragu na raz.
German Translation by @L…!: Ihr seid jeden 4. Sonntag im Monat eingeladen, um Quake Champions Sacrifice mit CoQ zu spielen!
German Translation (By lycorvinus)!
Wer: Alle sind willkommen, bringt uns eure Desynchronisationen, Stotterer und Schüsse aus allen Ecken der Welt. Ein dreifaches Hoch auf dreistellige Ping-Werte! Ping-Diven werden ermutigt, ihren heidnischen Gewohnheiten abzuschwören und Lag in ihr Leben aufzunehmen.
Was: Wir beginnen die Predigt mit einigen Sacrifice-Spielen, die folgende Map-Rotation: Blood Covenant, Burial Chamber, Ruins of Sarnath, Tempest Shrine und Church of Azathoth.
Um sicherzustellen, dass jeder eine faire Chance zu spielen hat, werden wir den Pubobot benutzen, um die Warteschlange zu ergänzen, siehe den Discord channel ⁠pickup-rules für Anweisungen. Wir werden die besten verfügbaren Methoden verwenden, um die Teams so fair wie möglich auszugleichen, damit jedes Spiel Spaß macht und wettbewerbsfähig ist. Die Wahl des Servers wird auf der Grundlage des niedrigsten durchschnittlichen Ping-Deltas getroffen. Nachdem die Rotation abgeschlossen ist, kann die Gruppe über einen beliebigen anderen Team-Modus abstimmen. Quaker werden ermutigt, früher zu erscheinen, aber die offizielle Rotation beginnt zur geplanten Zeit.
Wann: jeden 4. Sonntag im Monat um 13:00 ET / 19:00 CEST
Wo: Wir treffen uns auf dem Church of Quake Discord Server. Trete dem Waiting-Room PUGs Voice Channel bei. Scanne den QR-Code am unteren Rand oder benutze den folgenden Link, um dem Server beizutreten: https://discord.gg/RrYjhJ3gTM
Warum: Weil du gesündigt hast und dich in der Arena freisprechen wirst, ein Fragment nach dem anderen.
Happy Fragging Folks!
About Author