Calling all Quakers! QuakeCon 2023 Seat Map is up, and we need YOUR help filling up ROW AA for Quakers!
Good Afternoon Quakers! We now have a visual map to help us better pick our seats for QuakeCon 2023. We are encouraging our readers, and Quakers to join together, and make our own Quake ROW, and pick the top left AA next to Bawls energy drink. This way we can have our own section where Quakers can better organize tournaments, and community gatherings. Picking this area also allows Row Z to be used as an overflow. Actually Seat selection will be next week, so lets get to organized early!
QuakeCon 2023 BYOC Seat Map & Breakdown
You will probably also notice there are 10 Sponsored | Affiliated Rows. These Rows will be upgraded pricing areas for you to join your favorite Bethesda | ZeniMax franchise, or your favorite PC based gaming Company. You should receive an email over the next week with more information about these breakdowns. White dots indicate already taken areas while the orange dots indicate open seats.
All of this is optional, and you should ultimately pick the seat you think will allow you to have the best QuakeCon possible!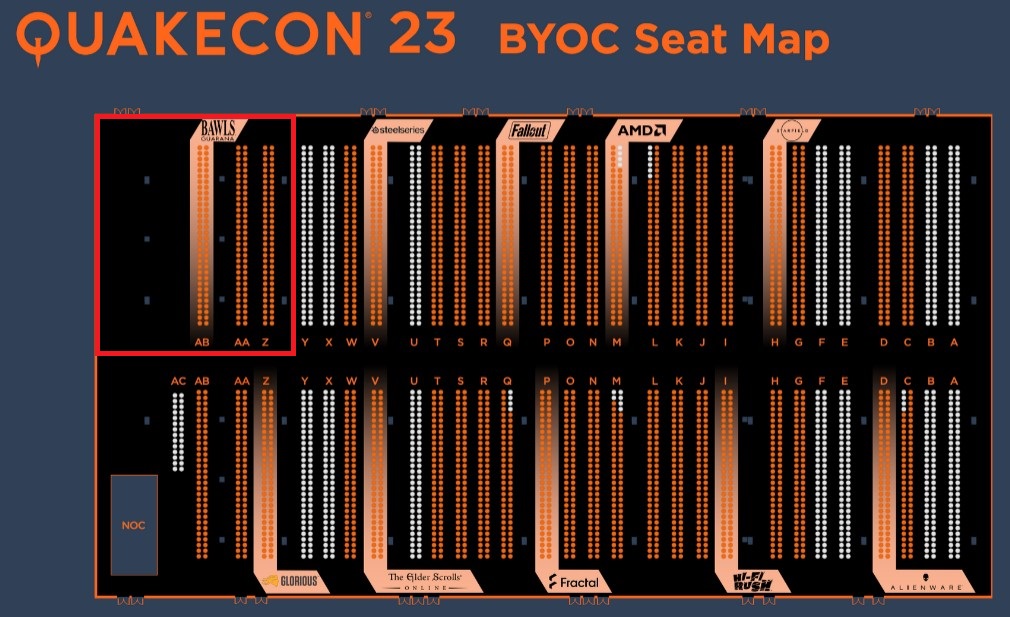 HAPPY FRAGGING FOLKS & WE WILL SEE EACHOTHER AT QUAKECON!
About The Author