Unholy Trios #2, 3v3 TDM tournament – Registration open (Friday April 22nd)
Unholy Trios #2 – Friday April 22, 2022 7:00pm (19:00) CEST
Unholy Trios is back once more after it's successful first showing!
Last time we beheld Myztro's Dire (GARPY/RAISY/ZENAKU) making a flawless sweep through the entire bracket, followed by Top Luckers (ANTOWKA/Antemos/OpiuM) in 2nd place, and MCSGaming (psygib,strongsage,festiveturtle) in 3rd place.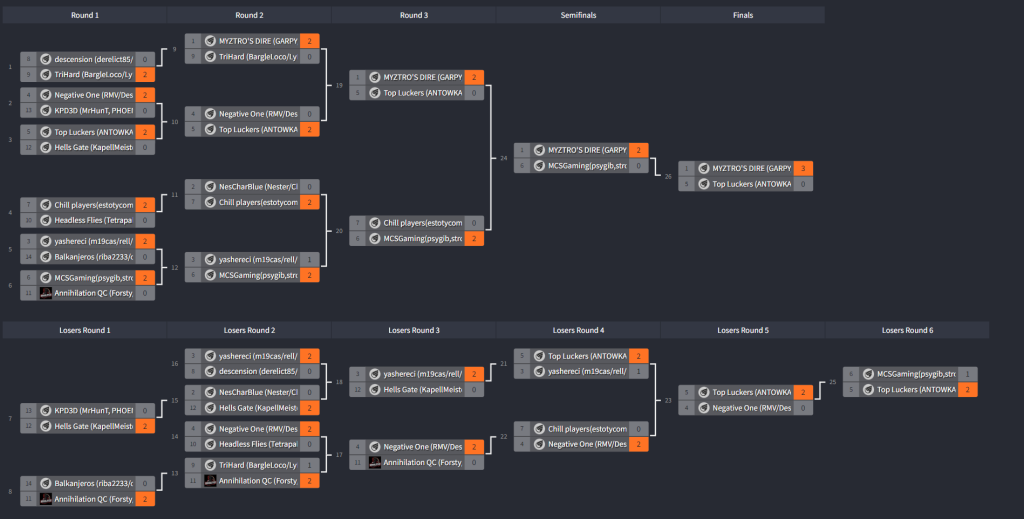 The tournament will retain the 3v3 Team DeathMatch format, with some rule adjustments to make things more fun and interesting.
So this coming Friday, be sure to sign a team up consisting of you and two of your most powerful allies, hell bent on some back to back quad fragging!
Vods from the previous tourney available on ShaftasticTV:
https://www.youtube.com/playlist?list=PLPCIXIRTnh0gVHaKOMbBd4-3rpKBoJB-W
Watch
The event will take place on Friday 22nd April (19:00 CEST)
ShaftasticTV: https://www.twitch.tv/shaftastictv (English)
(ShaftasticTV will be streaming the estoty cup at 18:00 CEST)
Map pool
Awoken
Blood Covenant
Corrupted Keep
Exile
The Molten Falls
Ruins of Sarnath
Vale of Pnath
Format
Mode: Team Deathmatch
Time Limit: 15 Minutes
Score Limit: 75
Team Size: 3
Double Elimination – Winner bracket sets are Bo3, loser bracket sets are Bo1, loser bracket finals are Bo3, grind finals are Bo5.
Rules
Each team must pick only one champ from each category:
Galena, Ranger, Visor, Nyx
Anarki, Athena, Slash, Doom, Strogg
Eisen, BJ, DK, Keel, Scale, Sorlag, Clutch
No duplicate champs on the map. If one team picks ranger the other team can't pick ranger.
Champion bans are disallowed
Picks/Bans
(Champion bans are disallowed)
Winner of coin toss bans the first map. Ban -> Ban -> Pick -> Pick.
Loser of the coin toss picks the first champ for the first map, winner picks the first champ for the second map. Pick -> Pick -> Pick -> Pick -> Pick -> Pick.
For grind finals, map picks and bans should go : Ban and Pick -> Pick -> Pick. The team from the winner's brackets bans a map then picks a map, then the second team picks, then the first team picks, the map that was banned is counted as a win.
Servers
Matches may be played on whatever server both teams agree to play on. If an agreement can't be reached and the match is between European teams, the match is played on EU Central. If one of the teams is American, teams alternate between EU West and NA East, starting with EU West.
About The Author