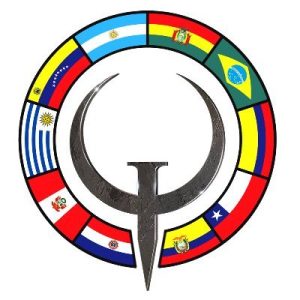 Quakeros SA will open its 1st competitive league for Quake Champions involving 2v2 Team Deathmatch for players from South America.

27 teams, 4 divisions and a passion.
Join with your friend and participate in one of the best thriving communities of South American Quake players!

Registration opens 03/04/22 at 19:30 (gmt-3)
and the league will begin officially 05/04/22 at 19:30 (gmt-3)
Visit the discord link to sign up and find out more.
Format
Rules
Maps
Prize Money
Format
The league is made up of up to four divisions.
Teams will be promoted and relegated between divisions.  
Mode: 2vs2

Settings: 15mins, 50 kills
All teams will play one match per week on their corresponding date, and there will be THREE consecutive MAPS.

Schedules will be assigned one day in advance through the discord channel: 📆-days-and-schedules.
League structure 
Minimum number of teams: 12


Maximum number of teams: 27
Promotion and relegation of up to one team for each division.

Points for winning a map: 1

Points for losing a map: ZERO


Points for absence: ZERO
The "Kills" committed on each map will be considered, but will only be examined if the final result on the maps played results in a tie for two or more teams.
Rules
Maps
Prize Money
About The Author