#QuakeCon 2021 25TH ANNIVISARY LIVE
Folks its about time. we are minutes away from the welcome event at 2:00PM EAST. Immediately after at 2:05PM EAST we will have id software, AND MachineGames celebrating 25 years of Quake. Kevin Cloud and Marty Stratton from id Software and Jerk Gustafsson from MachineGames discuss the impact and legacy of the original Quake on its 25th anniversary. What ever happens remember we are community united together.
You can catch the twitch stream here: https://www.twitch.tv/bethesda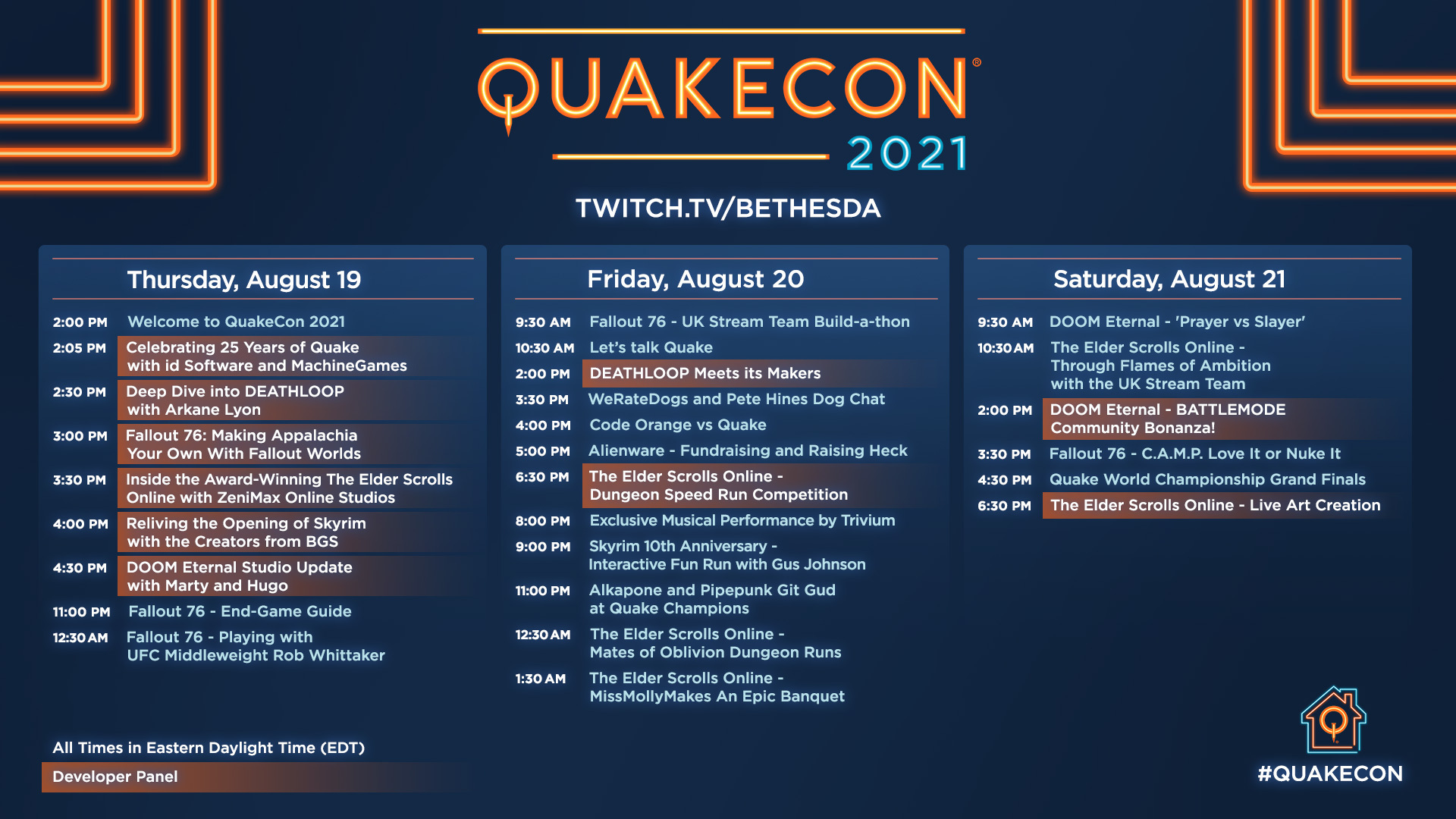 QUAKECON RESOURCES
Twitch QuakeCon (English) https://www.twitch.tv/quakecon
Twitch quakecon2 (English) https://www.twitch.tv/quakecon2
Official QuakeCon Twitter https://twitter.com/QuakeCon
QuakeCon Community Twitch: https://www.twitch.tv/quakeconcommunity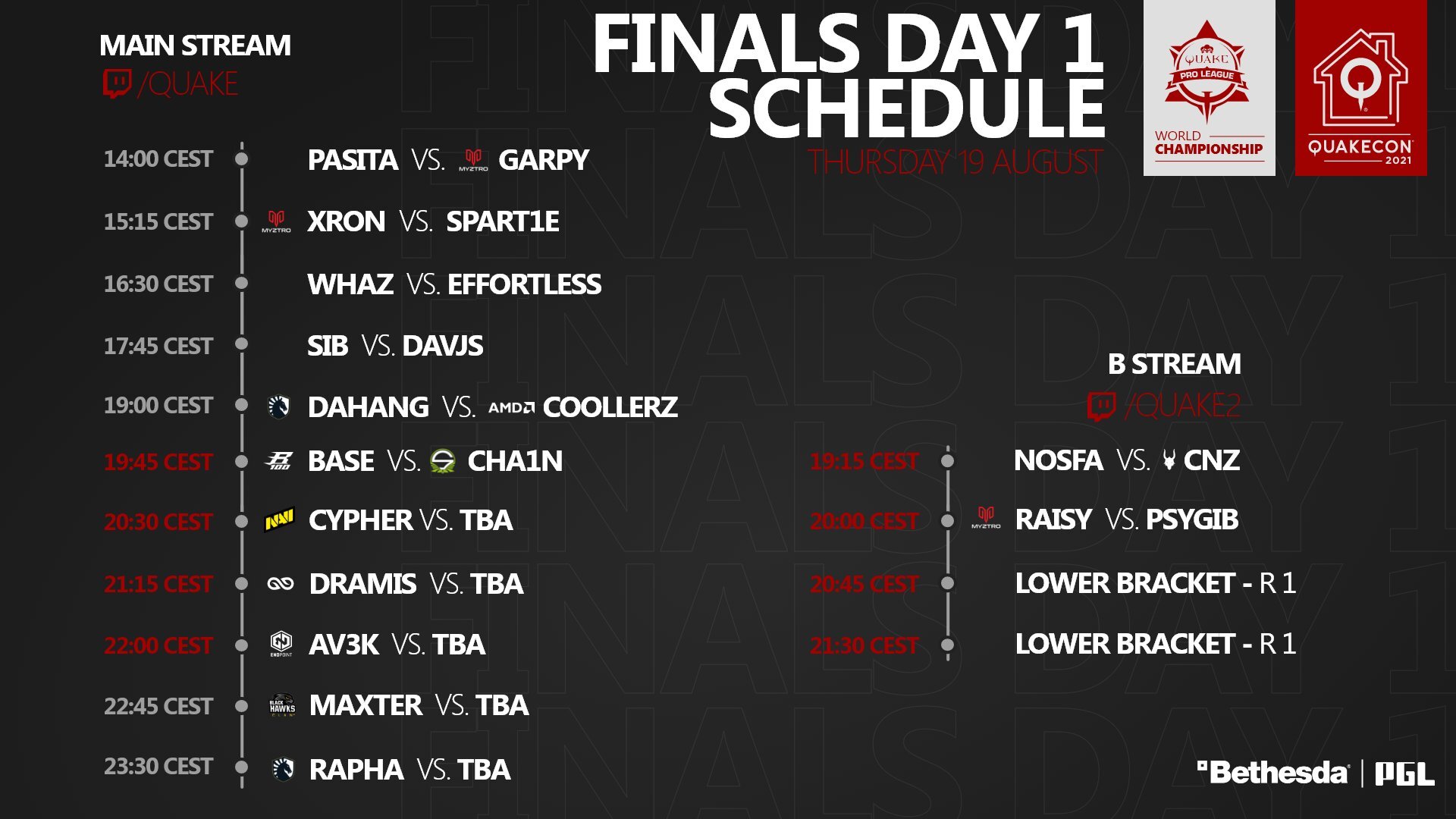 Day 1 of The Quake Pro League World Championship will start at 8am EAST | 2pm CEST tomorrow August, 19th 2021. You can catch the stream tomorrow at the lings below. Being the Main stream, or the B stream.
QUAKE CHAMPIONS:
Main Stream http://twitch.tv/quake
B Stream http://twitch.tv/quake2
NEW 4k Stream: http://youtube.com/quake
HOW TO WATCH
Twitch Quake (English) https://www.twitch.tv/quake
YouTube Quake (English) https://www.youtube.com/channel/UCOMk1WI8dxaCFpJptF6K8_A
Twitch XBOX (English) https://www.twitch.tv/xbox
Twitch Bethesda (English) https://www.twitch.tv/bethesda
Twitch (Russian) https://www.twitch.tv/quakemc_ru
YouTube Bethesda Softworks https://www.youtube.com/user/BethesdaSoftworks
Official Quake Twitter https://twitter.com/Quake
Official Bethesda Twitter https://twitter.com/bethesda\
DISCORD COMMUNITIES
Official Quake Discord https://discord.gg/Ay6kZxjm
Official QuakeCon Discord https://discord.gg/RwFHB3Ja
Official Bethesda/Zenimax Discord https://discord.gg/bethesda
Church of Quake Discord https://discord.gg/EzHYeSFu
QUAKECON RESOURCES
Twitch QuakeCon (English) https://www.twitch.tv/quakecon
Twitch quakecon2 (English) https://www.twitch.tv/quakecon2
Official QuakeCon Twitter https://twitter.com/QuakeCon
QuakeCon Community Twitch: https://www.twitch.tv/quakeconcommunity
OTHER RESOURCES
Official id Software Twitter https://twitter.com/idSoftware SACRED GODS
Official QPL website https://quake.pglesports.com/ Quake Champions e-sports
CHURCH OF QUAKE WEBSITE: https://churchofquake.com/ QUAKE CHAMPIONS WIKI | NEWS | GUIDES
About The Author