Organ Grinder's 6TH Edition Starts Today at 1:00PM EAST Feat. #QuakeChampions
Hello Quakers the day has finally arrived for Organ Grinder's 6TH Edition. This edition will feature our game of choice QUAKE CHAMPIONS this time around. Organ Grinder is an on-going tournament that features live events about every month hosted by our wonderful friends in the TastySpleen community.
Follow the TastySpleen website | discord | twitch | youtube| twitter below to find out more about the festivities before us today
TASTYSPEEN WEBSITE organgrinder.tastyspleen.net/ FAQ FOR RULES
TASTYSPLEEN DISCORD discord.gg/SzVBBWGX NEWS | UPDAETES FOR EVENTS
TASTYSPLEEN TWITCH – WATCH THE EVENTS HERE www.twitch.tv/TastySpleenTV
TASTYSPLEEN YOUTUBE www.youtube.com/user/TastyCast CATCH VODS | COMMUNITY VIDEOS BY TASTYSPLEEN
TASTYSPLEEN TWITTER BELOW HAS NEWS | UPDATES FOR EVENTS.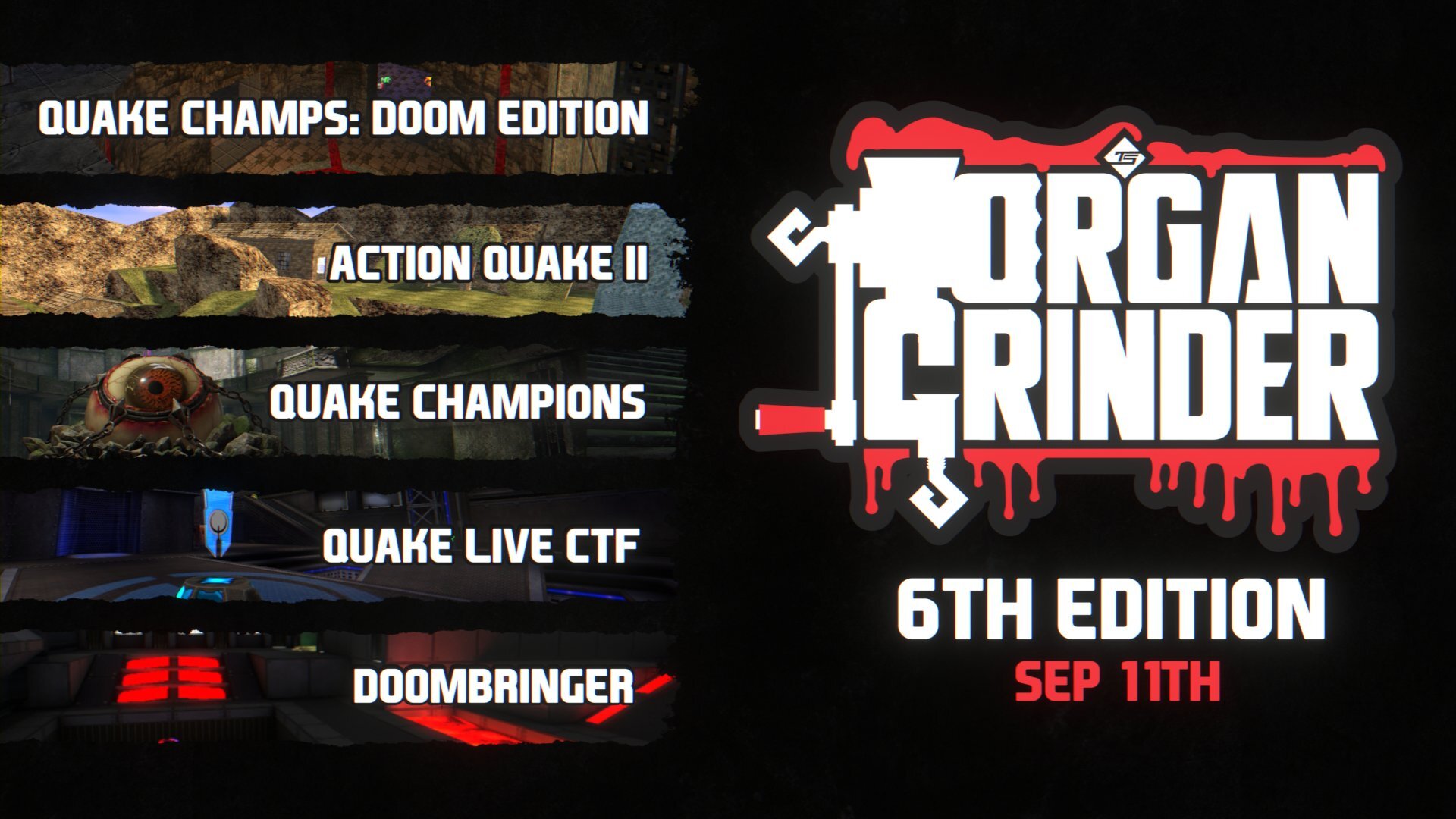 Organ Grinder 6TH Edition will feature many other games from the Quake | Doom | id_Tech | Arena FPS family. I'll leave a list of the games below as well as some of the actual graphics for some events.
Lastly donations made by the community during the event will be used for the prize pool. Don't forget to help support the community folks.
GOOD LUCK TO ALL THE CONTESTANTS, AND HAPPY FRAGGING FOLKS!
HOW TO PLAY QUAKE:
QUAKE CHAMPIONS FREE 2 PLAY
Quake Champions BattlePass WEEKLY |DAILY CHALLENGES:
Weeklies for BattlePass change at 8:00 PM EST Wednesdays|2:00 AM CEST Thursdays.
Dailies change at 10:00 PM EST | 4:00 AM CEST.
CLASSIC 1996|RE-RELEASE $9.99
DISCORD COMMUNITIES:
Find New People to Party up With (It Helps Our Q Times)
Official Quake Discord discord.gg/Ay6kZxjm Find Players in "party-finder" channel | ALL BUGS SHOULD BE REPORTED TO THE QC FEEDBACK – BUG REPORTS CHANNEL.
Church of Quake discord.gg/gPdkkFza MAKERS OF WIKIS|NEWS|GUIDES|LORE
Official Bethesda/Zenimax Discord discord.gg/bethesda Replacing Beth.net Forums
Websites|twitters|sub
Steamdb.info For
COMMUNITY PODCASTS:
About The Author