Double Cup Quake #4 – Crowdfunded Tournaments for Quake Champions
Like every 2 weeks it is time for another 2v2 tournament!
However, there are some changes in the map determining process!
We took out picks and bans for time saving reasons! 😮

Date: Saturday, 16 January 2021
Time: commencing at 6pm CET
Join the Cup Quakes Discord to stay up to date!
Sign up on smash.gg/quake!
Crowdfunding on Matcherino.com!
Official stream on rawaleen's Twitch channel.
Brief summary of the rules:
2v2 – 15 minutes time limit – 50 kill frag limit
All matches Bo3 – Finale is a Bo3 with reset (full double).
All 10 duel maps are in the map pool.
It is not allowed the have the same champion on one team at the same time.
Switching champions mid game is allowed.
No champion bans.
No need to declare in the lobby which champion will be played.
New Rules! Starting Map Given!
The Starting Map is given per Round. The next map will be picked by the losing team.

– Winners Round 1 : Awoken
– Winners Round 2 : Ruins of Sarnath
– Winners Round 3 : Vale of Pnath
– Winners Final : Exile

– LB Round 1 : Blood Covenant
– LB Round 2 : Deep Embrace
– LB Round 3 : Molten Falls
– Losers Semi-Final : Awoken
– Losers Final : Ruins of Sarnath

– Grand Final : Vale of Pnath
– GF Reset : Exile

Starting Maps will change each week. The selections depend on what is voted for in the Cup Quakes Discord.
Contribute for FREE with the free Coupon Code!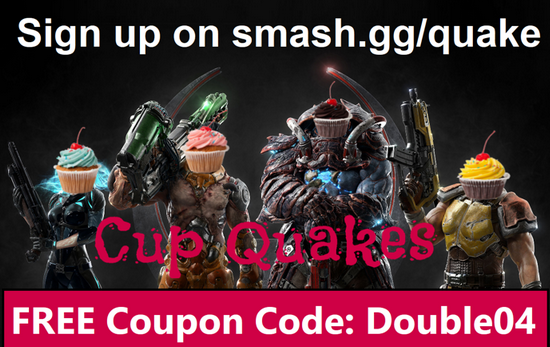 As always, Matcherino is used for crowdfunding the tournament.
Feel free to use the Coupon Code: Double04
You can also donate directly through PayPal, buy some of the Quake merchandise provided by rawaleen or complete sponsor quests.
The official stream will be on rawaleen's Twitch channel!
BTW, next Thursday Major Cup Quake #1 is taking place!
Featuring: St0n3, Cherra, klyb, Contash, Nrav, mijkeee, Almaril and Ton1.
In case a player does not show up, Rohm will take their place. He has earned the most point in the Cup Quakes Lite season.
See you all on Saturday!
About The Author