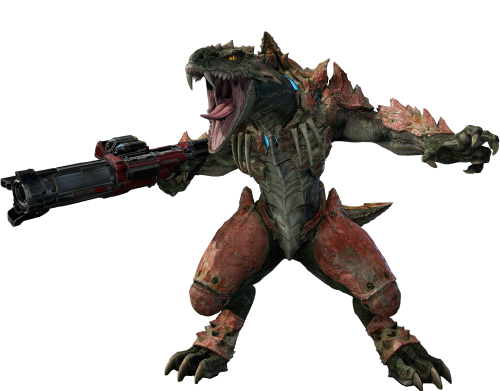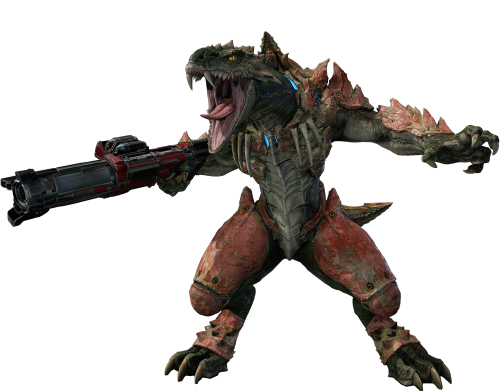 Her clan harvested the most warmbloods; they gorged themselves and had flesh-stock left over. Many credited the Haruspex, who could open terrifying windows to the Other Place using the warmbloods' steaming guts. As their best hunter, Sorlag credited herself. She would expose him by using the warmblood's forcefield devices to spill his "sacred" bowel-bowl. Morning came, the ritual began, and all saw the Other Place—dark, metal, cold. Sorlag leapt with the device. But her claws had crossed the window. She saw the bowl topple as she was pulled in, screeching.
Want More Lore? Read up over HERE.


Acid Spit:
Sorlag does an area-of-effect acid attack. It does 10 damage per second and can blind an opponent if hit directly. Try to use automatic weapons with this ability to quickly chip away health.
Active Ability Tips:
Sorlag spits five blobs of acid at her enemies, burning their flesh and poisoning them with its toxicity. The acid also sticks to surfaces, poisoning anyone who touches it.
Damage on Acid Spit Direct Hit: 15 damage
Acid Projectile Size: 0.5 meters/20 units
Acid Damage/Duration: 10 damage/7 seconds
Acid Direct Hit Knockback: 0.25 meters/10 units
Acid Pool Duration: 5 seconds
Acid spit count: 5
Total Weapon Disable Duration: 1.3 seconds
Combine Acid Spit with weapons to compensate a long weapon disable duration. Direct hits partially blind enemy for a second.
You can track enemy through walls via damage number of DOT.
Acid spit is especially good against group of enemies.

Acid Fiend:
She is resistant to enemy Sorlag acid DOT (but not to direct hits) and to an arena acid.

Bunny Hop AKA Assist Hop:
Continuous jumping in one direction will increase your speed slowly untill you get 500 ups. It's not real Bunny Hop and any useful only for novices who can't strafe jump.

Leaping Lizard AKA real Bunny Hop:
Sorlag can alter her direction of movement in the air, allowing her to make sharp turns at high speed.
Bunny Hop is the special movement that allow to keep speed while turning but it's slower than Strafe Jumping. So most effective way to move is usually start moving with Strafe Jumping untill you hit speed cad and switch to Bunny hop after that.
You may know this way to moving from Quake World, Quake 3 CPMA or Counter Strike.
For Bunny Hoping you need to it like Strafe Jumping but stop holding forward button after first jump (Circle Jump). Holding jump button makes Bunny Hop easier to do (but a but slower).