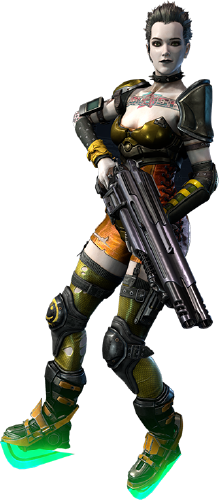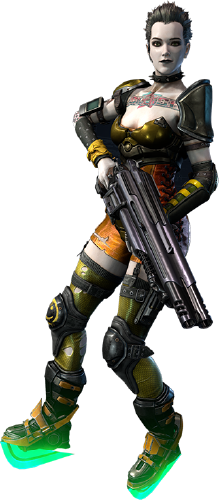 It was her grandmother's music box. Its tiny ice-skater twirled to Swan Lake. She loved it. She couldn't sleep without hearing its tune. Then she heard it in her dreams. Then always. She would become a skater herself. She would twirl and twirl until the music stopped. But it never stopped. She began to see dark, spidery things. When the clozapine didn't help, she turned to heroin. In the shooting gallery she met Anarki. He saw things, too. They became inseparable . . . until the things they saw became real.
Want More Lore? Read up over HERE.

Plasma Trail:
Slash's skates are far from ordinary. When you activate her Plasma Trail active ability, she leaves a glowing path in her wake, instantly damaging anyone who touches it. Pressing the button to activate the Plasma Trail again immediately causes the trail to detonate, which causes even more damage to anyone nearby. Use this ability to set traps for your opponents down hallways or work with your team to corner other players and snare them in a Plasma Trail cage before detonating it.
Active Ability Tips:
Slash leaves a stream of energy behind her. The plasma trail will damage any enemy that touches it, and when the ability button is pressed again, the trail will explode, damaging nearby enemies.
Cooldown: 45 seconds
Plasma Trail Explosion Maximum Splash Damage: 25 damage
Plasma Trail Explosion Minimum Splash Damage: 10 damage
Speed boost: 10%
Max speed with boost: 937 ups
Max run speed with boost: 351 ups
Plasma Trail duration: 3 seconds
Plasma Trail remains for: 6 seconds
Plasma Trail Tutorial
Slide Tackle
Plasma Trail acceleration
Plasma Trail Tutorial
Plasma trail is great for setting up traps. Press the ability button once to start it and do it again to make an explosion before the enemy escapes from trail or to finish him off sooner.
Slide Tackle
Plasma Trail acceleration

Crouch Slide:
Perform a crouch slide by crouching just as you land on the ground after jumping.
Speed while usual croush: 271 ups. You may use it for fast sneaking around the map
Crouch Slide Tutorial
Long Crouch Slide
Keep Crouch Slide
Faster Crouch
Crouch Slide Tutorial
Do jump and just before hitting the ground press and hold crouch button. Use directional movement buttons (WASD) and mouse to turn in a desirable direction. Sharper angles gives more speed. Usual jump gives less than 2 seconds of sliding and you need jump again for next sliding.
Long Crouch Slide
Keep Crouch Slide
Faster Crouch