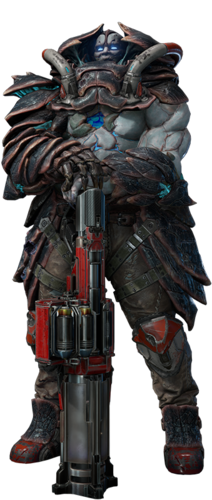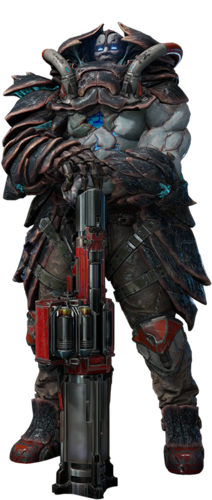 As a warlord of the marauding Greiss, he conquered countless worlds, plundering technology to strengthen his armies. But defeat by a reclusive, phase-shifting race led to his exile. Obsessed with vengeance, he discovered their power source: an ancient shrine with a seething sphere of liquid within. When at last he slaughtered its guardians and entered, the sphere consumed him—and he vanished. He awoke in a bizarre, brutal realm, transformed by arcane energy. Now he seeks a way back, to regain his command and wield his newfound might.
Want More Lore? Read up over HERE.

Bullrush:
Rushing forward at a great speed like a giant engine. Bull Rush has the capability of killing anything on its path. As it's activated damage will be greatly reduced along the charge duration. 
Active Ability Tips:
Scalebearer charges forward, dealing massive amounts of damage to any opponents he hits. Scalebearer loses maneuverability while his ability is active but becomes much more resistant to damage.
Duration: 3 seconds

Bullrush Ground Acceleration: 150 upss

Interruption Speed: 200 ups
Cool Down: 45 seconds
Damage Reduction: 67%
Weapon Disabled After Rush Duration: 0.5 seconds
Damage at 200 ups: 25 damage
Damage at 320 ups: 50 damage
Damage at 400 ups: 75 damage
Damage at 500 ups: 100 damage

If a rushing Scalebearer is slowed below the interruption speed, the Bullrush will stop
Bullrush Tutorial
Bullrush airwalk
Bullrush Tutorial
Scalebearer charges in camera look direction to do damage by colliding. Camera moves much slower while Bullrush.
You can cancel Bullrush after 1 second by pressing ability button. Also bullrush will stop after hitting any obstacle exept enemy that will die from bullrush.
Bullrush will start with 500 ups if Scalebearer had this speed while Acceleration but speed will not be increasing for a second.
You can combo weapon with bullrush but not just after bullrush due 0.5 s weapon disable duration.
Bullrush airwalk

Acceleration:
Scalebearer will gain speed when moving in a straight line

Heavyweight:
Scalebearer deal 25 damage to enemy by bumping while having 399+ ups and 50 if more than 499 ups
Acceleration
Scalebearer will gain speed when moving by holding move forward button. Stafes drop speed. Speed cap for Acceleration is 500 ups.
After Strafe Jumping you can run with 500 ups if had this or higher speed. 
You can run over small gaps if you have high enough speed
Heavyweight