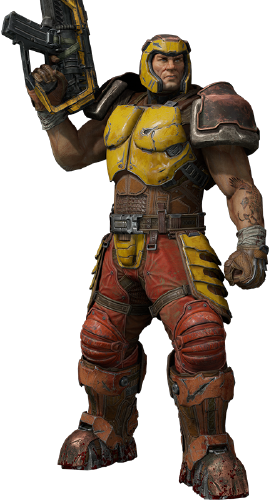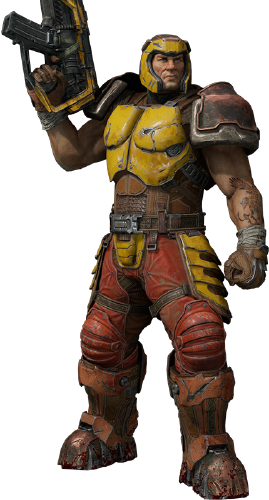 Two decades ago, a lone Marine stepped through the Slipgate and into nightmare. He cut through countless horrors to find four eldritch Runes, then laid waste to the abomination known as Shub-Niggurath.Trapped in these realms ever since, he has survived using the power of the Dire Orb seized from within the hot gore of the All-Mother.Time and delirium have eroded his resolve and even his name, but a worn family photograph tucked away in his armor serves as a scrap of hope and sanity.
Want More Lore? Read up over HERE.
Dire Orb:
Ranger's active ability is the "Dire Orb" which allows him to teleport to the orb's location, which can be used to damage opponents briefly for the collision. The projectile deals 25 damage to anybody it passes through, and can be used as a grenade too, as if not used, it detonates for up to 75 damage after a few seconds. When used it deals plain detonation damage in a radius and teleport collision adds another 75 damage to any opponent nearby.
Active Ability Tips:
Cool Down: 45 seconds
Orb Pass Through Damage: 25 damage
Orb Explosion Maximum Splash Damage: 75 damage
Orb Explosion Minimum Splash Damage: 10 damage
Orb Telefrag Damage: 75 damage
Weapon Disabled After Throw Duration: 0.5 seconds
Orb Throw and Teleport Activation Delay: 0.125 seconds
Dire Orb Tutorial
Dire Orb Telefrag
Dire Orb Pro Tutorial
Dire Orb Tutorial
Once used, the Dire Orb will travel in a straight line and will not expire or stop until either hitting a wall or going far outside of the map boundaries. One second after stopping, the orb will explode, dealing splash damage based on proximity. Dire Orb also deals contact damage upon passing through an enemy player. Using the ability anytime before the orb explodes will teleport Ranger to the orb's location. If the orb is inside an enemy player while teleporting, the orb will deal telefrag damage. It is possible to stack both contact damage and telefrag damage if well timed.
The orb can be thrown through holes and windows to get to a location faster than otherwise possible.
Dire Orb Telefrag
Dire Orb Pro Tutorial

Son of a Gun:
Reduces self-damage by 75%. Other champions have 50% self-damage. That means Ranger can take max 25 damage from a rocket when others 50. It's a great passive ability for both rocket jumps and close rocket launcher fights.