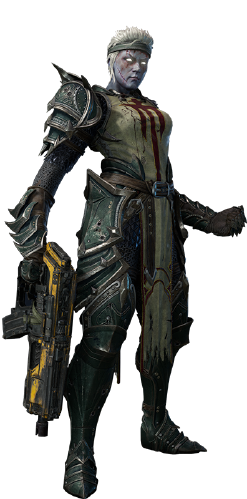 She was 4 years old when given as an offering to the Celebrants of Volkerh. The talon-priests weaned her on ash-milk and consulted the Gaunt Shepherd to learn her fate. She would live as we do, it whispered, and in so doing would shape herself by the gloaming will of He Who Walks In Blood. Like all children, she watched and imitated. She learned that crying and laughing were no different, so she stopped. She learned that blood is judgment and penance is sacrament. She has grown powerful and grateful. She does not dream of her mother's world.
Want More Lore? Read up over HERE.
Unholy Totem:
In the heat of combat, throw down Galena's Unholy Totem to heal both yourself and your allies, or cause devastating damage to your foes. Deadly in Deathmatch, and a critical tool in team games to help control pathways and power-ups, the Unholy Totem is a vital weapon in Galena's wicked arsenal.
Galena places a totem that heals her allies and damages her enemies. The totem will vanish if an enemy triggers or destroys it. When it heals an ally it will become inactive, but will reactivate when another totem is placed.
Active Ability Tips:
Cooldown: 45 seconds
Totem Heal Radius: 3 meters/120 units
Totem Damage Radius: 2.5 meters/100 units

Unholy Totem activation delay: 0.5 seconds

Totem Health: 25 HP
Totem Heal 50 HP 
Normal Totem Damage: 40
Enforced (Upgraded) Totem Damage: 60
Weapon Disable Duration: 0.5 seconds
Unholy Totem Tutorial
Totem Damage
Unholy Totem Tutorial
If three totems are active at one time, all totems will become Enforced Totems and deal the upgraded damage amount and do overheal
Totems are actually thrown to a target location and not just placed at Galena's feet.
Totems are only inactive for the ally that is healed by the totem. Any other ally that hasn't been healed can still use it.
Inactive totems will still explode and deal damage to enemies.
Totem Damage

Channeling:
Reduce ability time cooldown by 5% when collecting Small Health and 10% when collecting Mega Health.
You can use Nailgun to reduce HP under 100 to pick up health bubbles for cooldown time reduce.