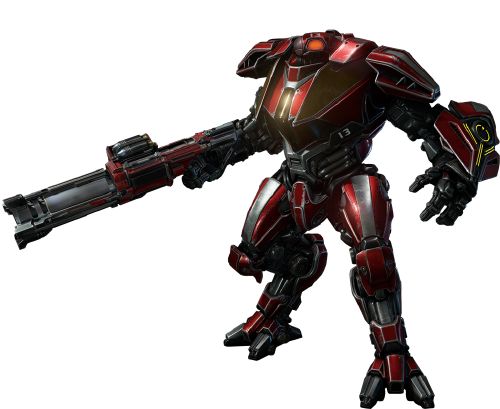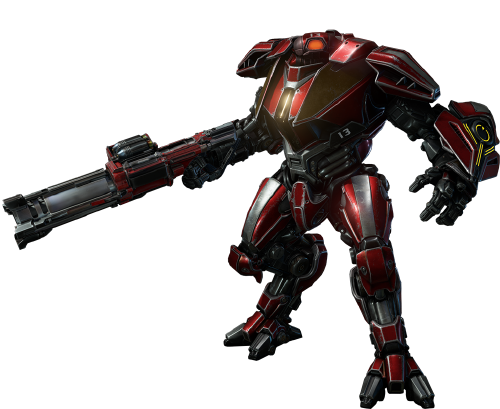 It was just a mining automaton with limited AI and a force-shield to protect organics and drills. But it was the first to return from the cavern filled with floating ruins and strange markings. Its custodians transferred the data it had gathered to their master neural network. But, after analysis, the network… malfunctioned? Suddenly, Clutch was returning to the cavern as automata began killing organics. Clutch killed them, too, if they were in its path. Once at the cavern, Clutch followed the network's instructions. A dark mass of writhing tendrils materialized. Clutch stepped into it.
Want More Lore? Read up over HERE.

Barrier:
Clutch surrounds itself in an energy shield, reducing all incoming damage by 40%. Activating the ability again will convert the energy from the shield into a potent mining laser for the remaining duration.
Active Ability Tips:
Damage Reduction: 40%
Cooldown: 45 seconds
Duration: 5 seconds
Shield Deactivation Time: 1 second
Mining Laser Damage: 10 damage
Mining Laser Fire Rate: 125 ms
Mining Laser Damage Per Second: 80 damage/second
Mining Laser Range: 2000 u
Mining Laser Radius: 0.15
Barrier Shield and Mining Drill Activation Delay: 0.25 seconds
Barrier
Drill Tutorial
Barrier into Drill
Barrier
Barrier reduce incoming damage by 40% which is obviously useful in fight but also good for rocket jump since self-damage is also lower.
It lasts for 5 seconds and you can shoot while having this shield. Take in mind the Barrier activation effect blind a little bit Clutch for half of second.
Drill Tutorial
Barrier into Drill

Air-Dodge:
Double tapping any direction while airborne allows Clutch to dash quickly in that direction.
Air-Dodge Tutorial
Dash + Acceleration
Dash after Jamp pad
Air-Dodge Tutorial
Press move button quickly to do Air-Dodge in air. Air-Dodge gives 350 ups to current horizontal speed.
Dodge disabled if you have more than 450 ups of speed.
You can use it for rocket dodge or jumping over gaps. Also it's easy way to get high speed in any moment for Strafe Jumping.
Dash + Acceleration
Dash after Jamp pad

Acceleration:
Gradually gain speed by running forward without changing direction. Max speed depends on gear shift. 
Acceleration Tutorial
Accleration Airwalk
Acceleration Tutorial
Clutch will gain speed when moving by holding move forward button. Stafes drop speed. Clutch's Acceleration has 3 gear shifts (speed caps) – 350/400/450 ups. It switch to higher cap after a second when current achieved.
After Strafe Jumping or Air-Dodge speed cap will be as it used to be before. I.e. if you accelerate with 380 ups, do Dodge and switch to acceleration you will have 400 ups. 
Accleration Airwalk