Community Column #10
Sorry I am ill today and cannot stream. I hope to get back to the stream next week or as soon as I am able.
Just because I am down does not mean the community is not active! We have so much going on. Take a look!
What to Watch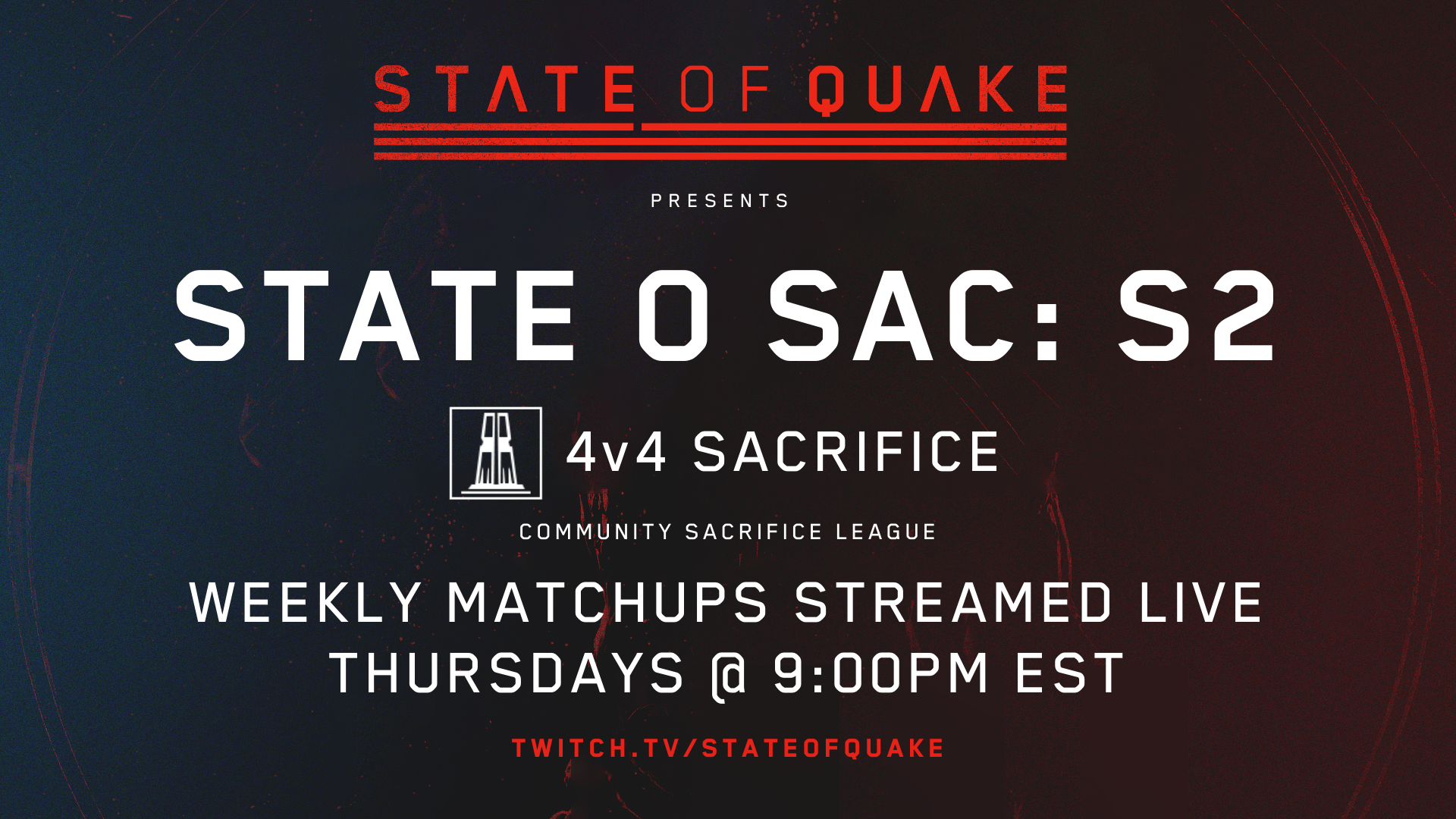 State of Quake season 2 week 4 for State O' Sac is to be played tomorrow at around 8 pm CST. Tune in to see who will take their weekly match up.
Bracket: https://www.toornament.com/en_US/tournaments/2938446701512081408/
Discord: https://discordapp.com/invite/gj9KTt9
Prize Pool Donations (taken all season long): http://bit.ly/soq-sos2-prizepool Currently at $350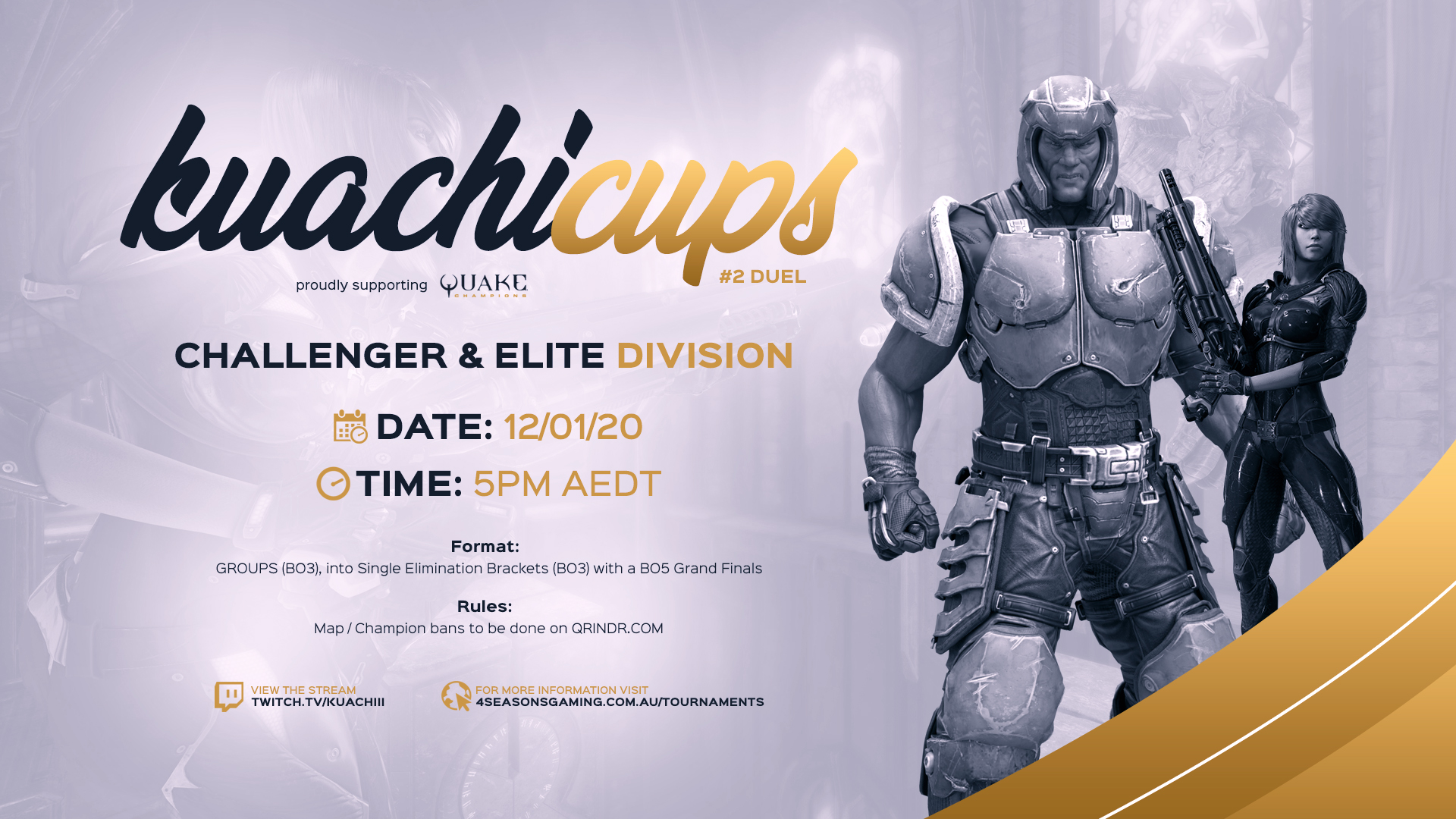 Kuachi is bringing cup #2 on Sunday at 5 pm AEDT Challenger / Elite duelists, YOU'RE UP ! kuachi cup #2 is a combined tournament for these two divisions. It will be a groups format, top 8 will go through into a Single Elimination bracket ! $200 cash to the winner, plus a LIMITED EDITION kuachi cup™️
Bracket: https://4seasonsgaming.com.au/tournaments/front/display/128
Watch: twitch.tv/kuachiii
Discord: https://discord.gg/v4KkkRQ
Where to Play
Rocket Jump Zone is bringing us their weekly cup, this weeks flavor is a Sacrifice Cup #3 starting on Saturday at 2 pm EST.
Sign-up/Info: https://rocketjump.zone/tourney-signup
Tune in: https://www.twitch.tv/rocketjumpzone
Discord: https://rocketjump.zone/discord

Serious is entering the organizer role to bring us the first vF Duel Cup this Sunday at 5 pm CET. Prize pool is at a $300 amount.
Bracket: https://battlefy.com/viseursfrancais/vf-duel-cup-by-serious/5e162a9ac0796901fc0e2c5d/info?infoTab=details
Watch: twitch.tv/serious
Discord: https://discord.gg/UzW5HJV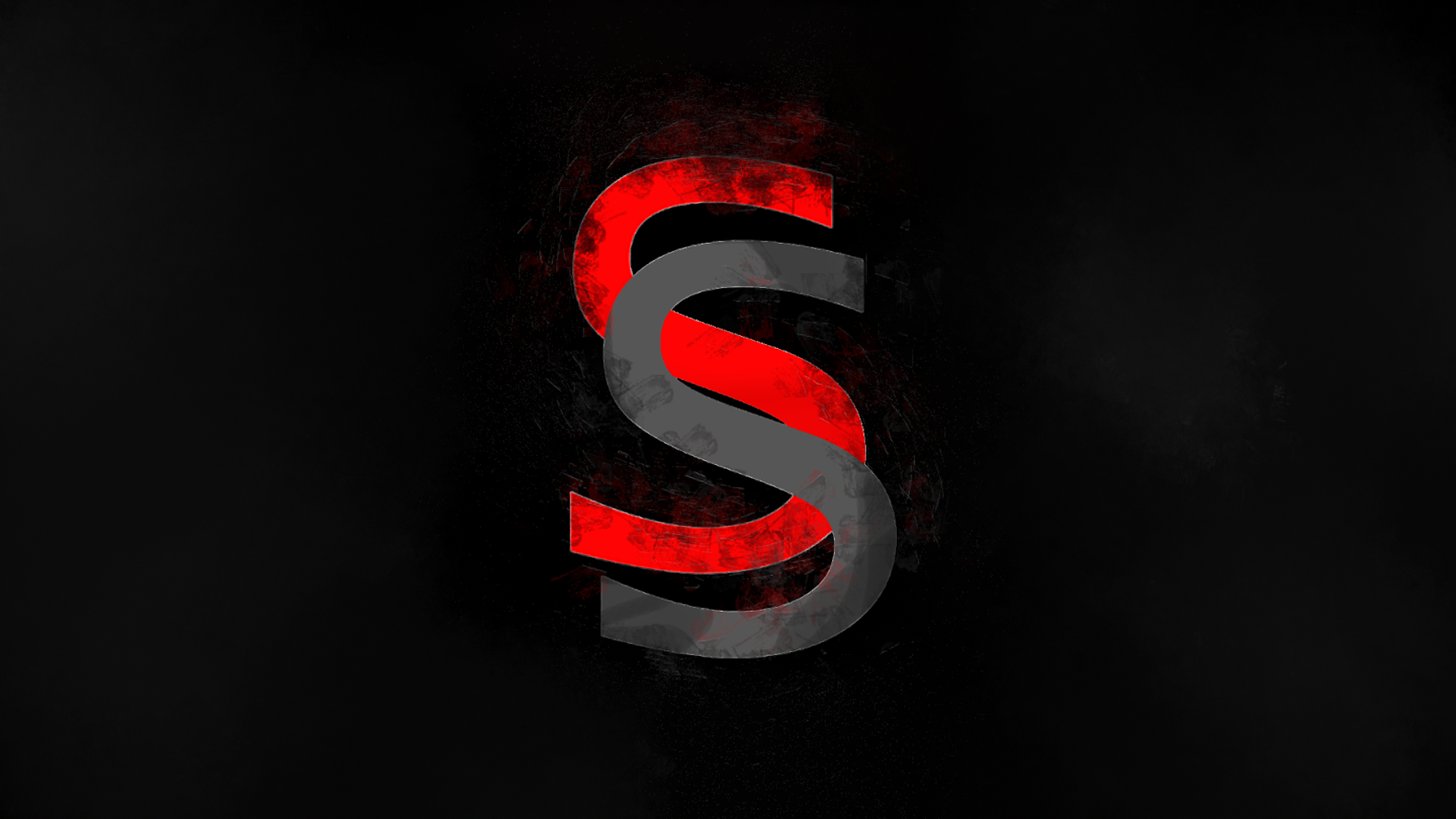 Salty Splitoon is back this week for week 3 of season 1. This is a 1v1 TLD competition with points tallied based on performance and collected over the course of the season.
Discord: https://discord.gg/GbrNhb9
Sign up: https://forms.gle/NA7T8YwBBcheVPPcA
Tune–In: Twitch.tv/HardlySalty

Quake Cafe is bringing in the Free For All. Join in Monday at 6 pm CST.
Sign-up: https://forms.gle/xMT1mUbsXSCRmwNh8
Discord: https://discord.gg/efMb4dz
Register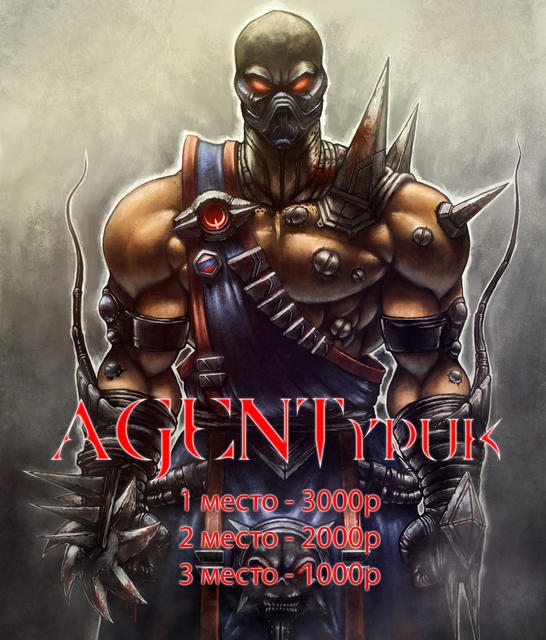 Agent QC Online Cup is taking registrations for their first cup of the year with a $100 prize pool up for grabs. Join in the fray January 18th 12:00 (UTC+3). Pro players and players who qualified in QPL Challenger can not participate.
Registration: https://challonge.com/gk7g3el7
Discord: https://discordapp.com/invite/UNxZtjd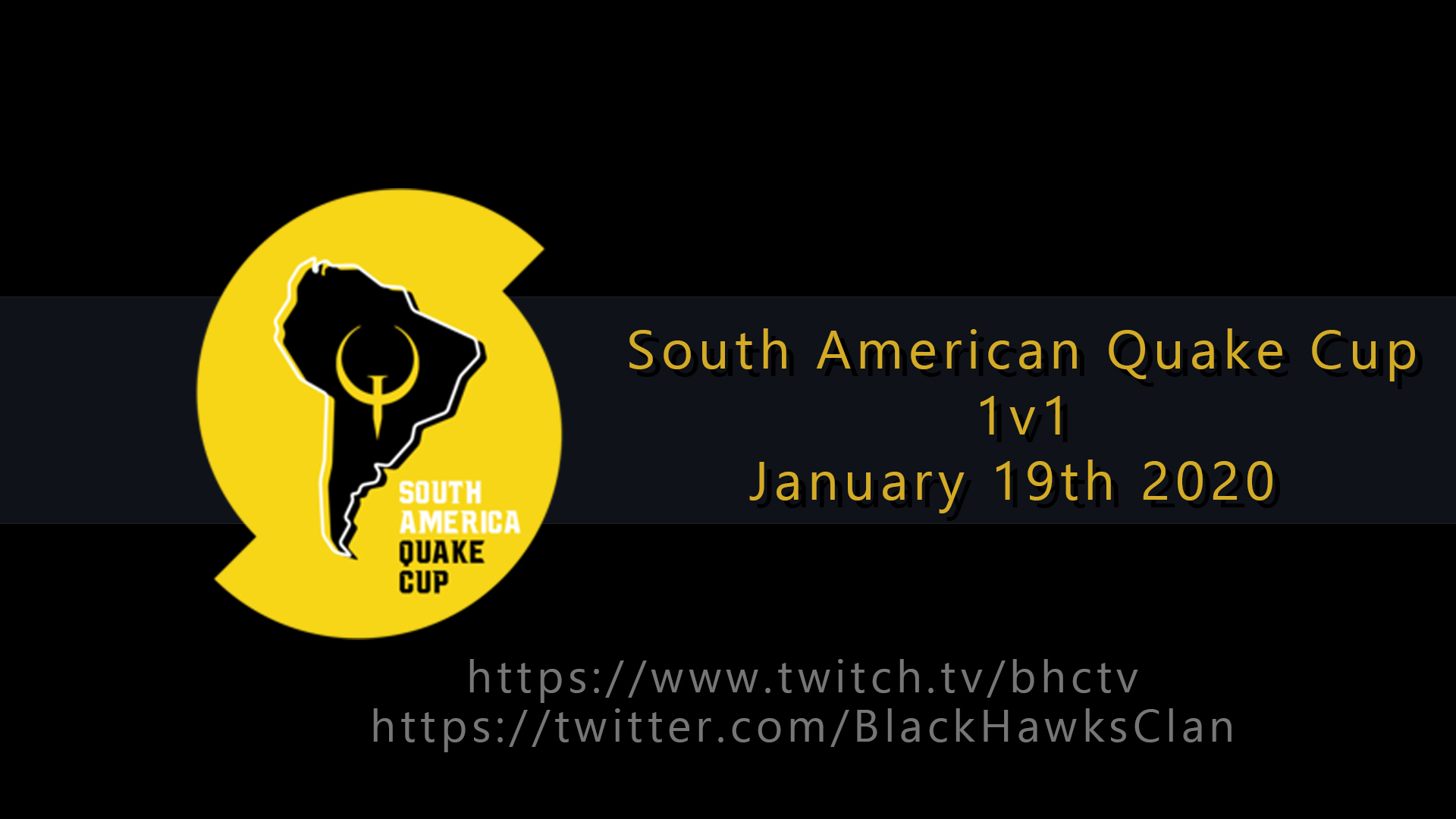 Black Hawks Clan is hosting a 1v1 duel tournament this January for the South American community. Sign-ups are open now and play will be on January 19th after the QPL matches complete. BHCTV will broadcast each match and BHC.Nosfa will commentate the Finals and 3rd place match.
** You MUST play from South America in order to participate in this tournament. **
Sign-Up: https://www.toornament.com/en_US/tournaments/3052481378206179328/information
Twitter: https://twitter.com/BlackHawksClan
Discord: https://discord.gg/9vXCJgf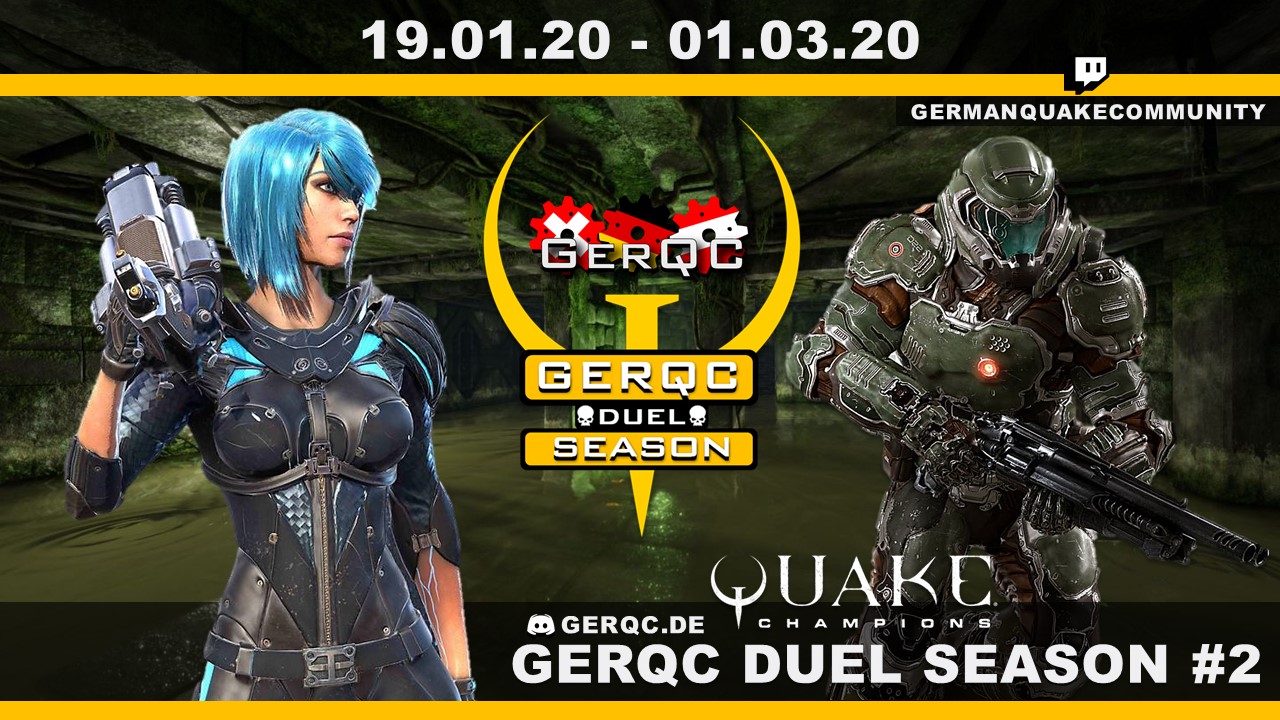 GerQC is hosting a 1v1 duel season for the German Quake community. Sign-ups are open now and play will be on January 19th through 1st of March.
Discord: gerqc.de
Contests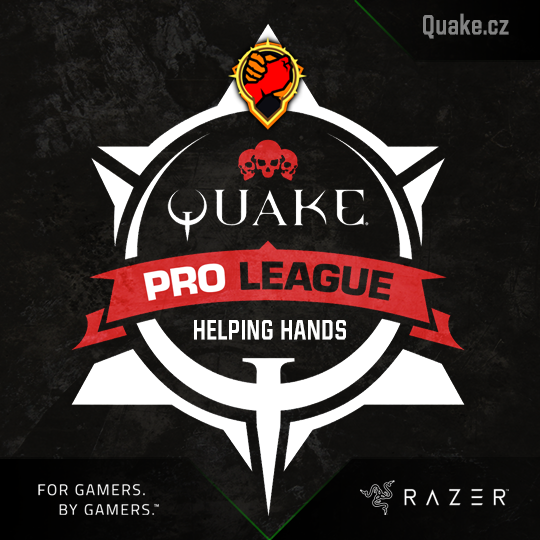 The Helping Hands Contest is brought to you by Quake.cz and Razer. Clip your favorite moments from the QPL coverage and submit your clips to the quake.cz twitter by the Wednesday following each weeks play to be entered. At the end of the 10 weeks of Stage 2 play winners will be selected from the participants.
Info: https://t.co/RGkOE8ghG6
Share this post on Social Media: